Oat Flour Chocolate Chip Cookies
These Oat Flour Chocolate Chip Cookies use oat flour to keep them nice and smooth while giving you that amazing oaty flavor we love!
I often have a hard time understanding people with thick accents. Does anyone else suffer from this problem? It makes me feel incredibly insensitive when I can't understand someone, but sometimes there's just nothing you can do about it.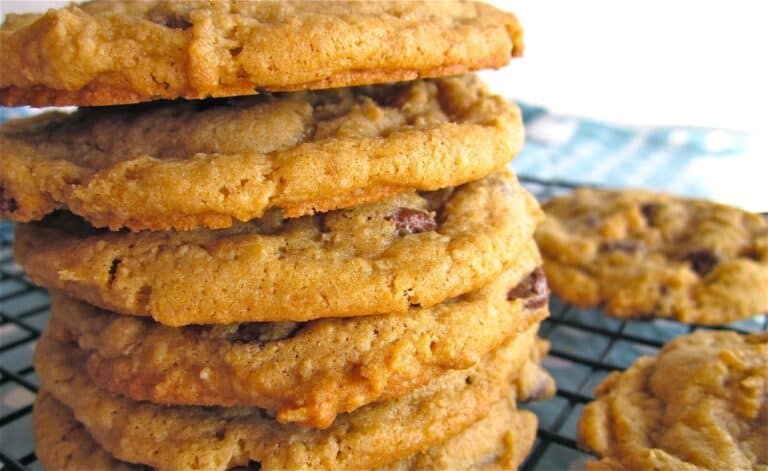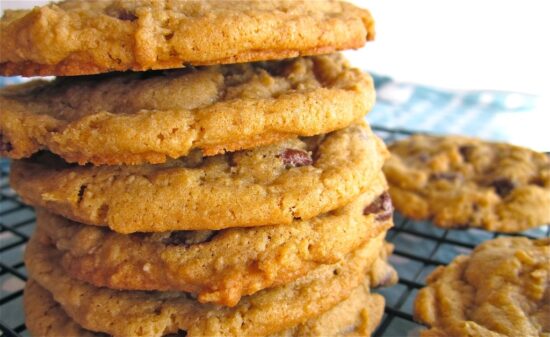 I ran into this problem a lot in college. I worked in the shipping department of the BYU Bookstore. (Long live Pack n' Ship!) It was like a post office but we also had other services like UPS and DHL. We had really low international rates, so we would get lots of people from foreign countries sending stuff home. One time an African man walked in carrying a taped-up box:
Guy: I would like to send this tamale.
Me: Oh well um hm. I'm not sure if that's such a good idea. I'm afraid we can't ship perishable items.
Guy: (Something unintelligible.)
Me: (Many confused words and beads of sweat on my forehead in an effort to understand the dude.) Finally:
Guy: I would like to send this box to Mali.
Mali. The country. Not a tamale.
How to make Oat Flour Chocolate Chip
I found the recipe for these cookies on the BYU 100 Hour Board, which is basically like BYU's very own Google. You can ask them any question you want and they will get you an answer within 100 hours. It is very witty and fun to read.
These Oat Flour Chocolate Chip Cookies are all that and more. (Remember when everyone used to say that? My personal favorite was once hearing my high-school-aged-sister describe someone she knew: "She thinks she's all that and a bag of chips.")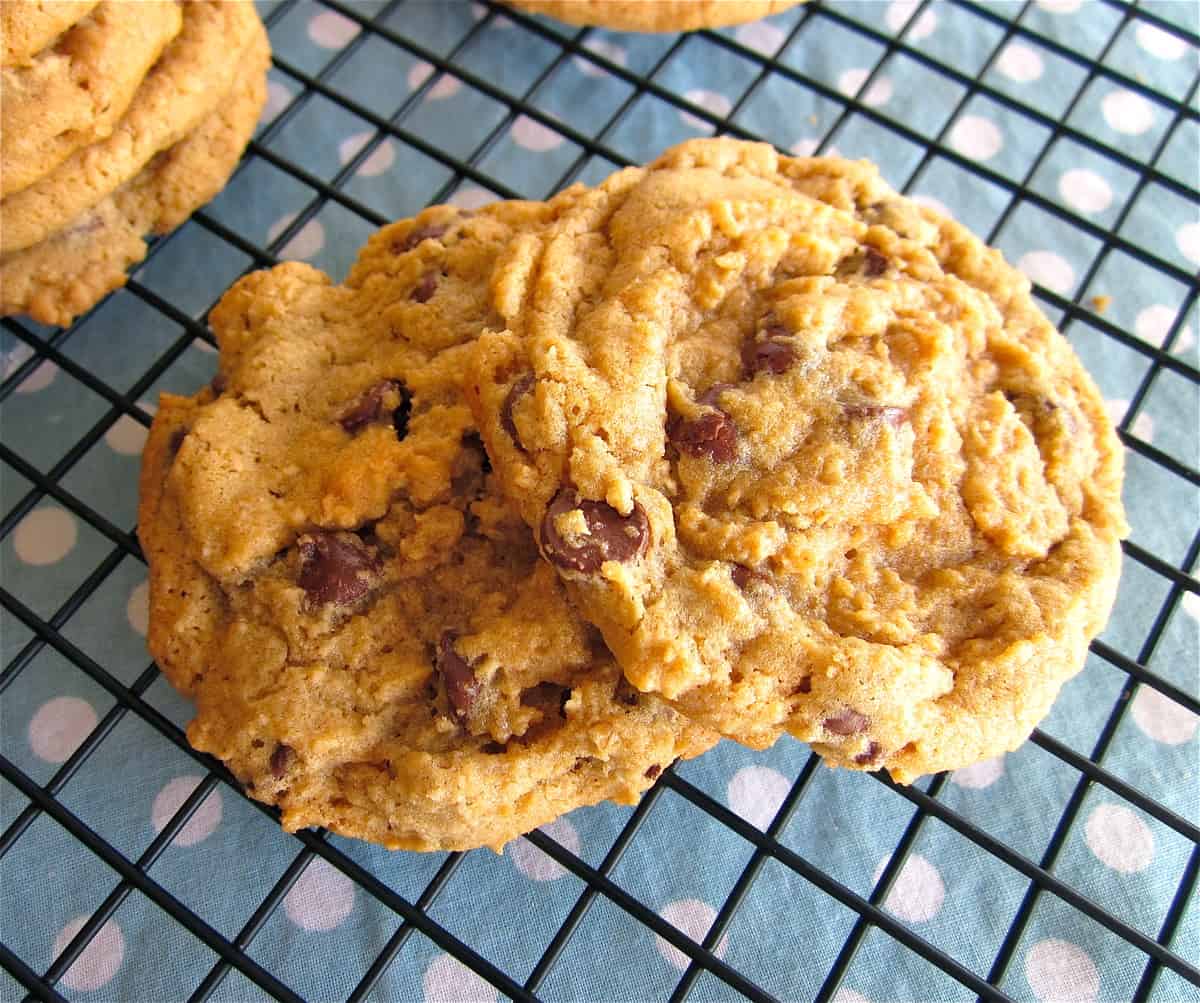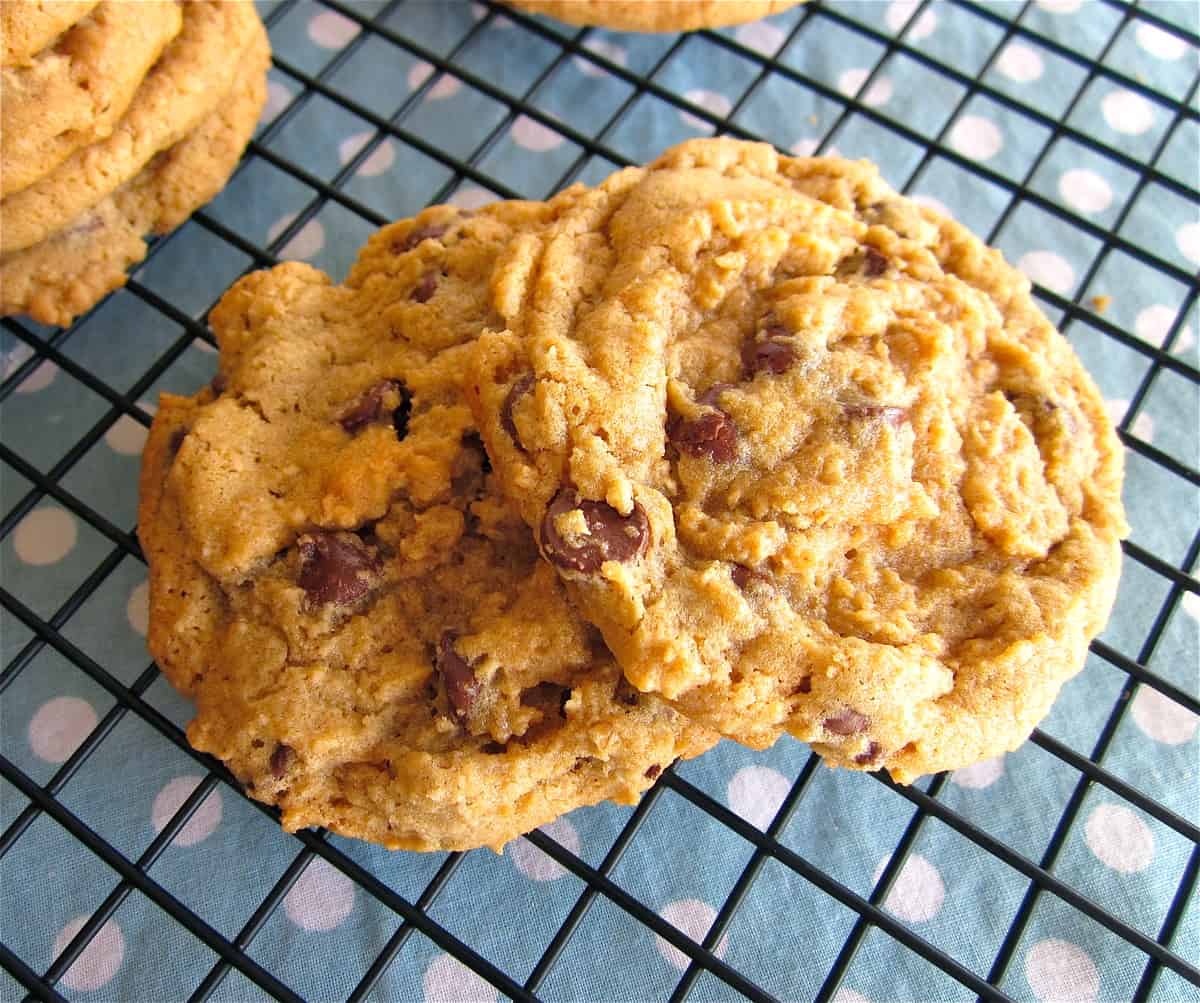 Really though. These cookies are the bomb. (snicker) It's like an oat-flavored chocolate chip cookie. Not to be confused with an oatmeal chocolate chip cookies, which has an entirely different texture. These guys are still nice and smooth, but you get that rich oat-y flavor we all love. Genius!
Cookies foreverrrr!
Texas Cowboy Cookies << one of the most popular recipes on my site!
Chewy Peanut Butter Oatmeal Cookies << One take on a classic with oatmeal
The Best Peanut Butter Cookies << I still agree with this recipe title. I've been meaning to test more recipes to find a more "classic" version, but for now this is my number one classic PB cookie.
Peanut Butter S'mores Bars << This is one of my personal favorite desserts :)
Facebook | Pinterest | Instagram | Twitter
Oat Flour Chocolate Chip Cookies
It's an oat-flavored chocolate chip cookie. These guys are still nice and smooth, but you get that rich oat-y flavor we all love. Genius!
Ingredients
2 & 1/2

cups

oats

1

cup

butter

,

(2 sticks)

1

cup

sugar

1

cup

brown sugar

2

eggs

1

teaspoon

vanilla

1/2

teaspoon

almond extract

2

cups

flour

1/2

teaspoon

salt

1

teaspoon

baking powder

1

teaspoon

baking soda

12

ounces

chocolate chips
Instructions
Blend oatmeal in a blender or food processor until it is the consistency of coarse flour.

Cream butter and sugars. Add eggs, vanilla, and almond extract. In a separate bowl combine flour, powdered oats, salt, baking powder and baking soda. Add the flour mixture to the butter mixture, and stir until almost combined. Stir in chocolate chips until all the ingredients are incorporated.

Roll cookie dough into balls about the size of a golf ball (or use a cookie scoop) and place about 2 inches apart on lightly greased cookie sheet. (I always refrigerate my dough first for about an hour. Or cheat by scooping the dough directly into ziplock bags and freezing for 30 minutes. ) Bake for 10 to 12 minutes at 325°F. Do not overbake. Cookies will be very soft when removed from the oven. Let cookies cool on the cookie sheet for 5 to 10 minutes before transferring them to a cooling rack.

Makes about 35 cookies.
Notes
Source: adapted from BYU 100 Hour Board writer Concealocanth
Nutrition
Serving:
1
g
,
Calories:
169
kcal
,
Carbohydrates:
24
g
,
Protein:
2
g
,
Fat:
7
g
,
Saturated Fat:
4
g
,
Polyunsaturated Fat:
1
g
,
Monounsaturated Fat:
2
g
,
Trans Fat:
1
g
,
Cholesterol:
25
mg
,
Sodium:
131
mg
,
Potassium:
42
mg
,
Fiber:
1
g
,
Sugar:
15
g
,
Vitamin A:
176
IU
,
Calcium:
19
mg
,
Iron:
1
mg
We are a participant in the Amazon Services LLC Associates Program, an affiliate advertising program designed to provide a means for us to earn fees by linking to Amazon.com and affiliated sites.