Marshmallow Creme Stuffed Chocolate Chip Cookies
Classic chocolate chip cookies stuffed not with a marshmallow, but with marshmallow creme! It makes the cookies so soft and chewy on the inside, and there is a perfect crisp on the edges!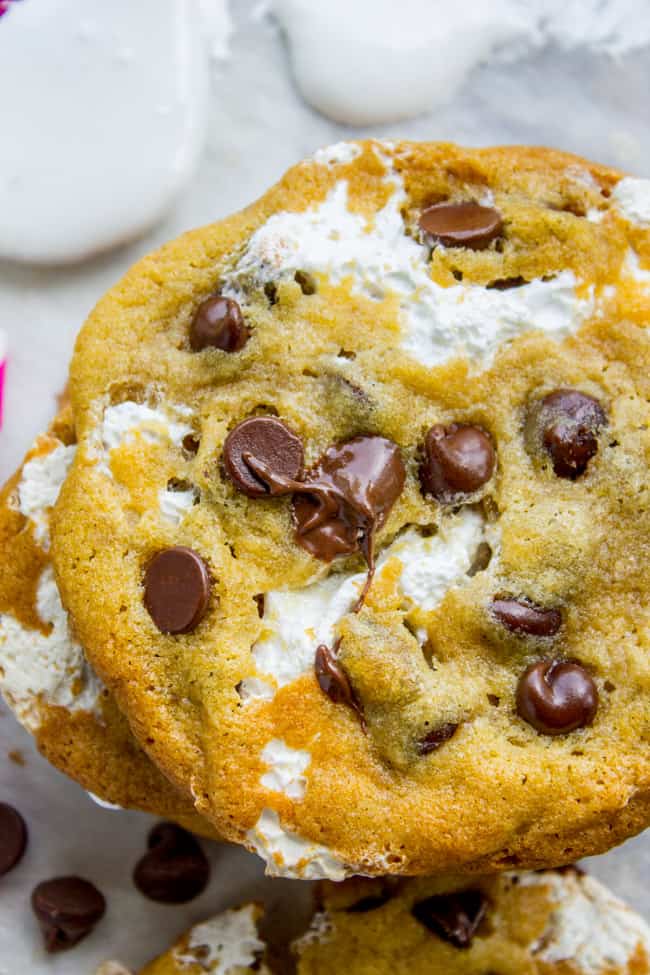 Several weeks ago my brother Eric mentioned in passing that he made marshmallow-stuffed cookies. "I used marshmallow creme," he said. "Way better than a regular marshmallow."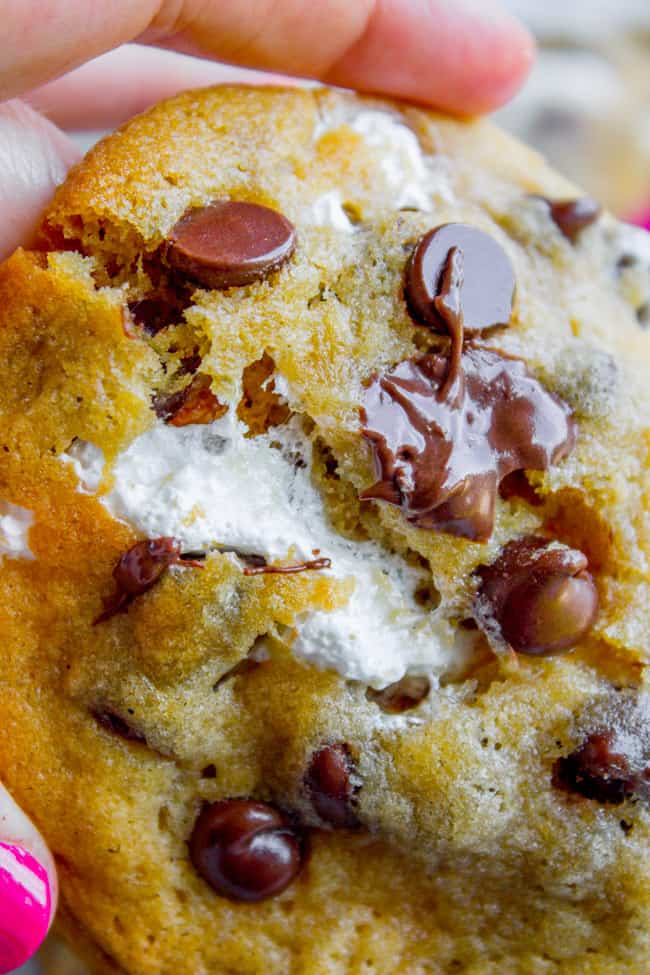 And thus began my obsession. He was right of course: marshmallow and marshmallow creme are totally different. Creme is not solid at room temperature; it's the consistency of thick, gooey frosting. (In fact I use it as a frosting on this Mississippi Mud Cake << so good.) I could not wait to try it inside a cookie.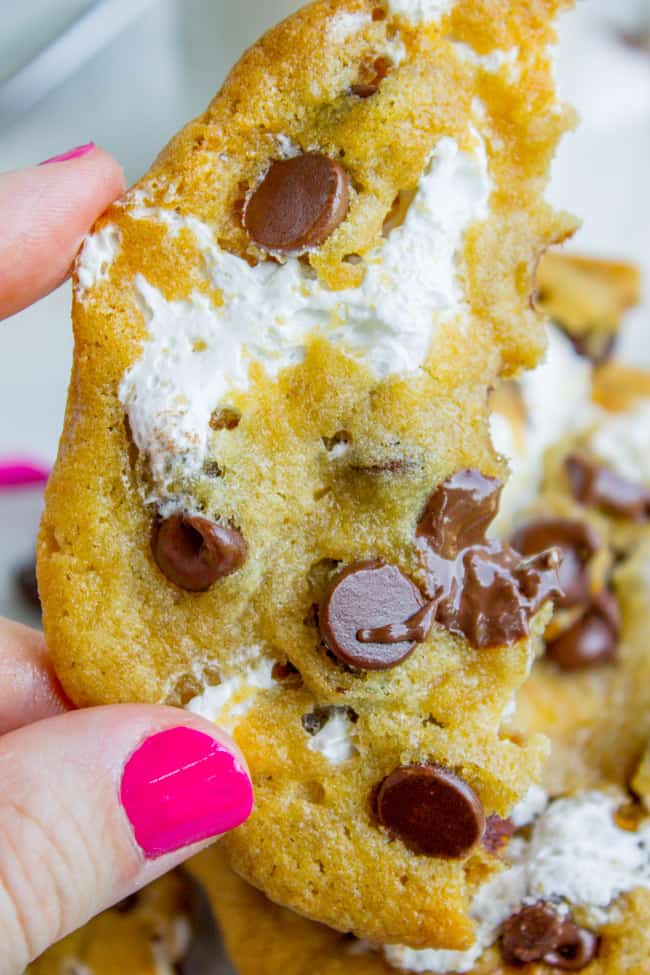 But it didn't work out quite as expected…about 7 times in a row. My Instagram Story followers got to (had to?) hear all about the many, many failures I had in my attempts to make these cookies work. Wanna see?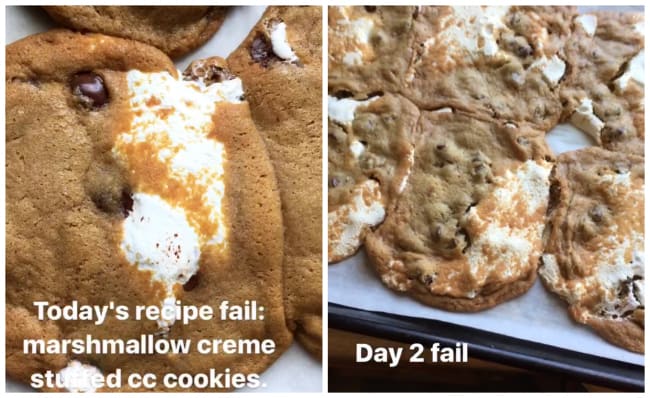 I'm PRETTY sure (it's all a blur…) on the left are Browned Butter Chocolate Chip Cookies, and the right is a classic all butter recipe, no browning.)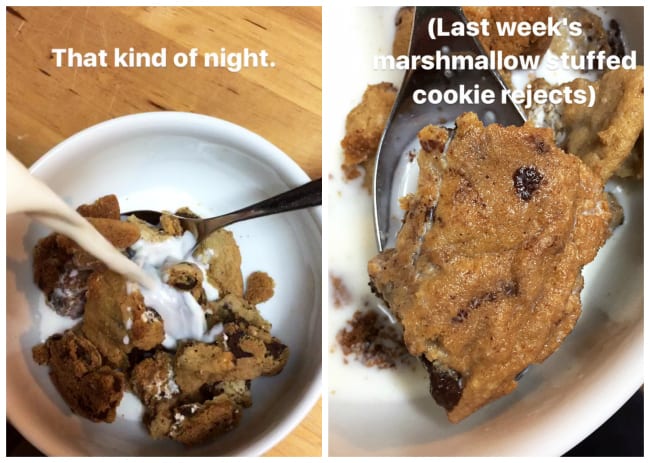 Hm, what to do with crunchy reject cookies? (People always ask me what I do with all my "leftover food" and I'm over here like, I don't understand.)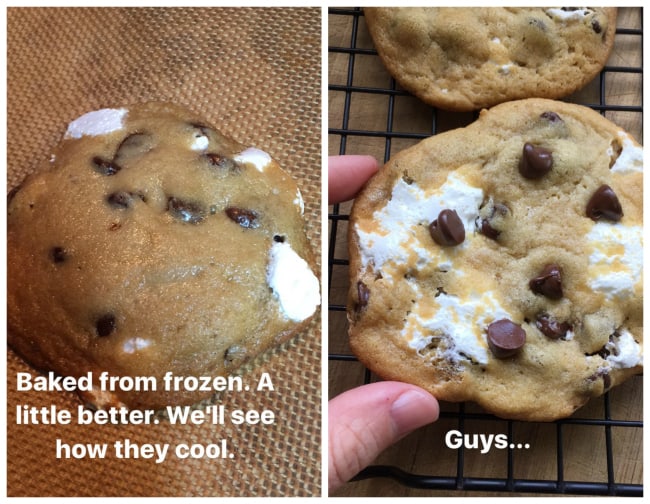 (Baking all butter from frozen still cooled way flat. The one on the right is the final recipe. CRISCO, PEOPLE. It does a mallow good.)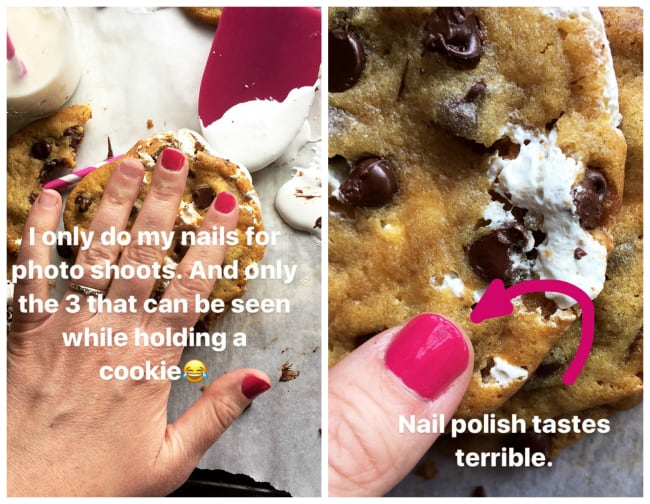 Final shoot day. (I'm always getting crap from people on social media about my ugly nails, so here's me making 3/10 of an effort.)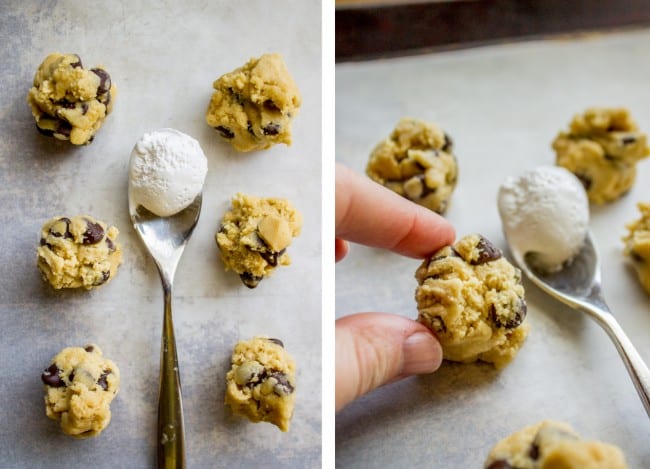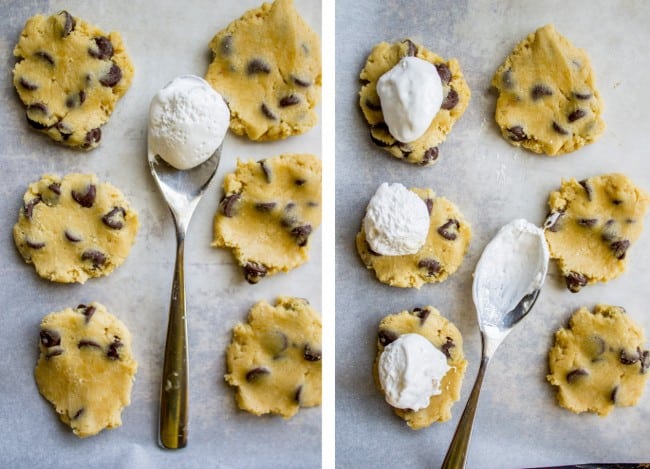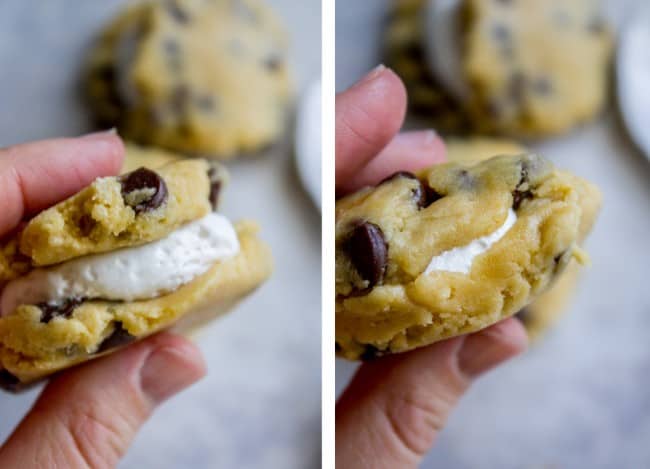 (make sure you "patch up" any marshmallow that peeks through)
First I tried to freeze dollops of marshmallow cream, just like I froze little nuggets of Nutella to go inside these Nutella Stuffed Browned Butter Blondies. (<< Have you made those yet??) It didn't go over so well. They just flattened into little pancakes before freezing. And then melted everywhere when baked. (Refrigerated marshmallow creme works best).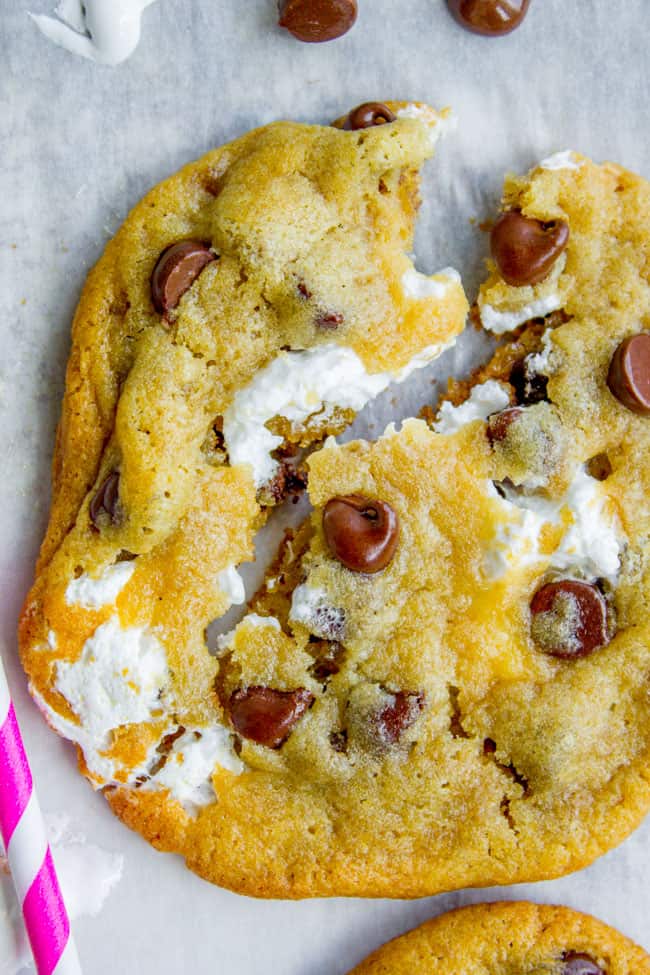 I tried a few other cookie recipes but finally just came back to my tried and true. The first chocolate chip cookie recipe I published on this blog was back in 2012: My Favorite Chocolate Chip Cookies.
I think the reason it worked is because there is shortening in the recipe (butter-flavored Crisco is the best.) It holds it's shape better, and since all marshmallow wants to do is erupt like lava and spread your cookies into flat discs, shortening helps them keep their cookie shape. They are not the puffiest cookies in the world, but they are SO CHEWY in the middle. (Just like these Texas Cowboy Cookies.) Isn't it great having all kinds of cookies to love??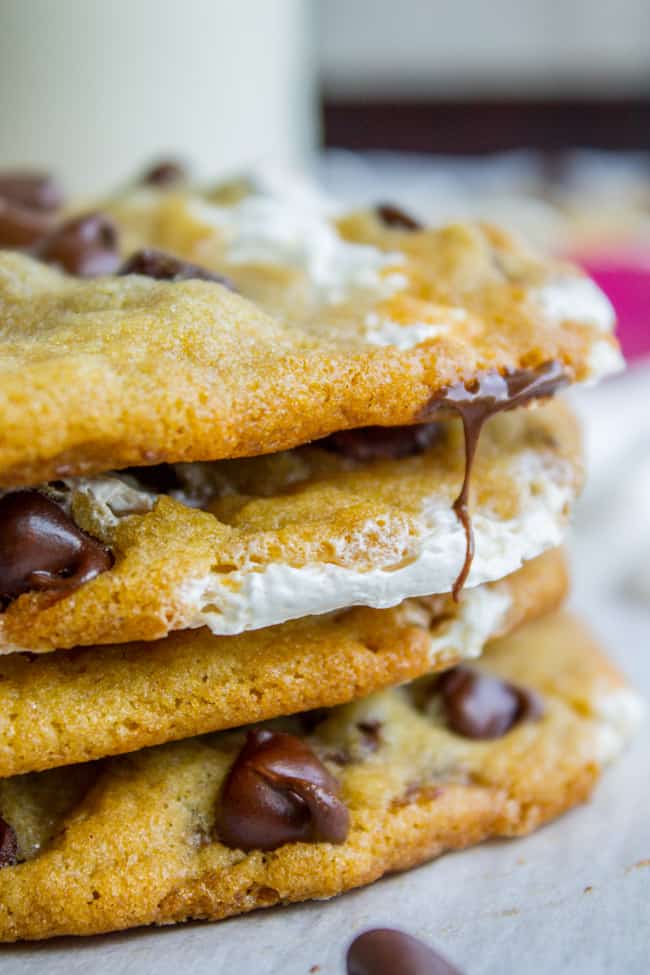 You guys HAVE to let me know if you try these! A recipe that takes me this long to get right turns into a little marshmallow cookie baby, and thus becomes close to my heart.  Share it on Instagram using the hashtag #TheFoodCharlatan so I can see it! I love that.
Facebook | Pinterest | Instagram | Twitter
One year ago: Cherry Tomato, Leek, and Spinach Quiche
Two years ago: Dark Chocolate Waffles with Ganache and Strawberries
Three years ago: Homemade Oreo Brownies
Marshmallow Creme Stuffed Chocolate Chip Cookies
Classic chocolate chip cookies stuffed not with a marshmallow, but with marshmallow creme! It makes the cookies so soft and chewy on the inside, and there is a perfect crisp on the edges!  
Ingredients
1

cup

butter

,

softened (2 sticks)

1/2

cup

butter-flavored shortening

1 & 1/4

cups

granulated sugar

1 & 1/4

cups

brown sugar

3

large

eggs

1

tablespoon

vanilla

4 & 3/4

cups

all purpose flour

,

spooned and leveled

2

teaspoons

baking soda

1 & 1/2

teaspoons

kosher salt

2 & 1/2

cups

semi-sweet chocolate chips

1 (7-oz)

jar

marshmallow crème

,

chilled in the fridge for about an hour

chocolate chips

,

more to press into the dough
Instructions
In a large bowl or stand mixer, cream the butter until it is light and fluffy. Add the shortening and beat well for 1 minute.

Add the granulated sugar and the brown sugar, beat for 1 minute.

Add 3 eggs and 1 tablespoon vanilla. Beat until well incorporated, scraping the bottom and sides.

Add 4 and 3/4 cup flour that has been spooned into the measuring cup (not packed or scooped). Don't stir.

Use a small spoon to stir the baking soda and salt into the flour, then stir the flour in.

When there are still streaks of flour in the mixture, add 2 and 1/2 cups chocolate chips. You may need to switch to a wooden spoon at this point if you have a wussy mixer. Don't over mix!!! Stir until just combined.

Cover and refrigerate the dough for at least 2 hours, until completely chilled. Put the jar of marshmallow creme in the fridge too. (Peel off the foil under the lid first! Way easier when it's not cold.)

Use a tablespoon to make 2 balls of dough. Flatten them out with your hands to form a disc.

Use a small spoon to scoop a generous teaspoon of the cold marshmallow creme onto one of the discs. See photos.

Place the other disk on top and use your fingers to pinch the edges and seal the marshmallow inside. Use more dough to "patch" it if there is a leak! Make sure all the marshmallow is covered or you will have marshmallow lava all over your baking sheets.

Place the dough on the cookie sheet. Make sure there are at least 2 inches of space in between each cookie.

Press a few more chocolate chips on the top of each ball of dough BEFORE it goes in the oven. (I usually press them in just after baking, but it made them even flatter and I wanted them to keep some of their puff.)

Bake at 350 for about 10-12 minutes, until they are golden on the edges and still a little shiny on top.

Let cool on the pan for about 5 minutes, then remove to a wire rack to cool. (I mean, if you're into that. I eat them as soon as the marshmallow has cooled to a not-tongue-burning level.)

Drink with milk!
Nutrition
Serving:
1
g
,
Calories:
424
kcal
,
Carbohydrates:
58
g
,
Protein:
5
g
,
Fat:
20
g
,
Saturated Fat:
10
g
,
Polyunsaturated Fat:
2
g
,
Monounsaturated Fat:
6
g
,
Trans Fat:
1
g
,
Cholesterol:
45
mg
,
Sodium:
319
mg
,
Potassium:
160
mg
,
Fiber:
2
g
,
Sugar:
34
g
,
Vitamin A:
279
IU
,
Calcium:
31
mg
,
Iron:
3
mg
Source: I adapted these from My Favorite Chocolate Chip Cookies, which are an old classic.
More cookies to love!
Texas Cowboy Cookies << I just made these again the other night. I forgot how amazing they are! Used Rice krispies instead of corn flakes, it worked great.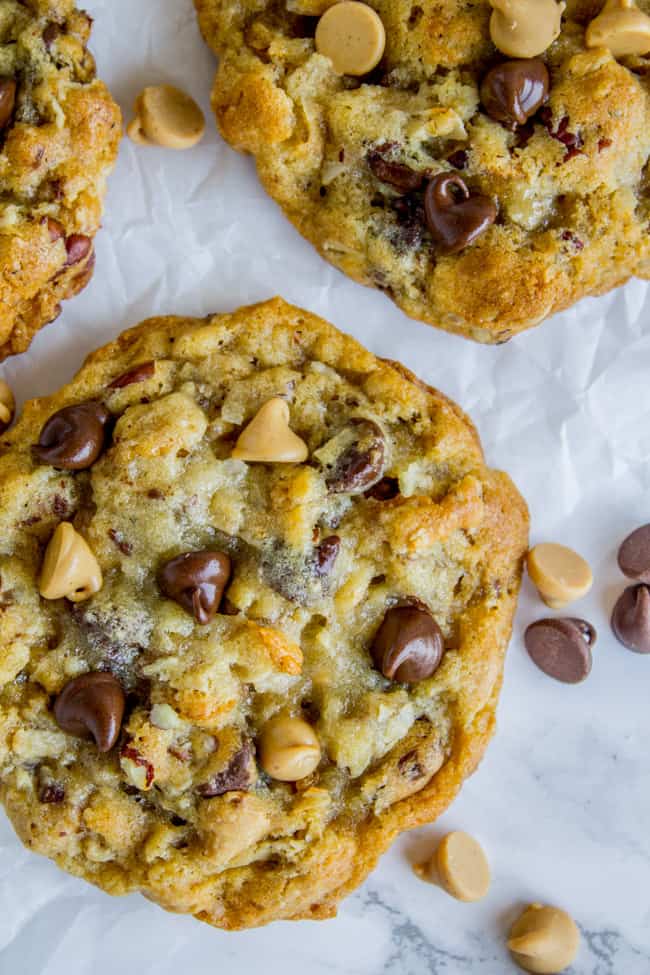 Nutella Stuffed Gingerbread Cookies << so delicious!!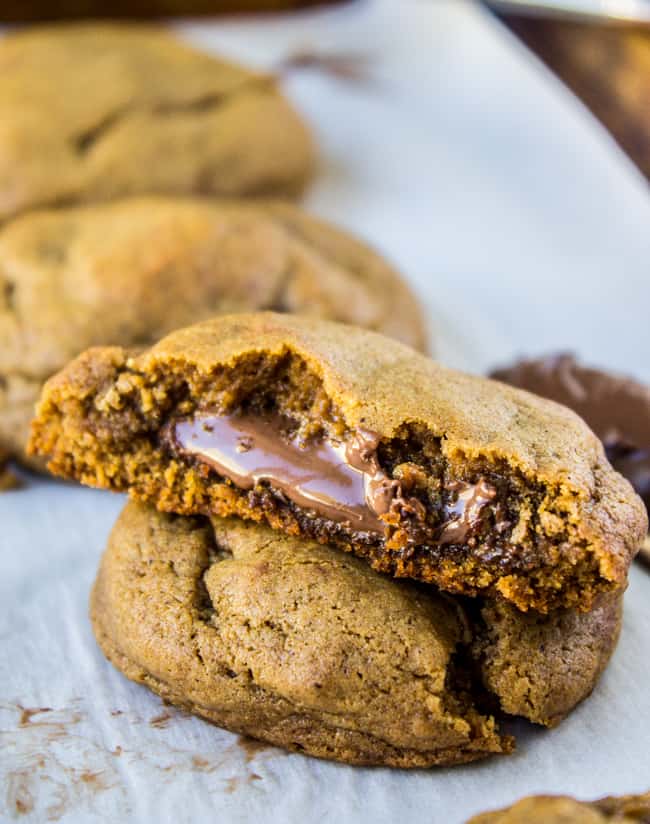 Brown Butter Chocolate Chip Cookies << don't try to stuff these with marshmallow creme. :)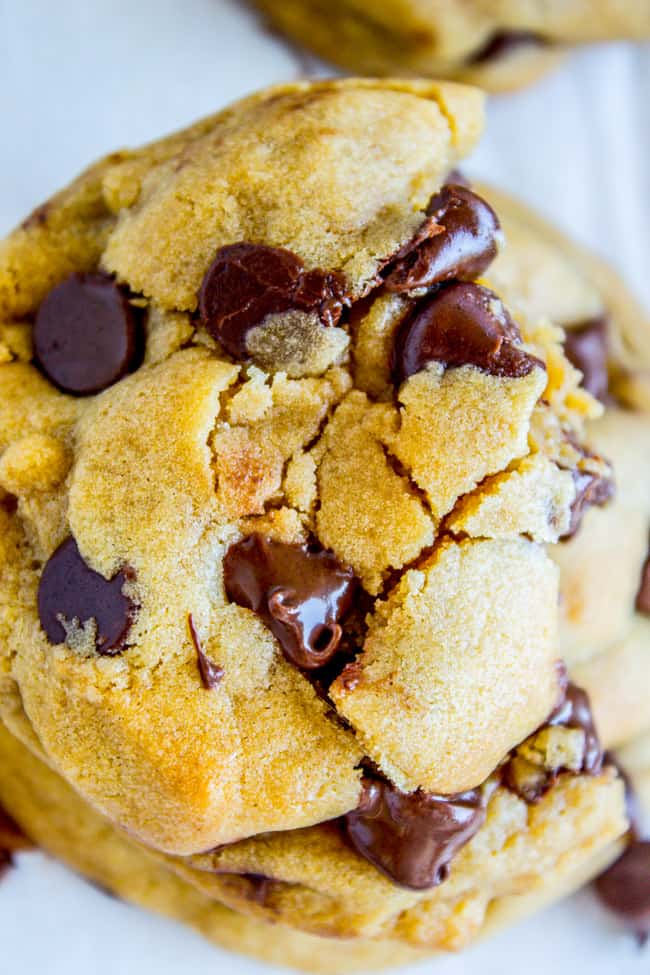 Other cookies with marshmallow!
Hot Cocoa Cookies from my friend Glory at Glorious Treats << her most popular recipe!
Reese's Marshmallow Peanut Butter Chip Cookies from Oh Sweet Basil
Molasses Spice Cookies with Toasted Marshmallow from A Spicy Perspective
This post contains affiliate links. Thanks for your support!
We are a participant in the Amazon Services LLC Associates Program, an affiliate advertising program designed to provide a means for us to earn fees by linking to Amazon.com and affiliated sites.