Charlotte, now 18 months old, still has yet to successfully drink out of a normal cup. She is master of the sippy cup. I don't see a problem with this, but Eric is very concerned. This mostly stems from the fact that Charlotte just started attending nursery at church, and he knows that at snack time the kids are given tiny cups of water to drink. He doesn't want Charlotte to be the only kid in nursery with a drinking problem.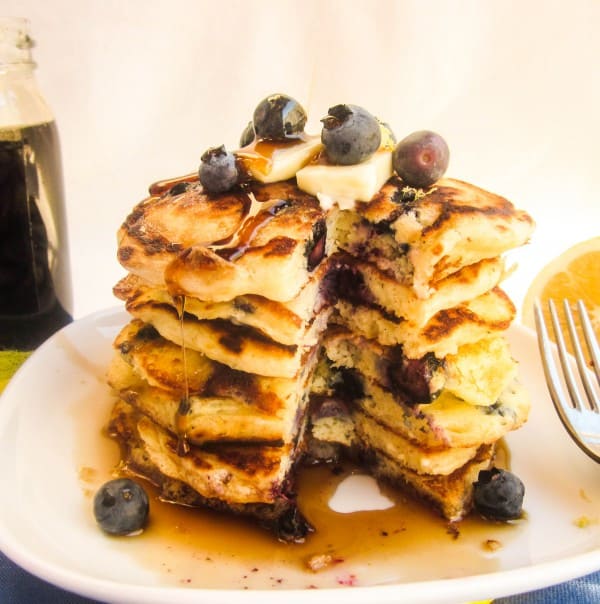 He has been bugging me to pick up some Dixie cups so that he can practice with her at home. I was at the store with my mom and niece awhile back, and finally decided to buy Eric some tiny cups. But they were only sold in packs of 300, and there was no way in heck that I was going to waste money on that many cups, since I knew Eric would probably use like 4 of them. So I left them on the shelf.
As we were walking out of the aisle, my niece noticed some plastic cups that were about the right size. There were only 8 in the package. And they were all different colors! What could be more perfect? I tossed them in the cart. Then my mom pointed out the packaging. It said "Party Time!" Yes, I bought my daughter plastic shot glasses to learn how to drink out of a cup. This on top of the fact that I took her to a bar a while back. Charlotte might have a hard time believing that her parents don't even drink.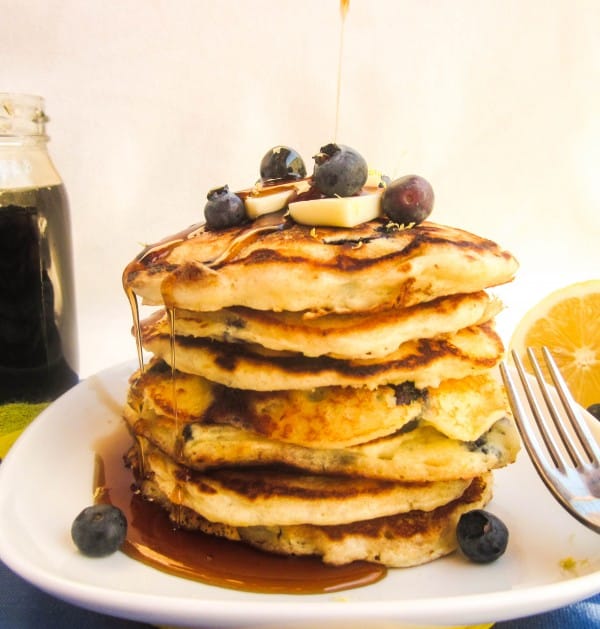 This has been my favorite pancake recipe for years. These were on the cover of Woman's Day once and I liked the recipe so much that I clipped it. Good thing, too, because for some reason I can't find it on their site. These pancakes are light and fluffy and buttery and incredible. They are
perfectly summery. Enjoy!

Lemon Blueberry Pancakes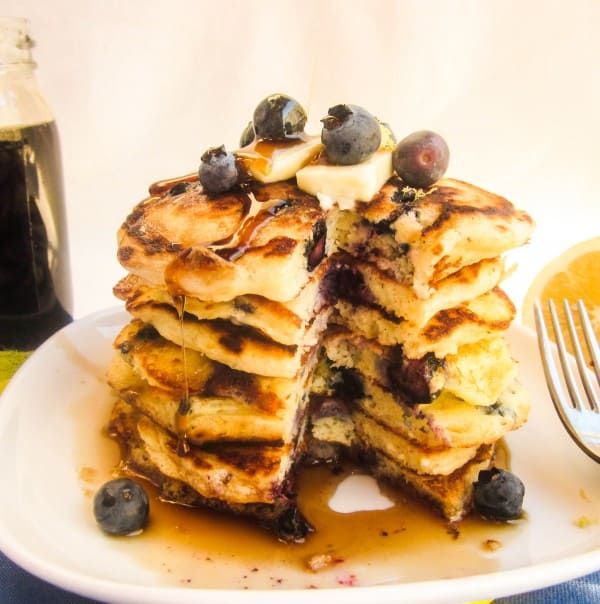 These lemon blueberry pancakes are light and fluffy and buttery and incredible. They are perfectly summery. Enjoy!
Ingredients
1

cup

pancake & baking mix*

,

such as Bisquick

2

teaspoons

sugar

1

teaspoon

baking powder

1

teaspoon

lemon zest

3/4

cup

milk

1

large

egg

,

lightly beaten

1

tablespoon

lemon juice

,

fresh

1/2

cup

blueberries

,

fresh, although I bet frozen would work fine too

2

teaspoons

butter

,

or more
Instructions
Combine baking mix, sugar, baking powder, and lemon zest in a medium bowl. Stir in milk and beaten egg, then add in lemon juice. Fold in blueberries.

Melt butter in a large nonstick skillet. For each pancake, pour about 1/4 cup batter into pan.

Cook until bottoms are golden; turn over and cook until bottoms are golden. Repeat with remaining batter and butter.
Notes
*I didn't have any, so I made my own. Combine 1 cup flour with 1/2 teaspoon salt and 1 tablespoon baking powder. Cut in 2 tablespoons of shortening with a pastry cutter. You only need a cup of this mixture for the pancakes, so you will have a very small amount leftover.
Nutrition
Serving:
1
pancake
|
Calories:
62
kcal
|
Carbohydrates:
7
g
|
Protein:
2
g
|
Fat:
3
g
|
Saturated Fat:
1
g
|
Polyunsaturated Fat:
1
g
|
Monounsaturated Fat:
1
g
|
Trans Fat:
1
g
|
Cholesterol:
32
mg
|
Sodium:
130
mg
|
Potassium:
65
mg
|
Fiber:
1
g
|
Sugar:
3
g
|
Vitamin A:
118
IU
|
Vitamin C:
2
mg
|
Calcium:
76
mg
|
Iron:
1
mg