I used to hate blueberries. My mom never bought them growing up (probably because they are so darn expensive) so the only exposure I had to blueberries was in those store-bought pre-wrapped pastries. Nasty. You know the fake grape flavor we all have to endure in candy and medicine that tastes absolutely nothing like grape? Blueberries have received the same curse. A horrible, horrible flavor that bears no resemblance to actual blueberries.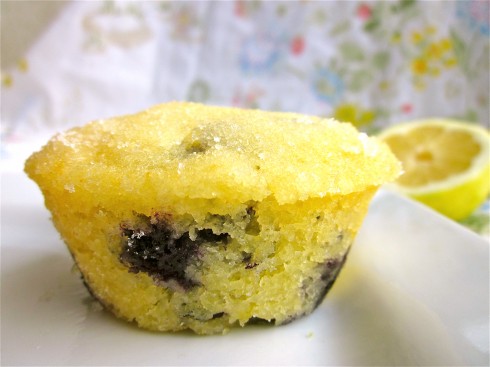 Blueberries were on sale this week at my local grocery store. $1.48 for a pound. Can you believe that? You can't even buy frozen blueberries for that price. I keep going back every day because there is a limit to how many you can buy at a time. Yes, my life does revolve around sales at the grocery store. Feel free to shun me for my uncoolness. I won't notice because I will be too busy eating my delicious, delicious fresh blueberries.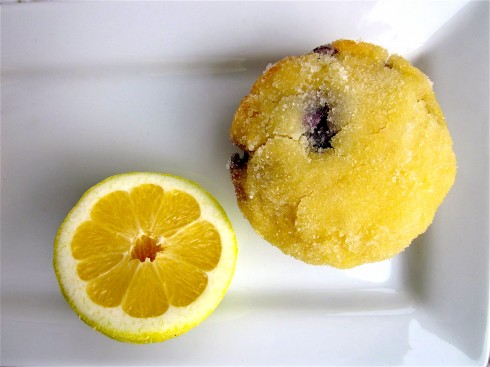 Today I was there (again) picking up some more blueberries to freeze. A couple of produce workers came over and put up a sign that said Raspberries $1.48. I was giddy with excitement and could barely sputter out my inquiry as to whether it was $1.48 for a full pound of fresh raspberries. I think the guy was a little freaked out at how completely deflated I looked when I learned that no, it was that price for the tiny boxes. Apparently I get a little worked up over berry prices.
This recipe actually calls for frozen blueberries, but of course fresh will work just as well. It is nice that you can use frozen though, because it means you can pretty much eat these awesome muffins all year round. If I were ever to open my own bakery (a girl can dream, right?) this recipe would be at the top of my muffin list. You can't really deny a muffin that makes no pretense about the fact that it is doused in melted butter and then rolled in sugar.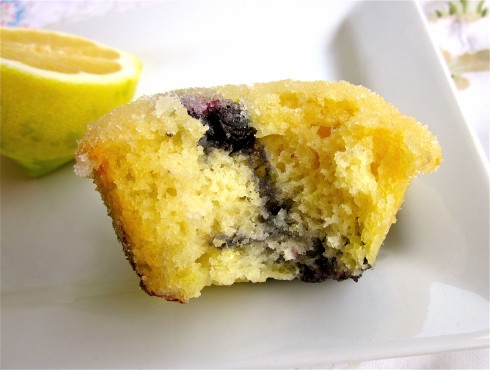 Blueberry Lemon Muffins

Source: adapted from The Sisters Cafe
2 cups flour
1/2 cup sugar
1 tablespoon baking powder
1/2 teaspoon salt
1 egg
1 cup milk
1/2 cup very soft butter (shortening works too)
zest of one lemon
1 cup frozen blueberries (I'm sure fresh works great too)
Topping:
1/4 cup butter, melted
2 teaspoons lemon juice (or more to taste)
1/2 cup sugar
Mix dry ingredients and set aside. Beat egg, milk, and butter. (You may need to beat it for a while, and even then the butter might not all be incorporated. That's okay.) Add dry ingredients and lemon zest. Gently fold in blueberries. Stir gently to combine. Bake at 375 degrees for 20-25 minutes. Combine butter and lemon juice. While the muffins are still warm, dip the tops in the butter and lemon juice, then dip in sugar. Makes 12 muffins.