This caprese-salad-style burger is packed with fresh mozzarella, basil, and tomato. A balsamic glaze and pesto sauce kick things up. It's like an awesome mashup of 2 iconic summer meals.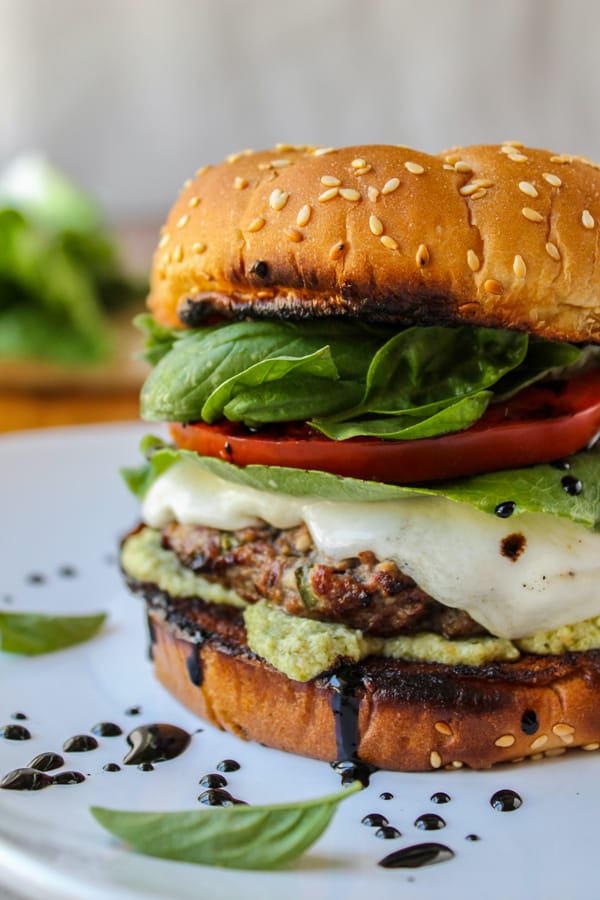 "No, you can't have any tape."
Probably the worst sentence you can hear in a post office, right? Especially when your kids are busy pulling every last greeting-card off the carousel behind you.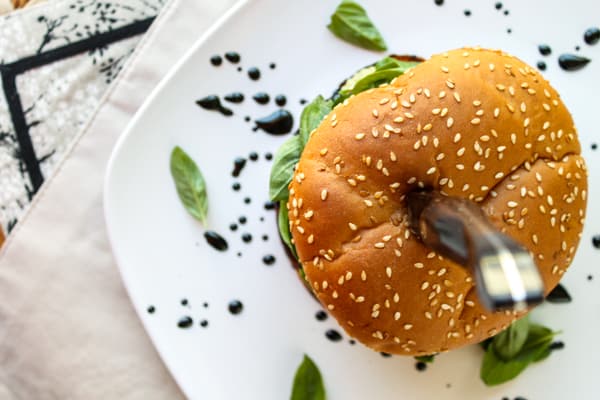 I was pretty grumpy as I bought my $3.29 packing tape. Apparently having to buy overpriced tape is all it takes to make me join the evil forces of Grumpy Post Office Customers.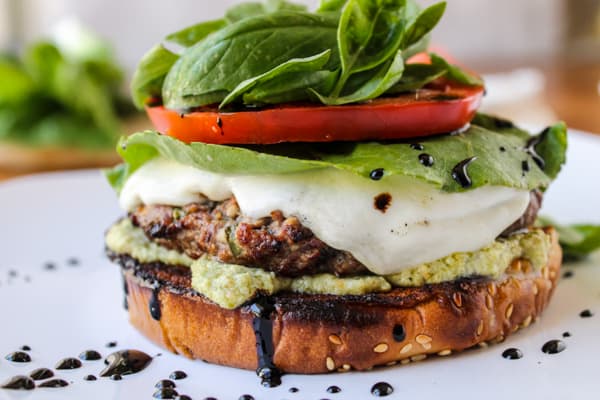 As I struggled to peel the invisible end of the tape off the roll, this post office employee came out from behind the counter. I couldn't understand his Asian accent very well. (Is that not politically correct? If it makes it any better, I suck at understanding ANY accent. I even have trouble watching Sherlock. Yes, English, I know.)
He took the tape out of my wrist-braced, tendonitis-weakened hands and peeled the end up. He handed it back, talking the whole time (about his son, and going to the dentist, and pretty much everything), then he took out his phone and started showing my kids pictures of his son, and telling Charlotte not to eat too much candy because she will get cavities.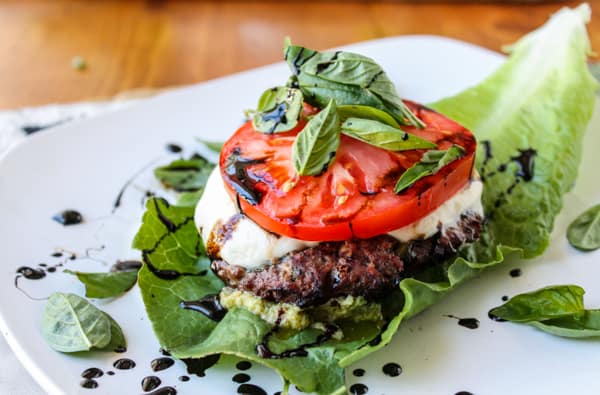 On my way out Truman threw a fit. I had to set everything down to pick him up. The guy came over again, pointed at my wrist, and told me to rest my arm as much as I could. "My wife had carpal tunnel. It will go away. It's the hormones."
Faith in humanity: officially restored. This guy didn't just go out of his way. He went WAY out of his way. He really made a huge difference in my day.
Sometimes it's awesome being human. (And I'm still cracking up over the hormones comment.)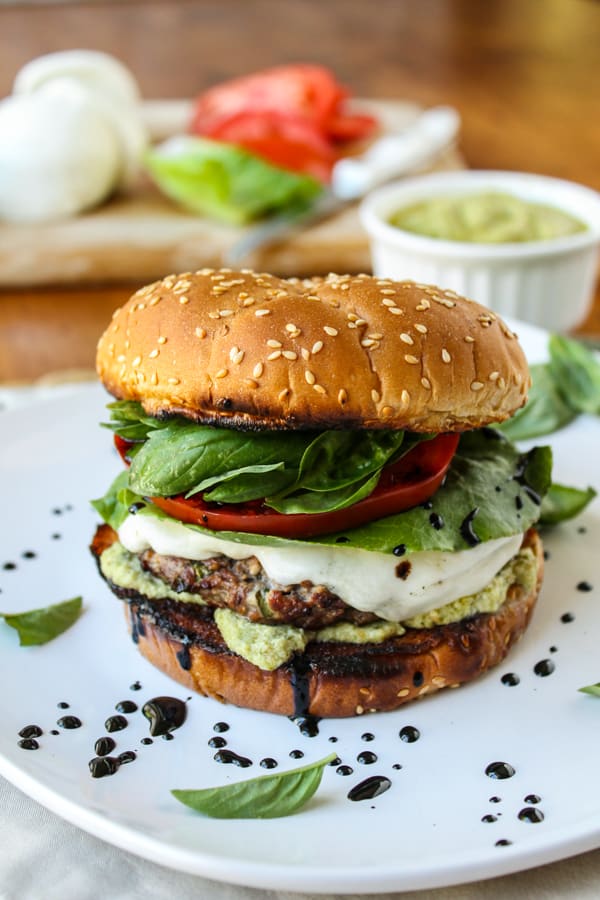 On to the recipe! This may look intimidating but it's really not bad. There are only 6 ingredients in the actual burgers. My basil plant it going crazy, so I'm adding it to everything. Put on as much or as little as you like. Do NOT skip the balsamic glaze though! Or the Artichoke Pesto, for that matter. It's just pesto, artichoke hearts, and mayonnaise, but I'm telling you, it's amazing.
I fed these to my friend Scott last week while he was diagnosing me with tendonitis (I bribe my doctor-friends with food), and right in the middle of his sentence he stopped talking. "This is the best burger I have ever put in my mouth." I think it's got to be on my top-5-burgers-list too. You just can't beat those summer flavors.
Come back next week for a very fun and different giveaway! It's a kind of giveaway that I've never done here on the bloggy-blog, so I'm excited for you guys to see it! 
Do you guys give up? Or are you thirsty for more?
Facebook | Pinterest | Instagram | Twitter

Caprese Burger with Artichoke Pesto Sauce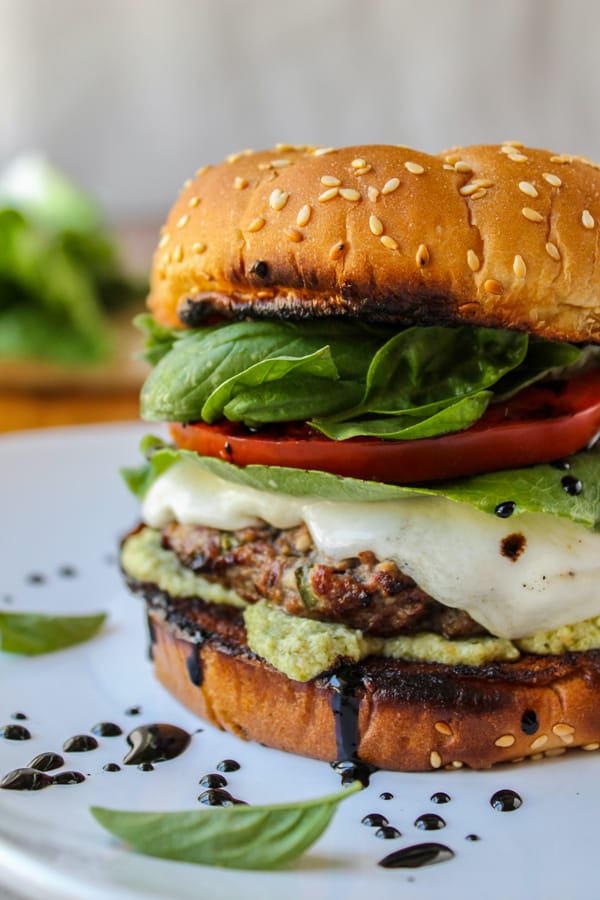 This Caprese-salad-style burger is packed with fresh mozzarella, basil, and tomato. A balsamic glaze and pesto sauce kick things up. It's like an awesome mashup of 2 iconic summer meals.
Ingredients
For the burgers:
1 & 1/2

pounds

ground beef

,

I used 80/20

2

tablespoons

red wine

1 & 1/2

teaspoons

salt

1

teaspoon

black pepper

1 & 1/2

tablespoons

garlic

,

minced

3

tablespoons

basil

,

fresh, minced (or more to taste)
For the Artichoke Pesto Sauce:
1/2

cup

artichoke hearts

,

quartered, mine were from an un-marinated can

1/2

cup

basil pesto

,

prepared

6

tablespoons

mayonnaise
To assemble:
6

large

hamburger buns*

butter

,

to spread on the buns

12

slices

mozzarella

,

thick, fresh

romaine lettuce leaves

,

or any kind

1-2

large

tomatoes

,

sliced

basil

,

fresh, to top burgers with

1/2

cup

balsamic vinegar
Instructions
Make the burgers first. In a large bowl add ground beef, red wine, salt, pepper, garlic, and minced basil. Use your hands to combine the mixture. Just do it. A spoon won't work as well. Mix only until it is just combined. If you work it too much the meat will get tough.

Form the meat into 6 patties. Use your thumb to make a gentle indentation in the center of each one. (see photos). Set aside. Heat your grill over high heat.

Now make the Artichoke Pesto. Add the artichoke hearts, pesto, and mayonnaise to a food processor or blender. Process until smooth. Transfer to a serving dish and set aside.

Transfer the hamburgers to the hot grill. (No need to oil it). Cover and grill for about 5 minutes, then flip each one. Grill for another 3 minutes, then top each patty with 2 slices of mozzarella cheese. Cover and continue to grill for about 2 minutes. When the burgers are done and the cheese is melted, remove from the grill.

Spread butter on each inside half of the hamburger buns. Grill the buns, butter side down, for just a couple minutes until they get to your desired crispiness level.

Meanwhile, make the Balsamic Glaze. Add the balsamic vinegar to a small pot and set over medium heat. Cook for about 10 minutes, stirring occasionally. Try not to choke on the smell. It will bubble and thicken. When it is syrupy and has reduced to about 3-4 tablespoons, remove from heat. If your hamburgers aren't ready yet, leave it on the burner over the lowest setting. It needs to be warm when it is drizzled over the burgers.

To assemble the burgers, spread the Artichoke Pesto on one or both sides of the hamburger bun. Add the hamburger, then add lettuce, tomato, and fresh basil. Drizzle with Balsamic Glaze, then top with the other bun. Enjoy the mess!
Notes
These make great low carb hamburgers. Skip the bun and wrap in lettuce.
Source: The Food Charlatan
Nutrition
Serving:
1
burger
|
Calories:
795
kcal
|
Carbohydrates:
32
g
|
Protein:
38
g
|
Fat:
55
g
|
Saturated Fat:
20
g
|
Polyunsaturated Fat:
8
g
|
Monounsaturated Fat:
16
g
|
Trans Fat:
1
g
|
Cholesterol:
133
mg
|
Sodium:
1680
mg
|
Potassium:
524
mg
|
Fiber:
2
g
|
Sugar:
9
g
|
Vitamin A:
1117
IU
|
Vitamin C:
6
mg
|
Calcium:
432
mg
|
Iron:
4
mg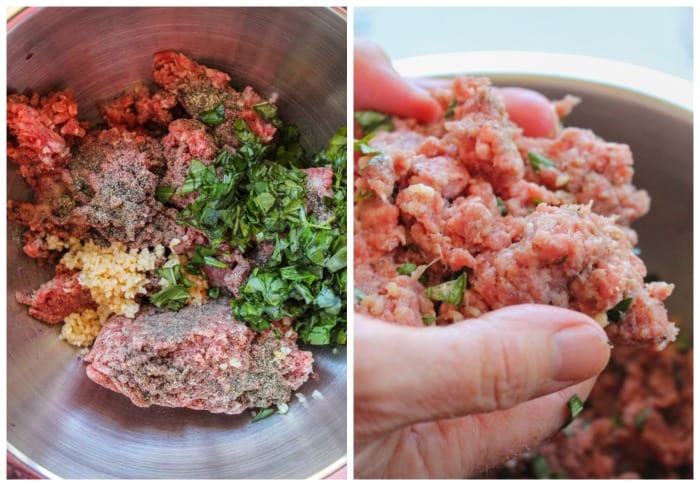 Use your hands to combine the meat. It's gross but it works better than a spoon.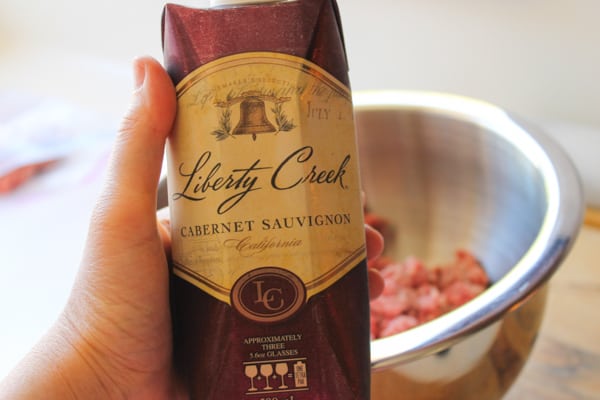 It doesn't matter what kind of wine you use. I went to the store and told the clerk to find me the cheapest, smallest box of wine he had. Just use whatever you have.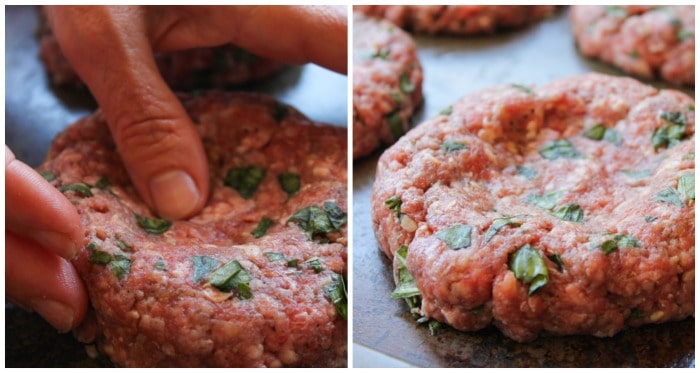 Put an indentation in the center of the burgers. This helps it from getting too thick in the center.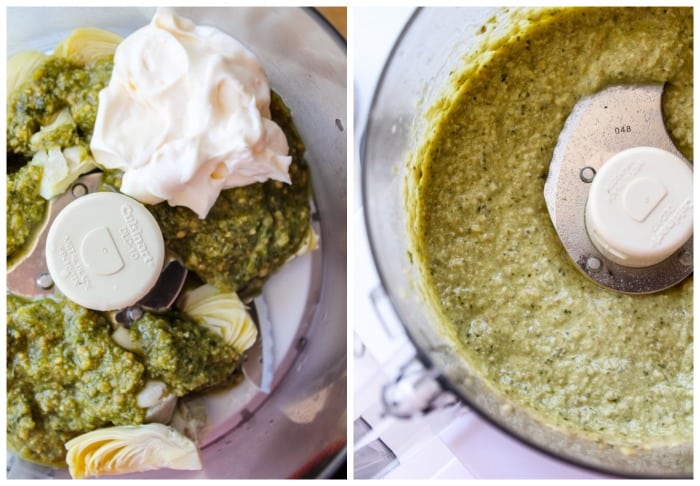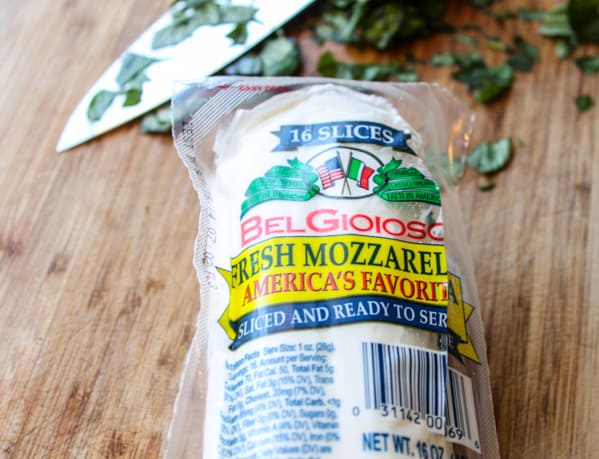 I used pre-sliced mozzarella.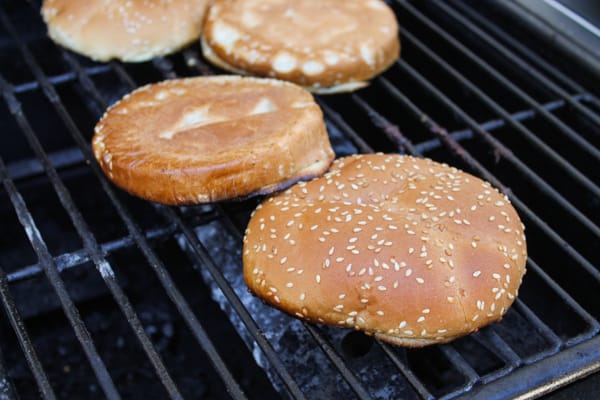 Don't forget to toast your buns. It makes it!
Here are some more rockin' burger ideas:
Asian Salmon Burgers with Wasabi Mayonnaise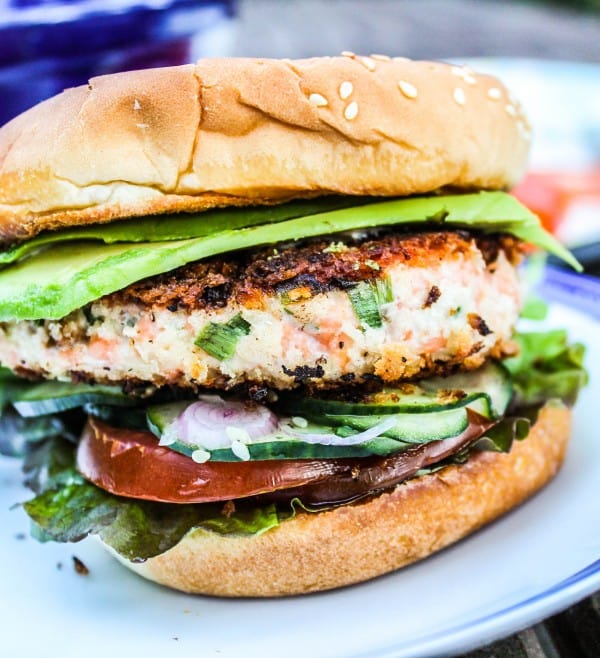 Black Bean Burgers with Sriracha Mayonnaise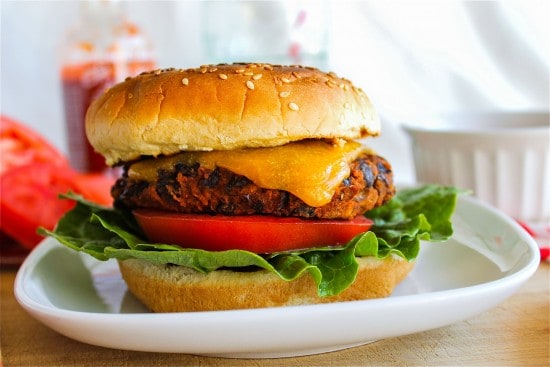 The Juiciest Mediterranean-Style Burger with Creamy Feta-Curry Dressing from The Noble Pig
Eggplant Burgers with Honey Beer-glazed Caramelized Shallots from Eats Well With Others
Sweet and Smoky Bacon Brat Burger from Melanie Makes
Queso Burgers from The Recipe Critic