This make-ahead Creamy Strawberry Banana Jello is easy and always a hit at parties. Sour cream and a quick spin in the blender makes it smooth and creamy. You can call it salad. You can call it dessert. I don't care! We all know it's delicious. Originally posted April 18, 2014.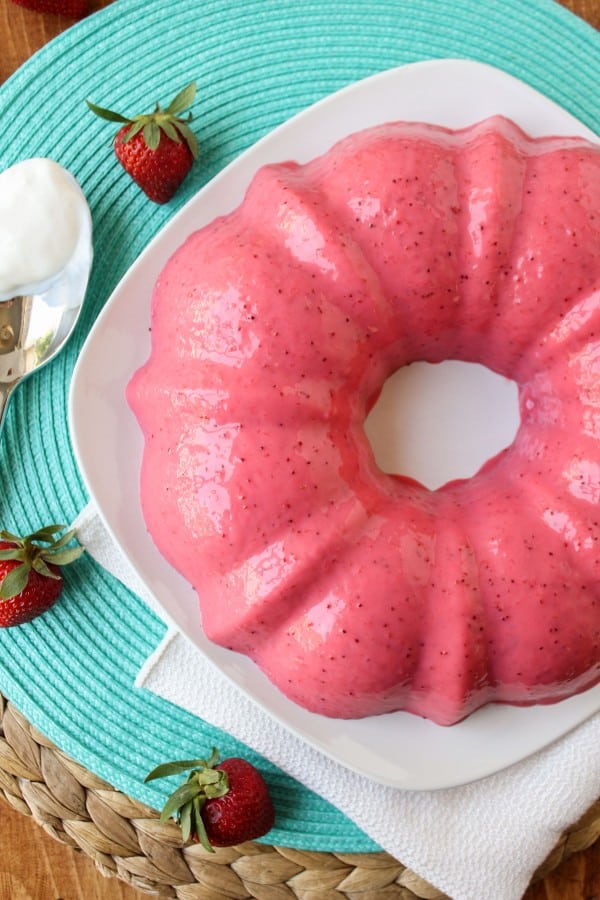 You know why I love jello salad? Because you can legitimately serve dessert as a side dish with dinner and nobody bats an eye. Aunt Beatrice signed up to bring a nice green salad for Easter, but shows up with jello salad instead? It's aaaall good.  Salad is salad people. Don't question it.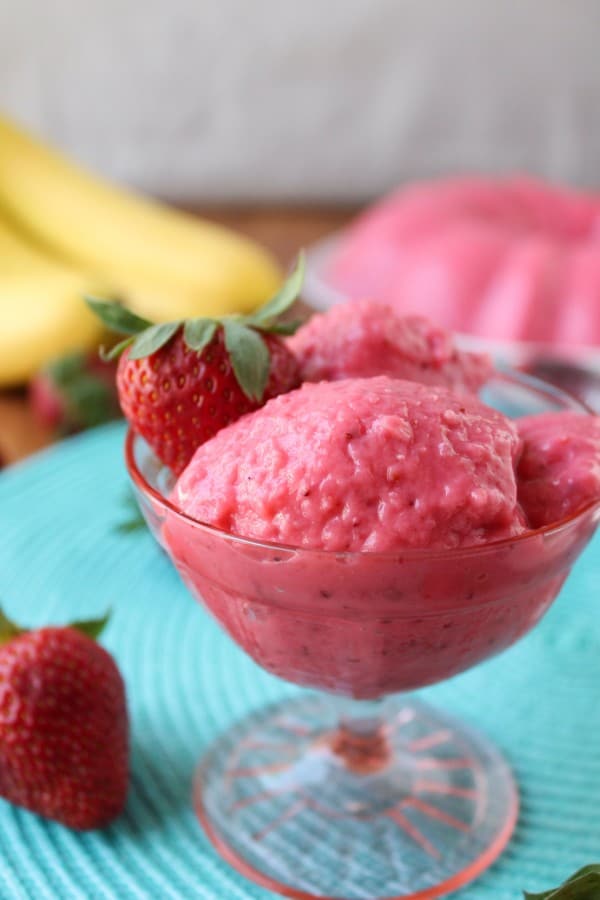 Eric didn't like jello as a kid (he has since mended his ways). His grandmother always brought a special jello recipe to family events and would get so offended when he didn't eat it. She was always trying to convince Eric's mom to force him to eat it, as if it were something actually nutritious instead of straight up sugar and fruit.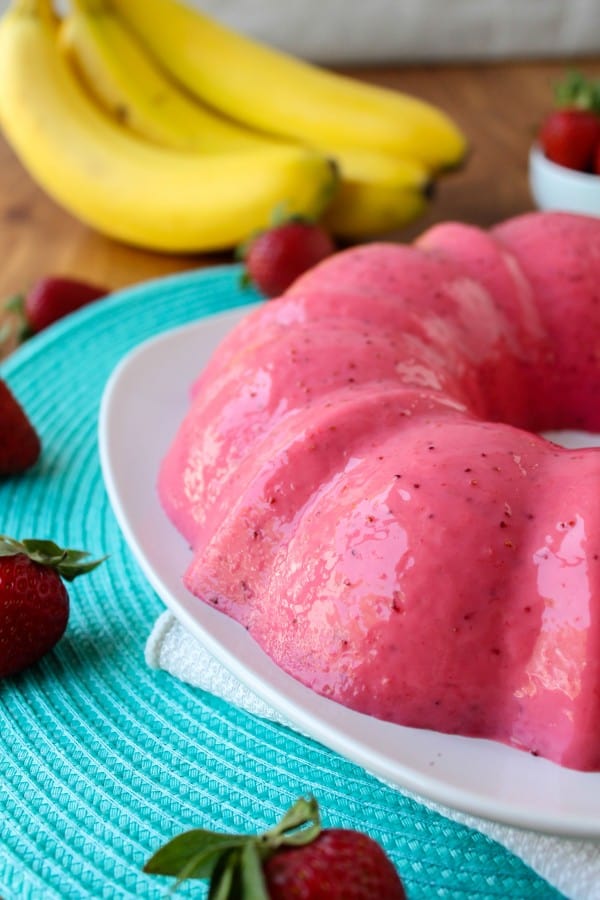 My sister-in-law Sandi has made this jello for multiple events over the past year, and every time I end up back in her fridge eating it with a spoon after the party is over. It was her idea to blend it all up. I love how creamy it is. I am all about fruit in jello, and this one certainly has it, but without the inconvenience of chewing. (It's like the smoothie of jellos. You could even add some spinach to make it healthy. Oh my gosh I'm just kidding.)
Don't even worry about the sour cream. It makes it creamy and even adds a nice little tang.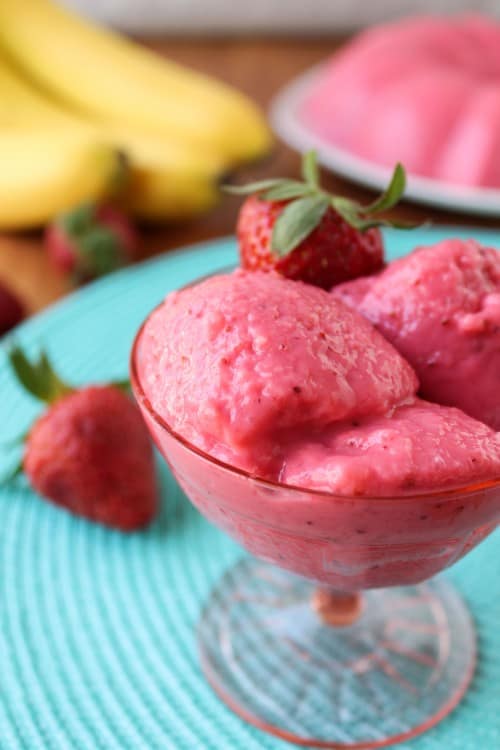 This Creamy Strawberry Banana Jello is a good option for Easter. It's super easy, and make-ahead to boot. It may not be gourmet, but you know what, I don't think anyone will complain once they taste it. Jello is a classic, embrace it!
How to make Strawberry Banana Jello
This strawberry banana jello is stupid easy when you have the right ingredients and the right equipment. I love any recipe where basically just mix and pour. Just grab your blender of choice and get going!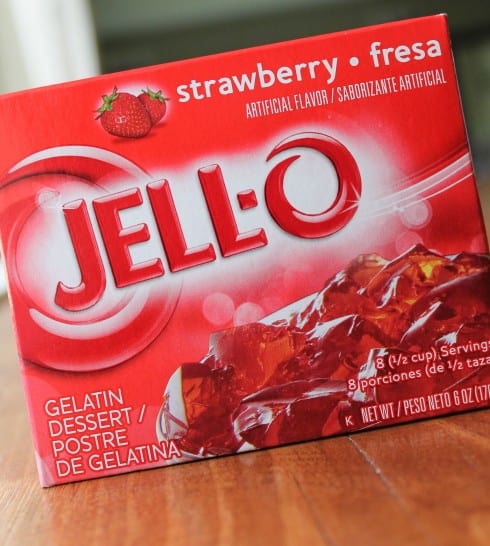 Jellooooooo! You know you want this.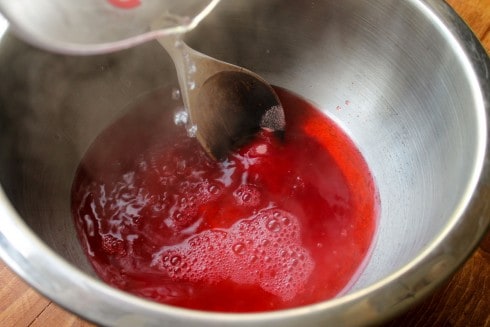 Add the boiling water and stir it up.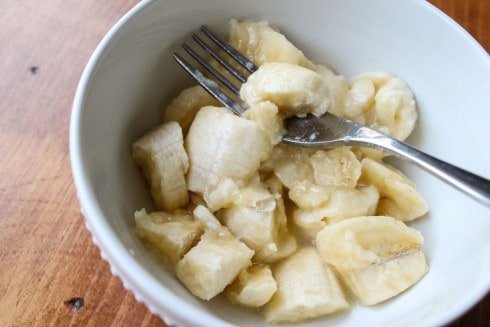 Don't worry about mashing the bananas too much, the blender will do that. You just want to make sure to get the lemon juice all over it.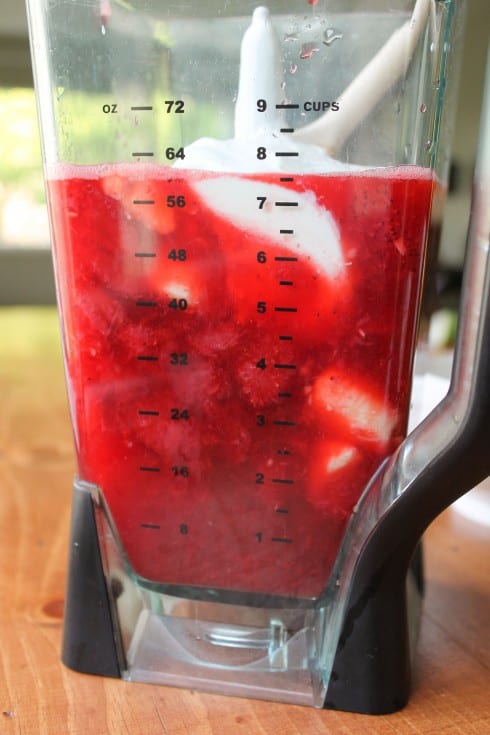 Dump it all in a blender.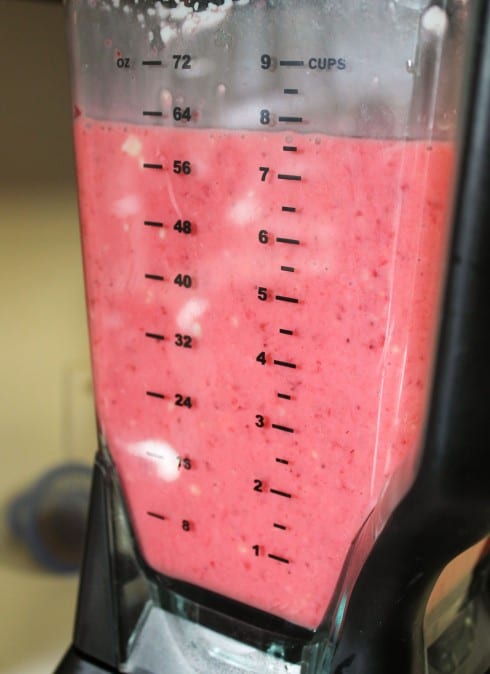 And give it a whirl.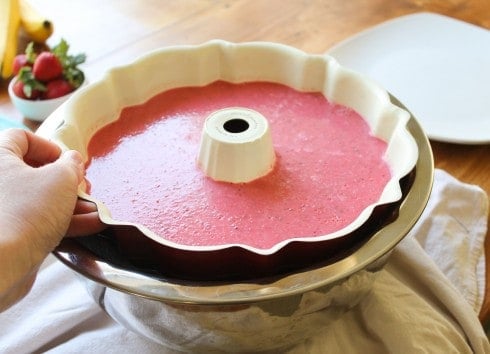 If the jello won't come out,  hold the mold in a large bowl of hot water for a couple seconds. That should do the trick.
P.S. Happy Easter to everyone! Here's to remembering the reason for the season. I will be remembering with my family this Sunday that Jesus Christ is our Savior, and Because of Him we can be redeemed. I hope everyone, religious or not, can enjoy this season of joy, family, and rebirth.
More great Jello recipes to try!

Creamy Strawberry Banana Jello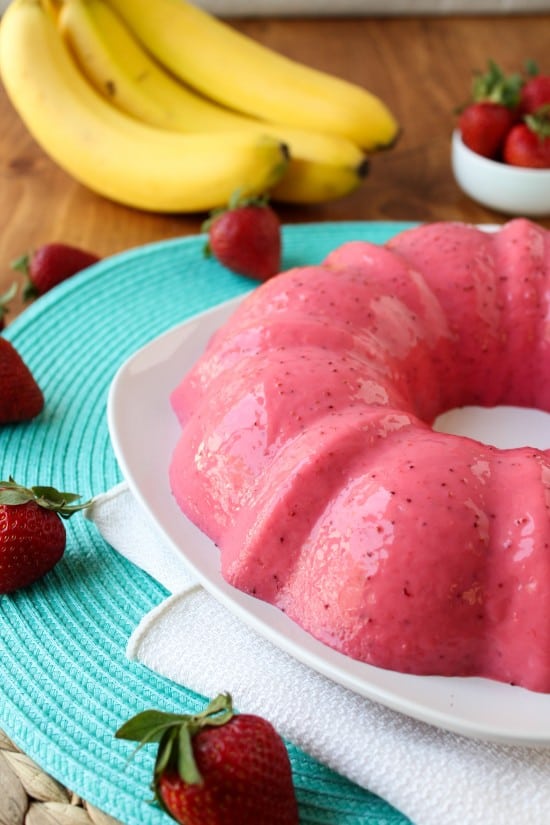 This make-ahead Creamy Strawberry Banana Jell-O is easy and always a hit at parties. Sour cream and a quick spin in the blender makes it smooth and creamy.
Ingredients
1

6-oz package

Strawberry Jell-O

2

cups

boiling water

24

ounces

frozen strawberries

,

whole or sliced

1

banana

2

tablespoons

lemon juice

2

cups

sour cream, light or regular

fresh strawberries

,

to garnish (optional)
Instructions
Empty the jello package into a large bowl. Carefully pour the boiling water over the top, then stir until the jello is dissolved.

Add the frozen strawberries and stir until mostly thawed. Pour this mixture into a large blender.

In a small bowl, roughly mash together the banana and lemon juice. Add this to the blender.

Add the 2 cups of sour cream. Blend for about 30 seconds, some lumps are okay.

Prepare a jello mold or a 10-12 cup bundt pan with nonstick spray. (Or just use a pretty bowl, no need to spray).

Pour the jello into the prepared pan, cover tightly, and refrigerate for several hours or overnight, until completely chilled.

To invert the jello, place a plate over the mold and flip. If the jello doesn't come out, fill a large bowl with hot water and hold the bottom of the mold in the water for no more than 1-3 seconds, then invert again. (This will help melt the outer edge, releasing the jello.)

Serve the jello with fresh strawberries.
Notes
The frozen strawberry amount doesn't have to be exact. If your store sells 10 ounce packages, then buy 2 and call it good.
Source: slightly adapted from Allrecipes.com
Nutrition
Serving:
1
cup
|
Calories:
122
kcal
|
Carbohydrates:
10
g
|
Protein:
2
g
|
Fat:
9
g
|
Saturated Fat:
5
g
|
Polyunsaturated Fat:
1
g
|
Monounsaturated Fat:
2
g
|
Cholesterol:
24
mg
|
Sodium:
40
mg
|
Potassium:
214
mg
|
Fiber:
2
g
|
Sugar:
6
g
|
Vitamin A:
302
IU
|
Vitamin C:
43
mg
|
Calcium:
64
mg
|
Iron:
1
mg