This quick bread is so easy to throw together, and the cranberry-orange combo really packs a punch. The perfect fall breakfast or snack!
If you have walnuts in your cupboard right now, 10 bucks says they are from the valley where I grew up in California. 10 BUCKS! Who's gonna take me on?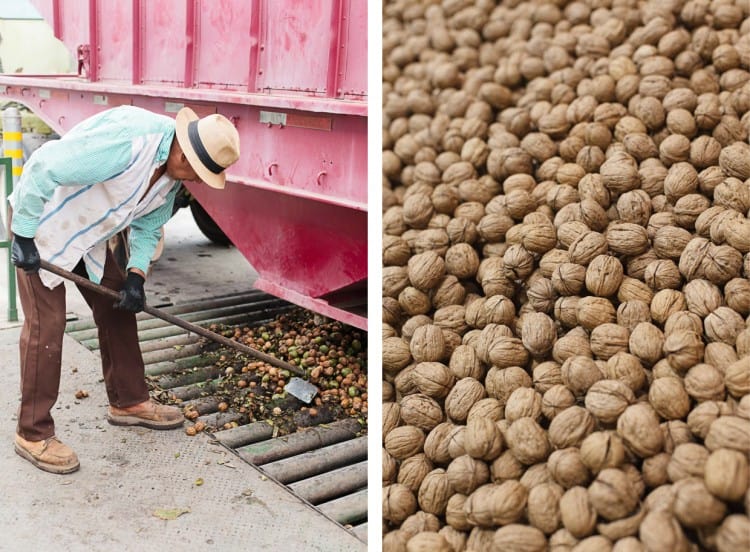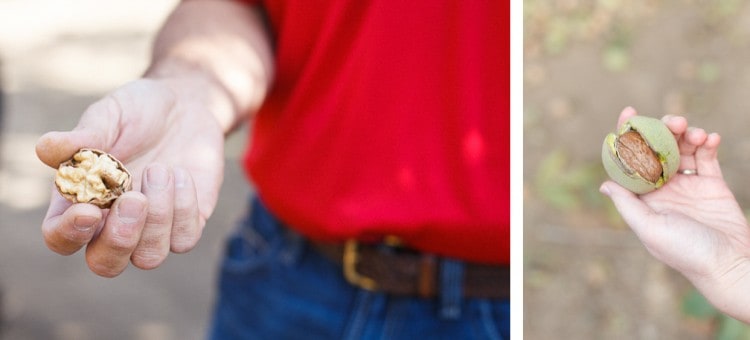 I got this email a while back from Diamond of California asking me if I wanted to come on a tour of the orchards during the harvest, as well as visit the plant. Hi, do you want to come eat nuts with a bunch of cool people? Sign me up dude.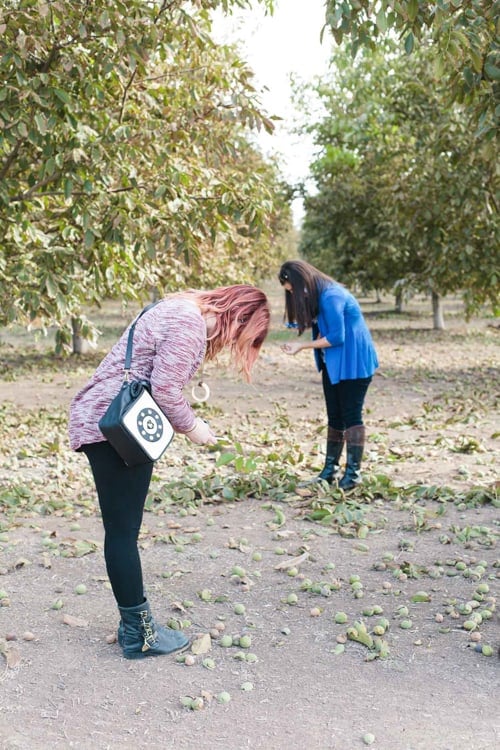 It was super fun. I got to hang out with other awesome bloggers and listen to a bunch of nut growers give us huge numbers that I couldn't conceptualize for the life of me. You know when people start talking about outer space and how 1 lightyear is basically a billion trillion footballs fields and your brain can't even handle it? Yeah it was kinda like that. "This facility cracks 5 billion walnuts a day!" <– That's a lie, probably. I'm really bad at taking notes, okay? All I know is that California makes A LOT OF NUTS.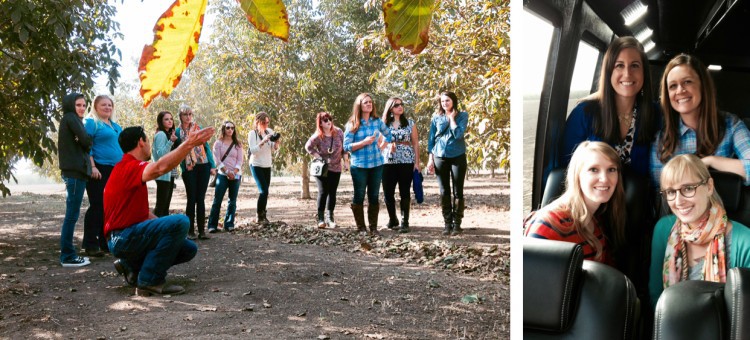 I already knew this, because I grew up surrounded by orchards. My grandfather was an almond farmer and my Grandma still lives way out in the orchards. It's in ma blood. The orchards we visited were about 20 minutes from where I grew up.
One of the coolest parts was seeing the tree shakers. These trucks drive up to the tree, grip it around the trunk with some special high-tech claw thing, and then shake it like a polaroid until all the walnuts rain off. It really does look like walnut rain. Back in the day, you know what they did? Climbed the trees and banged on them with these intense looking mallets. I'll take the walnut rain, thank you very much.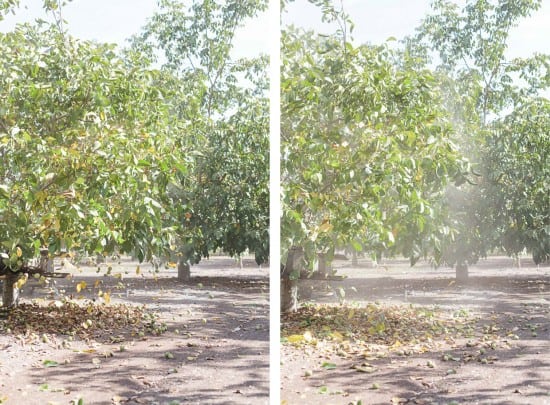 The next coolest part was the processing plant, where they package all the nuts. SO huge. You have never seen so many nuts in your life. It was crazy. I couldn't bring a camera inside, but took this shot of Sarah from Snixy Kitchen and I in our hard hats. Awesome right??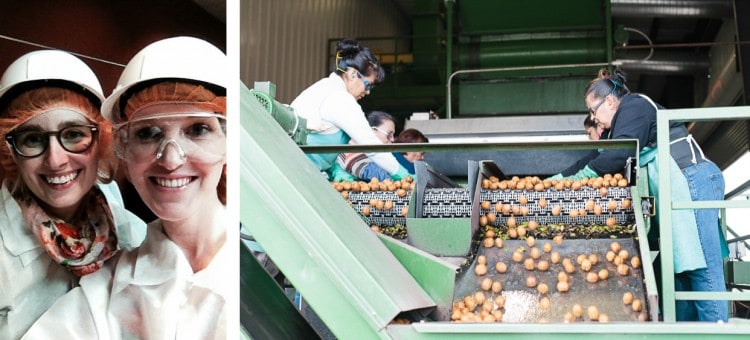 Thanks to Diamond Nuts for being such awesome hosts! Here are the other bloggers who came on the tour, if you want to see their recaps:
Sarah from Snixy Kitchen
Amy from Amy's Healthy Baking
Annalise from Completely Delicious
Tiffany from Creme de la Crumb
Hayley from The Domestic Rebel
Melissa from Fit n' Well Mommy
Liz from The Lemon Bowl
Trish from Mom on Timeout
Lynda of TasteFood
Alex of Delish Knowledge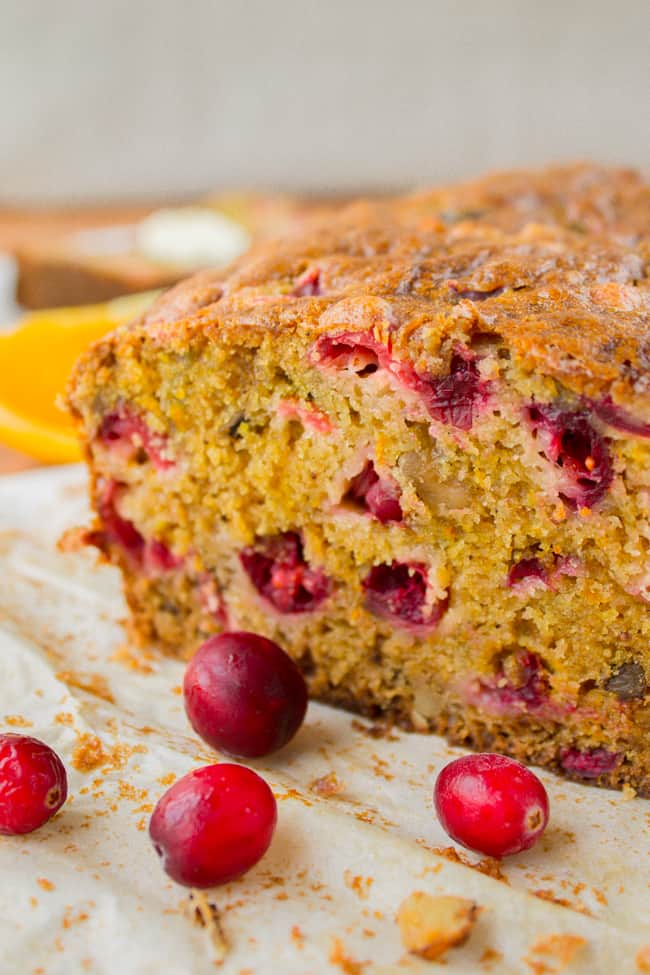 Once upon a time Eric and I waited nearly 2 hours to eat breakfast at this restaurant in San Francisco. The place is famous. By the end of 2 hours you start to think that no breakfast is worth waiting 2 hours for, but that was before we ate. CRANBERRY ORANGE WALNUT FRENCH TOAST. Oh my, it was heavenly my friends. I have been waiting months to make this because for some stupid reason I didn't freeze any cranberries last year. You should have seen my actual jig that I did in Costco when I saw fresh ones a few weeks ago.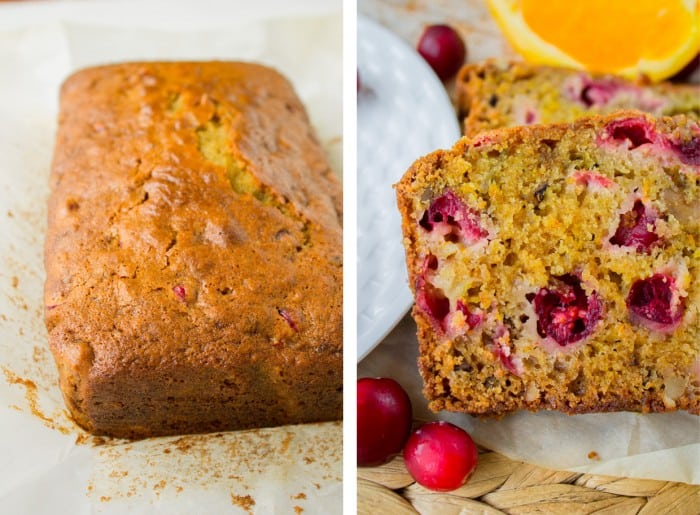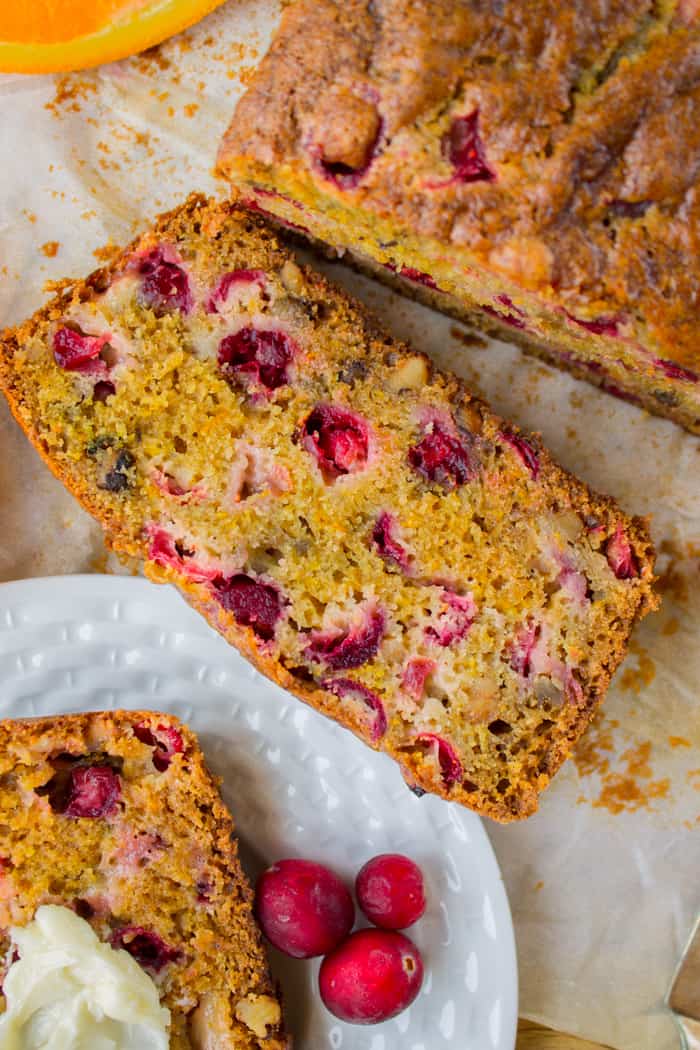 The French toast recipe is coming up soon, but first we have to make the bread, and here it is. It's totally stand-alone delicious. Especially when you toast it and slather on lots of butter. I have a love affair with cranberries every holiday season, and this bread is going on my official must-make list every year, right after this Cranberry Cake with Warm Vanilla Butter Sauce and this Brown Butter Cranberry Tart.
Do you guys give up? Or are you thirsty for more?
Facebook | Pinterest | Instagram | Twitter
P.S. Diamond Walnuts didn't pay me to come on the tour or write this post. They gave me food though, lots of food, and it was glorious. Thanks guys :)

Cranberry Orange Walnut Bread
This quick bread is so easy to throw together, and the cranberry-orange combo really packs a punch. The perfect fall breakfast or snack!
Ingredients
1/2

cup

walnuts

,

chopped, toasted

2

tablespoons

orange zest

1/2

cup

orange juice

,

freshly squeezed

1/2

cup

half and half

2

cups

flour

,

spooned and leveled

1/2

cup

white sugar

1/2

cup

brown sugar

3/4

teaspoon

salt

1

teaspoon

baking soda

1/2

teaspoon

baking powder

1

large

egg

1/3

cup

oil

1

teaspoon

vanilla bean paste

,

or regular vanilla extract

1

cup

cranberries

,

fresh or frozen, roughly chopped
Instructions
Start by toasting the walnuts. Add a half cup to a small dry frying pan and set to medium heat. Stir occasionally until the nuts become fragrant and barely start to brown, about 5 minutes. Set aside and cool completely.

Preheat the oven to 350 degrees F. Line a 9x5 inch loaf pan with parchment paper, or grease well and set aside.

Zest the two oranges into a large bowl.

Juice the oranges in a glass measuring cup until you get 1/2 cup juice. Add the 1/2 cup half and half to the orange juice, stir, and set aside.

In the bowl with the zest, whisk together the flour, white sugar, brown sugar, salt, baking soda, baking powder.

In a medium bowl, whisk together 1 egg, the oil, and the vanilla.

Add the chopped cranberries and the cooled nuts to the flour mixture and stir to combine. Add the wet ingredients to the flour mixture and stir until just barely combined.

Pour the batter into the prepared pan. Bake at 350 for 30 minutes.

Remove the bread from the oven and cover with tin foil. Bake for another 15-25 minutes. You will know it's done with a toothpick inserted in the center comes out clean.
Notes
You don't need to chop the cranberries perfectly. If some of them are left whole, it's cool. I prefer to add a full 2 cups, but it's still really good with just one cup of cranberries.
Nutrition
Serving:
1
slice
|
Calories:
520
kcal
|
Carbohydrates:
74
g
|
Protein:
8
g
|
Fat:
22
g
|
Saturated Fat:
3
g
|
Polyunsaturated Fat:
9
g
|
Monounsaturated Fat:
10
g
|
Trans Fat:
1
g
|
Cholesterol:
38
mg
|
Sodium:
535
mg
|
Potassium:
210
mg
|
Fiber:
3
g
|
Sugar:
38
g
|
Vitamin A:
178
IU
|
Vitamin C:
16
mg
|
Calcium:
84
mg
|
Iron:
3
mg

You don't need to chop every single cranberry. And of course, Diamond walnuts. I didn't chop them any more than this, just toasted them straight from the bag.
Oh Cranberry, how do I love thee? Let me count the ways…
Cranberry Cake with Warm Vanilla Butter Sauce: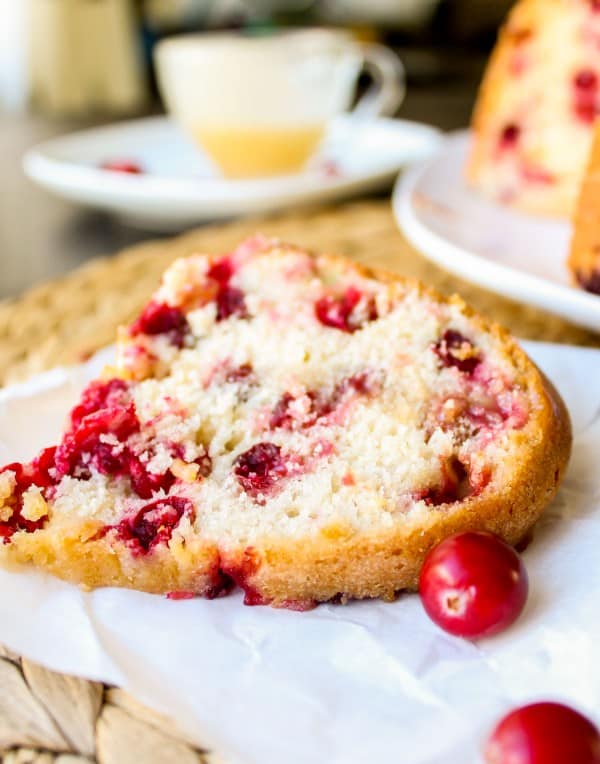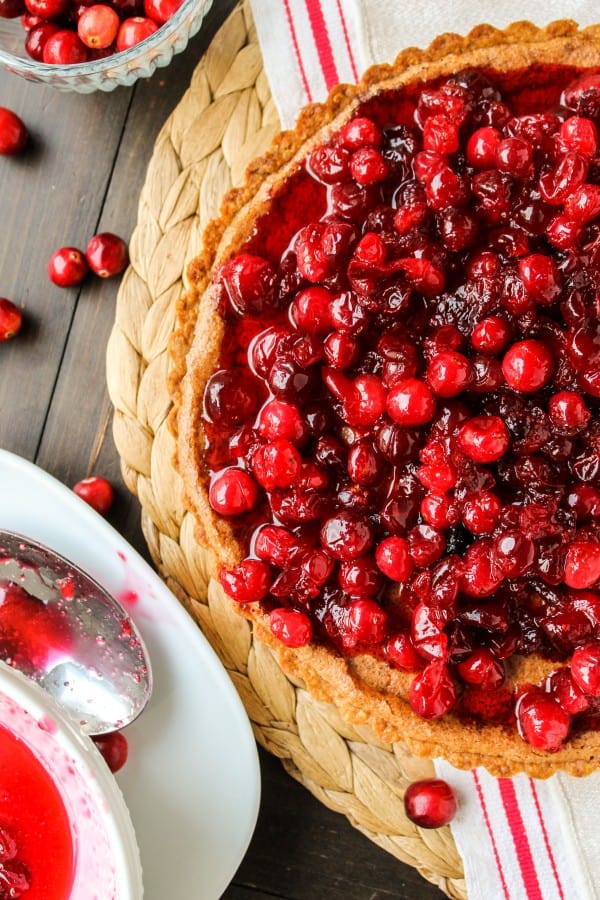 Sparkling Cranberry Brie Bites: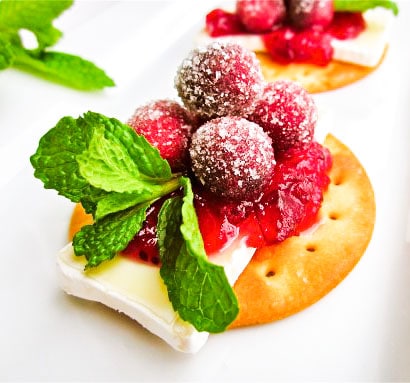 Never enough cranberry:
Cranberry Christmas Cake from Barefeet in the Kitchen
Cranberry Bliss Bars from Recipe Girl
White Chocolate Cranberry Crumb Bars from Crunchy Creamy Sweet