Eric and his dad are leaving tomorrow for 5 days of backpacking in the wilderness. I'm a little jealous, because I like backpacking, but it is their man-bonding-time and I don't want to intrude on such a ritual. (Also, when I say "I like backpacking," what I really mean is that I liked the one overnight backpacking trip I took at Girl's Camp when I was 15. If I went on a real backpacking trip with people who are actually in shape (and who are not whiny teenage girls), then I would probably shrivel up and die around mile 2.)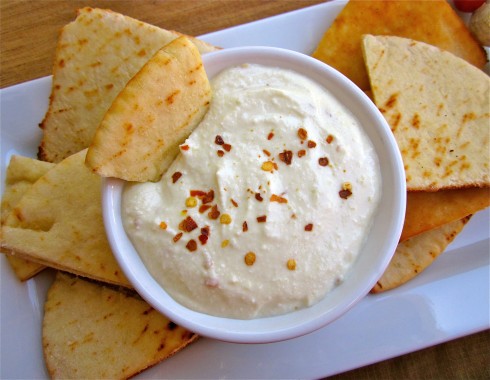 Usually it is when the woman leaves on a trip that she has to give survival instructions to her husband: like how to feed the children something other than hot dogs, or the doctor's phone number. Eric can pretty much hold his own in that regard. I, however, just received a full page of written instructions (a full page!!) on how to work the TV remote, accompanied by a lengthy "review session."
Eric: So, when you want to watch a Blu-ray, what do you do?
Me: I press the "Watch a Blu-ray" button
Eric: Good. What if you want to watch Netflix?
Me: Press the Netflix button?
Eric: No of course not. You hit "Watch a movie." Now what if you want to listen to music from our iTunes?
Me: Press "Listen to music."
Eric: No. You have to push the "Watch a movie" button, then scroll down to "Computer," then categorize which device you are~~~~~~~[this is my typed rendition of white noise, which was all I was hearing at that point.]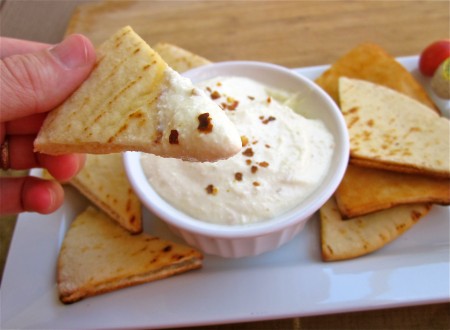 I won't even pretend to know how to pronounce the name of this recipe. I found it on Elly Says Opa, which is a really fun blog that features lots of Greek food. (Sign me up, dude. I can never get me enough Greek.) This is a truly fabulous appetizer that is easy to pull together. It is the perfect snack food. It can be made ahead of time, which is convenient when you are entertaining. Yum. Another way to eat feta. How can this be a bad thing?
Tyrokafteri (Spicy Feta Cheese Spread)

Source: Elly Says Opa
1-2 banana peppers, depending on how spicy you want it (I prefer 2)
1/3 pound good feta cheese
1/3 cup Greek yogurt
2 teaspoons cider vinegar
1-2 tablespoons olive oil
salt and pepper to taste
red pepper flakes, optional and to taste
toasted pita bread for dipping (I used one 12-oz package and had some spread left over. It is good on crackers too.)
Place the banana peppers directly over a gas flame (or under a broiler), turning often, (about every 45-60 seconds) until blackened spots appear on all sides. Place in a bowl and cover with a clean towel until cool enough to handle. Peel, seed, and remove the stems from the peppers; then chop them.
Add the peppers, feta, Greek yogurt, and cider vinegar to the bowl of a food processor and process until fairly smooth. Slowly stream in the oil, while continuing to pulse (you may need more or less, depending on your desired consistency). Season with salt and pepper to taste. Refrigerate for at least an hour. Serve with toasted pita bread.