This slow-cooker meal is so easy to throw together. The balsamic sauce is simple but oh so flavorful.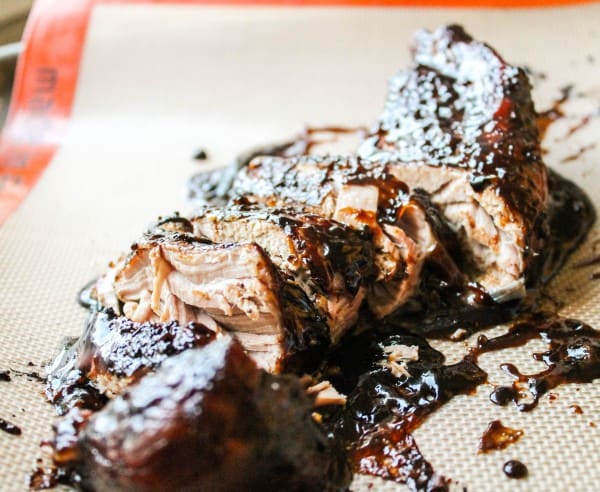 Have you ever dumped dirty dishwater all over your kitchen floor because you forgot to empty out the cup that you were trying to place upside down in the dishwasher? Yeah. Me neither. I never do that at least once a week.
I have carpet in my kitchen. It's blue. We just moved into this house a couple months ago, and when I would tell people about it I would say, "We love it! It's awesome! Except there is carpet in the kitchen. Guess you can't have everything."
WRONG.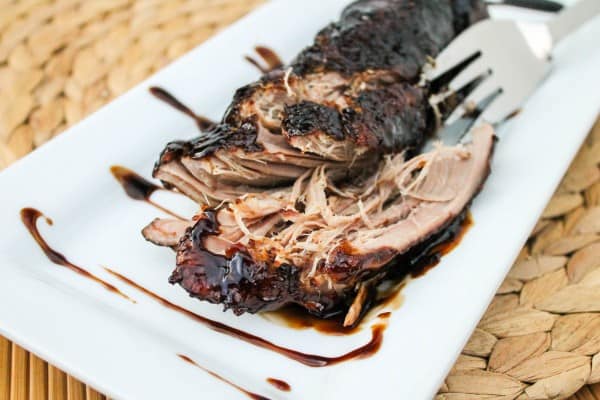 The 70s were onto something, people. Carpet in the kitchen is a lazy person's dream. You can't see anything. I'm not claiming that it is cleaner; quite the contrary. The splatter from the bacon you're frying just seeps right into that carpet. But hey, you don't have to clean it up, so it's like it never happened right? I'm sure you are all just dying to come over and eat in my grease-splattered kitchen now.
Let me tell you the best part though: I can walk in my socks and they never get wet. Hugest winter pet peeve. Never again!
Of course, this is me talking before I've had an Incident. You know, when Charlotte spills an entire cup of milk someday. Or when I drop an entire casserole. Or when my freezer dies and an entire half gallon of melted chocolate ice cream spills onto the carpet. (That happened to my mom when she was a kid. Needless to say, she's never had carpet in her kitchen as an adult.)
Lately though, I'm mourning my lack of linoleum because of potty training. (It's happening. Soon. She is ready. I just don't know if I'm ready.) There is literally no place in my house where an accident will not have carpet clean-up involved, which totally sucks.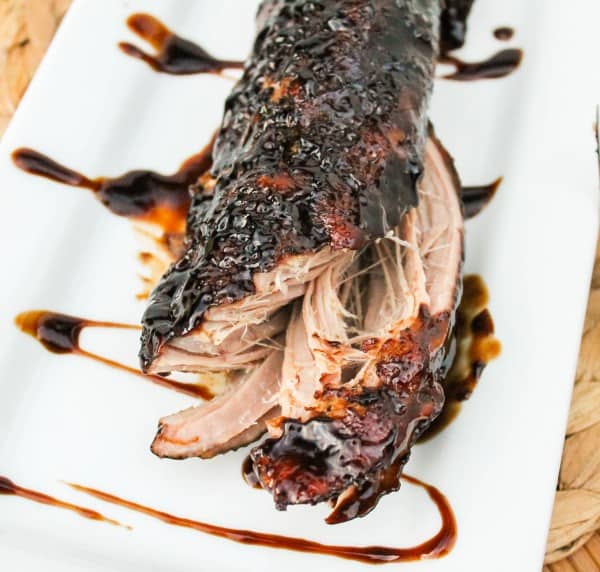 You will love this Crockpot Pork Tenderloin
On that lovely note, let's talk about today's recipe. It's a goodie. It's been making the internet rounds, so you may have seen it, but there is a reason it's everywhere. It's freakishly good, and even freakishlier easy. Rub pork with some spices. Throw it in the crock pot. Make a 5 ingredient glaze, then broil a couple minutes. Make sure you don't broil the meat for too long, otherwise it will dry out. This is a perfect weeknight meal. We ate this with a simple salad and some oven roasted potatoes, but I bet it would be good on some buns with coleslaw, or even in some tacos.

Brown Sugar Balsamic Pork Tenderloin (Crockpot Recipe)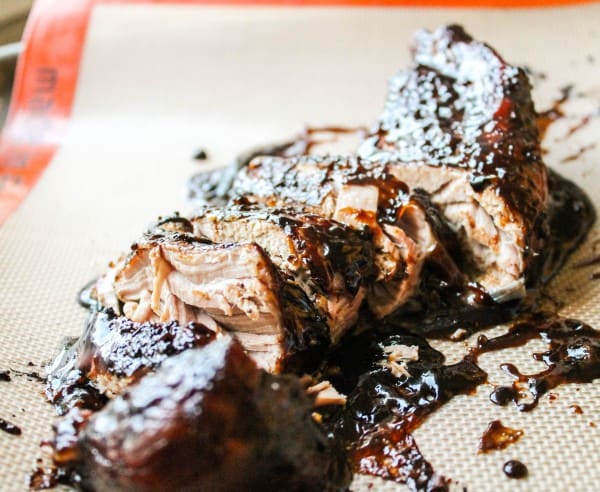 This slow-cooker meal is so easy to throw together. The balsamic sauce is simple but oh so flavorful.
Ingredients
2

pounds

pork tenderloin

1

teaspoon

rubbed sage

½

teaspoon

salt

¼

teaspoon

pepper

1

clove

garlic

,

minced

½

cup

water
For the Glaze:
½

cup

brown sugar

1

tablespoon

cornstarch

¼

cup

balsamic vinegar

½

cup

cold water

2

tablespoons

soy sauce
Instructions
In a small bowl, combine the sage, salt, pepper and garlic.

Place the tenderloin in the slow cooker. Rub the seasonings over the pork.

Pour ½ cup water in the slow cooker, on the edge so that you don't wash off all the spices you just rubbed on.

Cook on low for 6-8 hours, the preheat your broiler.

While the roast is finishing up in the slow cooker and your broiler heats up, combine the ingredients for the glaze in a small sauce pan: brown sugar, cornstarch, balsamic vinegar, water, soy sauce.

Heat over medium and stir until mixture thickens, about 4 minutes.

Line a baking sheet with aluminum foil and spray with oil, or use a silpat. Remove the pork from the crock pot and place on the lined baking sheet. Brush a generous amount of the glaze on the pork. Put your oven rack as high as it will go, and broil the pork for 1 or 2 minutes, until bubbly and caramelized. Don't walk away! Repeat 2 to 3 more times until it is as crusty as you want it. I wouldn't go many more times than this though, or your pork will dry out.

Serve with remaining glaze on the side.
Nutrition
Serving:
1
cup
|
Calories:
270
kcal
|
Carbohydrates:
22
g
|
Protein:
32
g
|
Fat:
5
g
|
Saturated Fat:
2
g
|
Polyunsaturated Fat:
1
g
|
Monounsaturated Fat:
2
g
|
Trans Fat:
1
g
|
Cholesterol:
98
mg
|
Sodium:
617
mg
|
Potassium:
647
mg
|
Fiber:
1
g
|
Sugar:
19
g
|
Vitamin A:
5
IU
|
Vitamin C:
1
mg
|
Calcium:
31
mg
|
Iron:
2
mg
You'll probably love these recipes too!
Asian Pork Tenderloin with Ginger Glaze (Slow Cooker) << this is a very similar recipe but with Asian flavors!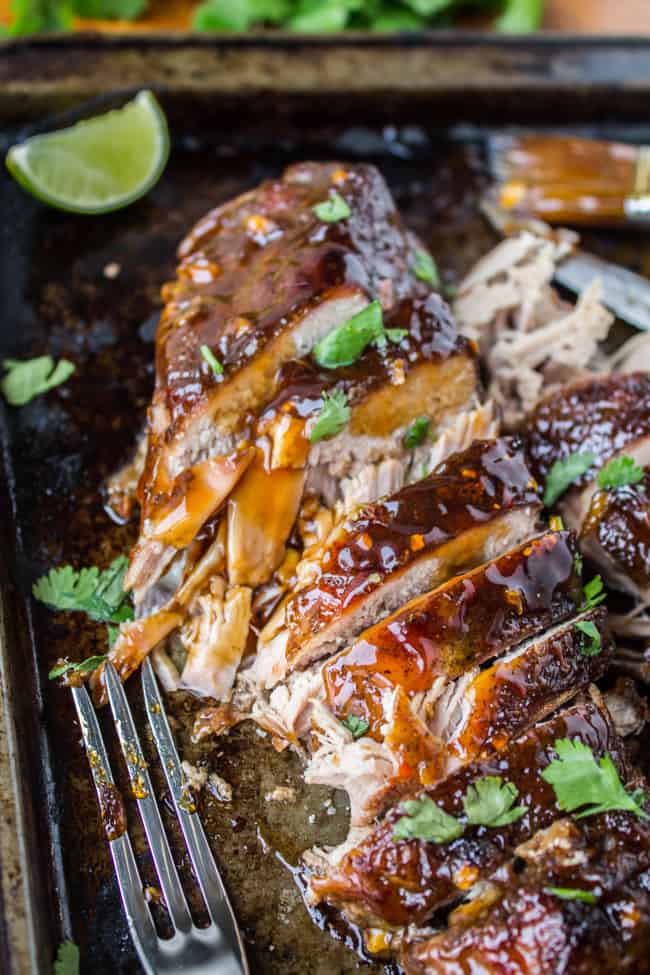 Cuban Mojo Marinated Pork (Lechon Asado) << one of the most popular recipes on my blog!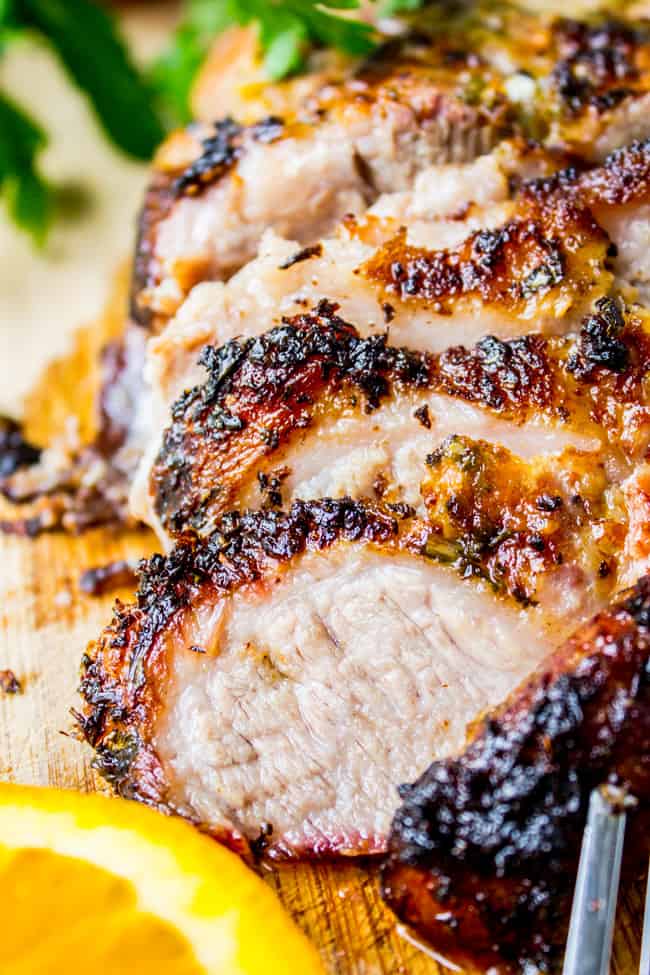 Grilled Pork Tenderloin with Peanut-Lime Sauce: