A couple days ago my friend and I were complaining to each other about being pregnant. She's about a trimester behind me, so she's just getting out of the I-want-to-throw-up-stage while I'm entering the watermelon-on-stilts-phase. (TMI? Sorry.)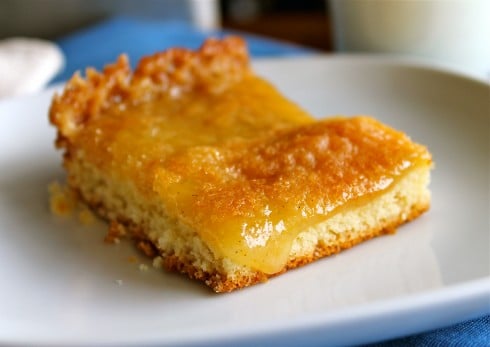 Then we felt bad for being whiny, so we started talking about all the people who have it way worse than us. I told her about my sister Nikki, who gets varicose veins. She's basically in constant pain when she's pregnant, especially when she is standing. By the time she was pregnant with her 5th last year, she got to the point that she needed to bring along a camp chair on her weekly trip to Walmart. Whenever she got to the point that it was too painful to stand, she would set up her chair in an empty aisle and pretend to look over her shopping list while her kids played in the vicinity. After I told her this story my friend said "No way! Did she make it onto People of Walmart?"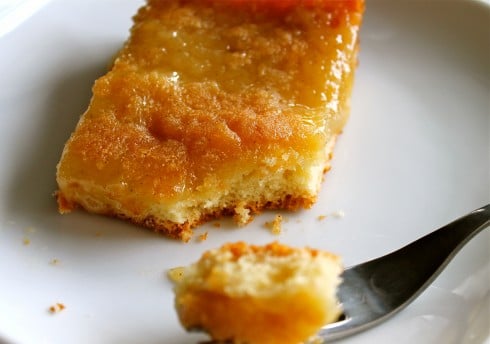 Here's the best part. Today is Nikki's birthday. (Happy birthday!) I open up my Facebook this morning to see this on her status: "For my birthday I'd like to make the People of Walmart site finally. Any suggestions?" The first comment is from her: "In re-reading this, maybe I should check to make sure I'm not already on the site actually." Best of luck Nikki.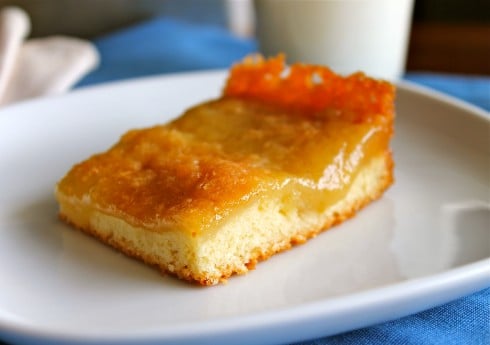 I tried to think of some way to make this cake look more appetizing. Not that it looks bad, I just feel like the photo does it no justice. This cake is incredible. I can't even really give a comparison because I've never tasted anything like it. Just imagine the most delicious cake you've ever had, topped with…gooey-ness. Not frosting. Just vanilla-y amazingness. This helps: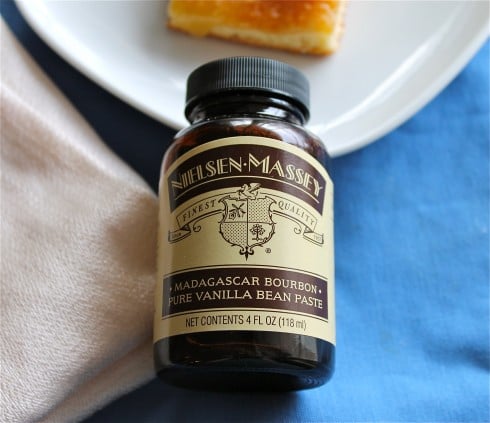 Santa brought me some vanilla bean paste in my stocking (thanks Santa, you know me well!) It is my new best friend. The original recipe calls for regular vanilla, but I decided to use this. It was awesome. Don't shy away from making this if you don't have any paste, but if you do have some, by all means use it! Happy baking everyone, and try to keep yourself off the People of Walmart site. Unless it's part of your New Year resolution, of course.
Gooey Butter Cake

Source: Annie's Eats, Smitten Kitchen, originally printed in the NY Times
Makes a 9 x 13-inch cake.
For the cake:
3 tablespoons milk, at room temperature
2 tablespoons warm water (105-110˚ F)
1¾ teaspoon active dry or instant yeast
6 tablespoons unsalted butter, at room temperature
3 tablespoons sugar
1 teaspoon salt
1 large egg
1¾ cups all-purpose flour
For the gooey butter topping:
3 tablespoons plus 1 teaspoon light corn syrup
2 tablespoons water
2½ teaspoons vanilla extract OR 1 tablespoon vanilla bean paste
12 tablespoons (¾ cup) unsalted butter, at room temperature
1½ cups sugar
1 teaspoon kosher salt
1 large egg
1 cup plus 3 tablespoons all-purpose flour
Powdered sugar, to serve
Butter a 9 x 13-inch baking dish.* Combine the milk, water, and yeast in a small bowl or liquid measuring cup. (If you don't happen to have room temperature milk, the microwave works great.) Mix to dissolve the yeast in the water and set aside to let foam slightly.
In the bowl of an electric mixer, combine the butter, sugar and salt. Beat on medium-high speed until light, about 2 minutes. Blend in the egg. Beginning and ending with the flour, alternately add the flour and the milk mixture, until a smooth dough is formed.
Transfer the dough to the prepared pan and with wet fingers, stretch the dough until it covers the bottom of the pan in an even layer. Cover the pan with a clean kitchen towel or plastic wrap and let rise in a warm place until puffed and about doubled in volume, approximately 2-3 hours. I turned my oven to 170˚, turned it off, then put the dough in.
Preheat the oven to 350˚ F. (Take the pan out first if it is rising in the oven!) To make the topping, combine the corn syrup, water and vanilla in a small bowl and whisk to blend. With an electric mixer, beat together the butter, sugar and salt on medium-high speed until light and fluffy, about 5 minutes. Scrape down the sides of the bowl. Blend in the egg. Alternately add the flour and the corn syrup mixture until just smooth, scraping down the bowl as needed.
Drop large dollops of the topping over the surface of the dough and gently spread the topping into an even layer. Bake until light golden brown, about 25-30 minutes. The edges will be brown and set, but the center will still be light and gooey. Allow to cool briefly in the pan before slicing and serving, at least 30 minutes. Dust with powdered sugar before serving, if you want.
*If you use a metal pan, your cake crust will brown more. Maybe next time I will use a glass dish, but I didn't think it was overdone in a metal dish. I baked for about 28 minutes.