Twix is the best candy bar out there. By far, in my opinion. I've always had a soft spot for caramel though. However, back when I was a miserly little kid, I never chose Twix when my mom let us have candy. I always picked Skittles, because my (supposedly) candy-starved little self wanted to get the most amount of candy that would last the longest time possible. I would make those Skittles last for days, carefully separating out each color and saving the red ones for last.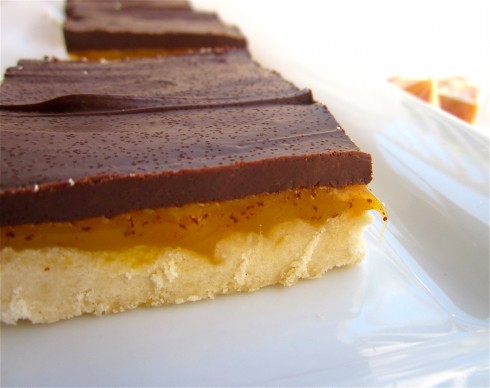 I had weird candy-hoarding tendencies when I was a kid. One Halloween I got a Reeses cup along with all my other loot. I was so excited about it. What a prize! I wanted to savor it. I hid it on top of the fridge, and waited. Two months later I woke up on Christmas morning, very excited to partake of the present to myself that I had patiently waited so long for. Only to find out that my brother had eaten it that very morning.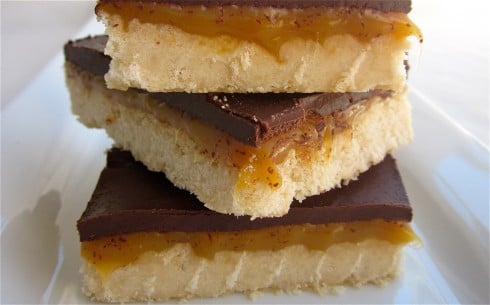 These Twix bars are awesome, and definitely last longer than the fun size I usually get!
Homemade Twix Bars

Source: High Heels & Grills
1 cup salted butter, softened
1 cup powdered sugar
2 teaspoons vanilla
2 cups all-purpose flour
2-1/2 cups caramel, cut into small chunks (I used vanilla caramels)
3 tablespoons heavy cream
3 cups chocolate chips (semi-sweet or milk; I used semi)
1 tablespoon vegetable shortening (optional)
For the crust:
Preheat oven to 300 degree Fahrenheit. Spray a 9×13 in pan with cooking spray, or line with parchment paper. Set aside. In a medium-sized bowl, beat together the butter, sugar, and vanilla. Add the flour; at first the mixture may seem dry, but it will come together quickly. Take the dough and press it evenly into the pan. (Lightly flouring your fingertips will help with any sticking.) Prick the crust all over with a fork. This allows steam to escape so the crust will bake evenly with fewer bubbles. Bake until lightly golden brown on top and edges, about 30-35 minutes. Remove from the oven and immediately run a knife around the edges to loosen the crust. Set aside to cool completely.
For the caramel layer:
Melt the caramel and cream in a small saucepan over low heat. (I did it in the microwave, Stir every 30 seconds.) Pour the caramel over the cooled crust and set in the refrigerator for 30 minutes to firm up.
For the chocolate layer:
Melt the chocolate in the microwave, stirring every 20 or 30 seconds. If the chocolate seems too thick, add a tablespoon of shortening to thin it. (Just know that this will leave your end-resulting chocolate a little softer than normal. Pour evenly over the chilled caramel layer and spread until it covers the entire surface. Return to the refrigerator or freezer until the chocolate is well set. Cut and serve!