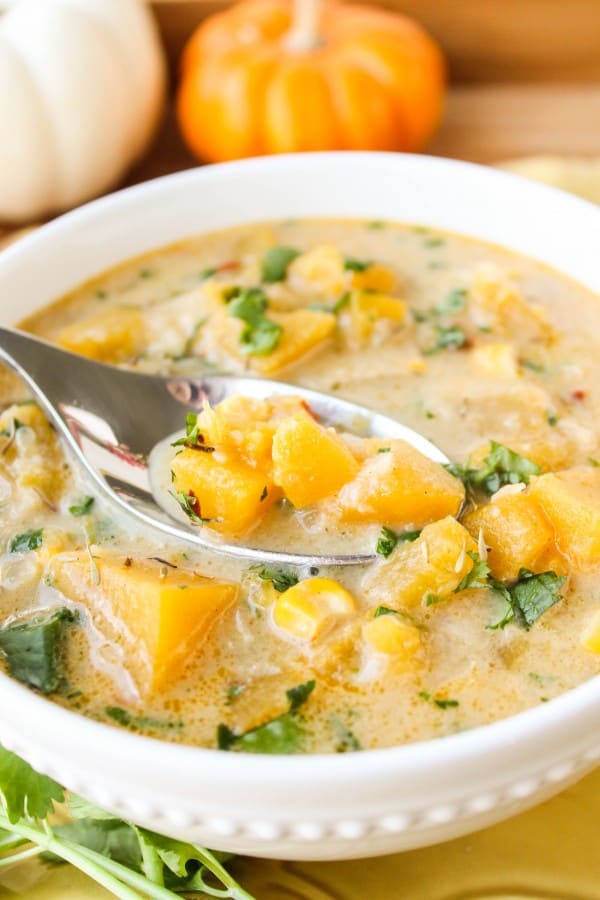 Eric is watching a TV show on Netflix and just heard about a man who is crossing the world only using human power. He biked across Africa. He roller bladed across the United States. He paddle-boated across the Atlantic.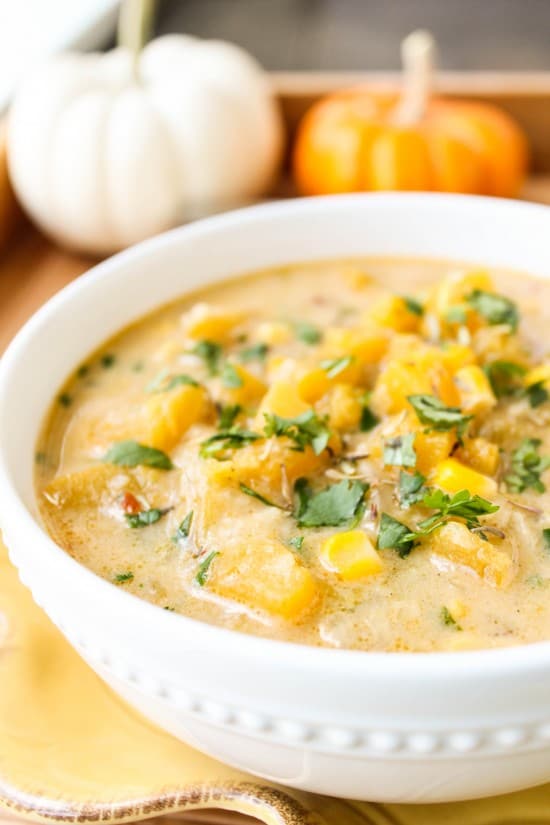 You know what I did today? Some laundry. The way I congratulated myself, you'd have thought I had climbed a mountain. I didn't even fold.
Are you guys all ready for Halloween? I went thrifting today trying to find the last touches to our costumes, but unfortunately I didn't find a matador hat or a Chicago Bulls t-shirt. I know. If you go to a thrift shop looking for something specific, you will never find it.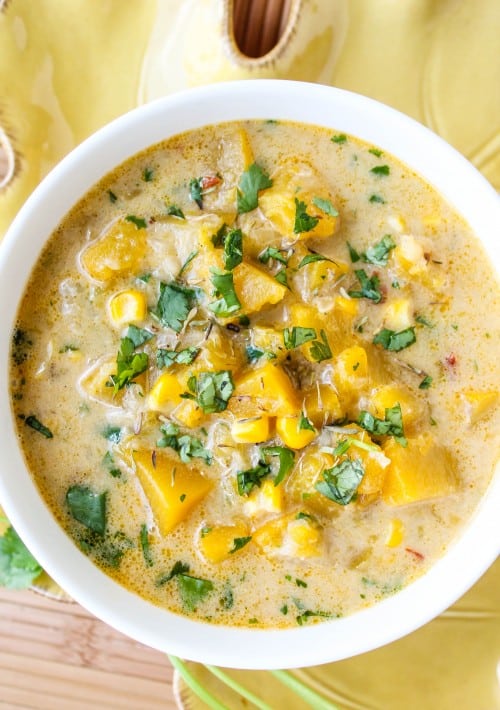 I think dressing up for Halloween is awesome, but I am super lazy and cheap. Anyone else? Especially since my kids are still too young to remember. Charlotte is going to be a flamenco dancer, Truman will be a chili pepper, I'm going as a toreador, and Eric is going to be a bull. Maybe. If I can find some horns lying around. Or a Bulls t-shirt. That totally counts, right? Are you guys dressing up? Come on I want to hear about your awesome costumes!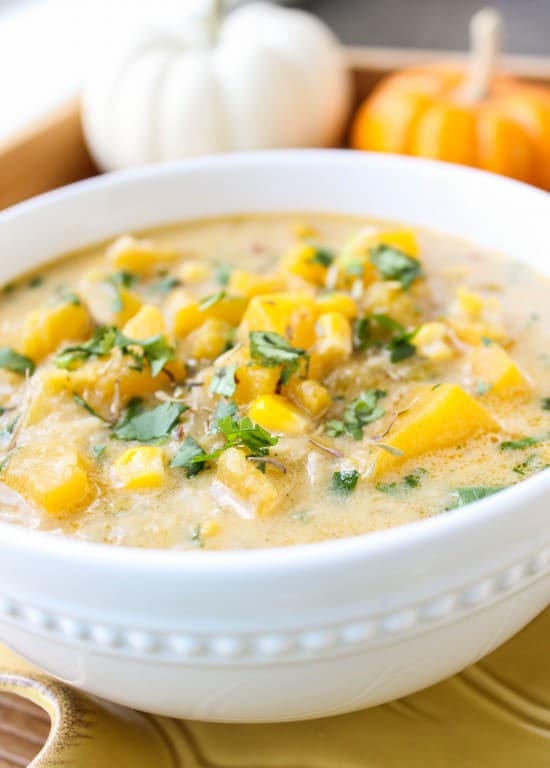 There was a huge uproar in my family a few weeks ago when I posted this Sage-Fried Pork and Pumpkin Noodle Bowl recipe. Apparently my mom made an infamously horrible pumpkin dinner once when we were kids, and all my siblings have an intense hatred for anything savory pumpkin now. I was too young to remember, so fortunately I was spared. Pumpkin-anything is cool in my book.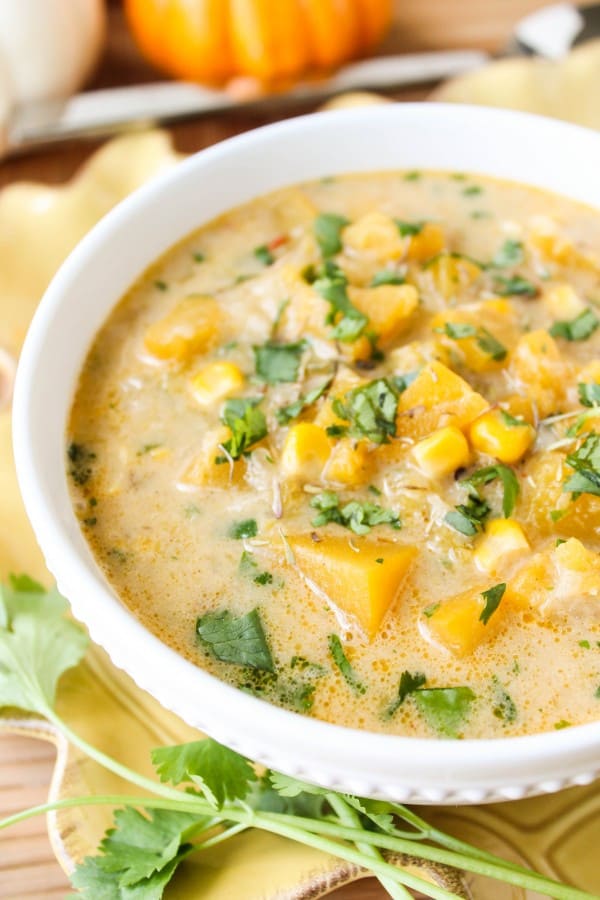 Especially this chowder. Soooooo good. Pumpkin is really not that strong, when you don't add nutmeg and cloves to it. This tastes like a slightly-sweeter potato soup. It's nice and hearty. You can sub any orange-colored squash that you want. Butternut would be good. I know that chopping up a pumpkin seems like a daunting task, but it's really not too bad, especially since I give you a step-by-step below the recipe. Even my oldest brother, who has the strongest memories of the pumpkin-gone-bad incident, admitted that this was delicious. Make it for Halloween! I know you've already got a pumpkin lying around…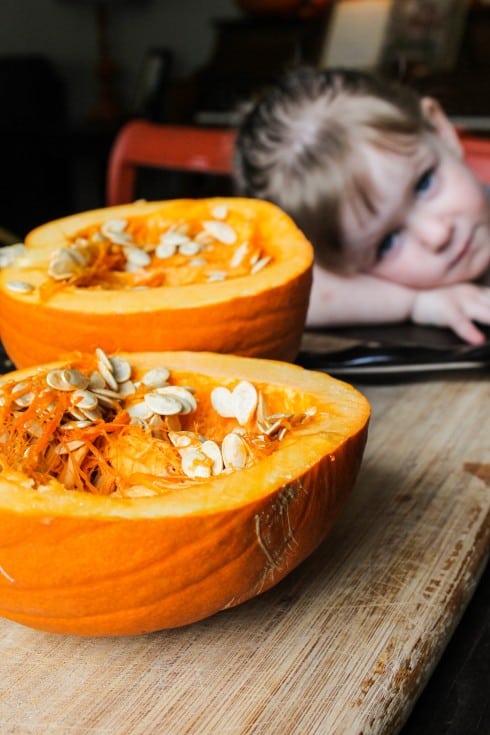 First cut your pumpkin in half: insert your largest chef's knife vertically right next to the stem and carefully push down. Work your way down the side of the pumpkin, all the way to the bottom, widening the cut by shifting the knife back and forth as you go. When you get to the bottom, continue up the other side of the pumpkin until you reach the stem. Pull the sides apart with your hands. Get an adorable two-year-old to help you, if possible. (Or just have her look cute in the background. Probably this is a better idea.)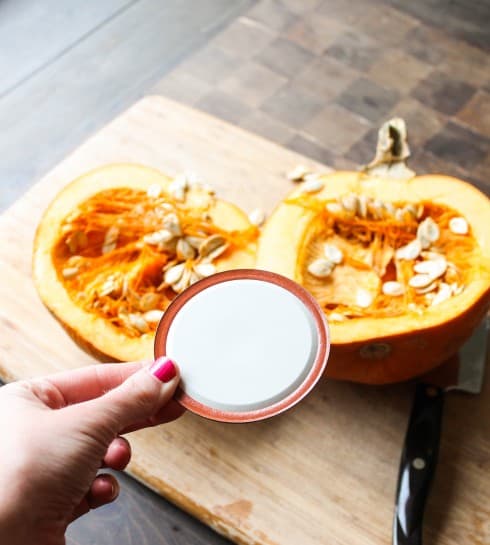 Once it is cut in half, clean out all the seeds and yucky stringy stuff. Use a canning jar lid to scrape it out, it's sharper than a spoon.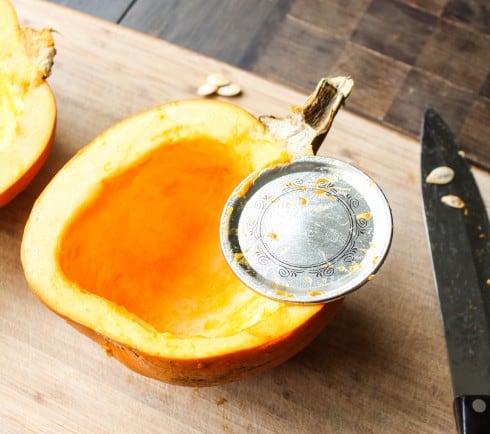 SO MUCH EASIER!! Trust me. Thank you Nora, my college floral design professor, for that tip.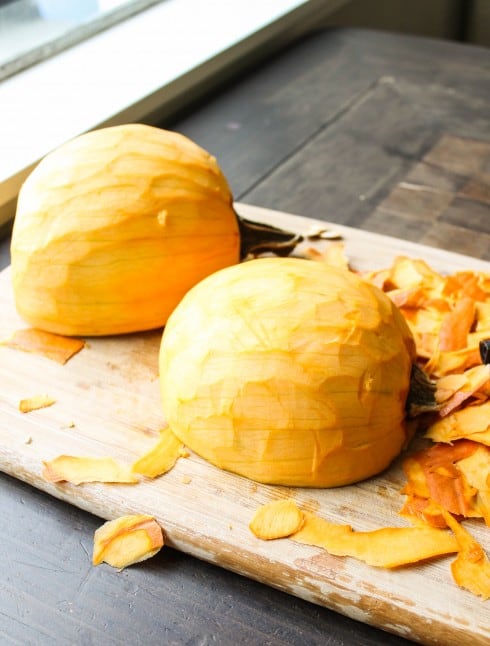 Then peel that sucker. Maybe this step is easier before you cut it in half, I wouldn't know. Don't hate me. Get all that dark orange skin off, you only want the light inner flesh.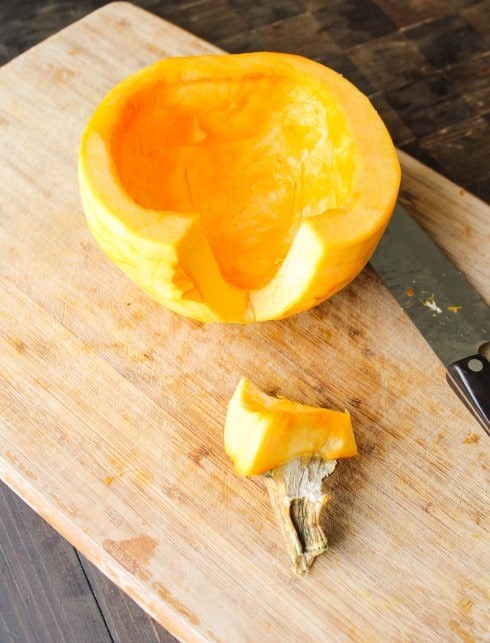 Cut off the stem.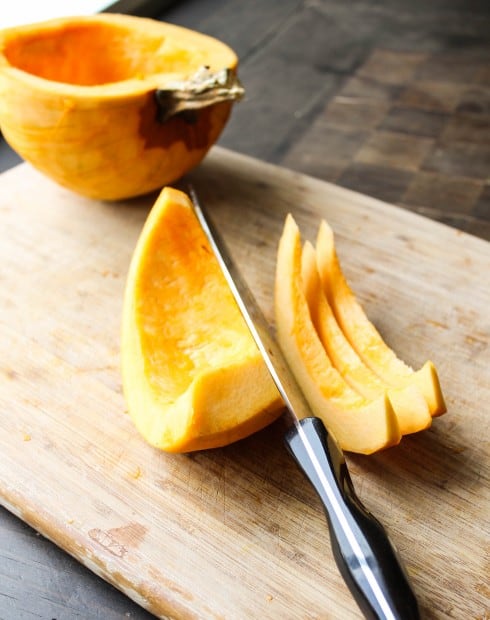 Then cut the pumpkin into strips.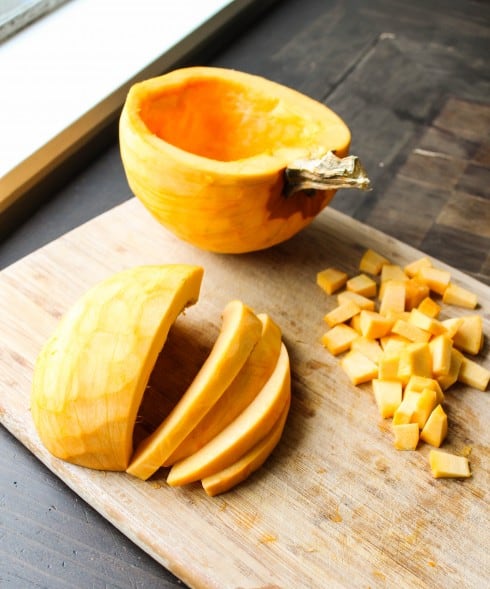 Face up or face down, whichever is easier for you. Then chop into cubes.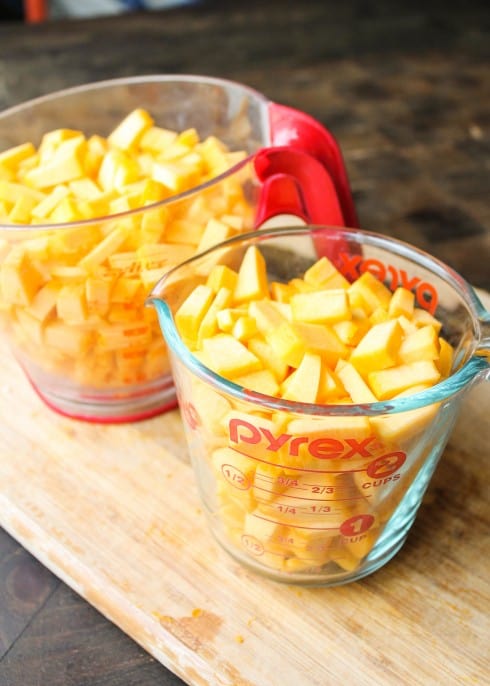 A 3-pound pumpkin yielded about 7 cups of pumpkin flesh, perfect for Pumpkin Chowder! Yum.

Pumpkin and Chipotle Corn Chowder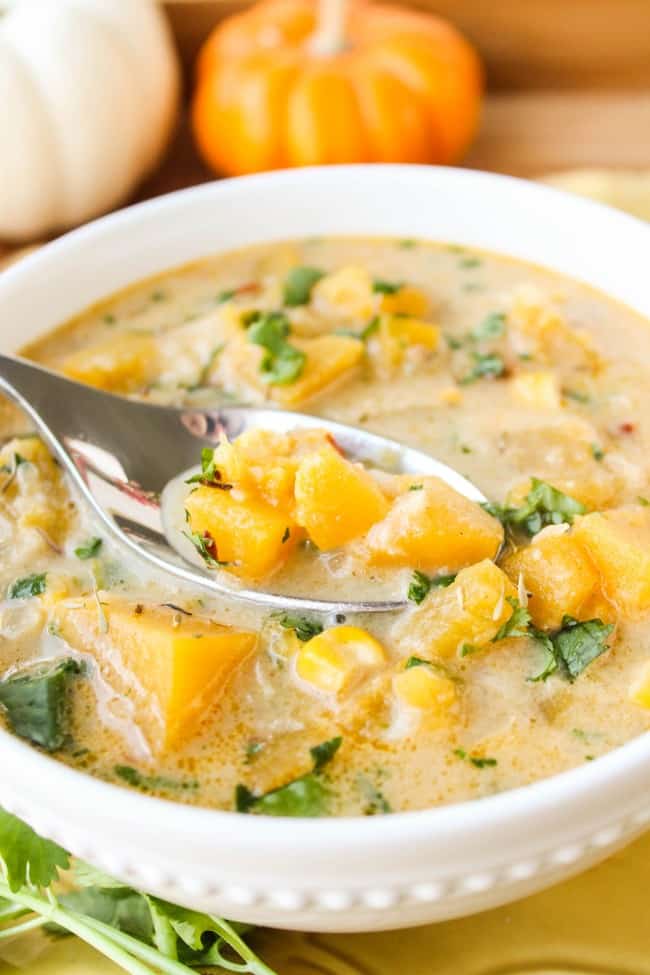 This pumpkin and chipotle corn chowder is so good. This tastes like a slightly-sweeter potato soup. It's nice and hearty.
Ingredients
3

tablespoons

butter

,

or vegetable oil

7

cups

Pumpkin

,

peeled and cut into 1-inch cubes

1

large

onion

,

diced

3

tablespoons

all-purpose flour

1

quart

reduced-sodium chicken stock

2

chipotle peppers in adobo sauce

,

finely chopped

2

cups

corn kernels

,

frozen

1/2

cup

heavy cream

5

thyme sprigs

,

or 1 tablespoon dried thyme, or to taste

salt and freshly ground black pepper

1

small bunch

cilantro

,

stems removed and leaves roughly chopped
Instructions
Start by cutting up the pumpkin: see tutorial below.

Set a large stock pot over medium heat and add the butter or oil. Once it is hot and bubbly, add the onion and the chopped pumpkin. Cook for 5 minutes, stirring occasionally.

Add the 3 tablespoons of flour and stir for about a minute until it is all incorporated.

Slowly add in the quart of chicken broth, stirring all the while.

Add the chopped chipotle peppers, the corn, cream, and thyme, and bring to a boil.

Once it is boiling nicely, reduce to a simmer and continue cooking for about 20 minutes, or until the pumpkin is fork tender but not completely falling apart.

Remove from heat and season to taste with salt and pepper. You will want a pretty decent amount of salt. Taste as you go so you don't overdo it.

Add most of the cilantro, reserving some for garnish. Stir and serve!
Notes
This recipe calls for 2 chipotle peppers, which was perfect for my taste. It's bit of a kick, so if you aren't into that, add one.
Source: Dave Lieberman
Nutrition
Serving:
1
bowl
|
Calories:
188
kcal
|
Carbohydrates:
20
g
|
Protein:
5
g
|
Fat:
11
g
|
Saturated Fat:
6
g
|
Polyunsaturated Fat:
1
g
|
Monounsaturated Fat:
3
g
|
Trans Fat:
1
g
|
Cholesterol:
32
mg
|
Sodium:
205
mg
|
Potassium:
555
mg
|
Fiber:
2
g
|
Sugar:
5
g
|
Vitamin A:
9294
IU
|
Vitamin C:
13
mg
|
Calcium:
47
mg
|
Iron:
2
mg