Have you ever had Thai pizza in a restaurant? It's so good! This version has summer zucchini, pickled onions (NOT raw!), a smattering of carrots, and your choice of chicken or pork. Sweet Chili Sauce brings it all together with a nice little kick!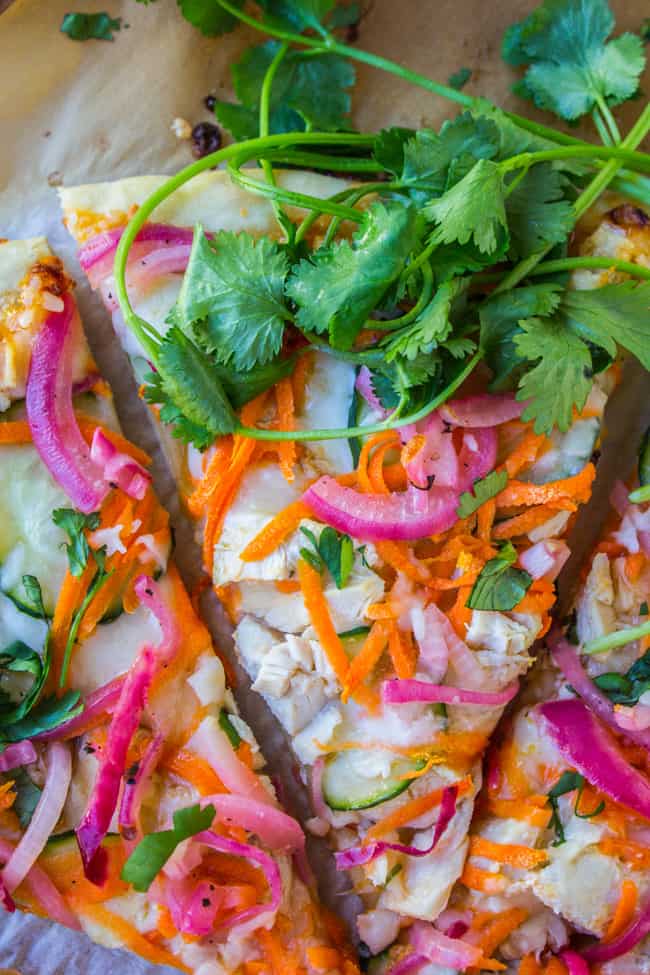 This morning I ambitiously decided to blow all the leaves and debris off my back porch, and I definitely got my hair stuck in the leaf blower. Stuck for real. Like, sit hunched over for 15 minutes to untangle my hair stuck.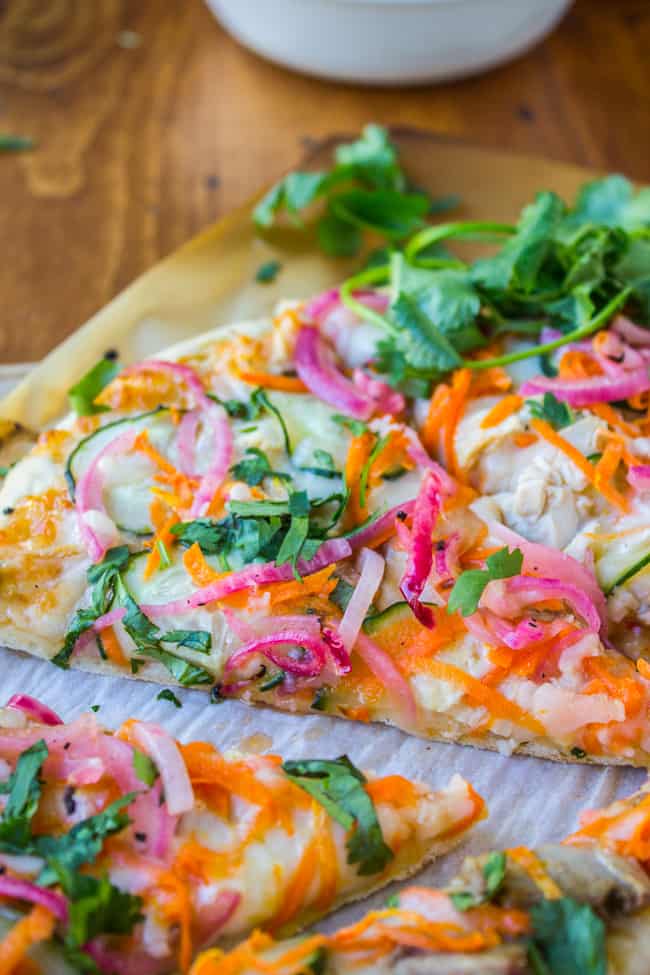 I'm not often motivated to do yard work on a random weekday, but when I am, it's always right after I've washed and straightened my hair. So dumb, right? And then I'm all, oh I don't need to put my hair up, I'm just blowing these leaves real quick. **One giant rat's nest later**
I'm going to file away this information for next time Eric pulls out the leaf blower to clean up Truman after a backyard haircut. Leaf blowers and hair do NOT MIX.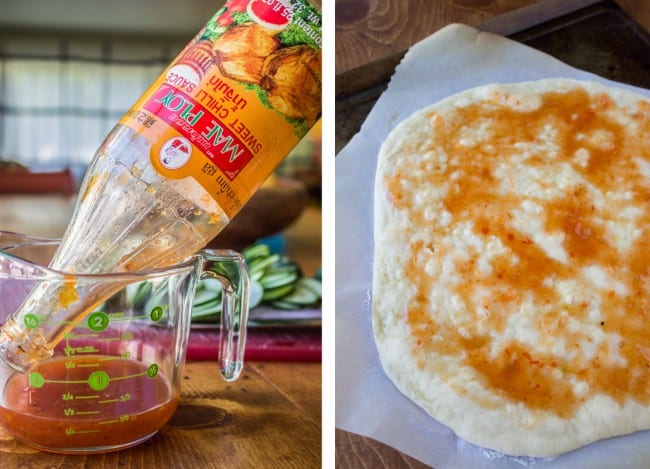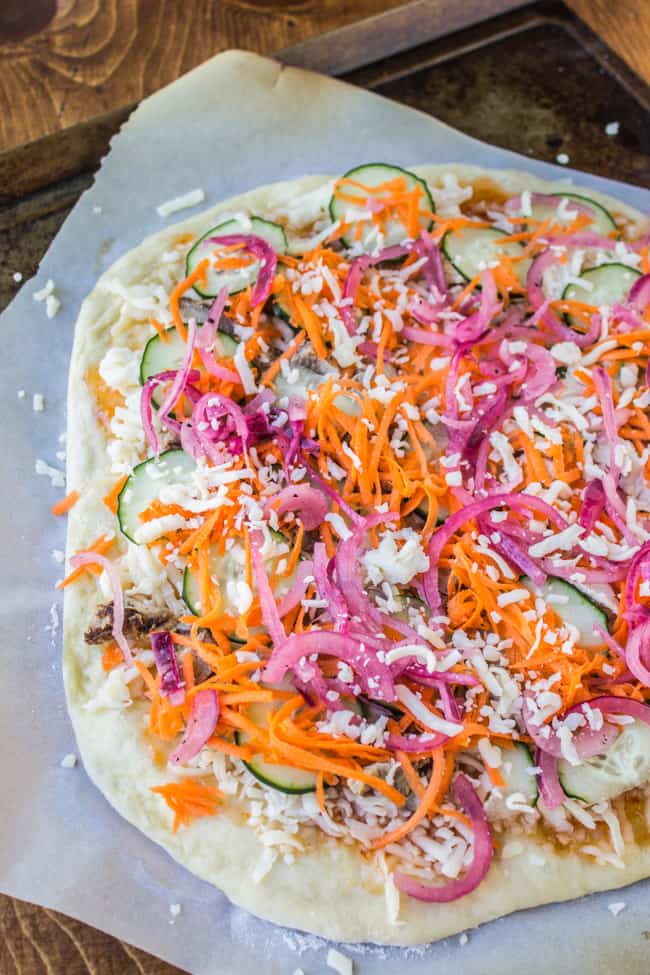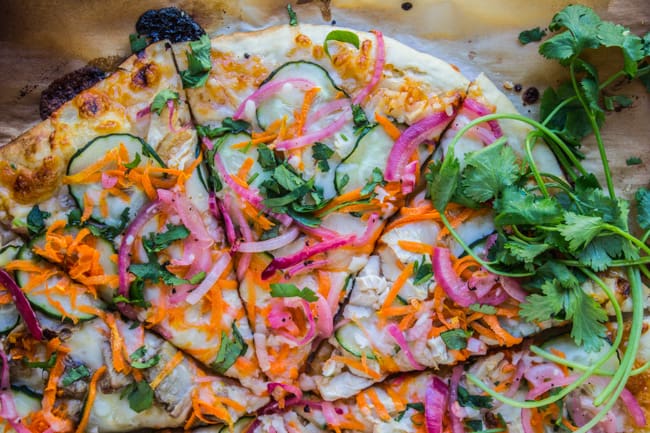 How to make Thai Pizza with Zucchini and Pickled Onions
Have you guys ever been to the California Pizza Kitchen? Such a great restaurant. (I'm inclined to think that about ANY pizza place though. Pizza is like sex…even when it's bad, it's good.) They have a Thai pizza there that is delicious, and that's where the idea for this recipe came from. I like mine because there are even more veggies. If you wanted, you could leave out the pork/chicken altogether and go vegetarian.
This might be a good idea if you have a garden that is currently overflowing with zucchini. Ours is not. We planted late this year, so I just picked our first little zucchini today! I was basically just as giddy as the kids when we found it this morning.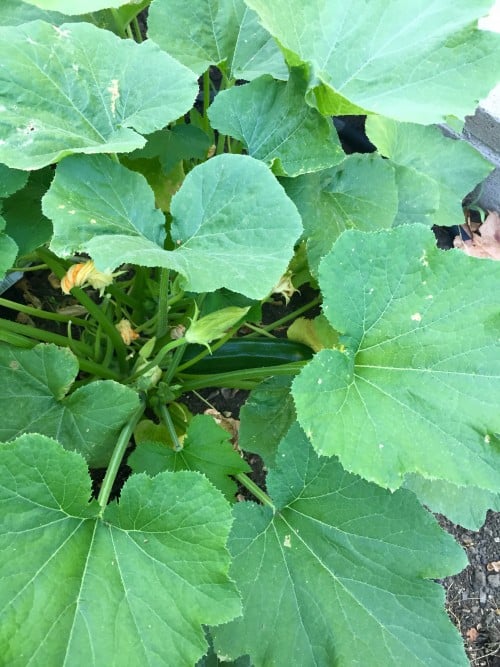 What are you doing with all your summer produce? I'm going to need some more ideas here soon!
One last thing: do you know what pickled onions are? In this case it's just a red onion that you soak in some lime juice for a few minutes to cut the bite. I do NOT like raw red onion (stinky breath for daaaays) but pickled? Gimme. (Especially on tacos. Swoon.) They are baked post-pickling in this recipe, but the lime flavor still comes through and it's amazing. And it only takes 15 minutes to pickle while you're prepping the other stuff anyway. BOOM.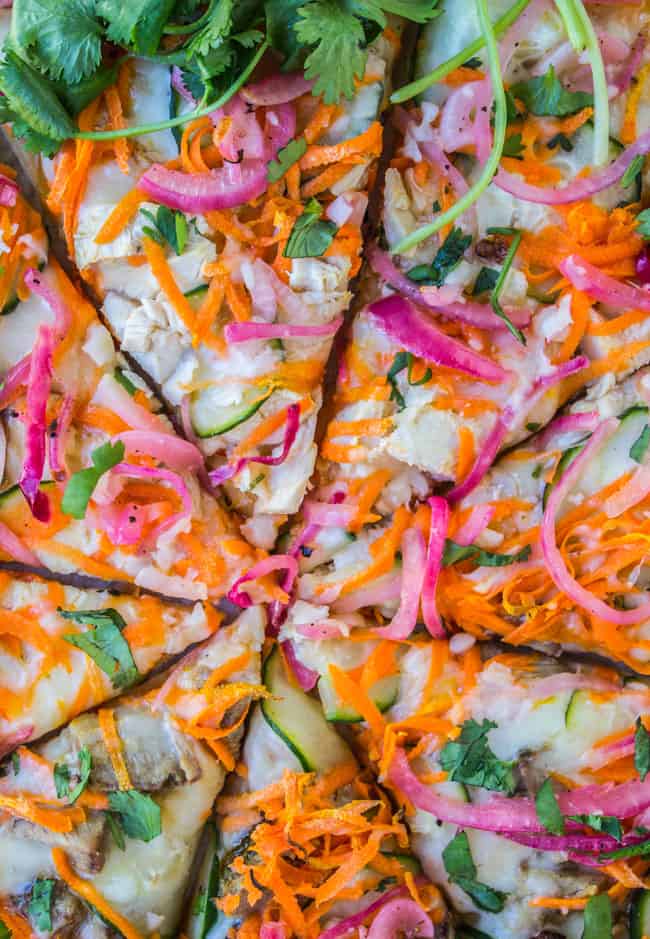 More great recipes to try!
Here's the Cuban Mojo Marinated Pork I chopped up and added to this pizza. (This is THEE most visited recipe on my site):
Crockpot Thai Steak Salad with Peanut-Hoisin Sauce << slow cooker summer meals ftw!!
Grilled Pork Tenderloin with Peanut-Lime Sauce << Perfect for summer grilling!
Blackberry Ricotta Pizza with Basil << this pizza is an unexpected combination but it is SO GOOD!
Thai Chicken Pizza (CPK copycat) from Spicy Southern Kitchen
Thai Chicken Pizza from Fork Knife Swoon
Facebook | Pinterest | Instagram | Twitter

Thai Pizza with Zucchini and Pickled Onions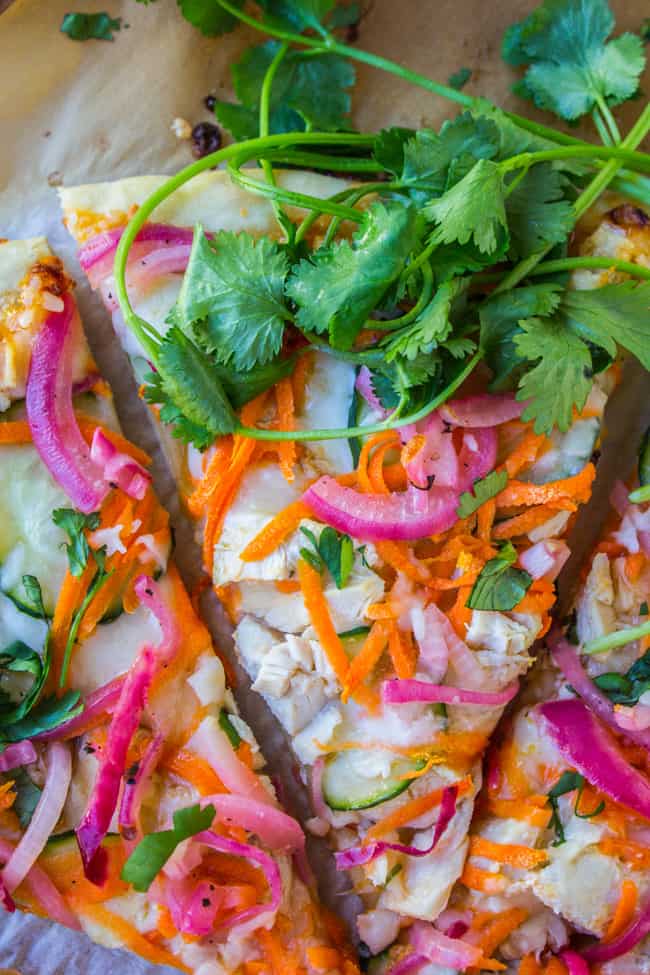 Summer zucchini, pickled onions, a smattering of carrots, and your choice of chicken or pork on one killer pizza. Sweet Chili Sauce brings it all together!
Ingredients
1/2

red onion

,

sliced thin

juice of 1 lime

salt and pepper

1

12-inch

pizza dough,

Here's my homemade recipe ∞

olive oil

1/3 or 1/2

cup

Sweet Chili Sauce

1 & 1/2

cups

mozzarella

,

divided

1

cup

cooked chicken or pork

,

shredded or cubed

1/2

small

zucchini

,

sliced thin

1

small

carrot

,

shredded

1/4 or 1/3

cup

cilantro

,

chopped

parchment paper
Instructions
Preheat oven to 450 degrees F. Put your pizza stone in the oven if you have one.

Put the sliced red onion in a small bowl and stir in the lime juice. Add salt and pepper to taste and set aside, stirring every few minutes so that they all get pickled.

Lightly flour a square of parchment paper. Roll out the dough with a rolling pin to about 12 inches.

Use your hands to spread about 1 tablespoon of olive oil all over the dough, especially the edges. Use a flat baking sheet or a large cutting board to transfer the parchment paper and the dough to the oven. If you have a pizza stone, great, otherwise put the parchment paper directly on the rack.

Set a timer for 1 minute, then remove the parchment paper and pizza dough and put it on the counter.

Spread the Sweet Chili Sauce all over the pizza, leaving a crust if you want. Sprinkle 1 cup of cheese on top. Add the chicken or pork and distribute evenly. Add the zucchini slices and shredded carrot.

Stir the pickled onions one last time, and add them to the top of the pizza, leaving the remaining lime juice behind.

Transfer the pizza and parchment paper to the oven rack or pizza stone, and bake for about 8 minutes, or until the cheese is melted and some of the carrots have just started to brown.

Sprinkle with chopped cilantro and serve hot!
Notes
You can find Sweet Chili Sauce on the Asian aisle of your grocery store. This stuff is SO good. See photo above to get an idea of what the bottle looks like.
Nutrition
Serving:
1
g
|
Calories:
686
kcal
|
Carbohydrates:
82
g
|
Protein:
35
g
|
Fat:
25
g
|
Saturated Fat:
10
g
|
Polyunsaturated Fat:
3
g
|
Monounsaturated Fat:
8
g
|
Cholesterol:
79
mg
|
Sodium:
1639
mg
|
Potassium:
299
mg
|
Fiber:
3
g
|
Sugar:
24
g
|
Vitamin A:
3319
IU
|
Vitamin C:
10
mg
|
Calcium:
303
mg
|
Iron:
5
mg