I'm not really into making up my own recipes.  I know, kind of lame to admit that on my food blog (remember the whole food charlatan thing?) It's mostly out of laziness. For me, cooking is all about the food, and I am just not willing to risk having experiments betray me.  I'm too cheap (to have to throw out food that tastes awful), too lazy, and, okay, just not that inventive.  If I want (food X), I want the best dang recipe in existence for (food X).  Don't give me any of this "I need to creatively express myself" crap.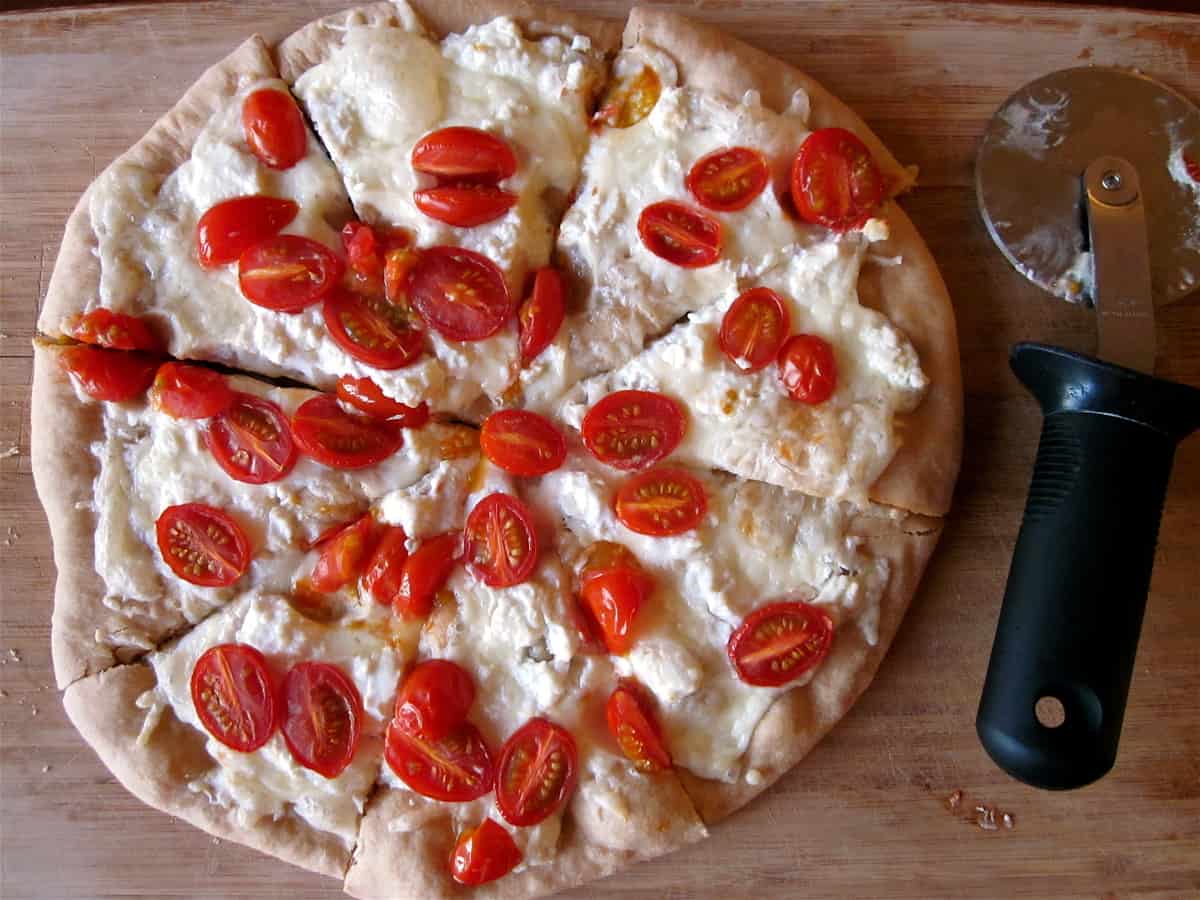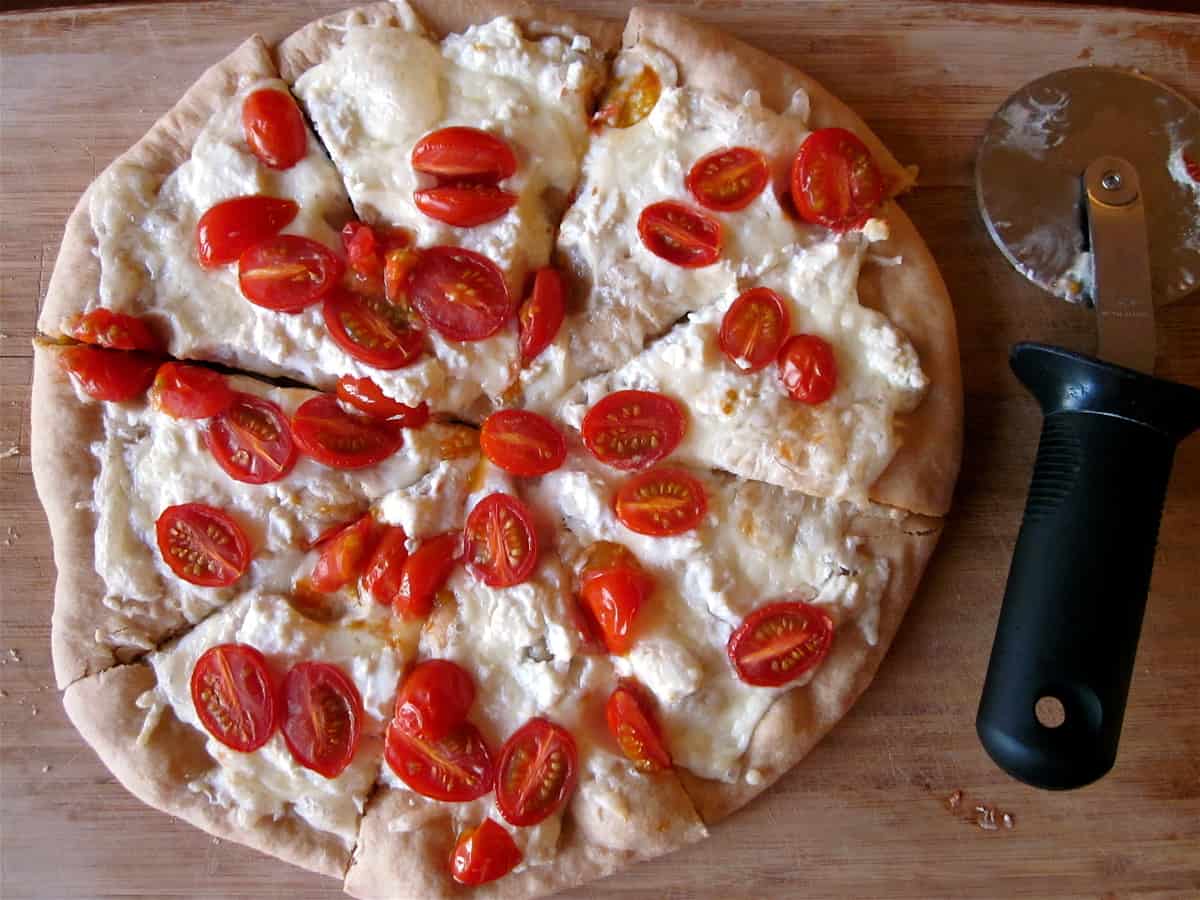 My mom is totally in the inventor category.  When Charlotte was born, she came out to wait on me hand and foot help us get settled with our new little infant.  She was awesome and did so much for us, including making delicious food.  She made the mistake, however, of asking me to pick out the recipes.  I like good food and am often willing to put in a ridiculous amount of effort to make something delicious.  It's more like a challenge to overcome than an annoyance.
So when my mom asked me to find a recipe, I picked out these Chicken and Spinach Stuffed Shells, which are not the end of the world but definitely take some doing. I didn't think anything of it until I looked over into the kitchen to see her stamping her foot in frustration, cartoon-like, as she attempted to pipe ricotta and spinach into slippery pasta shells.
She learned her lesson.  The next night she decided to make up her own recipe out of what was in the fridge.  It included some leftover chicken gravy, asparagus, and craisins. I tried to be polite, but secretly I was thinking to myself there is no way in heck I am eating that.
I was wrong though.  After seeing Eric scarf it, I decided to try a little. It was actually really good.  (Way to go Mom!)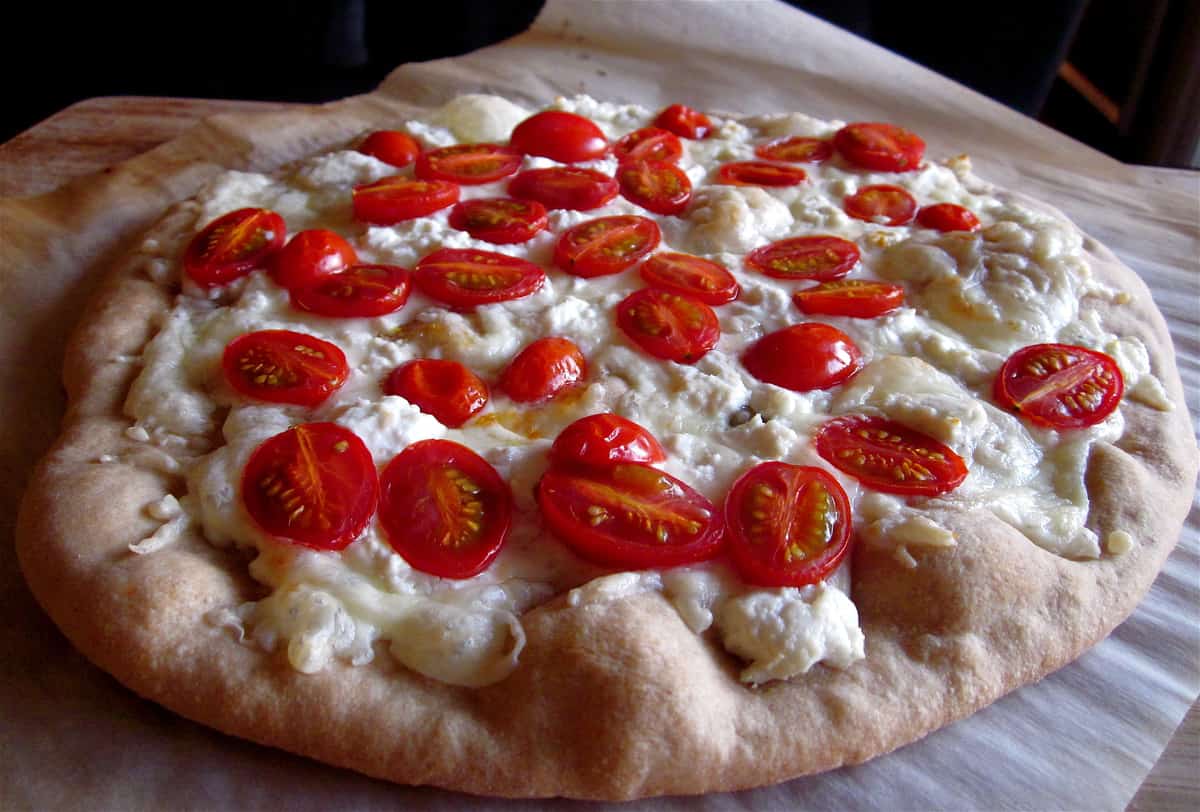 Heavily adapting a recipe is the closest I get to creation, like this here pizza.  Goat cheese is already pretty much the food of the gods, but combined here with cherry tomatoes, it somehow ascends to a whole new level.
And I'll come clean. I honestly can't remember whether I used cherry or grape tomatoes.  I always buy whichever ones are cheaper.  But having "cherry" in the title sounded more snappy, so I went with that.
Cherry Tomato and Goat Cheese Pizza
Source: inspired by Cooking Light
1 pizza dough recipe*
some mozzarella
goat cheese (I used 4 oz I think)
1 box cherry tomatoes, halved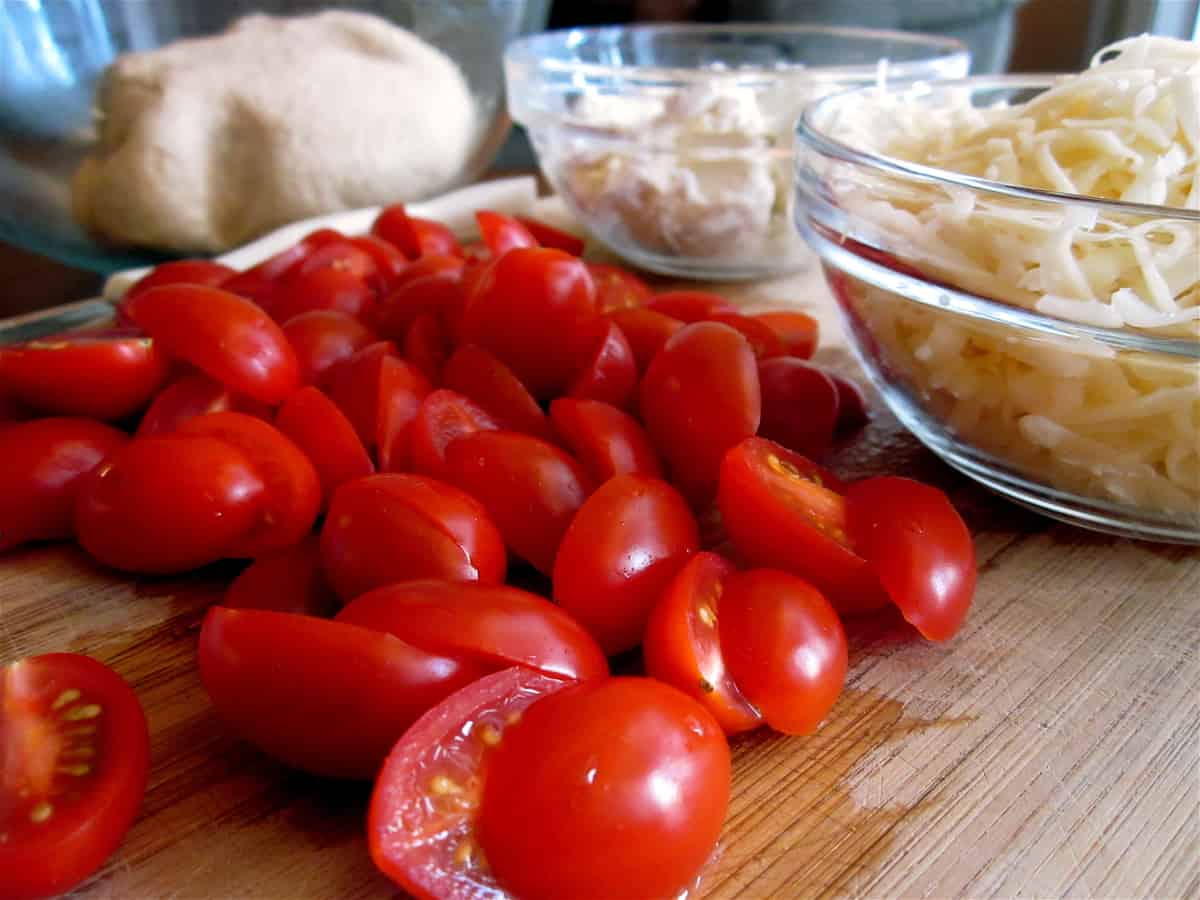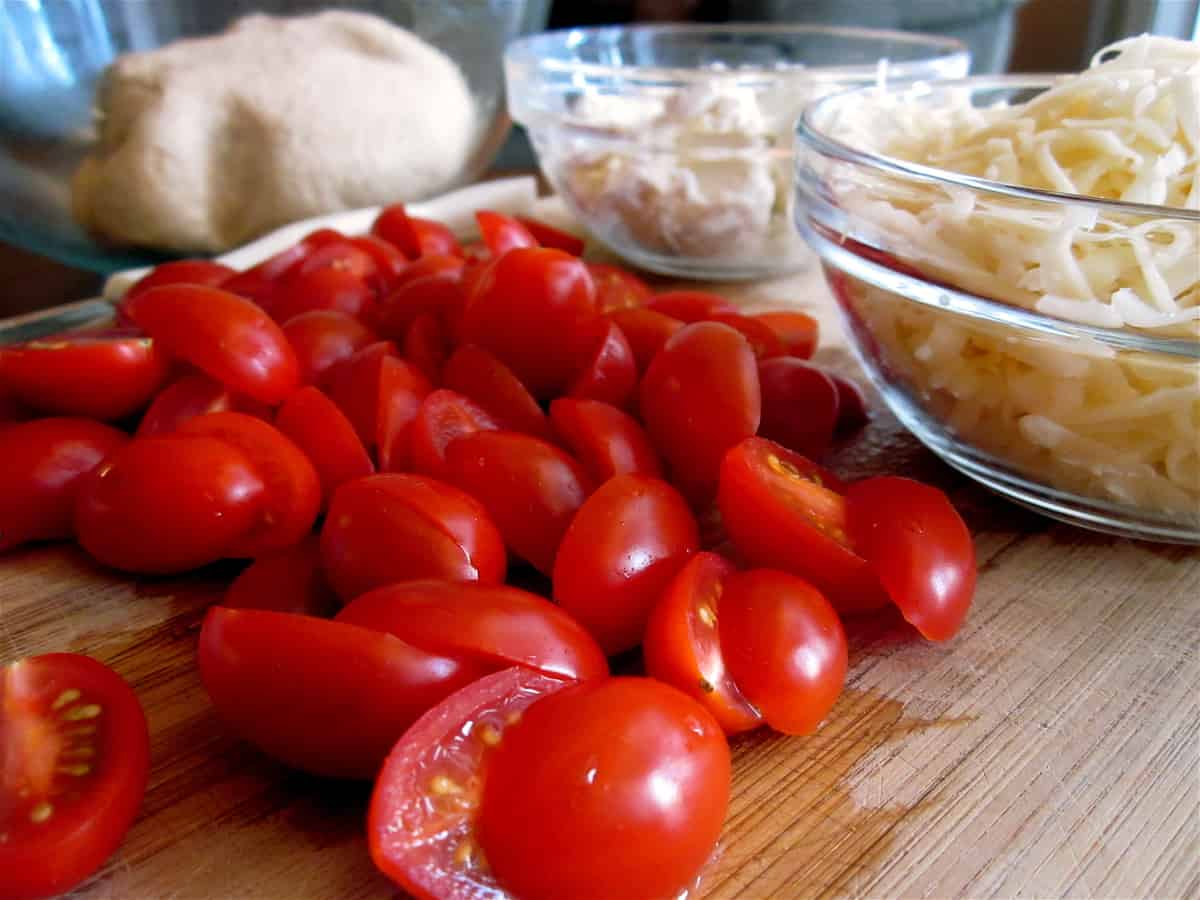 Roll out the dough on parchment paper and smear some olive oil on the top, especially around the edges. Bake at 400 degrees for 1 minute.
Remove from the oven and sprinkle some mozzarella on top.  (honestly, just however much looks good to you.  This isn't rocket science, people.)
Then crumble the goat cheese all over.  The bigger the chunks the better in my opinion.  Then spread around the tomatoes.  Pop it back in the oven for about 8 minutes, or until the cheese starts getting all brown and crackly.  De-lish.
*My go-to pizza dough:
Source: Better Homes and Gardens
3 cups flour (I usually do half white-wheat flour, replacing 1 1/2 teaspoons of flour (per cup of flour) with vital wheat gluten)
1 tablespoon yeast
1 teaspoon salt
1 cup warm water
1/4 cup olive oil
additional olive oil
In a large mixing bowl combine 2 cups of the flour, the yeast, and salt; add warm water and oil.  Beat with an electric or stand mixer until combined.  Add remaining flour, adding more (or less!) if necessary.  Knead by hand or in stand mixer for 6 or 7 minutes.  Divide dough in half, cover, and let rest for 10 minutes.  Or let rest undivided for an hour, then punch down, divide, and let rest.  Do that extra step if you like your crust to be more bread like.