These S'mores Bars are richly delicious with gooey chocolate and marshmallow layered between a cookie crust! Milk is a must with this decadent dessert.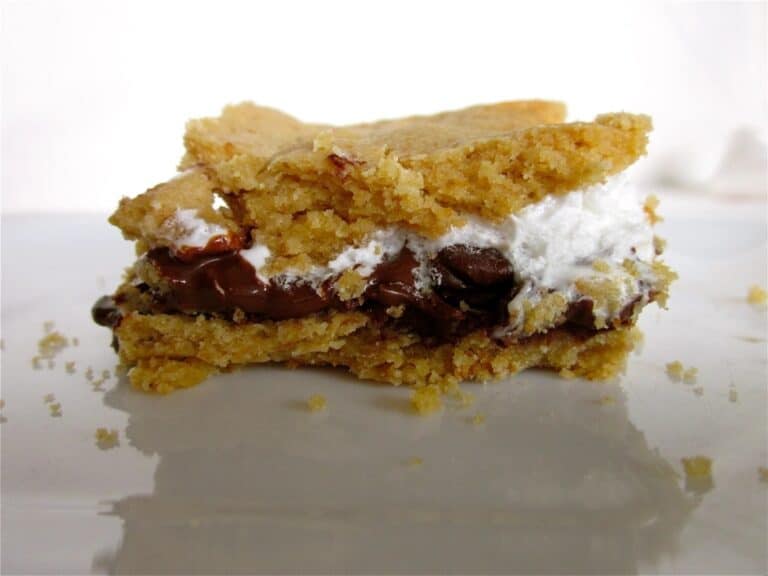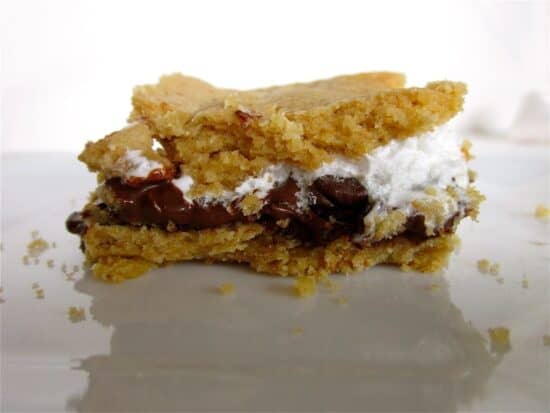 Eric and I figured out recently that we are more in love than any other couple. Ever. Don't stop reading just yet; this is not going to get mushy. I have empirical evidence.
Eric and I shared a car until very recently. Now we are "taking care" of his sister's car while she is away on her mission. Which is awesome for me. Now I can go get that crucial lemon or bottle of rice vinegar or almond extract that is the only missing ingredient for whatever I am making (yes, that is the only exciting thing I have to do with the car. Shut up.)
One day a few weeks ago I needed the car for the day, which meant dropping off and picking up Eric from work. I hate driving and avoid it whenever humanly possible, so as soon as I got to his work I slid over to the passenger seat so that he could take the wheel. He got in the car and we both leaned in for a quick peck. Cute, right?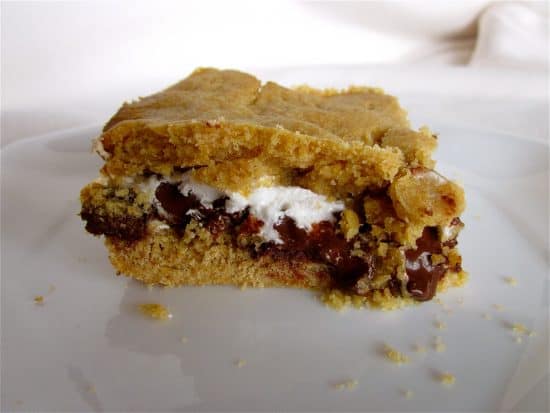 Wrong. Instead of Eric's usually very agreeable lips, I was met with the most intense shock of my life. Did you know that lips are one of the most sensitive areas on your body because of the high concentration of receptor cells? Well folks I could tell. It hurt so bad.
Really though, it's kind of romantic. I mean, who doesn't want electric kisses? Even if they leave you with red marks and throbbing teeth.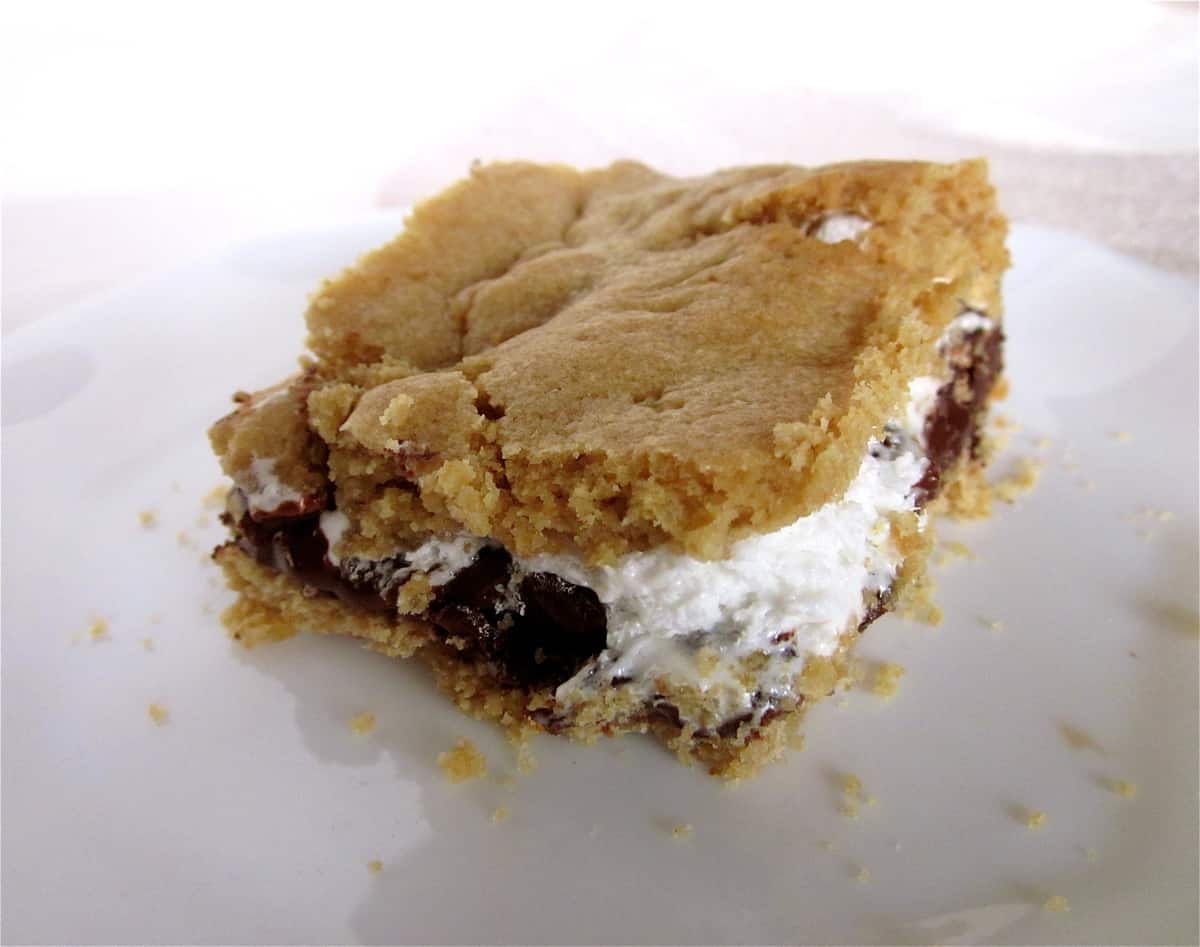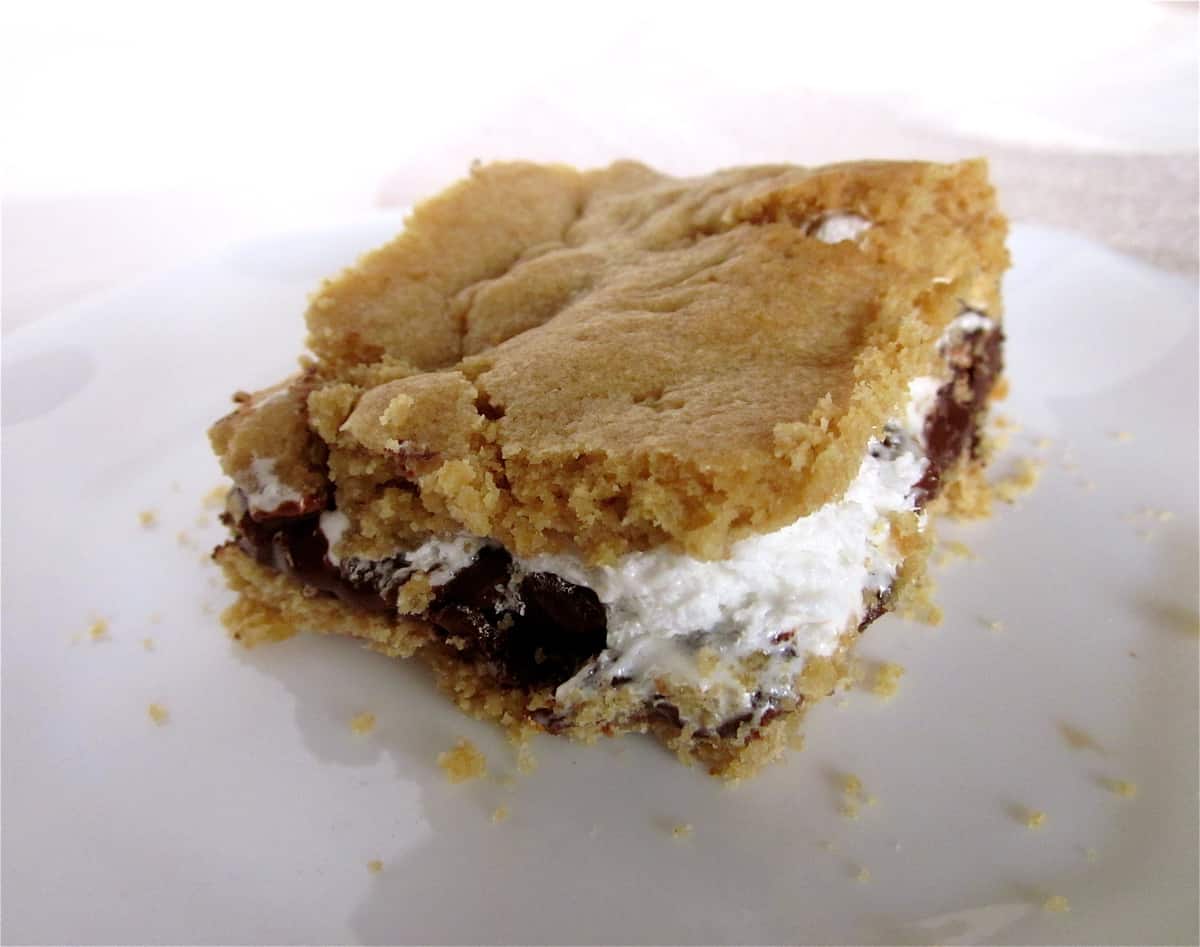 This is a great recipe for when you are craving some summer food but haven't been invited to any bonfires lately because it's 5 degrees outside. These bars are ridiculously delicious and come together pretty quick. They are super rich; you don't need a big piece.  Unless you are me, in which case you do.
People always ask me why there are 3 extra gallons of milk in our fridge. This is why.
S'mores Bars
Source: slightly adapted from Lovin' from the Oven
1/2 cup butter, room temperature
1/4 cup brown sugar
1/2 cup sugar
1 large egg
1 teaspoon vanilla extract
1 1/3 cups all purpose flour
3/4 cup graham cracker crumbs
1 teaspoon baking powder
1/4 teaspoon salt
enough chocolate chips to cover the pan. I like semi-sweet but I suppose milk chocolate is more traditional.
1 1/2 cups marshmallow creme (one regular jar)
Preheat oven to 350. Grease an 8-inch square baking pan.
In a large bowl, cream together butter and sugar until light. Beat in egg and vanilla. In a small bowl, whisk together flour, graham cracker crumbs, baking powder and salt. Add to butter mixture and mix at a low speed until combined.
Divide dough in half and press half of dough into an even layer on the bottom of the prepared pan. Pour some chocolate chips on top.*  Microwave the marshmallow cream for 10 or 15 seconds so that it scoops out easier (make sure you remove all of the foil first!!) Spread chocolate with marshmallow creme. Place remaining dough in a single layer on top of the creme (most easily achieved by flattening the dough into small shingles and laying them together).
Bake for 30 to 35 minutes, until lightly browned. Cool completely before cutting into bars. (yeah right)
*Note: The original recipes calls for 2 Hershey's bars instead of chocolate chips. That would probably be really good, let me know if you try it.  I just never have them on hand.