Grilled tilapia has to be one of the easiest dinners ever. Try this version with simple cajun seasoning and lemon-y corn salsa to use up the last of those summer veggies.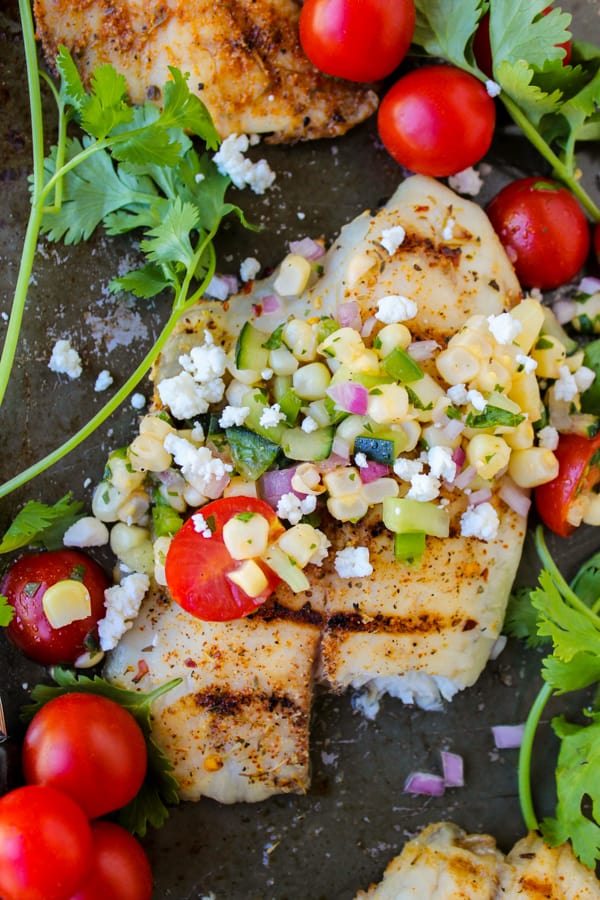 One day not too long ago, I was holding Truman in my arms because we were out somewhere and he was sleepy. We were way past the "over-tired" stage and well into the "you will be punished for this, Mom" stage. He spent one moment resting his head on my shoulder but with any tiny disturbance would explode into back-arching wails, only to return to my shoulder seconds later, worn out.
If you don't have kids, this probably sounds really weird. It is.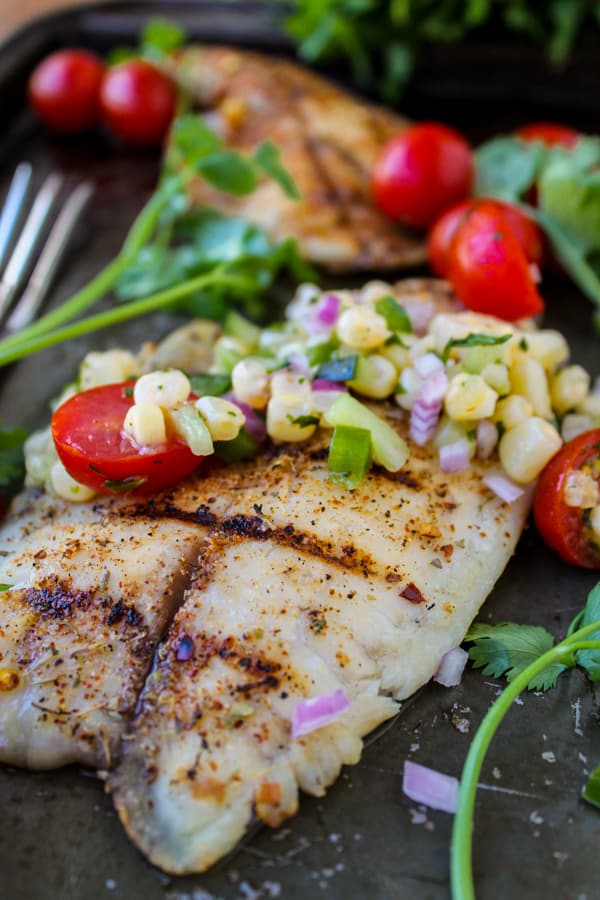 Anyway, somehow on one of the back-to-the-shoulder collapses, Truman's thumb ended up in his mouth. I watched it happen, as if in slow motion. It was like watching him eat ice cream for the first time. There's NO GOING BACK.
Now that I have an official thumb-sucker, I asked my doctor about it. "Should I be worried?"
"Well, does he suck his thumb while he's asleep?"
"I dunno."
"You don't know?"
"Well, I mean, he's sucking his thumb when I put him down, but how am I supposed to know if he's got it in there all night?"
The doctor opened his mouth a few times, like a fish, unsure how to respond. Almost as if he needed a good thumb-suck to work out his feelings about the fact that I'm clearly a negligent mother for not watching my baby WHILE HE'S ASLEEP.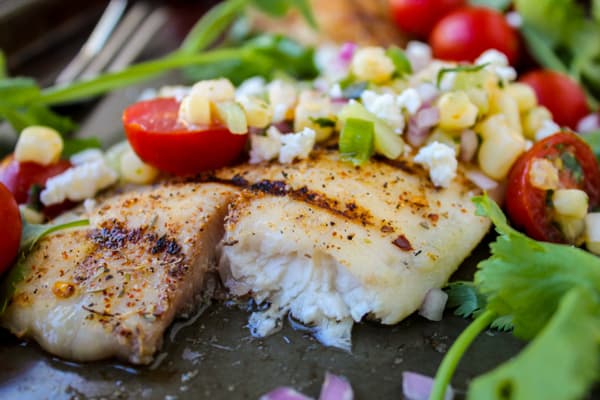 At least I feed them well. The kids actually loved this meal. I'm feeling proud of myself because I'm pretty sure I was an adult the first time I tried fish (excluding tuna). Sheltered much? I know.
How to make Grilled Tilapia
All I did was sprinkle some cajun seasoning on the tilapia and toss it on the grill. The corn salsa is where it's at though my friends. I love the freshness that the lemon and cucumber adds. I wasn't planning on adding the feta, but threw it in on a whim and was glad I did. It adds the perfect tangy bite. If you don't have a grill or have already put it away (!!!) there are broiling instructions below.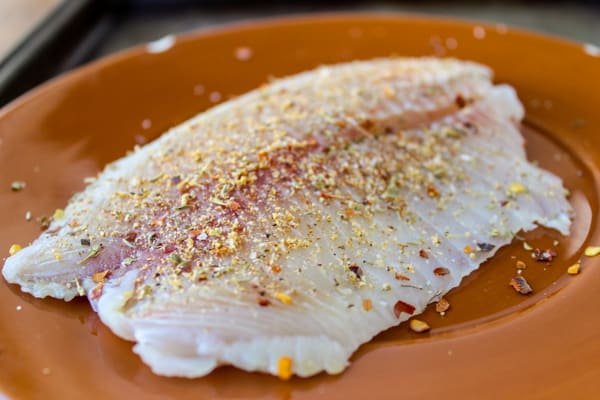 Don't forget to pat the fish dry before rubbing with seasoning.

Here's how I like to chop my cucumbers for the salsa.
Come back on Saturday for some ethnic meatballs! That sounds weird. Whatever. It's going to be awesome.
More Fish Recipes
Honey Salmon with Browned Butter Lime Sauce:
Cilantro and Lime Salmon from Closet Cooking
Asian Salmon with Rice Noodles and Asparagus from Julia's Album
Facebook | Pinterest | Instagram | Twitter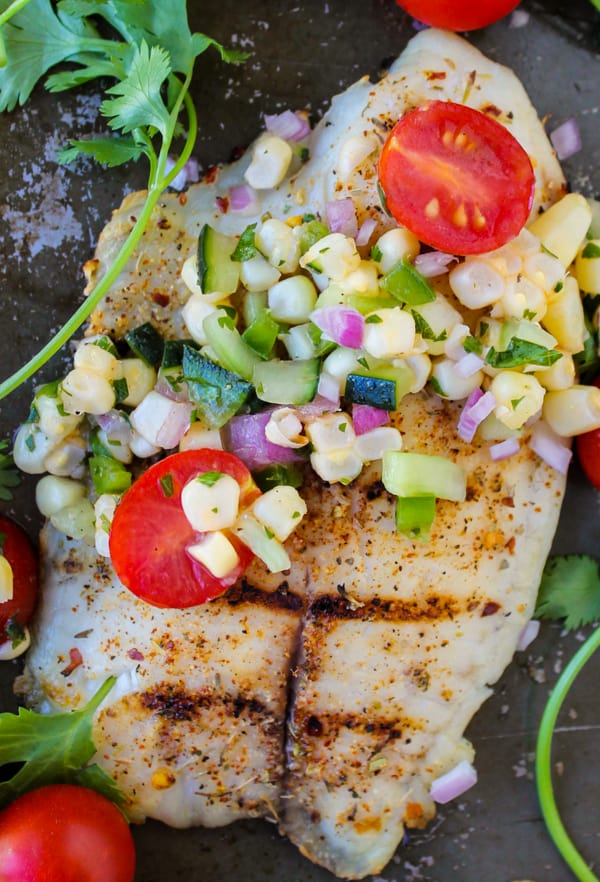 Grilled Tilapia with Corn Salsa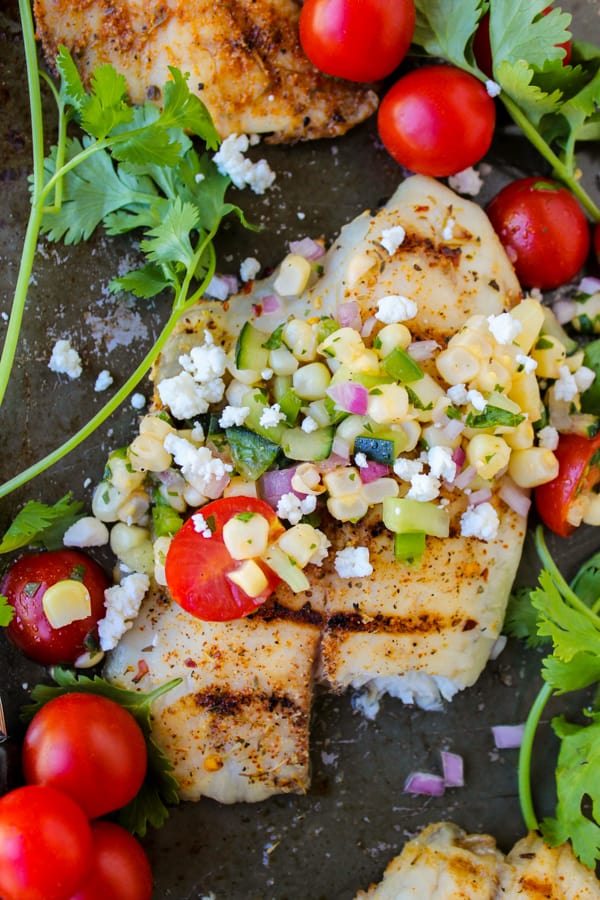 Grilled tilapia has to be one of the easiest dinners ever. Try this version with simple cajun seasoning and lemon-y corn salsa to use up the last of those summer veggies. 
Ingredients
6

tilapia filets

2

tablespoons

cajun seasoning

,

or to taste*

2

tablespoons

oil

1/4

cup

lemon juice

,

fresh

3/4

teaspoon

salt

1/4

teaspoon

pepper

2

cups

corn

,

fresh or frozen 4 ears**

1

medium

cucumber

,

diced

1

jalapeño

,

seeded and diced

1/4

medium

red onion

,

chopped

1/4

cup

cilantro

,

chopped

1 & 1/2

cups

cherry tomatoes

,

halved

1/2

cup

feta cheese

,

crumbled
Instructions
Heat grill to high heat.

Pat the tilapia filets dry with paper towels and sprinkle with cajun seasoning. Use your fingers to rub it on both sides.

Oil the grill. Add the tilapia filets and cook for about 3 minutes per side or until it flakes with a fork.

In a medium bowl stir together oil, lemon juice, salt, and pepper. Add corn, cucumber, jalapeño, red onion, cilantro, and cherry tomatoes. Toss to coat.

Serve the tilapia with the corn salsa. Top with feta cheese, or you can add it to the salsa.

If you don't have a grill you can broil the tilapia. Line a baking sheet with foil and grease well. Add the prepared tilapia and broil under low heat for 5-8 minutes or until it flakes with a fork.
Notes
*I didn't have any cajun seasoning so I made my own: in a small bowl stir together 1 teaspoon each salt and garlic powder. 1 1/4 tsp paprika. 1/2 teaspoon each black pepper, onion powder, cayenne pepper, oregano, and thyme. 1/4 teaspoon red pepper flakes.
**If using using fresh corn, cook it first. Husk it and boil it for about 2-3 minutes until tender. Let cool, then cut from the cob. If using frozen corn, just thaw it.
Source: The Food Charlatan
Nutrition
Serving:
1
fillet
|
Calories:
309
kcal
|
Carbohydrates:
16
g
|
Protein:
39
g
|
Fat:
11
g
|
Saturated Fat:
3
g
|
Polyunsaturated Fat:
3
g
|
Monounsaturated Fat:
5
g
|
Trans Fat:
1
g
|
Cholesterol:
96
mg
|
Sodium:
526
mg
|
Potassium:
841
mg
|
Fiber:
3
g
|
Sugar:
5
g
|
Vitamin A:
1615
IU
|
Vitamin C:
20
mg
|
Calcium:
97
mg
|
Iron:
2
mg