Cuban Roasted Mojo Pork
A traditional roasted Cuban Mojo Marinated pork recipe that is very simple, yet packed with tons of flavor! There is nothing to this pork except an amazing marinade, but it is honestly some of the best meat I've ever put in my mouth. Just look at that crust!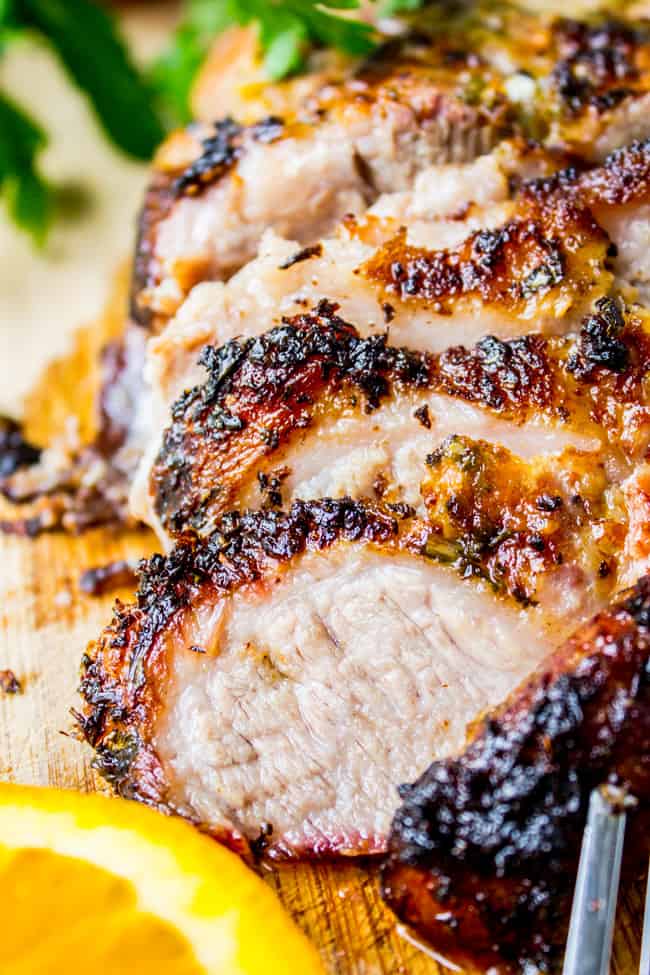 Today I was craving a snack, so naturally I grabbed a banana and the jar of Biscoff sitting in our cupboard. The banana-Biscoff dip is a habit I've been nursing for a while now, and I don't think it's heading out anytime soon.
Then I opened the jar and IT WAS EMPTY. Not even last-tiny-bit-scrape-able. This was no crap job, that jar was CLEAN. I'm the only one in the house with a Biscoff habit, so there is no question about culpability here. Past-Karen scraped that jar clean, and then she put it back in my cupboard. It's like she's trying to torture me. Oh, hi Future-Karen, you wanted a snack? TOO BAD.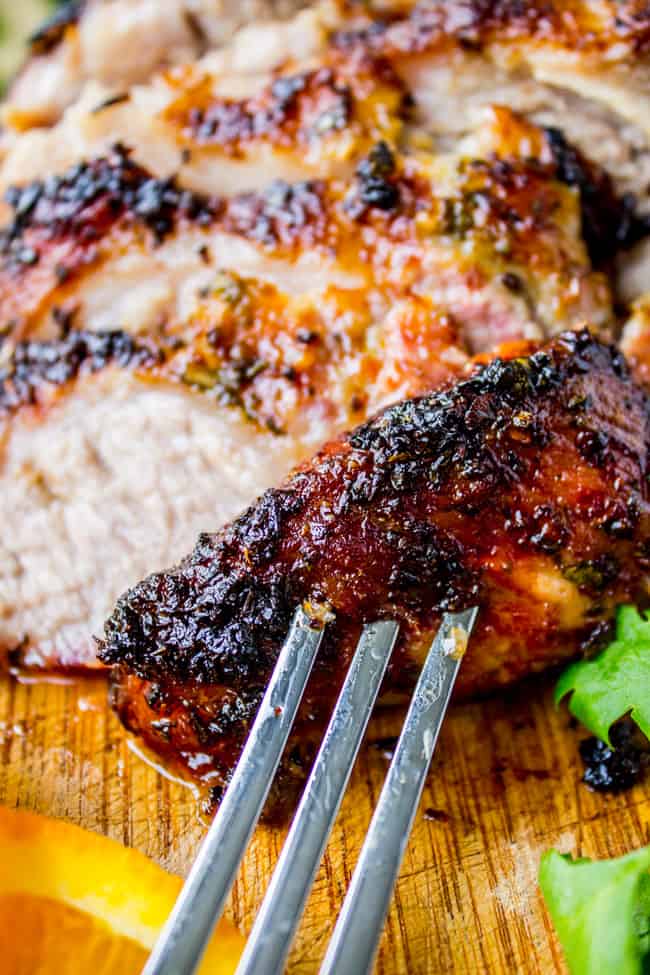 Have you guys seen the movie Chef? It's about a guy who opens a food truck and drives across the country selling Cuban sandwiches and it helps him win at life. Whatever, all I know is that by the end of the movie I NEEDED a Cubano, more than anything ever.
How to make Cuban Mojo Pork
But first things first: the pork. This pork, you guys. I would climb mountains and cross rivers for this pork. The crust alone is enough to make a man weep.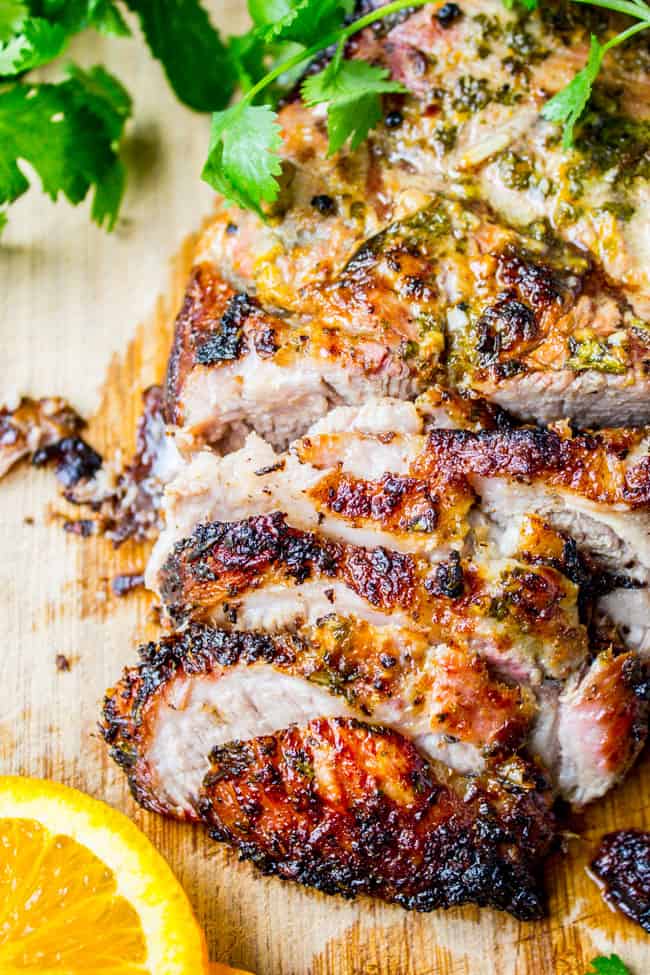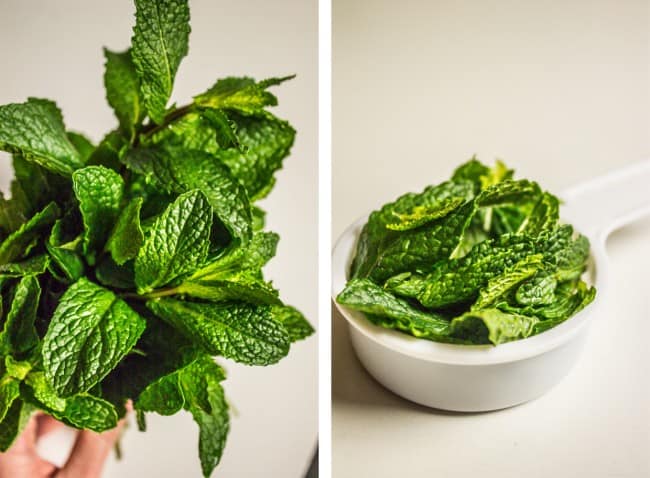 Check out the meat before and after cooking. It's so beautiful!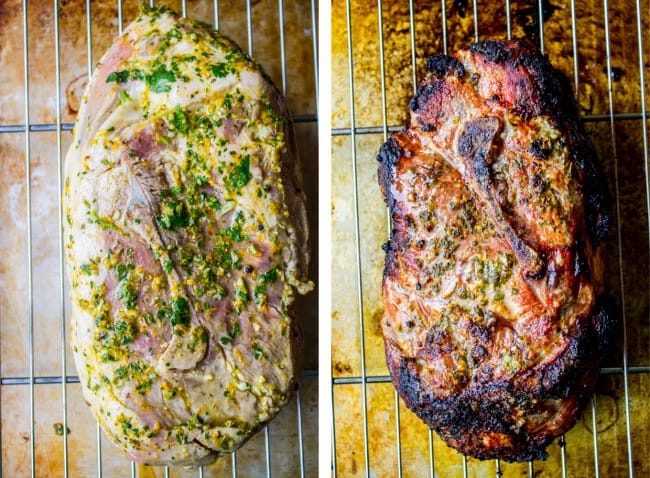 In Cuba they have sour oranges. I'd never heard of them or tried one, but using sour oranges is how to make a true Mojo sauce. The best substitute is a combination of orange and lime, which is what I've done here. I'm not complaining. The result is incredible.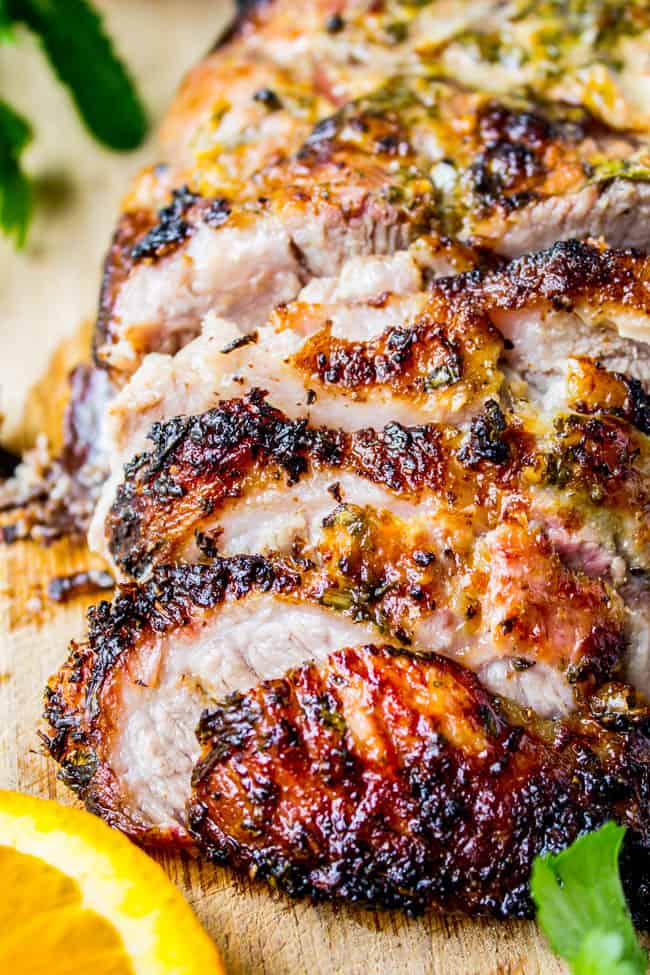 How to serve roasted Mojo Pork
I used this pork to fill Cuban sandwiches, coming to the blog next week. (UPDATED: Cubanos in the house.) The recipe for the pork and the sandwiches are both from the chef they hired for the movie. Cool right?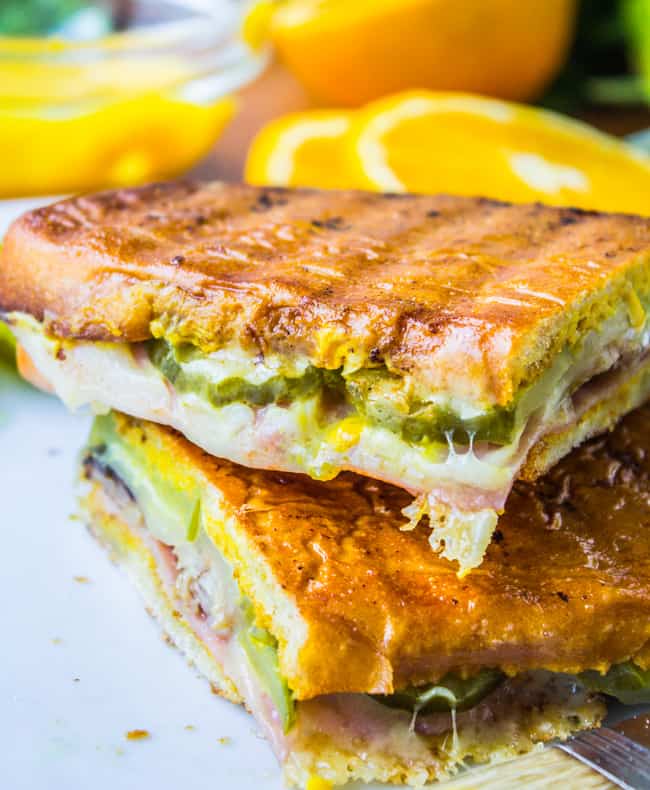 More great meat recipes to try!
This post has affiliate links. Thanks for your support!
Facebook | Pinterest | Instagram | Twitter
Cuban Mojo Pork
A traditional Cuban roasted pork recipe that is very simple, yet packed with tons of flavor! There is nothing to this pork except an amazing marinade, but it is honestly some of the best meat I've ever put in my mouth. Just look at that crust!
Ingredients
3/4

cup

extra-virgin olive oil

1

tablespoon

orange zest

3/4

cup

fresh orange juice

1/2

cup

fresh lime juice

1

cup

cilantro

,

finely chopped

1/4

cup

lightly packed mint leaves

,

finely chopped

8

garlic cloves

,

minced

1

tablespoon

minced oregano

,

2 teaspoons dried oregano

2

teaspoons

ground cumin

Kosher salt and pepper

3 & 1/2

pounds

boneless pork shoulder

,

in one piece*
Instructions
If you have a

food processor:

Add the orange juice, cilantro leaves, mint leaves, and smashed (not minced) garlic cloves, and pulse until everything is finely chopped. Add this mixture to a ziplock bag, along with the rest of the oil, zest, lime juice, oregano, and cumin.

If you don't have a food processor: In a large ziplock bag, combine olive oil, orange zest, orange juice, lime juice, chopped cilantro, chopped mint, minced garlic, oregano, and cumin. Shake it around a bit to mix it up, then add the pork shoulder.

Place the zipped up bag in a baking dish, and put it in the fridge overnight, or several hours at least.

Preheat oven to 425 degrees F. Place a wire rack (I used a cooling rack) over a rimmed baking sheet.

Place the pork on the rack and discard the marinade. Salt and pepper the pork well.

Roast the pork for 30 minutes. It should be lightly browned.

Turn the oven down to 375 degrees F. Roast for another 1 hour and 20-30 minutes, or until a meat thermometer reads 160.

Transfer to a cutting board, cover with aluminum foil and let rest at least 20 minutes.

Carve against the grain and serve.
Notes
*I accidentally grabbed a bone-in pork shoulder. Worked great!
Source: People.com, who published the recipe from the chef who cooked for the movie "Chef."
Nutrition
Serving:
1
serving
,
Calories:
607
kcal
,
Carbohydrates:
8
g
,
Protein:
61
g
,
Fat:
36
g
,
Saturated Fat:
7
g
,
Polyunsaturated Fat:
4
g
,
Monounsaturated Fat:
24
g
,
Trans Fat:
1
g
,
Cholesterol:
159
mg
,
Sodium:
148
mg
,
Potassium:
1151
mg
,
Fiber:
1
g
,
Sugar:
3
g
,
Vitamin A:
359
IU
,
Vitamin C:
26
mg
,
Calcium:
60
mg
,
Iron:
4
mg
We are a participant in the Amazon Services LLC Associates Program, an affiliate advertising program designed to provide a means for us to earn fees by linking to Amazon.com and affiliated sites.