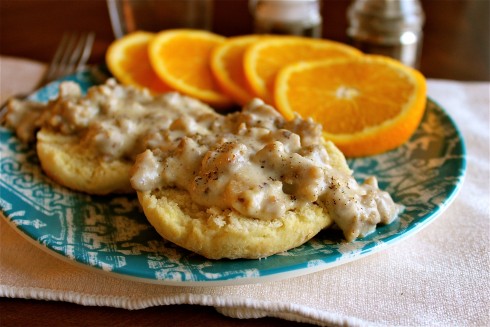 We had our neighbors over for games tonight. I was in the kitchen talking to my friend Jessica, who asked about the brownies I had made (which I will be posting soon because they were a-maz-ing). Here's roughly how that conversation went:
Me: Yeah, they have browned bu-
Eric, from across the room: Karen.
Me:-tter in them and only a cup of
Eric, from across the room: Karen.
Me: flour so they are super rich. Yes, I
Eric, from across the room: Karen.
Me: licked the bowl, try not to judge
Eric, from across the room: Karen!!
Me: me. I know I'm pregnant but only one in ev
Eric, from across the room: KAREN!!!!!!
ery 20,000 eggs has salmonella so I take the ris–
Eric, from across the room: KAREN!!!!!!!!!!!!!!!!
Me: OH MY GOSH YOU ARE LIKE A 3-YEAR-OLD SAYING MOMMOMMOMMOMMOMMOMMOM OVER AND OVER AGAIN CAN YOU NOT SEE THAT I AM HAVING A CONVERSATION?!!!
Eric, having finally gained my attention: Is it time to put Charlotte to bed?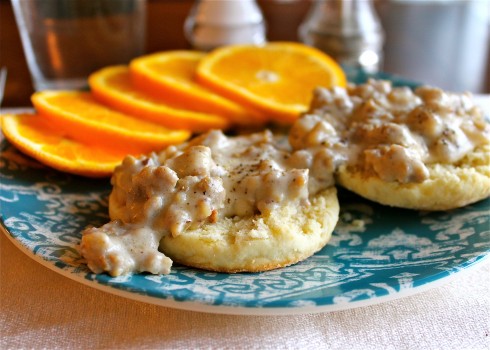 I love my husband. I really do. He is infinitely superior to all of your husbands. But sometimes…I feel like his mom.
Who's ready for some biscuits and gravy?? Yeah dude. I love this stuff. I had a meal plan in a campus cafeteria my freshman year of college where they served biscuits and gravy for breakfast all the time, and those were basically the best days of my life. And that was just a cafeteria version. This recipe will make you want to move South, buy a Rebel t-shirt, and pretend your accent sounds like Reese Witherspoon's on Sweet Home Alabama. So so good.
Cream Biscuits and Sausage Gravy

Source: Cook Like a Champion
Cream Biscuits:
Makes 8 biscuits
2 cups all-purpose flour
2 teaspoons sugar
2 teaspoons baking powder
1/2 teaspoon salt
1 1/2 cups heavy cream
Preheat oven to 425º. Line a baking sheet with parchment paper or a silpat.
In a medium bowl, whisk together flour, sugar, baking powder and salt. Stir in the cream with a spoon until a dough forms. Turn the dough out onto a lightly floured counter. Gather into a ball and knead until smooth. Don't overdo it. Less is more.
Using your hands, shape the dough into a 3/4-inch thick circle. Using a 2 1/2-inch floured cutter, cut the biscuits into rounds and place on prepared baking sheet. Reshape the dough to cut additional biscuits. (At this point, the baking sheet can be wrapped in plastic and refrigerated for up to 2 hours before baking.) Bake biscuits for about 7 minutes, then rotate the pan. Bake for another 6-8 minutes, until golden brown.
Sausage Gravy
Serves 4-6
12 ounces bulk pork sausage
2 tablespoons all-purpose flour
2 cups milk
Salt and freshly ground black pepper, to taste
Heat a medium skillet over medium-high heat. Add the sausage and break up with a spoon. Cook, stirring occasionally, until well browned and cooked through, about 7 minutes. Using a slotted spoon, transfer to a plate and set aside. Remove the sausage as soon as you think it's done. You don't want all your beautiful grease to disappear.
Sprinkle the flour into the skillet and whisk for about 1 minute. Continue whisking while slowly adding the milk. Bring to a boil, then reduce heat and simmer for about 2 minutes. Add a generous pinch of salt and pepper to taste. Stir in sausage and serve immediately over split biscuits.