Cranberry Brown Butter Rice Krispie Treats
Rice Krispies treats get a make over! First brown the butter to get an insane amount of flavor. THEN add chopped cranberries and extra marshmallows for the most buttery, gooey treats ever, plus a tart pop of holiday color! Add these to your cookie plate!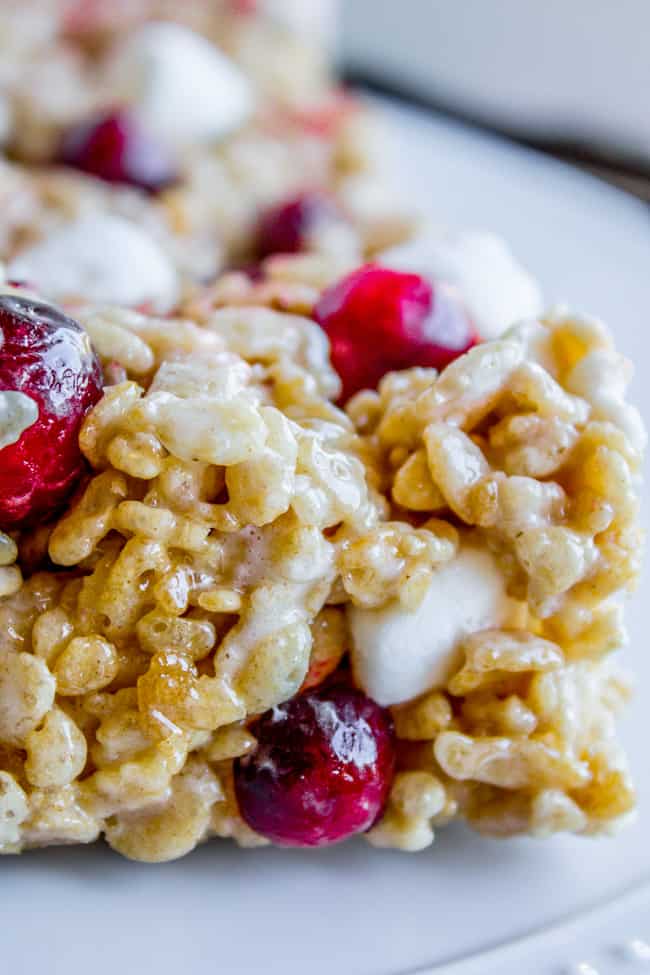 Every Sunday I put Charlotte in an adorable dress for church, tie the bow in the back and off we go. And every Sunday within the first 5 minutes of settling into our pew, Eric re-ties Charlotte's bow because my bows look like garbage.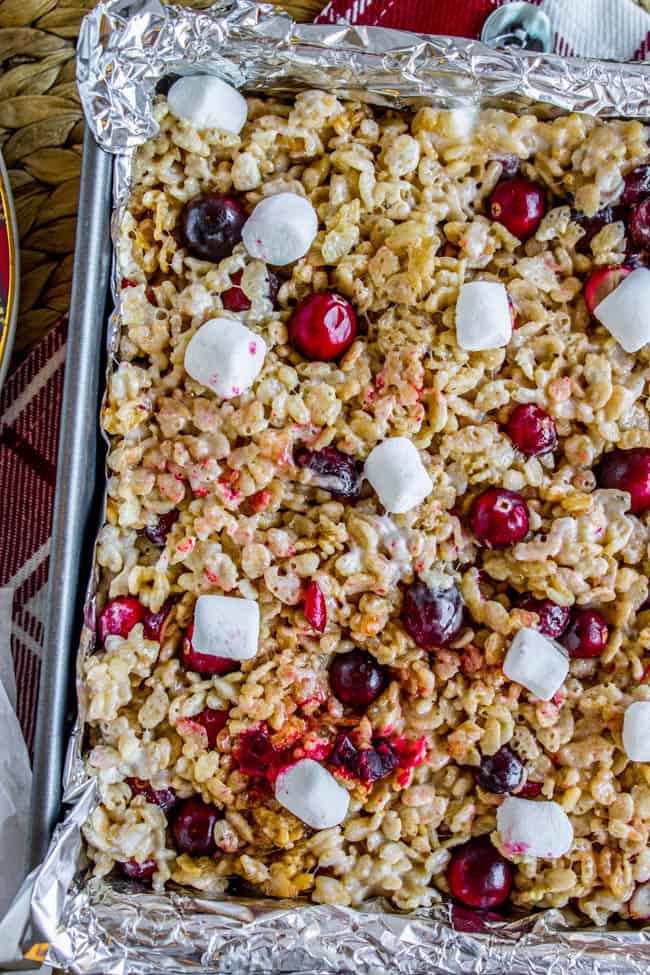 This girl-failure of mine is always made even more prominent around the holidays. I tied bows on the first few of our neighbor treats last night, but made Eric take over for the rest. Which means that yes, my bows are officially worse than a dude's. He's wrapped all the gifts under the tree so far because I'm always putting off wrapping til the last minute.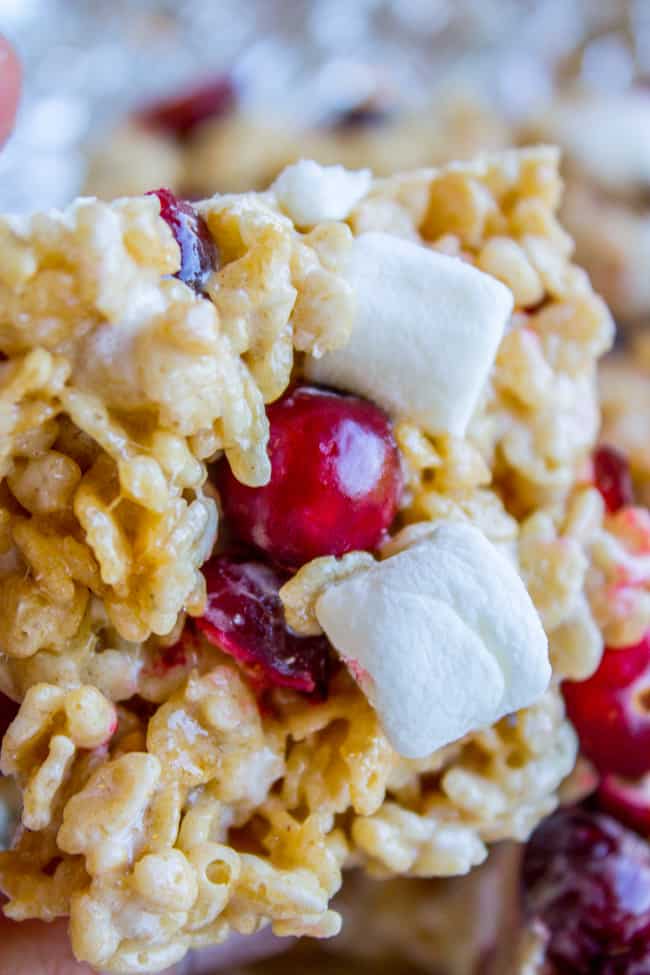 I got an email from the local Cost Plus here in Sacramento wanting me to run an in-store gift wrap demonstration station, and I laughed out loud. Just because I know how to make cookies and dinner does NOT mean I can wrap a present successfully. Do you KNOW how many times I have carefully measured my wrapping paper only to somehow be a half inch short when I pull it together?? Every time.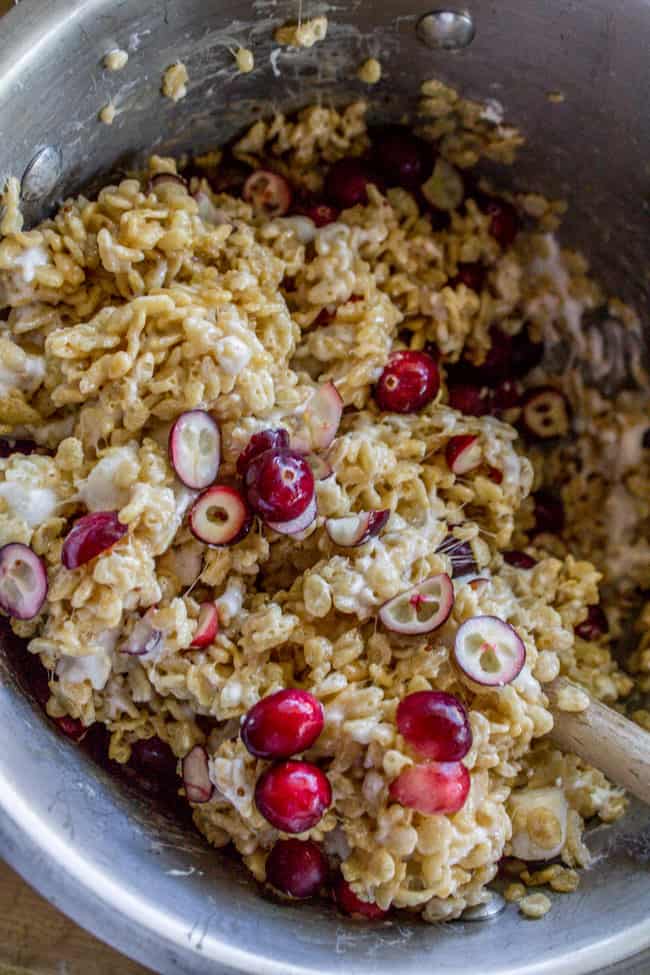 Calling these brown butter cranberry Rice Krispies treats makes them sound pretty hoity toity, but really they're super easy to throw together. Just make regular Rice Krispies, except cook the butter a little longer to get that ultra-nutty-brown-butter flavor; toss in some cranberries at the end and you're golden. Cranberries are so tart that they need to be paired with lots of sugar to be delicious and not overwhelming, and marshmallow is the perfect man for the job.
Sometimes I think regular Rice Krispies can taste a little boring, but these ones have amazing pops of tart cranberry to liven things up. Oh and did I mention the extra marshmallows that you stir in at the end?? They don't melt all the way, leaving you with the most ooey-gooey and moist Rice Krispies of your life.
It would be great to have these hanging in the kitchen for your out of town holiday guests, or you could wrap them up in cellophane and hand them out to the neighbors for something different. You can make these in less than 20 minutes. Do it!!
Facebook | Pinterest | Instagram | Twitter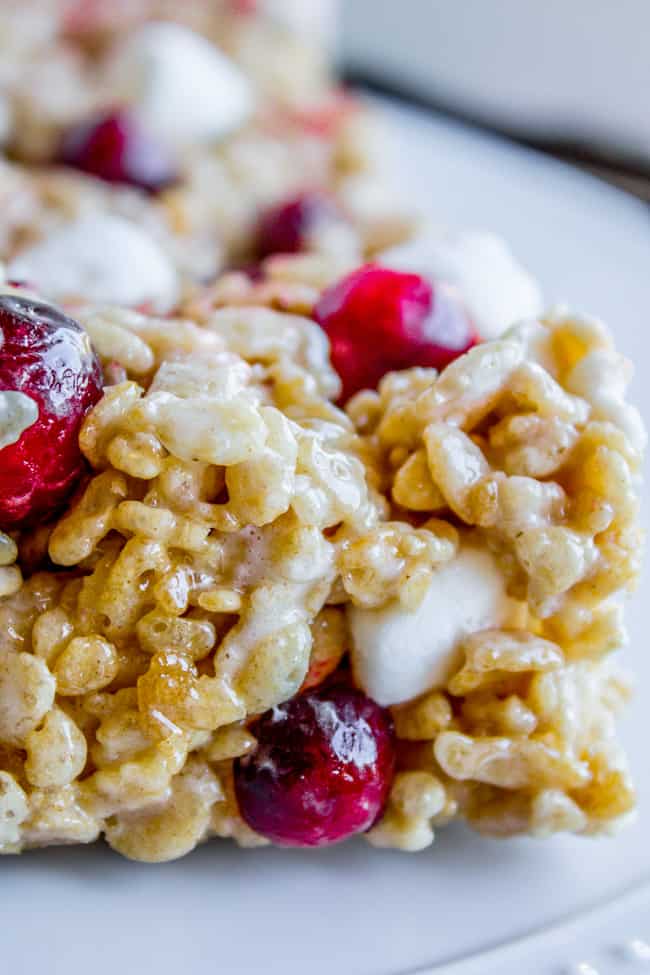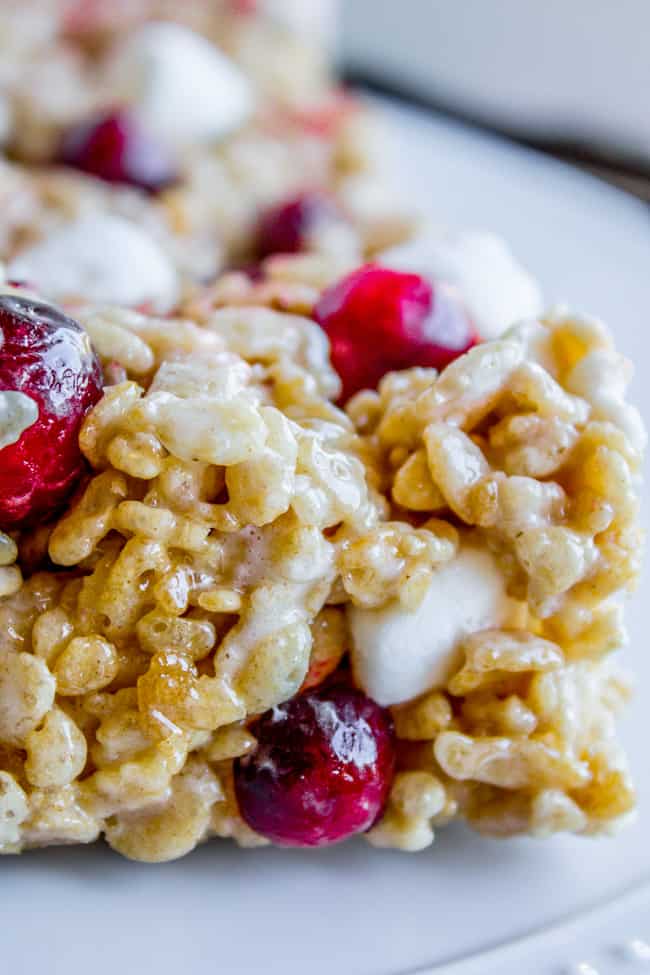 print
Did you make this recipe?
Leave a review »
Cranberry Brown Butter Rice Krispie Treats
Serves 9-16
adjust servings
Ingredients
5

tablespoons butter

6

cups mini marshmallows

1/8

teaspoon salt

6

cups crispy rice cereal

2

cups mini marshmallows

1

and 1/2 cups fresh cranberries, roughly chopped

more mini marshmallows

more whole cranberries
Instructions
Line a 8x8 or 9x9 square pan with parchment paper or foil. Spray with nonstick spray and set aside.
In a 3 quart pot, melt the butter over medium heat. Continue to cook and stir. Keep it on the heat, stirring occasionally, until the foam starts turning golden and the mixture smells nutty.
Stir in 6 cups of marshmallows and the salt. Stir continually until the marshmallows are melted.
Stir in the cereal until just barely coated. Remove from heat.
Stir in 2 cups of mini marshmallows and chopped cranberries.
Working quickly, press half of the mixture into the prepared pan. Top with a handful of marshmallows and whole cranberries, if you want.
Scrape remaining mixture on top and press down.
Top with additional marshmallows and cranberries, if you want.
Let cool at room temperature, then cut into bars and serve.
Keep stored on the counter in a tightly sealed container or ziplock. They are best on the first day.
by The Food Charlatan

If you make this recipe,
share it on Instagram
 using the hashtag
#TheFoodCharlatan
so I can see it!
Source: I found the cranberry idea in a Food Network magazine from years ago! I adapted Life in the Lofthouse's recipe.
You may love these treats too!
Brown-Butter Cranberry Tart << this is such a beautiful holiday dessert!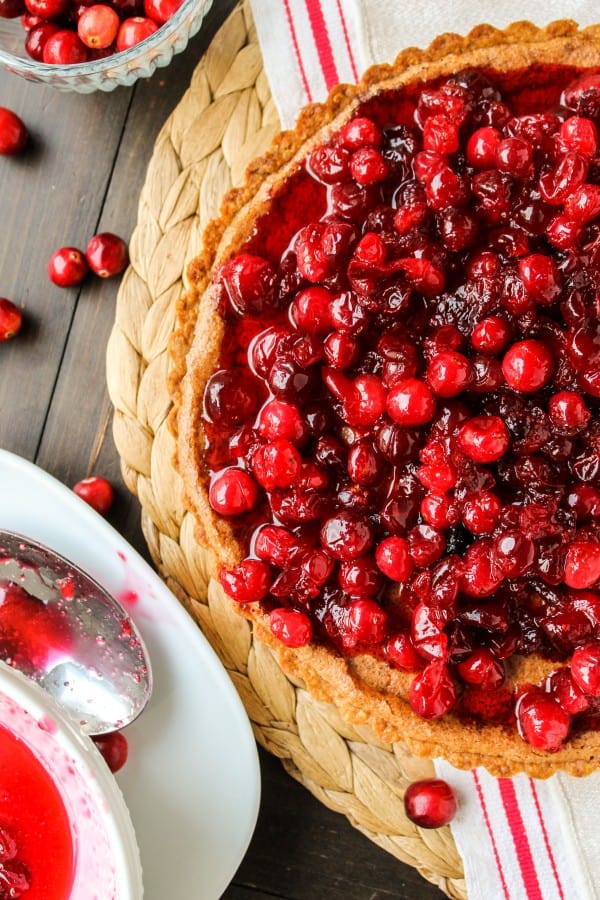 Cranberry Cake with Warm Vanilla Butter Sauce  << This butter sauce guys. INSANE.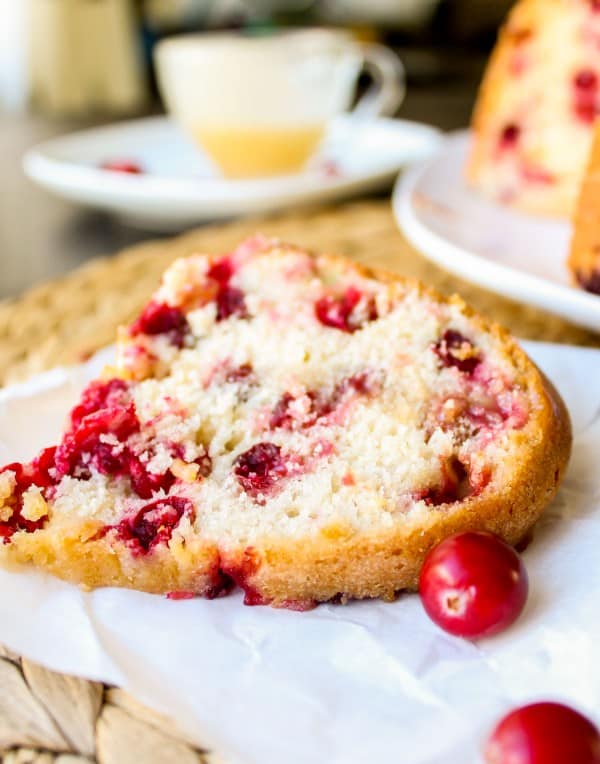 Cranberry Custard Pie << I love this pie so much!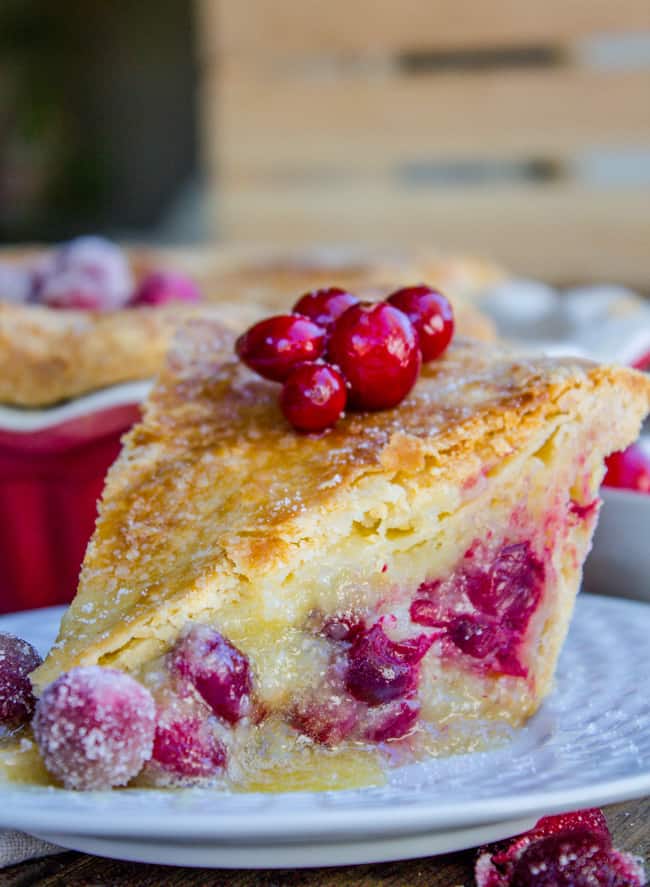 We are a participant in the Amazon Services LLC Associates Program, an affiliate advertising program designed to provide a means for us to earn fees by linking to Amazon.com and affiliated sites.