Butter Chicken (Murg Makhani)
So are you guys ready for Valentine's Day this week? I feel like it's everywhere. And I haven't even been down the seasonal aisle at Target yet. (Okay, I'll be honest, if I had been down that aisle, it would have been the one at Walmart not Target. Because I'm super classy.)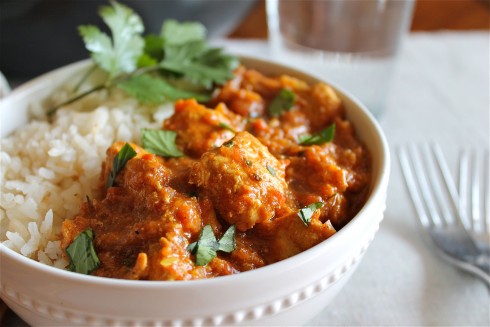 Eric and I went on a Valentine's date this weekend to avoid the crowds on Thursday. We decided to do no gifts this year, but Eric stopped at a cute little garden shop on the way to our babysitter's place and told me to pick out a plant. He knows me well. Don't get me chocolates on Valentine's Day. Get me a new friend. (Aren't you guys friends with your plants?) One of my plants died a while back (after weeks of neglect. I guess I'm not a very good friend. I looked up at that plant from my position on the couch several times while I had the flu and thought "I need to water that plant…later.") Anyway, we picked out some awesome plants and now I feel like I live in a magazine. Even though my lamps don't necessarily match my curtains and there are toys littering the floor. Plants just make you feel good.
This Indian dish will make you feel good too. My brother Nathan just about choked when I told him that this recipe calls for no butter. That's right…there is no butter in this Butter Chicken. Seems kind of counter-intuitive, I know. Puja, the lovely author over at US Masala, says that it's called Butter Chicken because the sauce is creamy like butter. I don't care how you want to describe it, all I know is that it is food from heaven.
There are just about as many recipes out there for Butter Chicken as there are recipes for spaghetti sauce. I think it's one of those dishes that is best adapted to taste, so go wild. I like this recipe because it doesn't call for heavy cream, but you really don't miss it. I love it when you can taste heavy cream that's not actually there. Makes me feel pretty good about myself.
Butter Chicken (Murg Makhani)

Source: US Masala
Makes 4 servings
For the marinade:
1/4 cup plain Greek yogurt
1 tablespoon lemon juice
1 teaspoon chili powder, or to taste
1 1/2 tablespoons ginger-garlic paste (fresh will work great too!)
1/2 teaspoon salt, or to taste
1 teaspoon Tandoori masala
2 tablespoons ghee or oil
1 1/2 pounds boneless skinless chicken thighs or breasts
For the sauce:
1 tablespoon oil
1 small onion, minced
1 1/2 teaspoons ginger-garlic paste (or fresh!)
3/4 teaspoon salt, or to taste
1/4 teaspoon turmeric
1 8-oz can tomato sauce, or 1 cup diced tomatoes, pureed
1 teaspoon paprika
1 teaspoon Tandoori masala
1 teaspoon coriander powder
1 teaspoon Garam masala
1/4 cup water
2/3 cup evaporated milk or regular milk
1 teaspoon kasoori methi (fenugreek)
1/4 teaspoon sugar
cilantro, to garnish
In a medium bowl, combine all the ingredients for the marinade except the chicken. Cut the chicken into bite size pieces and combine with the marinade. Cover and refrigerate for 1-2 hours. The longer the better.
To cook in the oven: Preheat oven to 425˚F. Thread the chicken onto pre-soaked bamboo skewers and place on a baking sheet lined with aluminum foil (or a broiling pan). Bake until the chicken is done, turning the skewers every 5 minutes or so. It shouldn't take more than 10-15 minutes total.
To cook on the stove: Lightly grease a large skillet. Add the chicken and cook until just barely done, making sure you don't stir too often. It shouldn't take more than 5 minutes or so. Set aside.
In another large skillet, heat the tablespoon of oil on medium heat. Add the onion and saute until translucent, 3-5 minutes. Add the ginger-garlic paste, salt, and turmeric, and continue to cook for 1-2 minutes.
Add the tomato sauce, paprika, Tandoori masala, and coriander, and cook for another 2 minutes. Add the chicken and garam masala and combine.
Add 1/4 cup water and simmer for a couple minutes. Add milk and kasoori methi and bring to a boil. Add more water if you want a smoother sauce; I actually added some of the leftover marinade. Remove from heat and add sugar and chopped cilantro, or add the cilantro individually.
We are a participant in the Amazon Services LLC Associates Program, an affiliate advertising program designed to provide a means for us to earn fees by linking to Amazon.com and affiliated sites.