This crispy crunchy granola will win over your tastebuds in no time! Coconut-almonds and macadamia nuts are baked with lots of oats, coconut oil, honey, spices, and a little bit of lime juice to brighten things up. It's the perfect make ahead breakfast!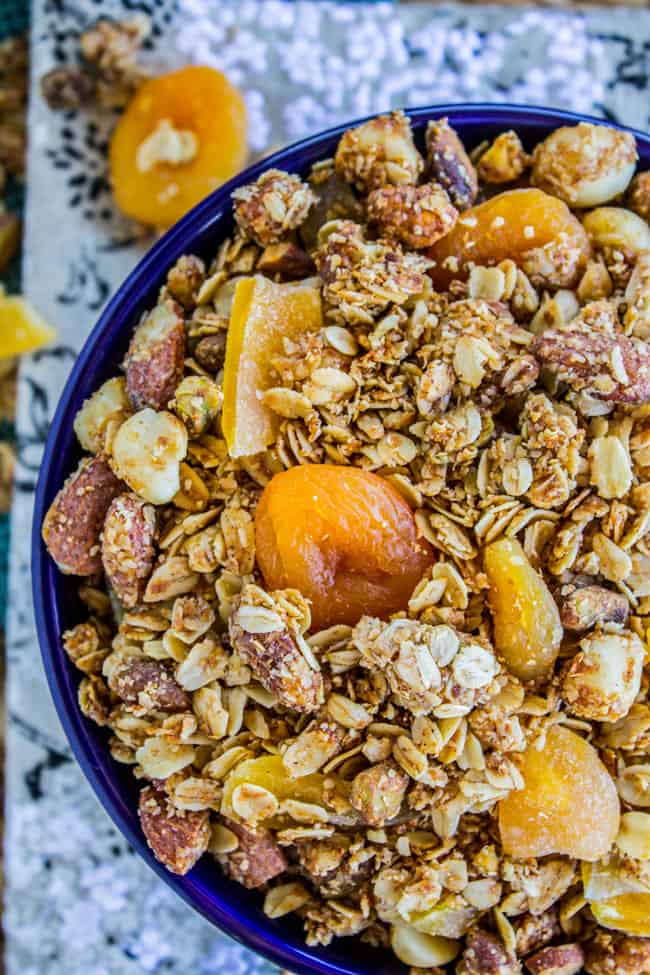 The other day Eric decided to give Truman a much-needed haircut. I was grateful, because when I'M in charge of cutting Truman's hair, he ends up like this the day before our family photos: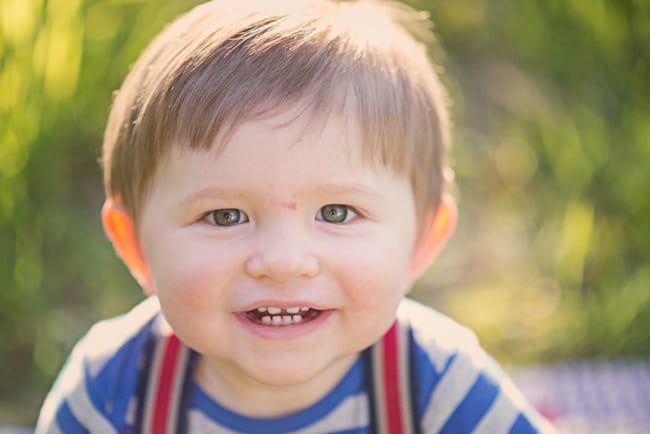 This haircut was the result of a moment of desperation that you can read about here. Hint to future moms: Don't cut your kids hair when you are desperate. Just don't.
But Eric wasn't desperate. He did a fine job for having zero training and watching only one YouTube tutorial.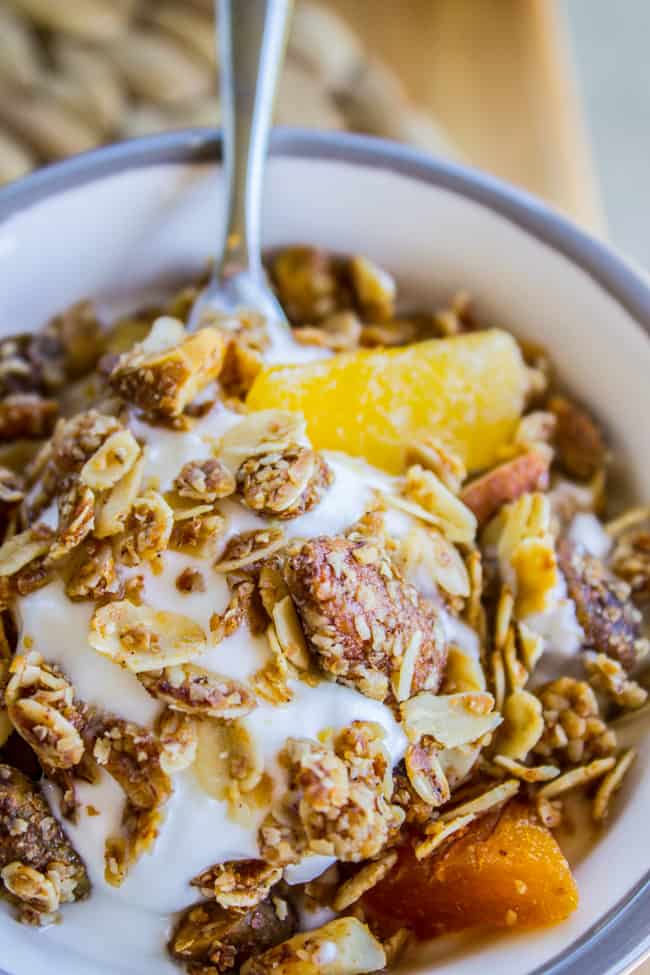 Then it was time to clean up all the hair on the ground. Eric cut Truman's hair out in the backyard…So naturally he grabbed the LEAF BLOWER to get rid of all the hair. Poor Truman is strapped in a high chair covered in fuzz when his dad comes at him with some hefty lawn equipment. Of course he started screaming his guts out.
I texted Eric's family about it and the universal response was…why not a hair dryer?? Or a broom perhaps? I don't think we'll ever guess the inner workings of a man's mind. (Or maybe it's really simple: bigger equipment = better. Yup. Think I nailed it.)
Now let's talk granola. Actually, first let's talk new-favorite-snack: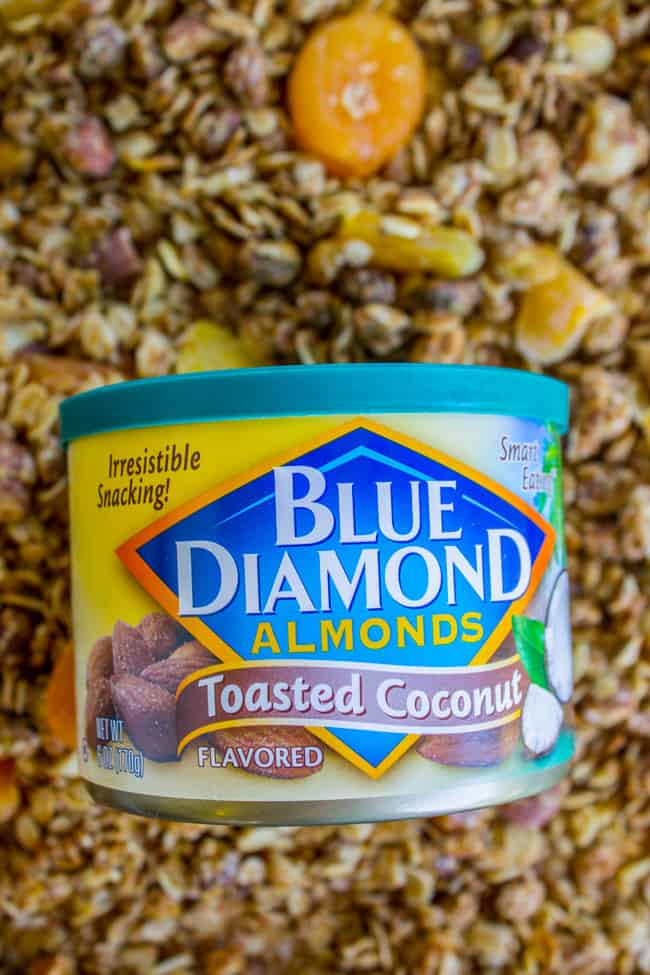 YOU. GUYS. I love all of Blue Diamond's amazing flavor combos, but this one takes the cake for me. My package arrived one day when we had some friends over, and it's a good thing they sent me a few cans of Toasted Coconut, because I'm not kidding when I say that I had to hide the other cans after the first one was demolished within 5 minutes of opening it. They are so so good!!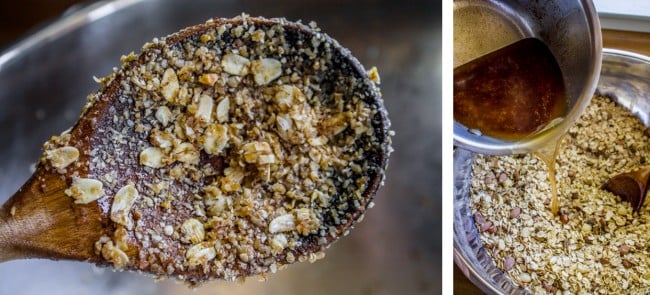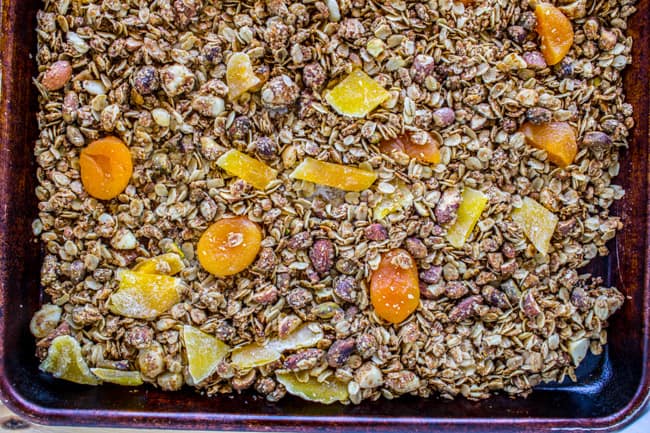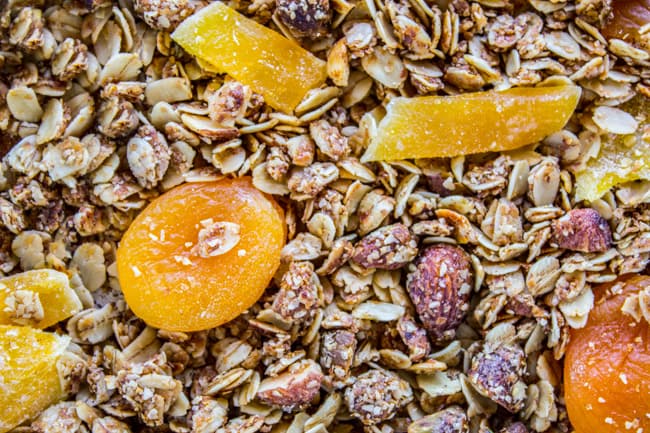 But just wait til you add it to some granola. Coconut almonds, macadamia nuts, oats, and some syrupy goodness: with these forces combined… the power is YOURS! I don't know why I just reverted to the Captain Planet theme song. Just roll with it.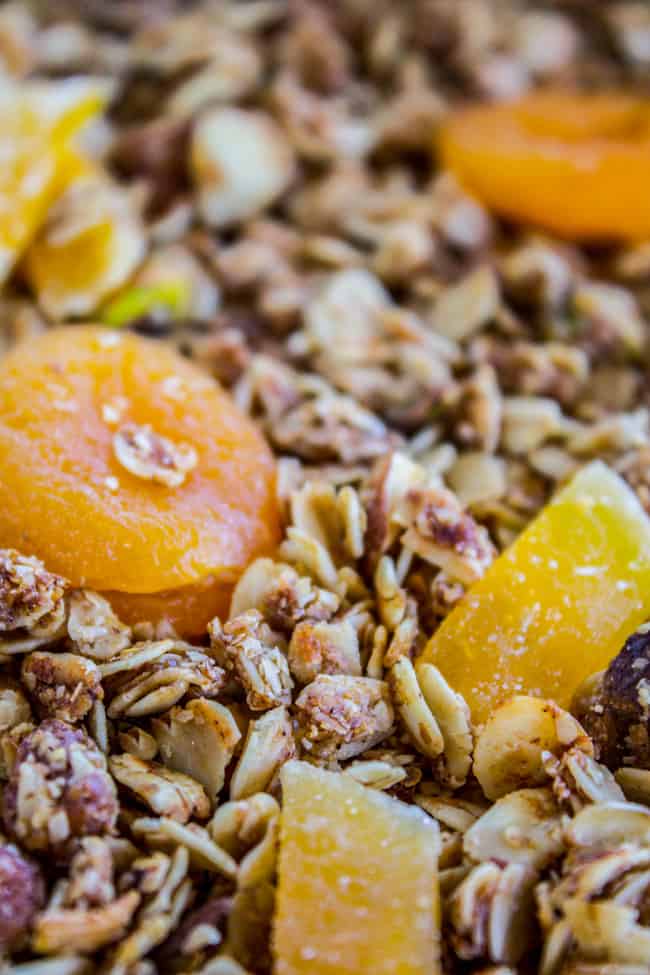 You will note that there is no actual shredded coconut in this recipe. I love the flavor of coconut but am not a fan of the texture, so I rarely use it. But you could easily add it! Replace one of the cups of oats with shredded coconut. Granola is just so adaptable!
Definitely let me know if you make this! Tag #TheFoodCharlatan on Instagram so I can see your creations!
Facebook | Pinterest | Instagram | Twitter

Tropical Mango Coconut Granola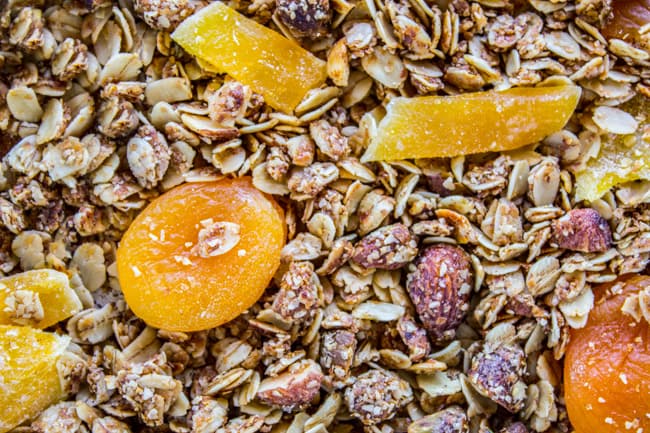 Coconut almonds, macadamia nuts, and pistachios are baked with lots of oats, coconut oil, honey, spices, and a little bit of lime to brighten things up.
Ingredients
Dry:
8

cups

rolled oats

1 & 1/2

cups

wheat germ

1 & 1/2

cups

oat bran

2 (6-oz)

cans

Blue Diamond Toasted Coconut Almonds

1

cup

macadamia nuts

,

2 of the 2.25 oz packages
Wet:
1

cup

coconut oil

1/2

cup

maple syrup

,

the real stuff

1/2

cup

honey

1

teaspoon

kosher salt

1/2

teaspoon

ginger

1/2

teaspoon

cardamom

1/4

teaspoon

allspice

2 & 1/2

teaspoons

cinnamon

1

tablespoon

vanilla

,

or vanilla bean paste

1

lime

,

juiced

1 & 1/2

cups

dried mango

,

chopped

1 & 1/2

cups

dried apricots

,

large ones halved
Instructions
Preheat the oven to 325 degrees F.

In the largest bowl you have, combine the oats, wheat germ, oat bran, Toasted Coconut Almonds, and macadamia nuts.

In a medium saucepan, combine oil, maple syrup, honey, salt, ginger, cardamom, allspice, and cinnamon.

Bring to a boil, then remove from heat. Wait about a minute and then stir in the vanilla (If you do it right away some of it will burn off). Add the lime juice.

Slowly pour some of the liquid over the oat mixture and stir. Add the rest in a few increments until it is all incorporated.

Line 2 large rimmed baking sheets (I used 1 large and 2 small) with foil or parchment paper. Spray with nonstick spray. Divide the granola between the pans and spread evenly.

Bake at 325 for about 12 minutes, then stir the pans and bake for another 10-12 minutes, until it's just starting to brown. (If you are baking all pans at once, rotate the top and bottom pans when you stir.)

Let the granola cool. Sprinkle the mangos and apricots over the granola and mix in.

Store in an airtight container. Ziplocks or quart jars work great.
Notes
Granola is so adaptable! The honey/maple can be in any ratio you like, or replaced with agave or something similar. Add shredded coconut or replace some other ingredients with it. Dried pineapple would be a great sub for dried mango. Change up the spices. The possibilities are endless!
Nutrition
Serving:
1
g
|
Calories:
659
kcal
|
Carbohydrates:
96
g
|
Protein:
14
g
|
Fat:
28
g
|
Saturated Fat:
14
g
|
Polyunsaturated Fat:
3
g
|
Monounsaturated Fat:
10
g
|
Sodium:
155
mg
|
Potassium:
569
mg
|
Fiber:
11
g
|
Sugar:
47
g
|
Vitamin A:
2681
IU
|
Vitamin C:
5
mg
|
Calcium:
95
mg
|
Iron:
5
mg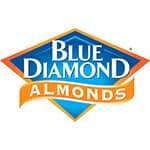 This post is sponsored by Blue Diamond Almonds. Thanks for supporting the brands that keep The Food Charlatan charlatan-ing! 
Other make ahead breakfasts you will love!
Maple Pecan Granola with Cherries << this is the first granola I ever made. It's delicious!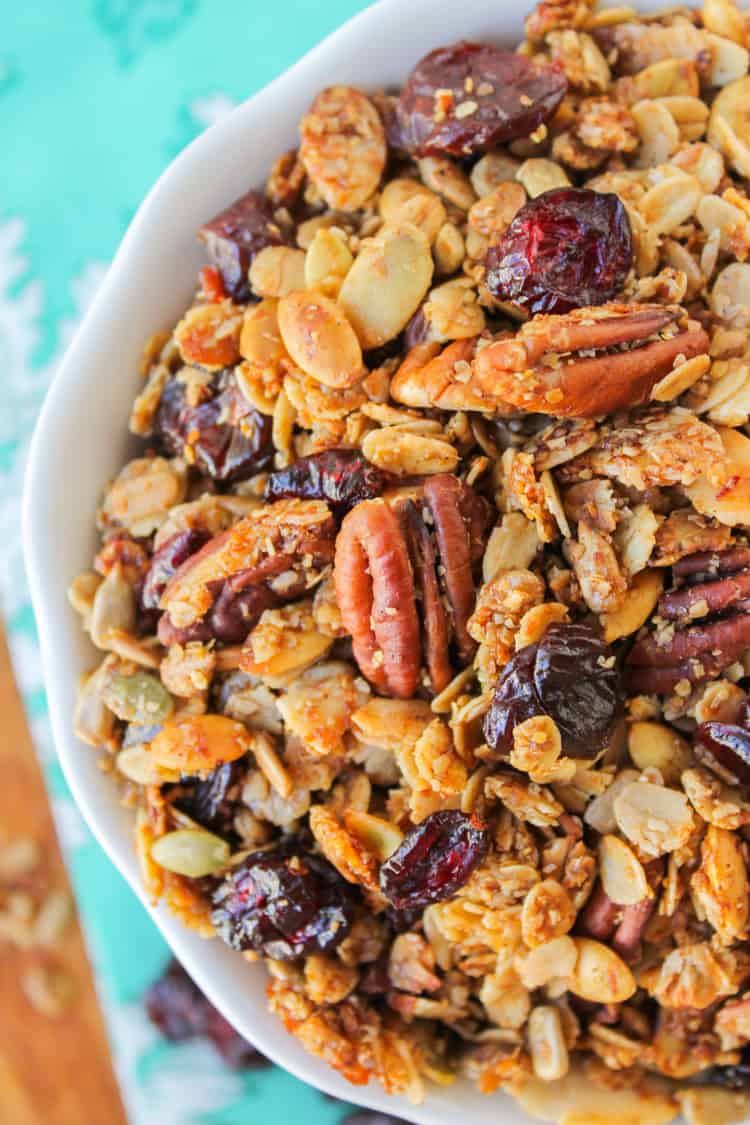 Butterscotch Oatmeal << I make this for my kids at least twice a week. I usually half the sugar because they are little and don't know any better…mwahaha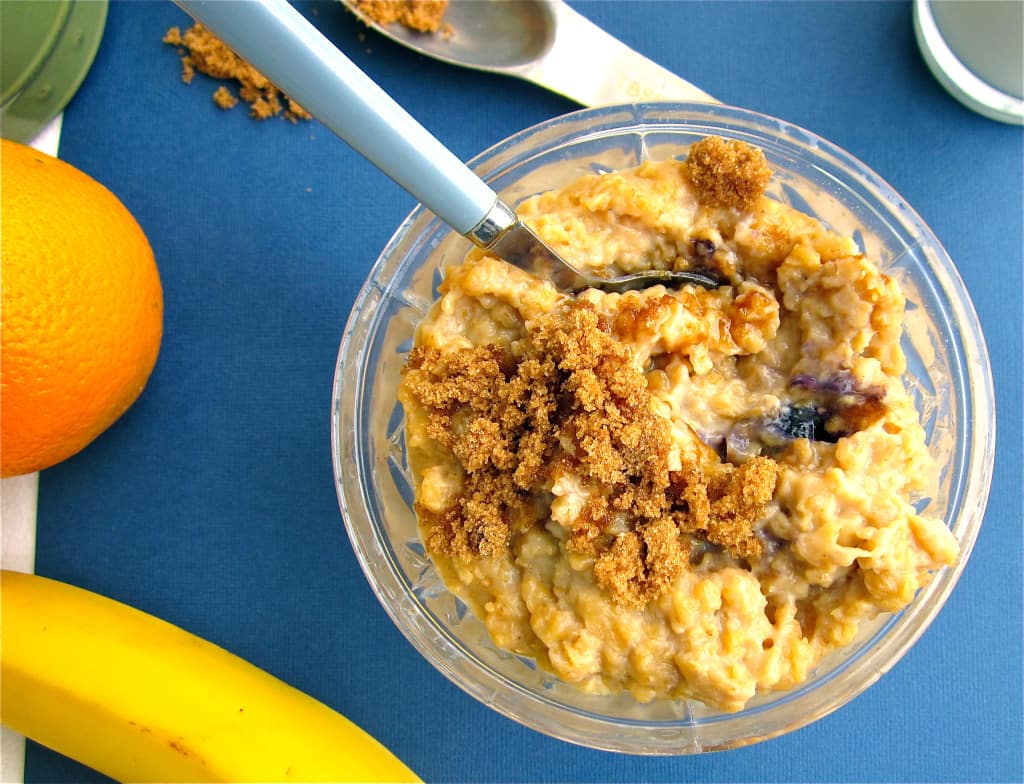 Pizza Egg Muffins << don't knock it til you try it! These are great to have in the freezer for busy mornings.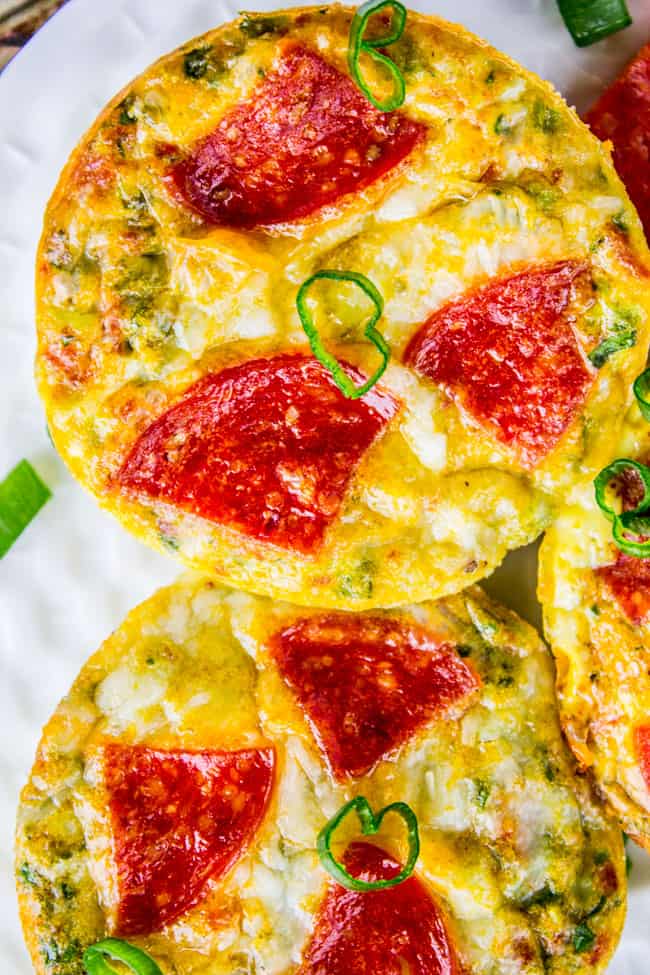 More granola recipes from awesome bloggers!
Nutella Granola from Julie's Eats and Treats
No Sugar Added Banana Nut Granola from Budget Bytes
The Best Dang Granola Bars Ever from Sugar Dish Me