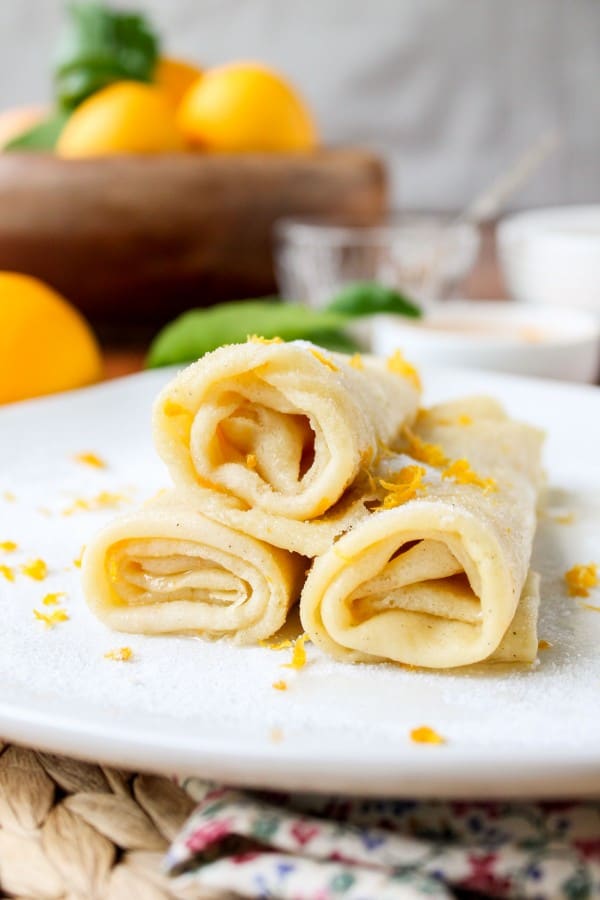 Have you guys hopped on the Meyer lemon train yet? Honestly, I was resistant for a long time. I thought Meyer lemons were just a different variety of lemon, and I haughtily disregarded all the fuss I kept hearing. It's just a stupid lemon, it can't taste THAT different. (Now you know what a fine palate I have.)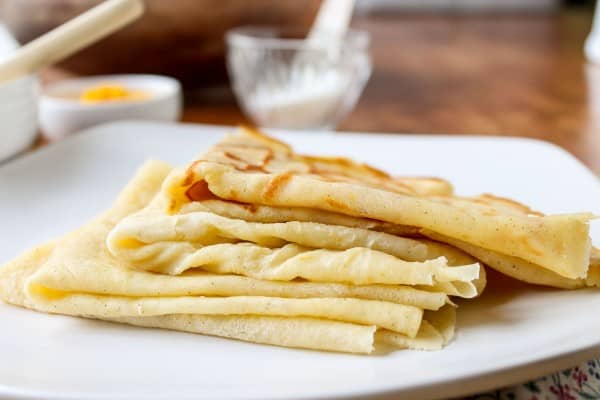 But then I read somewhere what a Meyer lemon actually IS: a cross between a lemon and tangerine/mandarin orange. Like a pluot (plum-apricot.) Now that's a game changer my friends. I apologize to all food bloggers and cooks everywhere whose Meyer lemon recipes I brushed aside. Now I'm on the bandwagon. Meyer lemons be rockin the house.
They are sweeter than a lemon, but you still of course can't just bite into one. They serve just as lemons would most of the time, but with a tangerine-y citrus flavor that I'm kind of failing at describing right now. Just trust me you guys, it's delicious.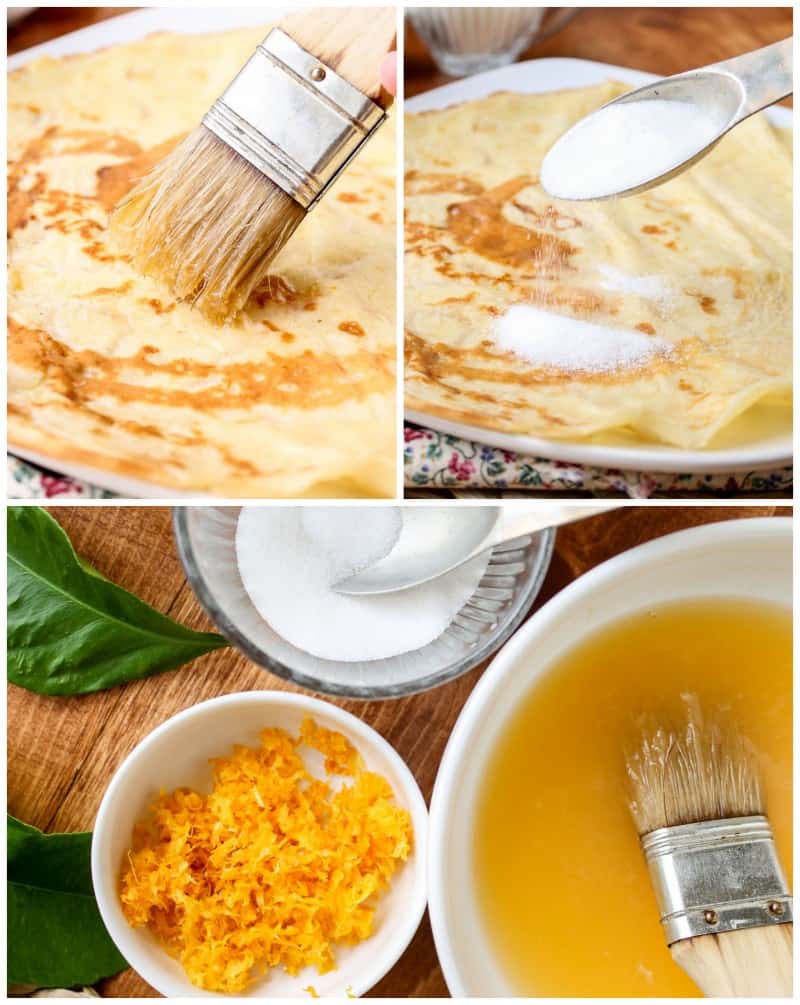 I'm dying to try it as regular lemonade, like this Meyer Lemonade from White on Rice Couple. (Except I would probably add basil because didn't we just talk about how I'm obsessed?) I feel like most of the time you see Meyers in desserts, but you can definitely get creative on the savory side too. See the bottom of the post for some Meyer lemon recipe links.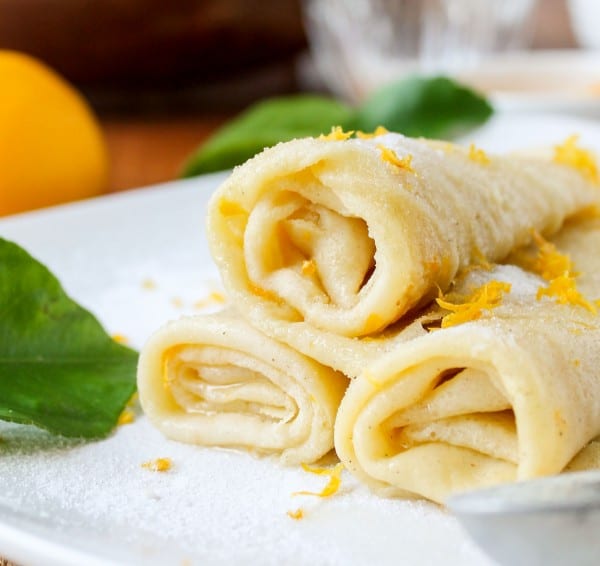 Raise your hand if you love crepes! My mom makes a mean crepe and I used to beg her to make them when I was kid. (I especially loved these Chicken Crepes with Jalapeno Cheese; still a favorite of mine.)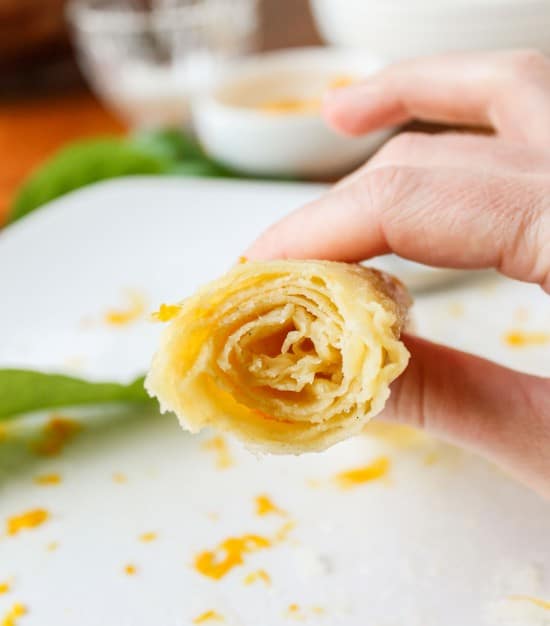 Don't fret if your crepes look like a bloody train wreck on the first couple tries flipping. It takes some practice. If your crepe turns out looking fabulous on the first try, then head to Vegas, because you have an awesome case of beginners luck. Honestly it doesn't matter much what they look like because you are folding or rolling them anyway.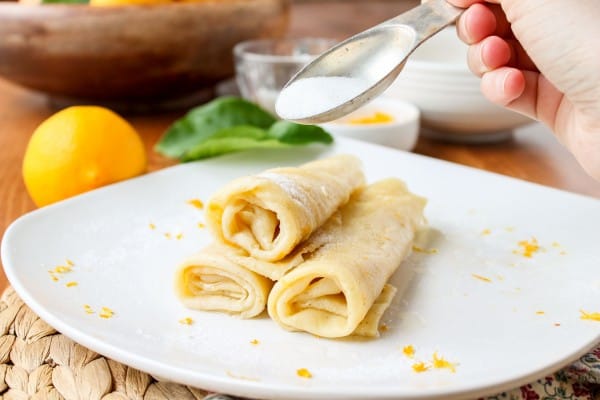 Oh, and don't be freaked out by the cardamom. I promise it's delicious. Cardamom and lemon, sittin in a tree. K-I-S-S-I-N-G. First comes love, then comes marriage…  These Meyer Lemon and Cardamom Crepes would be a nice recipe to change it up for Mother's Day on Sunday.
What are you guys doing? My mom and I are going on a local Garden Tour. That's right, we are actually paying to walk around a hoity-toity neighborhood and feel jealous of other people's fake waterfalls and overly manicured lawns. Then we will go back home and cry over our scrawny tomato plants and barely-surviving crabgrass. And then we will stuff our faces with these crepes, and everything will be better.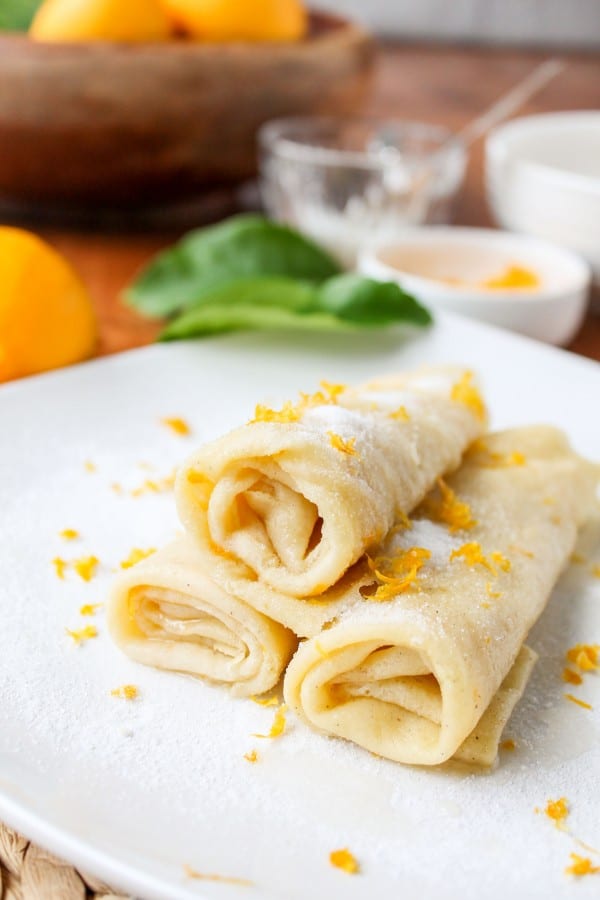 Do you guys give up? Or are you thirsty for more?
Facebook | Pinterest | Instagram | Twitter

Meyer Lemon and Cardamom Crepes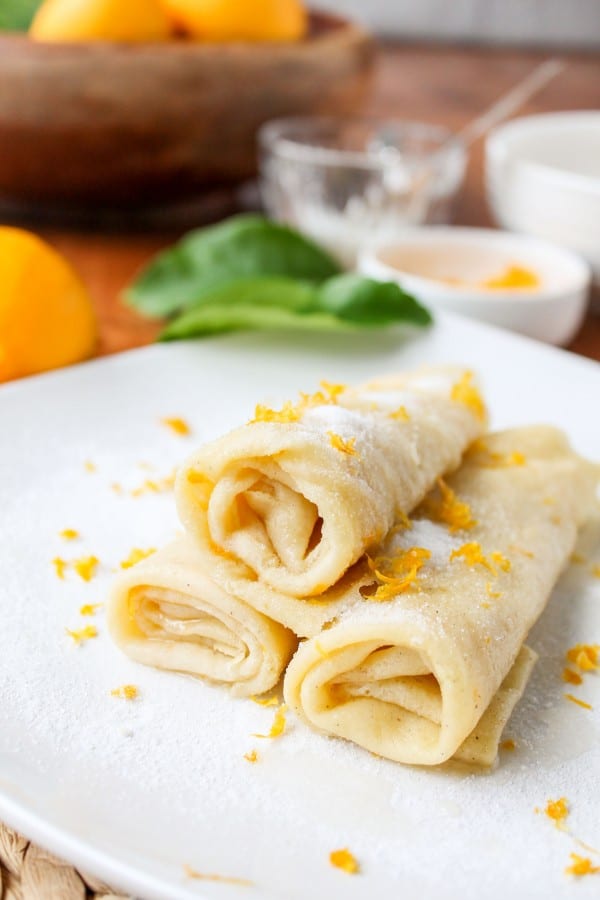 Cardamom crepes are brushed with Meyer lemon juice and sprinkles with sugar in this Meyer Lemon and Cardamom Crepes recipe. Perfect for brunch or dessert.
Ingredients
1 & 1/2

cups

flour

,

spooned and leveled

1/4

cup

sugar

1/4

teaspoon

salt

1/2

teaspoon

cardamom

1

teaspoon

meyer lemon zest

2

cups

milk

3

eggs

1/2

teaspoon

vanilla

3

tablespoons

meyer lemon juice

3 & 1/2

tablespoons

melted butter

melted butter

,

to brush the pan

juice from 3 meyer lemons

,

warmed in the microwave

zest from 3 meyer lemons

sugar
Instructions
In a large bowl or stand mixer, whisk together the flour, sugar, salt, cardamom, and meyer lemon zest.

Gradually add the milk while whisking. Get out all the lumps. Add the eggs, vanilla, lemon juice and melted butter, and whisk for a couple minutes.

Heat a large skillet over medium heat. When it is hot, brush some melted butter on the bottom of the pan. Pour 1/4 to 1/3 cup of crepe batter into the pan. Quickly lift the pan with your hand and rotate it so that the batter swirls around to coat the bottom of the pan. You want a very thin layer. Here's a good

crepe video.

Cook for about 1 minute, until the top of the crepe is mostly dry. Then carefully flip with a large spatula. Cook for another 15-45 seconds. Some brown spots are okay, but don't overcook them or the edges will get crusty.

Repeat with the rest of the batter. You can remove the crepes to a plate and then cover them with foil to keep warm.

To serve, lay a warm crepe flat on a plate and brush generously with warm Meyer lemon juice. Sprinkle with 1-3 tablespoons sugar. Top with a sprinkling of zest. Then either fold the crepe into quarters or roll it. I folded mine in half, then rolled. Top with additional juice, sugar, and zest.
Notes
I know I've been going on about the Meyer lemons, but regular lemons will still taste fabulous in this recipe.
Source: adapted from Fahrenbite
Nutrition
Serving:
1
crepe
|
Calories:
173
kcal
|
Carbohydrates:
22
g
|
Protein:
5
g
|
Fat:
7
g
|
Saturated Fat:
4
g
|
Polyunsaturated Fat:
1
g
|
Monounsaturated Fat:
2
g
|
Trans Fat:
1
g
|
Cholesterol:
65
mg
|
Sodium:
133
mg
|
Potassium:
110
mg
|
Fiber:
1
g
|
Sugar:
8
g
|
Vitamin A:
273
IU
|
Vitamin C:
2
mg
|
Calcium:
68
mg
|
Iron:
1
mg

I promise crepes are hard to mess up, but if you are hoping for traditional then you want them looking more like the one on the left than the one on the right. The brown one is a little crispy on the edges because technically it is overcooked. I actually kinda like it that way. (BOOM that was the sound of me getting hit upside the head by French people everywhere.)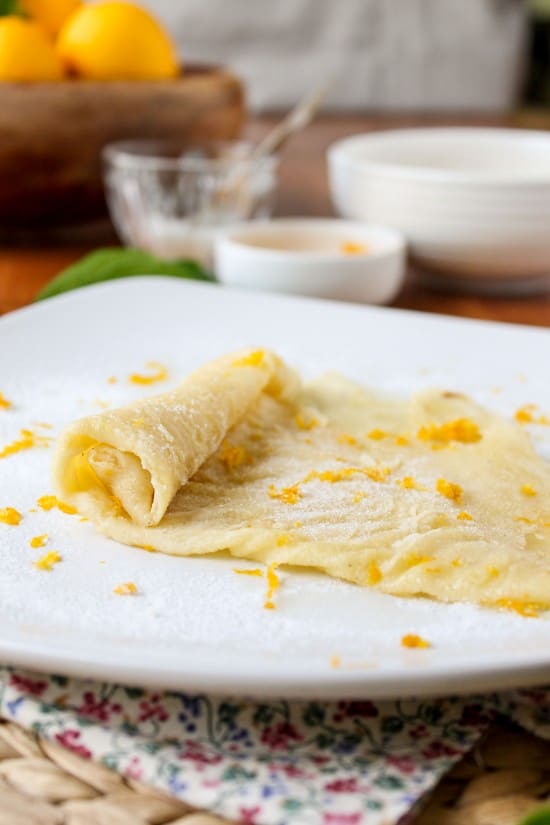 You can fold your crepes however you like. I like to fold it in half, add toppings, then roll.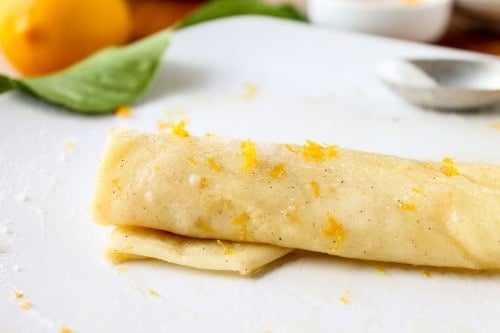 I love that you can see the specks of cardamom. CardaMOM. See I told you this was perfect for Mother's Day. Okay Karen, here's your sign. Time to shut up.
Need more Meyer? Check these out:
Meyer Lemon Cupcakes with Meyer Lemon Curd from Eats Well with Others
Meyer Lemon Iced Raspberry Yogurt Cake from Kitchen Trial and Error <–I'm so making this
Meyer Lemon Sorbet from This Homemade Life
Meyer Lemon Pound Cake from Tutti Dolci
Roasted Cauliflower Steaks with Meyer Lemon Relish from Brooklyn Supper
Winter Pear Salad with Meyer Lemon Vinaigrette from Damn Delicious
Meyer Lemon Chicken from The View From Great Island