It's so great having a new baby at home. I just love recovering from childbirth by waking up every few hours in the middle of the night to try to get a screaming infant to eat.
I shouldn't complain, really. Truman's a fabulous baby, all things considered. He does eat eventually. And he sleeps. And he looks like the 5th member of a boy band. Move over Justin Bieber.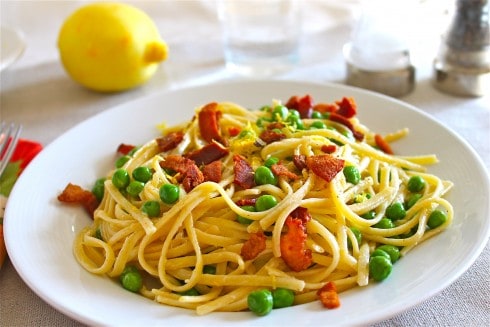 Eric and I are learning all sorts of new things this time around. We took Truman in for a second bilirubin test yesterday (he's fine) and that's when Eric told me that this whole time he thought everyone was saying "Belly Ribbon Test." Yes! I love that I have a medium for making Eric's mispronunciations public.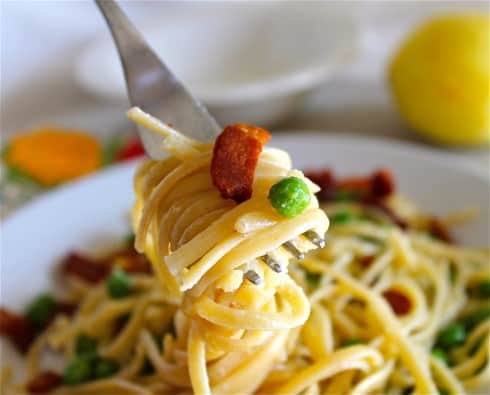 So the original recipe for this pasta calls for half the amount of bacon. That's one slice per serving. Uhhhh, yeah right. Pretty much anytime I cook bacon I make extra because it's impossible not to sneak some of it. So I went ahead and doubled it. Bacon's good for you, right?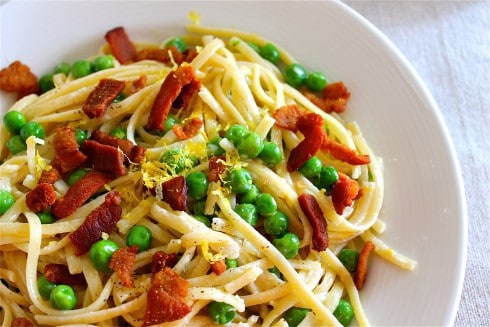 This stuff is goooood. We ignored everything else in our fridge until it was gone. It has a really light flavor, which makes the bacon and peas stand out. Oh and did I mention that this takes 20 minutes to throw together? If you have an infant and a toddler, make that 30 minutes. Still though. Not bad!

Creamy Lemon Pasta with Bacon and Peas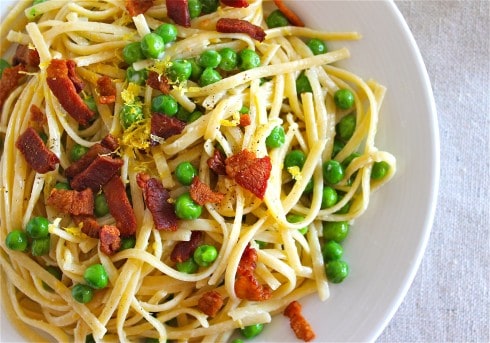 This pasta combines the flavor of lemon with peas and bacon to create a wonderful light meal. Easy to make and the whole family will enjoy.
Ingredients
1

pound

linguini

8

strips

bacon

1

cup

heavy cream

3

teaspoons

lemon zest

,

divided (1 lemon)

2

cups

peas

,

fresh or frozen

salt and pepper
Instructions
Bring a large pot of salted water to a boil.

Cook the bacon until crispy. Bake, fry it, whatever you want. I like to cut mine into pieces and then cook it in a pan. Remove with a slotted spoon, set on a plate lined with paper towels, and set aside.

Meanwhile, combine the cream and 2 teaspoons of the lemon zest in a small saucepan. Bring to a simmer over the lowest heat, stirring occasionally.

Add the pasta to the boiling water and cook until al dente. A minute or two before the pasta is done, add the peas. Make sure the peas are warmed through, then drain the pasta and peas and return to the pot.

Add the cream to the pasta and toss to combine. Add the last teaspoon of lemon zest, and season to taste with salt and pepper.

Serve the pasta topped with crumbled bacon. If you have leftovers, store the bacon separately from the pasta so that it doesn't get mushy on you.
Nutrition
Serving:
1
bowl
|
Calories:
869
kcal
|
Carbohydrates:
98
g
|
Protein:
26
g
|
Fat:
41
g
|
Saturated Fat:
20
g
|
Polyunsaturated Fat:
4
g
|
Monounsaturated Fat:
14
g
|
Trans Fat:
1
g
|
Cholesterol:
111
mg
|
Sodium:
334
mg
|
Potassium:
564
mg
|
Fiber:
7
g
|
Sugar:
7
g
|
Vitamin A:
1446
IU
|
Vitamin C:
31
mg
|
Calcium:
85
mg
|
Iron:
3
mg