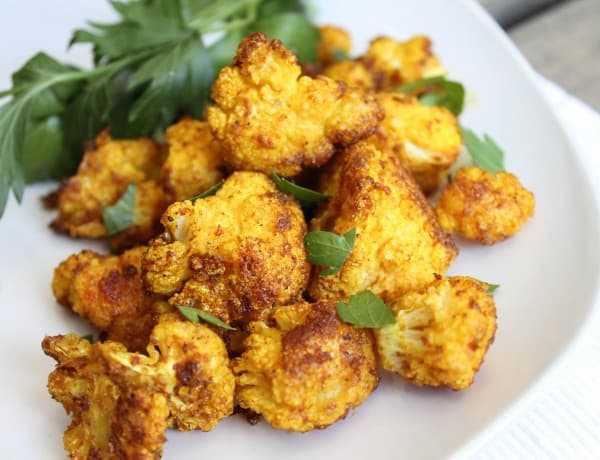 Well, I am alone in my house. ..Except for the baby asleep in the other room, but like I said, he's asleep, so it's kind of like he's not here at all. But the 2-year-old. The 2-year-old is missing. It sure is quiet around here. Blissfully, blissfully quiet. I don't think I'm going to be one of those moms who cries on the first day of kindergarten.
Charlotte is spending the day at her aunt's house, and later this week her cousin will spend the day here. It's like our own little preschool, except there's no curriculum.
This morning as I was getting her ready to go, I told her, "I love you so much, you don't even know Charlotte." And she said to me, "I love you 45." Forty-five? Out of what?? Maybe she's trying to tell me something.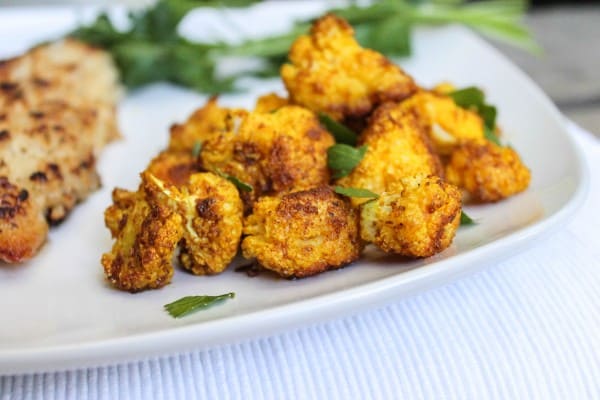 Love this cauliflower. That's a command, not me lazily leaving off the "I." Embrace it. Love it. I used to think cauliflower was lame…but that was before I tried roasting it. It is the only way to go. Add some curry and fresh lemon and we've got something pretty amazing going on over here. We ate this with Easy Parmesan Tilapia, and it was perfect.
One last thing. The original author made a distinct note for her readers: do not eat this cauliflower with your fingers if you have a french manicure, because it will stain your nails yellow. I laughed out loud when I read that. Although it's probably not as funny if you're the kind of person who gets manicures all the time. I'm just not one of them. Every time I get my nails done I'm pretty sure I'm the one that all the employees are tittering about in the break room later. "Did you see her cuticles?" "I couldn't believe it." "Out of control." Well GUESS WHAT you guys, at least I get to eat curry cauliflower with my fingers, OKAY?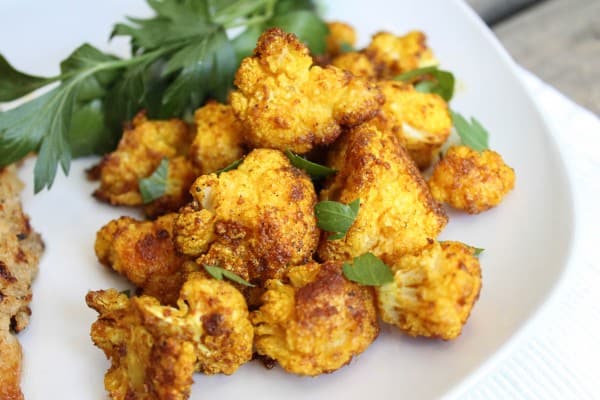 Roasted Curry Cauliflower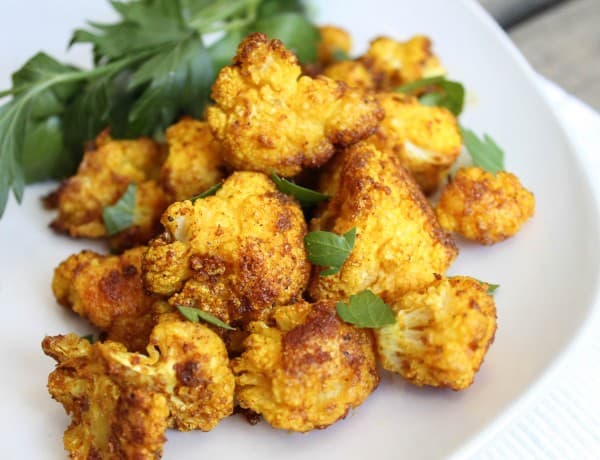 Love this roasted curry cauliflower. That's a command, not me lazily leaving off the "I."
Ingredients
1

head

cauliflower

,

cut into bite-size florets

1

teaspoon

lemon zest

1

tablespoon

curry powder

1

teaspoon

garlic powder

1/2

teaspoon

turmeric

1/4

teaspoon

sumac

,

optional

4

tablespoons

olive oil

salt and pepper

,

to taste

1

tablespoon

parsley

,

minced, fresh, optional
Instructions
Preheat oven to 400 degrees.

In a large bowl combine the lemon zest, curry, turmeric, garlic powder, sumac and olive oil. Whisk together until combined. Line a large rimmed baking sheet with foil and spray with nonstick spray.

Add the cauliflower to the bowl and use a wooden spoon to try to get all the spices onto the cauliflower. Pour it onto the prepared pan.

Roast in the oven for 30-40 minutes. Toss the cauliflower and rotate the pan at least once to ensure even toasting.

Once roasted, season salt and pepper to taste, sprinkle with chopped parsley and serve.
Nutrition
Serving:
1
cup
|
Calories:
135
kcal
|
Carbohydrates:
7
g
|
Protein:
3
g
|
Fat:
12
g
|
Saturated Fat:
2
g
|
Polyunsaturated Fat:
1
g
|
Monounsaturated Fat:
8
g
|
Sodium:
36
mg
|
Potassium:
380
mg
|
Fiber:
3
g
|
Sugar:
2
g
|
Vitamin A:
79
IU
|
Vitamin C:
57
mg
|
Calcium:
34
mg
|
Iron:
1
mg