Instead of grilling chicken hot and fast, this easy dinner recipe calls for a quick sear and then cooking it low and slow. Some of the most flavorful, tender, and juicy chicken I've ever had, and you still get that amazing grill flavor!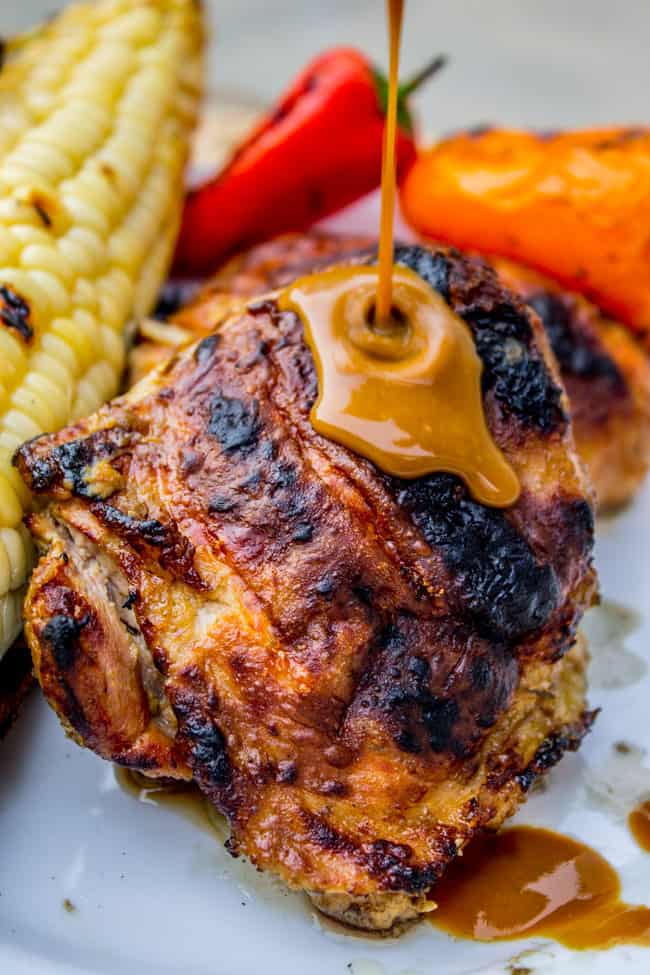 Today I went with my brother and his family to the beach. If you don't live in California, probably when you think "beach + CA + July," you think sunshine and stuff, right? But we live in Northern California. Going to the ocean here is like going to the Hoth of beaches. (What? You don't understand obscure Star Wars references?) It was COLD, okay.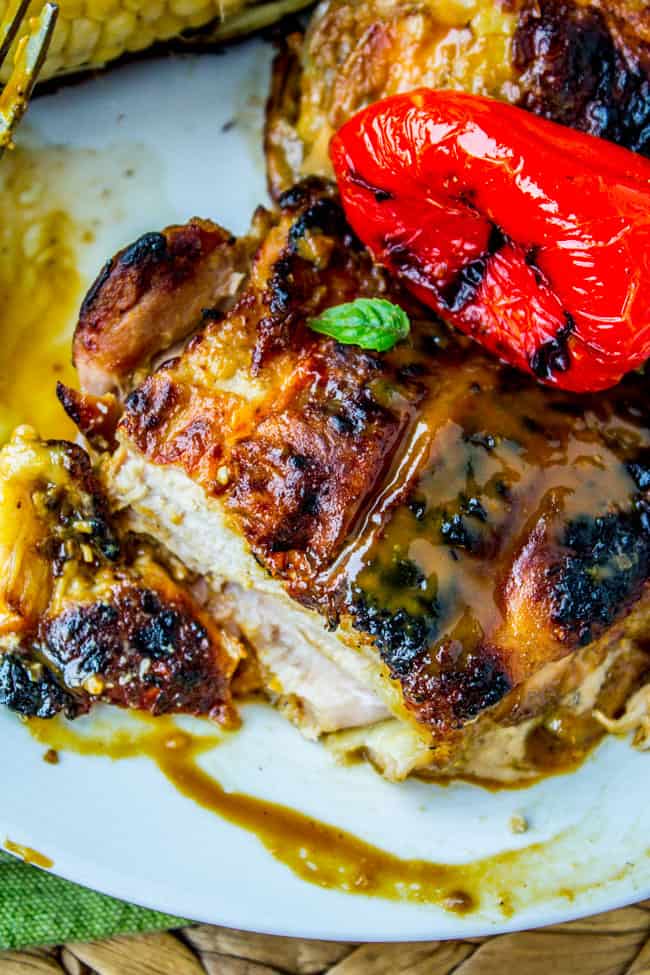 And I showed up in shorts and a t-shirt. You'd think I would learn after an entire lifetime of cold ocean-outings. Nope. My kids were in flip flops, nary a sweater in sight.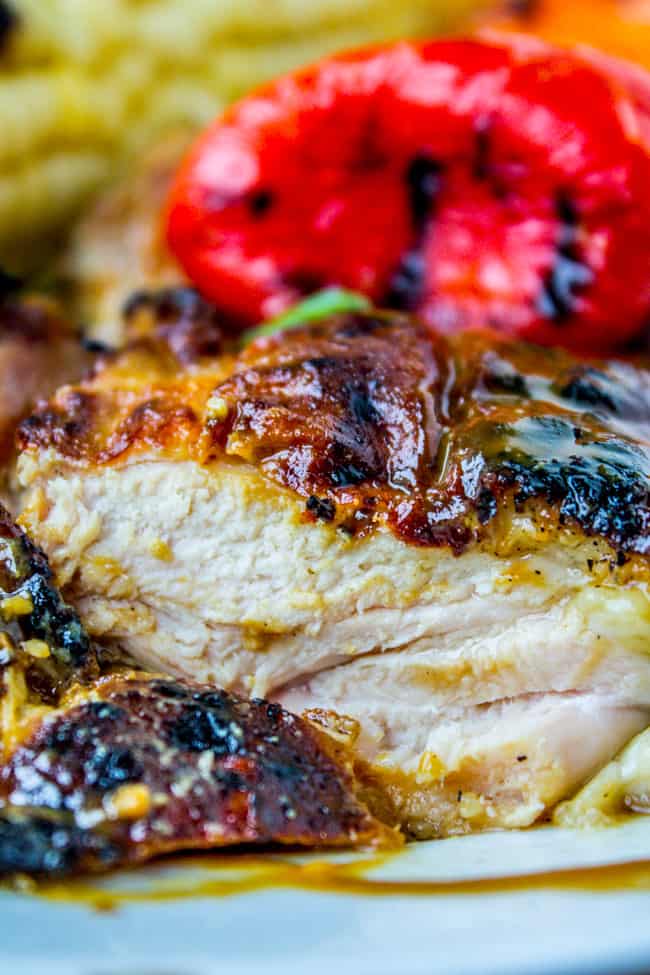 By the end of the day I felt downright negligent. Blue-lipped, underdressed, shivering children, one of them by this time barefoot as we hiked through tide pools. (Charlotte's cousin Ryan buried her shoes in the sand as a practical joke, but then forgot where he buried them. We searched forever. Shoes, schmooes, right?)
But that's okay, kids forget minor details like freezing weather when they look back at awesome pictures like this, right?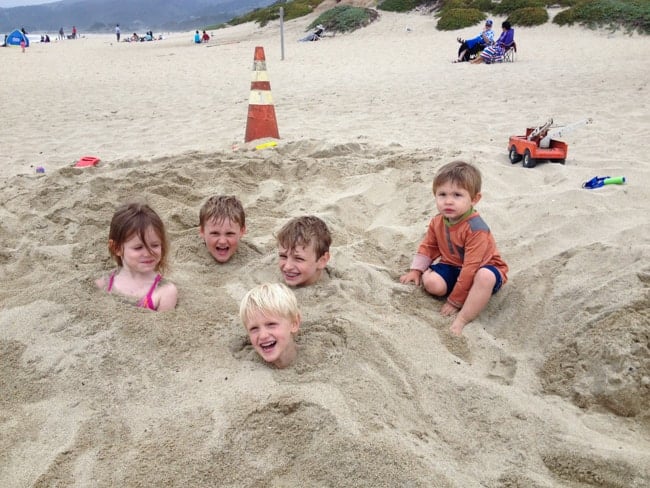 Welcome to my favorite dinner recipe of the summer! And last summer too, actually, I've been majorly holding out on you. I've probably made this recipe at least 5 times by now, and for a girl who doesn't repeat a lot of recipes, that's saying something. My mother-in-law told me about it, and now it's how I always cook chicken on the grill if I have the time.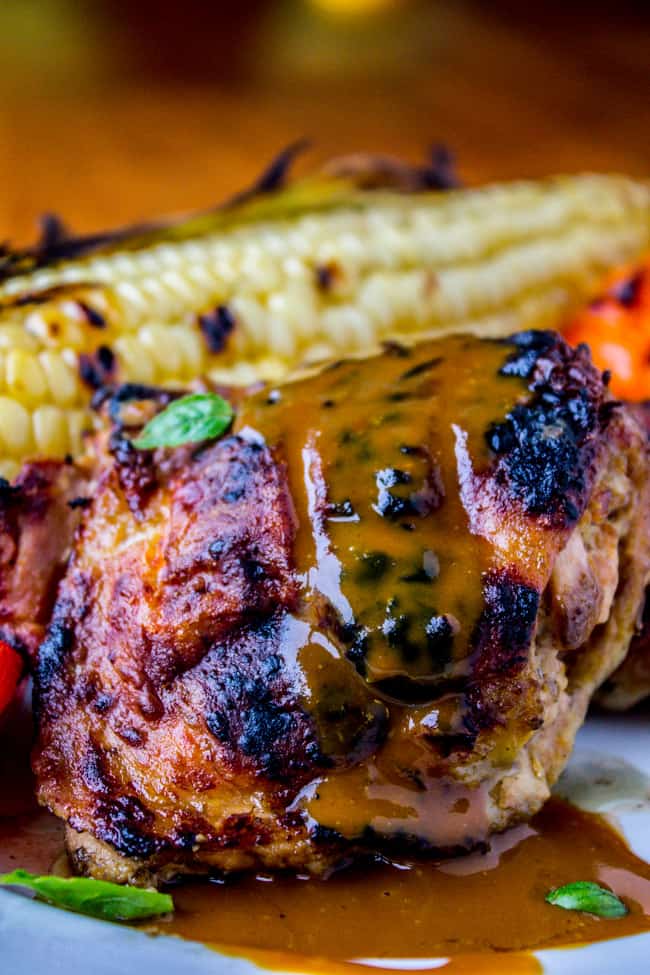 The title of this recipe is actually incorrect, since grilling is defined as cooking hot and fast. This is a low-and-slow barbecue recipe. But barbecue makes me think of the sauce, not the cooking method, and barbecue-mustard sounded gross to me.
The idea is that you sear one side of the chicken over high heat, then move it over indirect heat and slow cook it. You still get all the grill flavor, but none of the tough dryness so common with grilled chicken. I'm always over-grilling chicken. This recipe turns out the most tender, moist, juicy grilled chicken I've ever had. It's a total game-changer!
Do you guys give up? Or are you thirsty for more?
Facebook | Pinterest | Instagram | Twitter

Slow Grilled Mustard Chicken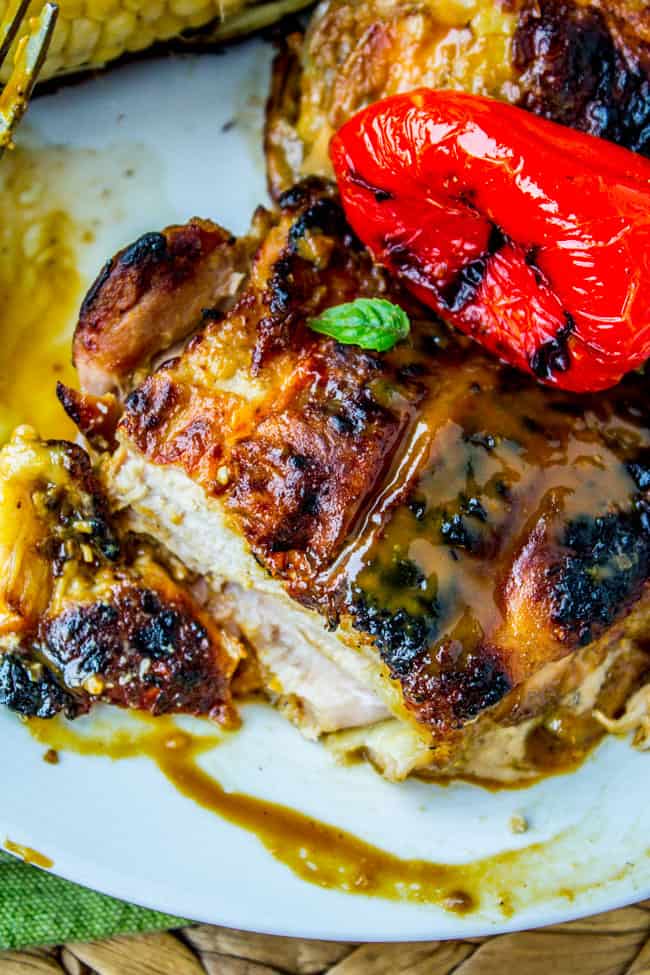 Instead of grilling chicken hot and fast, this easy dinner recipe calls for a quick sear and then cooking it low and slow. Some of the most flavorful, tender, and juicy chicken I've ever had, and you still get that amazing grill flavor! 
Ingredients
2-3

pounds

chicken

,

thighs, breasts, drumsticks, preferably bone-in

1/2

cup

dijon mustard

3

tablespoons

vinegar

4

teaspoons

Worcestershire sauce

1/4

teaspoon

dried thyme

2

tablespoons

light-flavored molasses
Instructions
Pat chicken dry and trim any extra fat.

In a large ziplock bag, add mustard, vinegar, Worcestershire sauce, and thyme. Add the chicken, zip, and mix it up.

Refrigerate for 4 hours, or up to 24. (Or a half hour if you're in a time pinch, but you didn't hear it from me.) Drain the chicken, but do not discard the marinade.

Preheat your grill to high heat. If you are using wood or coals, make sure you leave an area of the grill with fewer coals. After the initial sear you will be cooking the chicken over indirect heat.

When it's hot, place the chicken pieces over direct heat. Close the lid and grill for 3-5 minutes, or until the outside is as crisp as you want it.

Use tongs to flip the chicken and place over the low-heat part of the grill. I have a gas grill, so I just turn off one of the burners. (The chicken should over the half of the grill that is turned off). Reduce the heat on the other half of the grill to medium-low heat, between 250-275 degrees F.

Cover and cook for 30-50 minutes, depending on the thickness of your chicken. Brush with marinade 2-3 times while cooking.

The chicken is done when it reaches an internal temperature of 165 degrees F on a meat thermometer, or you can cut it to see if the juices run clear (not pink).

If you want, you can quickly sear the other side of the chicken over direct high heat before serving.

Meanwhile, add the remaining marinade to a small pot. Add 2 tablespoons molasses. Bring to a boil, then reduce heat to low until ready to serve.

Serve the sauce with the grilled chicken. A little bit goes a long way.

I like to serve this with grilled corn, grilled peppers, watermelon, oven roasted potatoes, or a big salad.
Nutrition
Serving:
1
chicken breast
|
Calories:
332
kcal
|
Carbohydrates:
21
g
|
Protein:
20
g
|
Fat:
16
g
|
Saturated Fat:
5
g
|
Polyunsaturated Fat:
4
g
|
Monounsaturated Fat:
7
g
|
Trans Fat:
1
g
|
Cholesterol:
82
mg
|
Sodium:
295
mg
|
Potassium:
401
mg
|
Fiber:
1
g
|
Sugar:
14
g
|
Vitamin A:
160
IU
|
Vitamin C:
3
mg
|
Calcium:
41
mg
|
Iron:
2
mg
More recipes for the grill this summer!
Balsamic Grilled Chicken with Spicy Honey Bacon Glaze: (reader favorite!)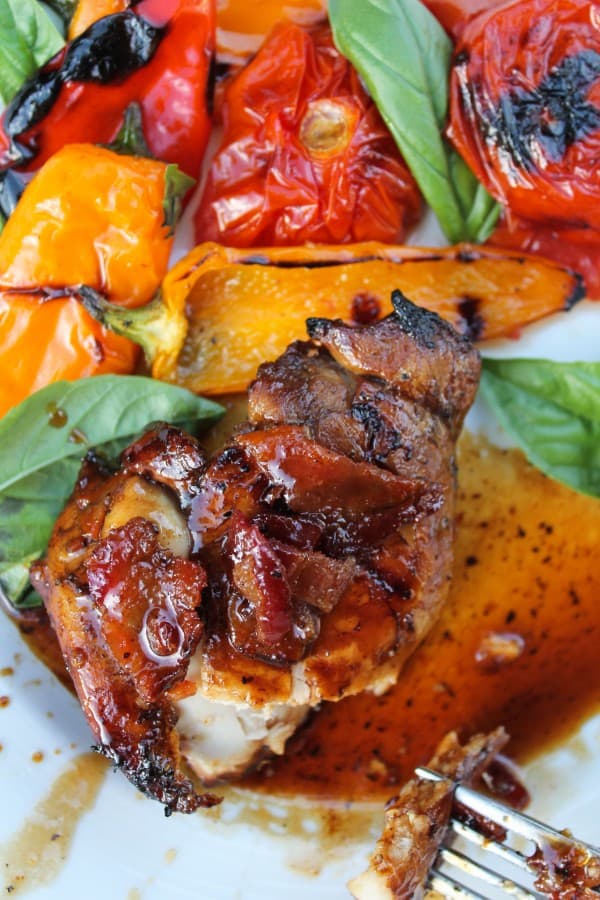 Blackberry-Balsamic Glazed Chicken:
Grilled Pork Tenderloin with Peanut Lime Sauce: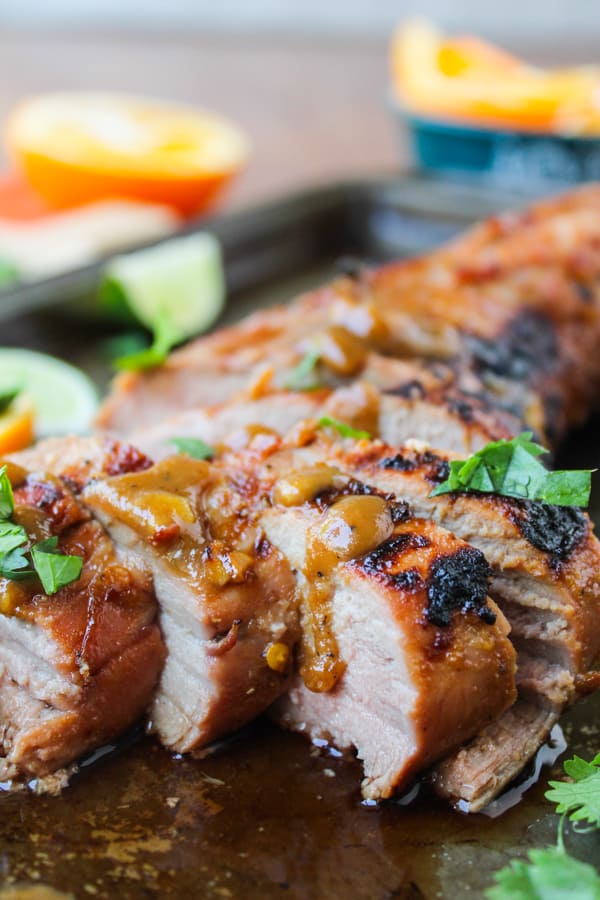 More chicken on the grill!
Barbecued Chicken on the Grill From Simply Recipes
Fiesta Lime Grilled Chicken from Plain Chicken
Grilled Chicken Bruschetta from SkinnyTaste