This homemade baked ratatouille recipe has tons of flavor! Roasted garlic sauce is covered in paper-thin spiced vegetables. This would be perfect for an impressive summer dinner or appetizer! Originally posted June 24, 2015.
Table of Contents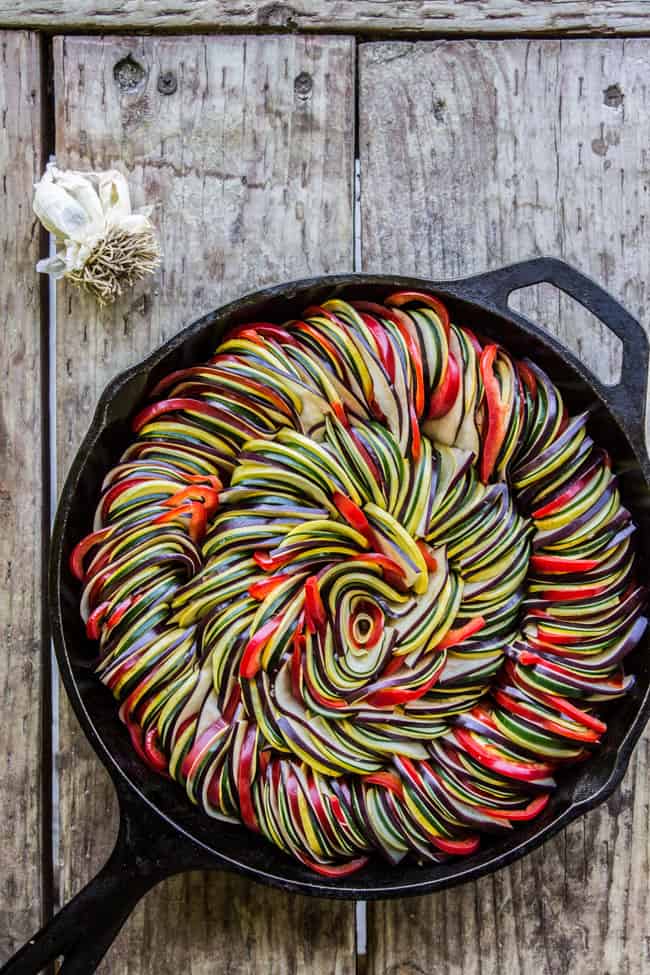 Yesterday afternoon my sisters and I were hanging out eating cold pizza that was at LEAST 4 days old. And not just any 4-day old pizza: hot-dog stuffed-crust 4-day old pizza.
I thought we had reached the depths of trashiness, when Nikki turns from where she was standing at the counter: "I have to say, putting butter on your cold pizza is the way to go."
And there you have it my friends: What's Wrong With America.
When I was little I used to be grossed out by how much butter my mom put on her rolls, but these days I'm the one slathering it on. Nikki was just telling me yesterday that when her friends comment on the yummy-looking food on my blog, she tells them, well yeah, if I started every recipe with a stick of butter, my food would be that good too. (Butter is where it's at guys.)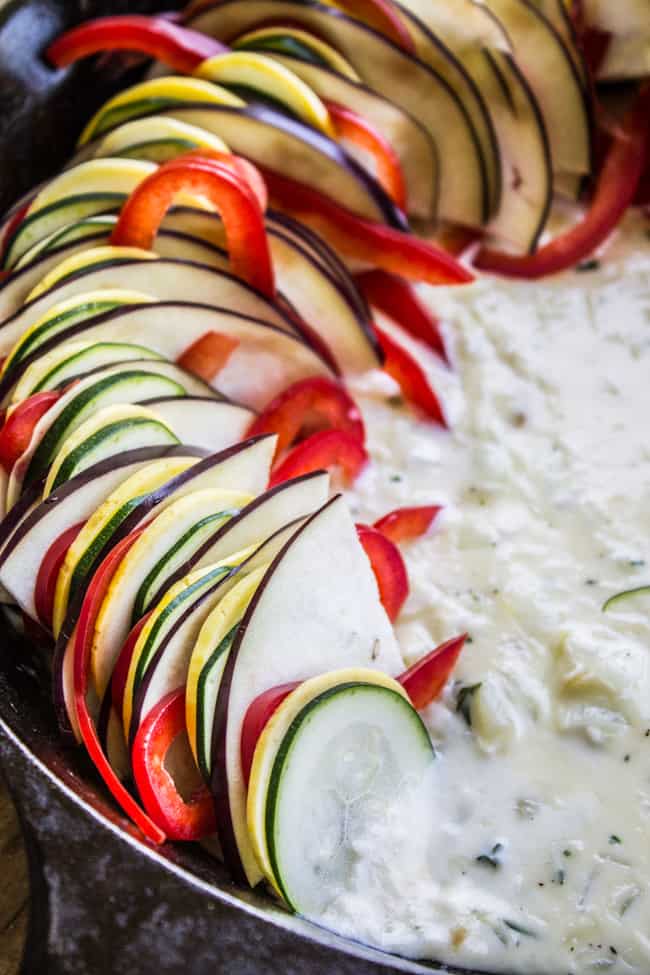 Well, if butter-slathered cold hot dog pizza is what's wrong with America, here's what's right about France: Ratatouille. More specifically, Roasted Garlic Ratatouille. Full of vegetables, and no butter in sight.
How to make baked ratatouille
Have you ever had Ratatouille? I first heard of it from the movie, of course, and I tried my first traditional version just a couple months ago. Honestly? Kind of bland! After all that hype and rat endorsement, I was like really, this is it?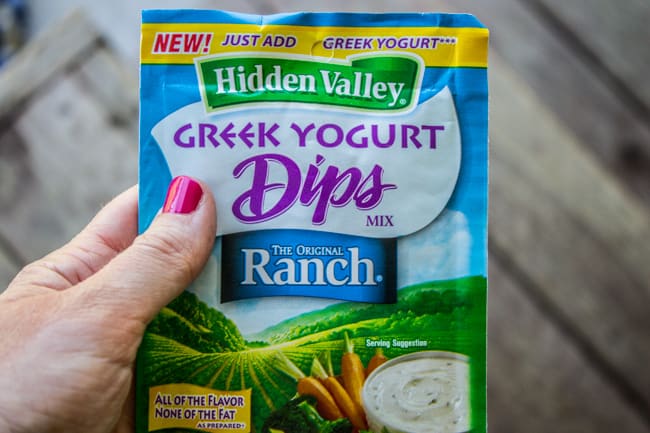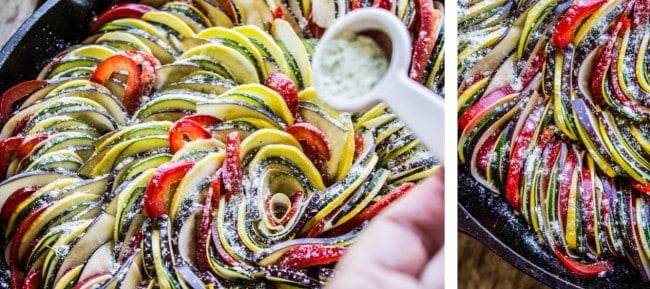 Enter Hidden Valley, king of flavor! I sprinkled a packet of their new Greek Yogurt Mix into some of the roasted garlic sauce and on top of the veggies, and it was pretty magical. I made this here at my sister Nikki's house and she LOVED it. I didn't use an entire packet in the original version, and she kept going back to sprinkle more on top, even after it was baked. (No, she didn't add butter this time.)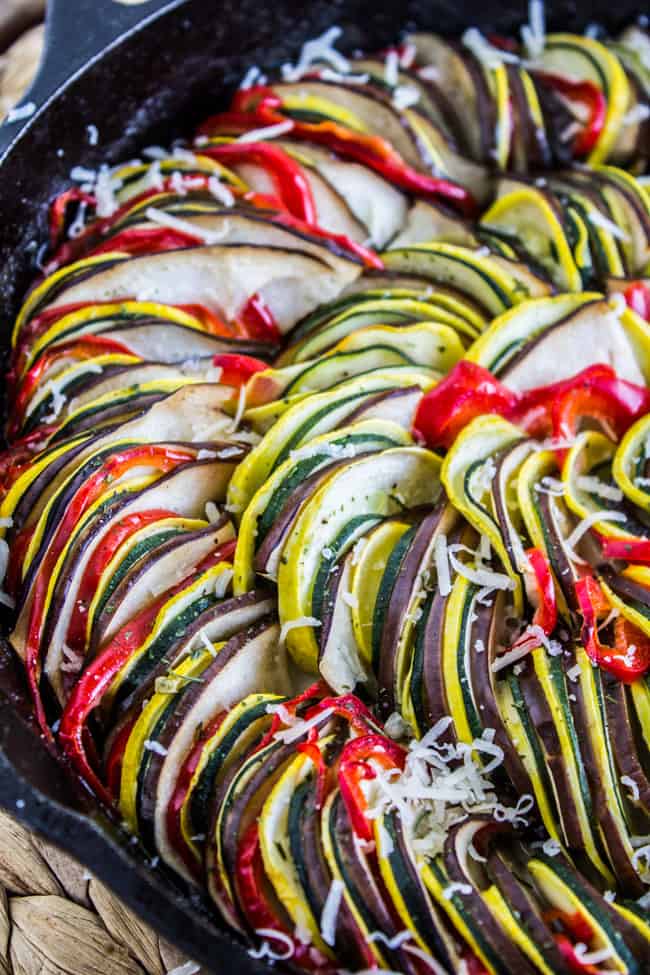 What is the best way to eat Ratatouille?
You could eat ratatouille with potatoes, polenta, couscous, pretty much any grain you can think of. I spread softened goat cheese on a slice of toasted French bread and put the veggies on top, like in this photo. SO GOOD. We ate nearly the whole pan, and then tonight I had a ratatouille taco with the leftovers.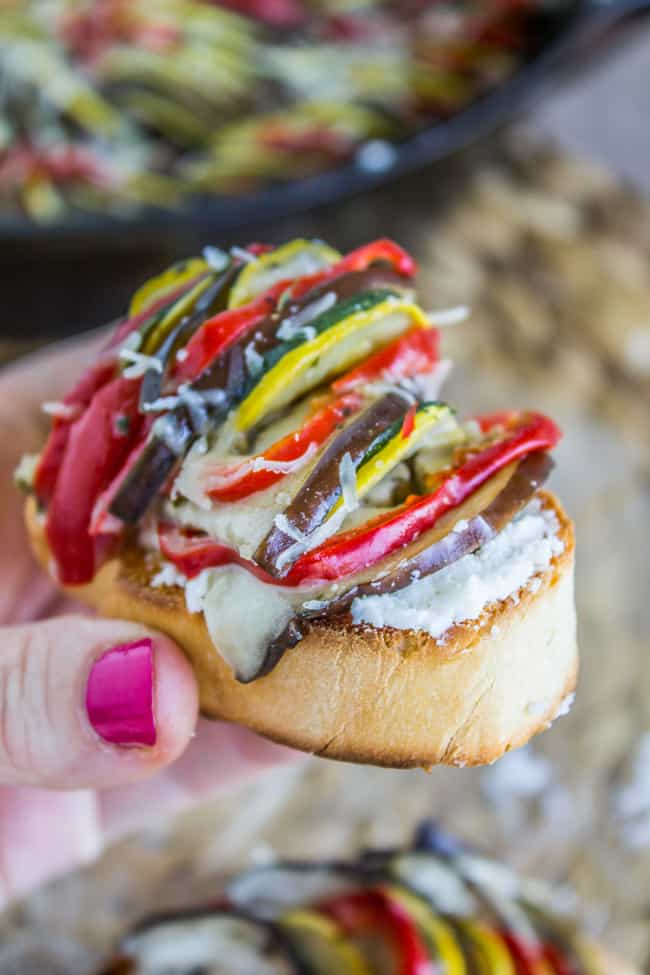 What equipment do I need to make this ratatouille recipe?
Now here's the thing about ratatouille: there is a LOT of slicing. I highly recommend a mandoline for this project. I actually made this one using a knife because I'm at my sister's house and when I asked her if she had a mandoline she said isn't that an instrument? And then I still had to borrow knives from her neighbor because hers suck so bad. (She's a writer, not a cook, though to her credit none of her 5 children have starved yet.)

>>>GIVEAWAY! (This giveaway is closed.) Hidden Valley is going to give FIVE of my awesome readers a fun prize! The prize includes samples of Hidden Valley's newest products, a $75 Target gift card, as well as a vegetable peeler set and cutting board. (Free ranch! Free kitchen stuff! $75 at Target! Just think how many 6 dollar tees that is.)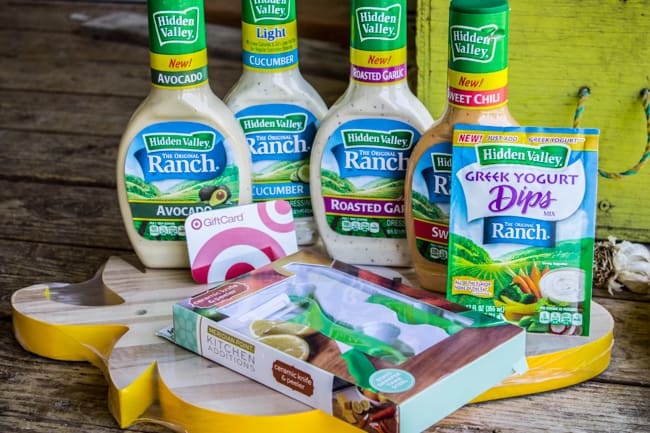 More great summer vegetable recipes!
Facebook | Pinterest | Instagram

Homemade Baked Ratatouille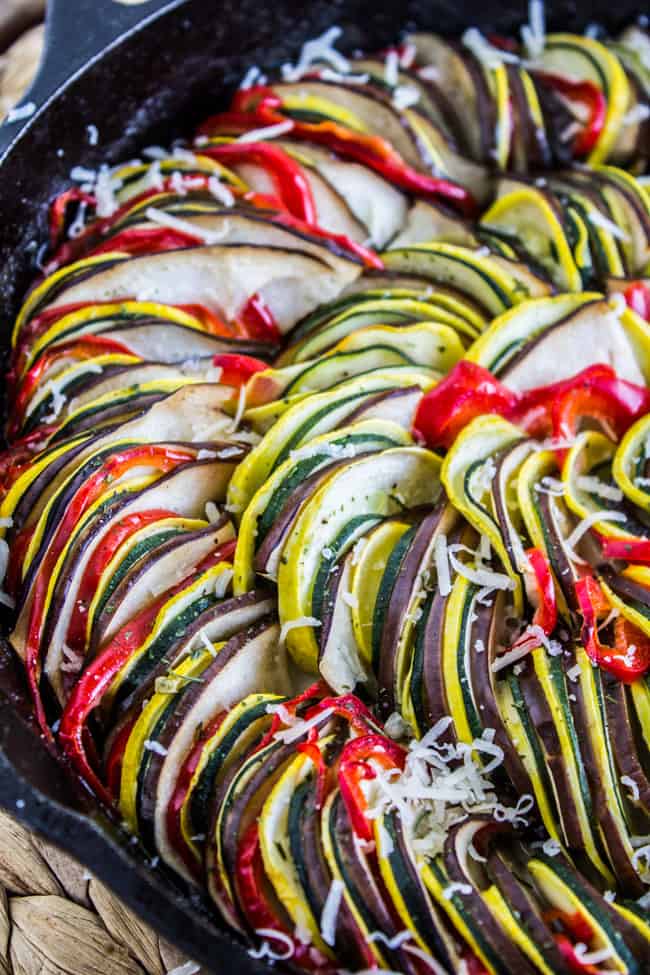 A ratatouille with tons of flavor! Roasted garlic sauce is covered in paper-thin spiced vegetables. This would be perfect for an impressive summer dinner or appetizer!
Ingredients
1

head

garlic

2

teaspoons

olive oil

3/4

cup

cream

1

teaspoon

white wine

1/4

onion

,

chopped

1

package

Hidden Valley Greek Yogurt Dips

,

not made, divided

1/4

cup

Parmesan

,

fresh

thyme

,

fresh, optional

1

long

red bell pepper

1

medium

zucchini

1

large

yellow squash

1

eggplant

,

*

Parmesan

,

grated, to garnish

4

ounces

goat cheese

,

softened, for spreading

French bread

,

crusty
Instructions
Preheat your oven to 400 degrees F. Use a sharp knife to cut off the top of the head of garlic so that the inner flesh is revealed. Remove the papery layers on the outside that come off easily (don't take them all off though, you want the head to remain intact.)

Place the head of garlic on a square of aluminum foil and drizzle with 2 teaspoons olive oil. Wrap the foil around the garlic, place on a baking sheet, and roast for about 25 minutes.

When cool enough to handle, squeeze the soft cloves of garlic into a small saucepan. Mash with a fork. Turn the heat to medium and add cream, wine, onion, and 1 tablespoon of the dip package. When is starts to bubble slightly, add the Parmesan. Stir until the mixture thickens slightly. Add fresh thyme to taste, if you want.

Pour the sauce into a 10-inch cast iron skillet. Set aside.

Use a sharp knife to cut out the top of the red bell pepper. Remove as much of the core as you can, leaving the pepper in it's original shape. Use a sharp knife or mandoline to slice the pepper into rings.

Use a mandoline or a very sharp knife to slice the zucchini, squash, and eggplant.*

Layer the vegetables in the skillet with the sauce. Start on the outside edge. Layer them in whatever order you want, I did eggplant, zucchini, squash, then pepper. Continue layering until you run out of vegetables.

Preheat the oven to 375 degrees F.

Sprinkle the remainder of the ranch packet over the vegetables. You don't have to use all of it.

Cut out a circle of parchment paper that is about the size of your skillet and lay it on top of the vegetables. This keeps it from getting brown and dried out.

Bake at 375 for about 38-40 minutes. Remove from the oven.

Toast a slice of bread, spread it with goat cheese, and spoon some of the ratatouille on top. Enjoy!
Notes
*My grocery store sells Italian eggplants, which are long and skinny. They are perfect for ratatouille. If you can't find one, buy a regular eggplant, half or quarter it lengthwise, then slice thin.
You can do a make-ahead version of this if you want. Make the sauce, store covered in the fridge. Slice all the veggies except the eggplant (it will get brown) and store in ziplocks or tupperware in the fridge. You can do this 2 days in advance. Assemble on the day of and bake a usual. Voila!
Nutrition
Serving:
1
bowl
|
Calories:
348
kcal
|
Carbohydrates:
18
g
|
Protein:
12
g
|
Fat:
27
g
|
Saturated Fat:
16
g
|
Polyunsaturated Fat:
1
g
|
Monounsaturated Fat:
8
g
|
Cholesterol:
78
mg
|
Sodium:
233
mg
|
Potassium:
774
mg
|
Fiber:
6
g
|
Sugar:
10
g
|
Vitamin A:
2568
IU
|
Vitamin C:
80
mg
|
Calcium:
191
mg
|
Iron:
2
mg
This post is sponsored by Hidden Valley, whose products I always have on hand. Seriously, working with brands I love is the best! It's basically like a party. Thanks for coming!