These roasted chickpea fajitas are a flavorful vegetarian Mexican dish you can feel great about! The veggies are mixed with the perfect spice blend and topped with all the best fixings.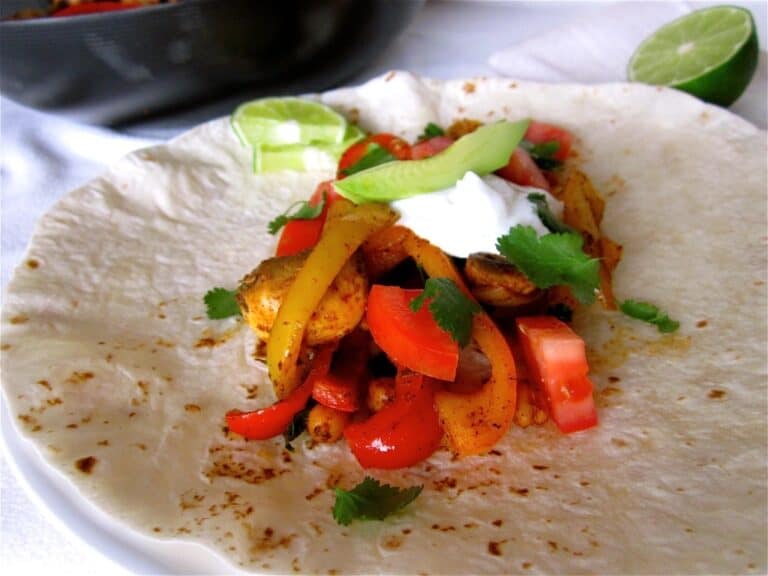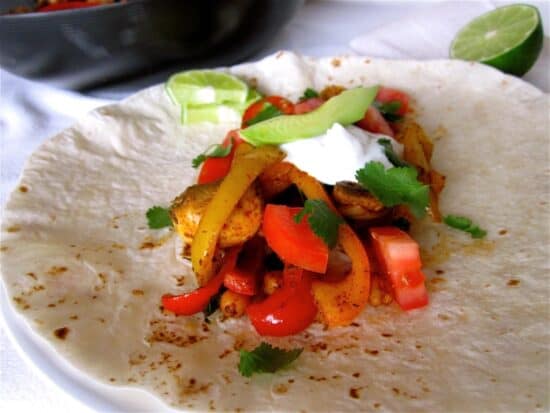 I have been having vocabulary issues lately. My favorite exclamation for something cool is "Awesome!" and when something is not cool I say "That's awful." Recently I have been mixing them up and I don't know why. This makes for some awkward explanations.
Just the other day I was on the phone with my sister Laura and she was telling me about how her 1 1/2 year old daughter gets in the garbage when she sees something interesting in it. My response? "Oh, how awesome!"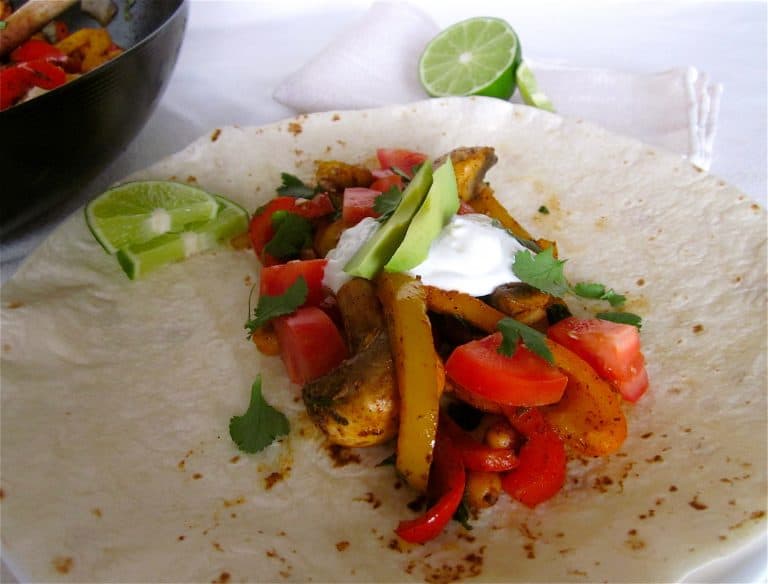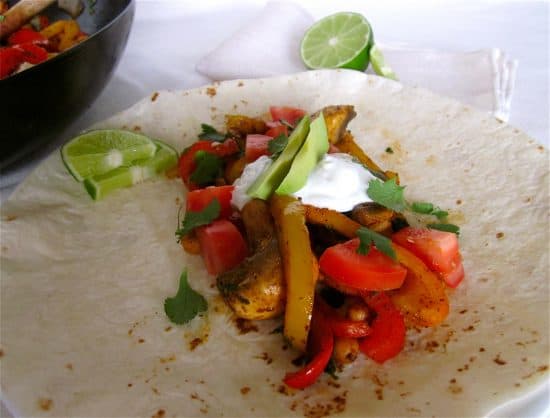 Eric came home on his lunch break the other day and started loading the dishwasher (I told you he was part house elf) and so I hugged him and said "You are so awful."
What is my deal? Am I the only one?
How to make Chickpea Fajitas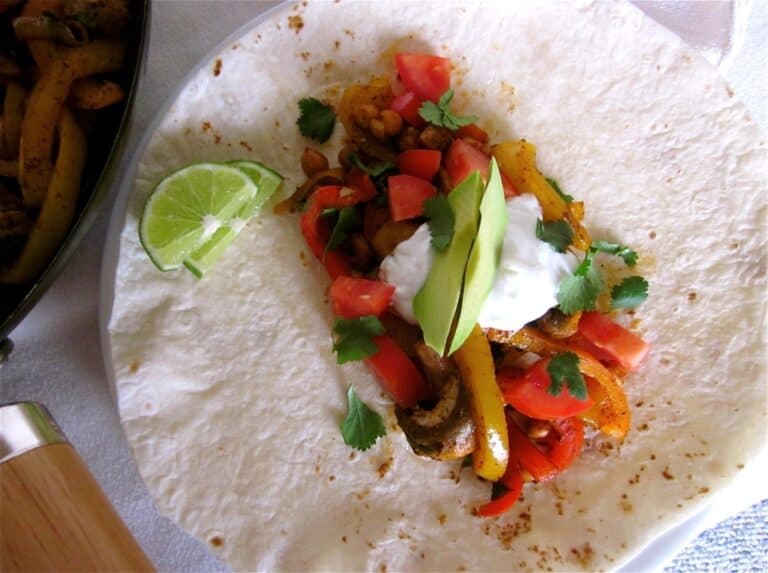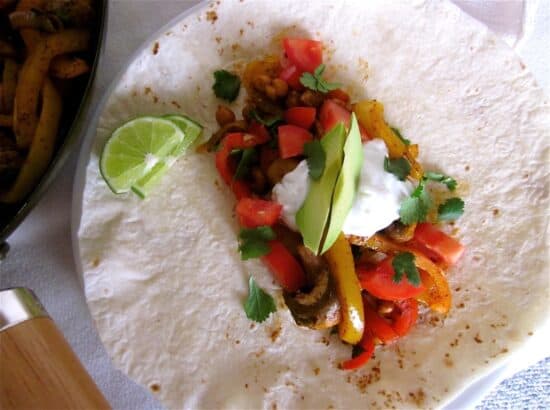 These fajitas are a-maz-ing. I'm usually not into vegetarian stuff because I am in love with meat. But I was trying to find some healthy recipes for January's sake. I have already made these twice and both times we ate nothing else until we had finished the leftovers. (This may have stemmed from the fact that there was no other food in the house). We actually ran out of tortillas toward the end so I put the filling in an omelette, which I highly recommend.
Roasted Chickpea Fajitas
Source: Two Peas and Their Pod
Roasted Chickpeas:
2 teaspoons chili powder
1/4 teaspoon garlic powder
1/4 teaspoon onion powder
1 1/2 teaspoon ground cumin
1 teaspoon sea salt
1 tablespoon fresh lime juice
2 tablespoons water
1 (15 oz.) can of chickpeas, drained and rinsed
For the Fajitas:
1 tablespoon olive oil
1 onion, sliced
1 clove garlic, minced
3 bell peppers (any color), sliced
8 ounces sliced mushrooms
1 tablespoon chili powder
1 teaspoon ground cumin
1/2 teaspoon oregano
salt and pepper, to taste
juice of 1 large lime
1/3 cup chopped cilantro
For serving:
flour tortillas
diced tomatoes
avocado slices
plain Greek yogurt or sour cream
lime wedges
To roast the chickpeas: preheat oven to 400. In a medium bowl, combine chili powder, garlic powder, onion powder, cumin, salt, lime juice and water. Stir in chickpeas. Place seasoned chickpeas on a baking sheet that has been sprayed with cooking spray. (I lined my pan with foil first for easy clean up.) Bake for 25-30 minutes, stirring once during cooking, until chickpeas are slightly crispy.
While the chickpeas are roasting, in a large skillet, heat oil over medium high heat. Add onions, peppers, and mushrooms. Cook for 5 minutes.
In a small bowl, combine chili powder, cumin, oregano, salt, pepper, and lime juice. Pour mixture over vegetables and cook for another 4 minutes, then add garlic and stir one minute more, or until vegetables are tender. Stir in the roasted chickpeas and fresh cilantro and remove from heat.
Spoon roasted chickpea and vegetable mixture evenly down the centers of warm tortillas, and garnish with tomatoes, avocado slices, and Greek yogurt. Roll up tortillas, and serve immediately.