I am not good at making cupcakes. I pride myself on being a pretty decent baker, so that fact that I can't produce a decent cupcake to save my life is kind of embarrassing, especially since cupcakes are so trendy right now. My favorite cupcake recipe (before this one, hello) was actually for a spice cake. I just figured I could pour the cake batter into cupcake liners and call it good, right?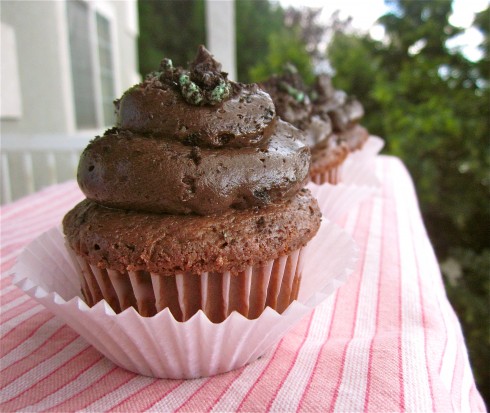 Wrong. The flavor was right on, but half of them fell and the other half overflowed, forming a hard crusty layer after they cooled. You don't ever want to have to use the words hard and crusty to describe a cupcake. This failure did not prevent me from making this recipe several times, including Charlotte's birthday when Eric ended up driving for hours to retrieve the cupcakes I forgot, except that he went all the way home and forgot them again because he stopped to make a sandwich. And after all that they were still crappy cupcakes.
And don't even get me started on frosting and decoration. I took a cake decorating class back in college with my friend Sarah. I thought it would be fun. And it was fun eating cake. But it was also a reaffirmation that I do not have an artistic bone in my body, no, not even for playing with my food. (That's what cake decorating is, right?) For our final project, Sarah made a perfectly smooth layered white cake with a beautiful frosting-depiction of 2 personified pears holding hands saying, We make a sweet "pear."
And then there was mine. I have no memory of what I was attempting to create, but what I ended up with was a cake with pink and brown frosting (brown because all my other colors had run together, I believe) that was about 3 inches thick because I kept trying to fix it by adding more frosting. Basically the Frankenstein version of a cake. I'm kind of like a mad scientist.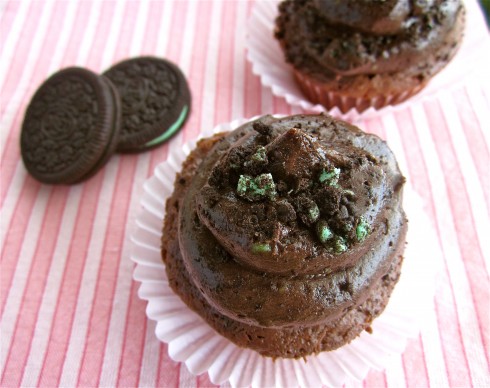 I've decided to just embrace doctored cake mixes. They never fail. What's not to love? They are moist and delicious and they always rise. This recipe goes super quick and is absolutely amazing. All the mint flavor is from the Oreos, so it's not especially overpowering. The frosting is very rich and dark, just like an Oreo.
Mint Oreo Cupcakes

Source: this is a knock-off from my cousin Misty's super secret recipe :)
1 (18.25 ounce) package devil's food cake mix (buy a name brand)
1 package Oreo pudding mix*
1 cup sour cream
3/4 cup vegetable oil
4 eggs
1/2 cup warm water
10-15 mint Oreos, coarsely chopped
For the cupcakes, combine all ingredients except Oreos and beat with a mixer for 2-3 minutes, scraping sides. Fold in chopped Oreos. Line a muffin tin with cupcake liners and fill a little over halfway with batter. Bake at 350˚ for 17-20 minutes, until a toothpick comes out clean.
2 1/2 sticks softened butter (yes, 20 ounces)
4 1/2 cups powdered sugar
1/2 cup Special Dark Cocoa Powder (I used Hershey's)
1 tablespoon vanilla
1/4 cup milk or half & half, plus more to get the consistency you want
10 mint Oreos, coarsely chopped
Beat the butter until it is light and fluffy, about 2 minutes. Add 2 cups of powdered sugar and beat until incorporated. Add vanilla. Add cocoa. Beat. Add milk. Beat. Add remainder of powdered sugar. Add more milk a tablespoon at a time until it is spreadable and soft. Fold in the chopped Oreos. Frost your cupcakes and devour!
*If you can't find Oreo pudding mix, buy a regular vanilla mix and add a couple extra chopped Oreos to the cake batter.
UPDATE: Misty told me after I posted these that she uses way more Oreos in the batter. I'm going to add more next time and see how it goes!