Guest Post: Delicate Pumpkin Cookies w/ Cinnamon Cream Cheese Frosting from Food Apparel
All pumpkin cookies are not created equal. These ones, fresh out of the oven, with a hearty helping of this cinnamon cream cheese frosting…YUM.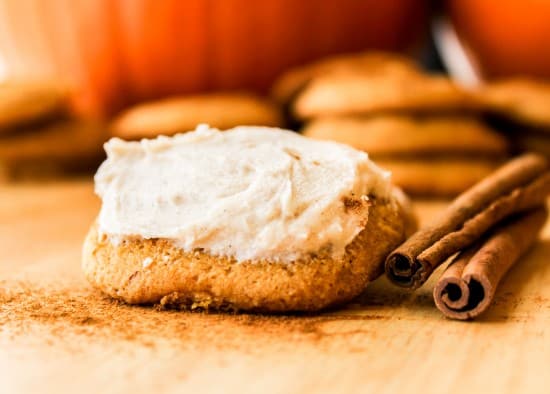 All photos on this post by Food Apparel

Happy Monday everyone! I can't tell you how excited I am to be hosting my first-ever guest-post, from my friend Christina over at Food Apparel. She blogs with her sister-in-law Tammy, and they are pretty freaking awesome cooks. I have been known to get lost in their recipe index, and they've only been blogging for about a year, so that's saying something. Christina and I lived in the same condos back in Utah, so I know her IRL (in real life. I TOTALLY thought I just made that up and was about to brag about my urban acronym skillz, but google just schooled me. Probably even my mom knows about IRL. Dang.)
You guys should seriously check out their blog. These pumpkin cookies are making me want to die, I'm starving as I write this right now and I think I could probably just take my spoon to that cinnamon cream cheese frosting. Without further ado, here's Christina from Food Apparel: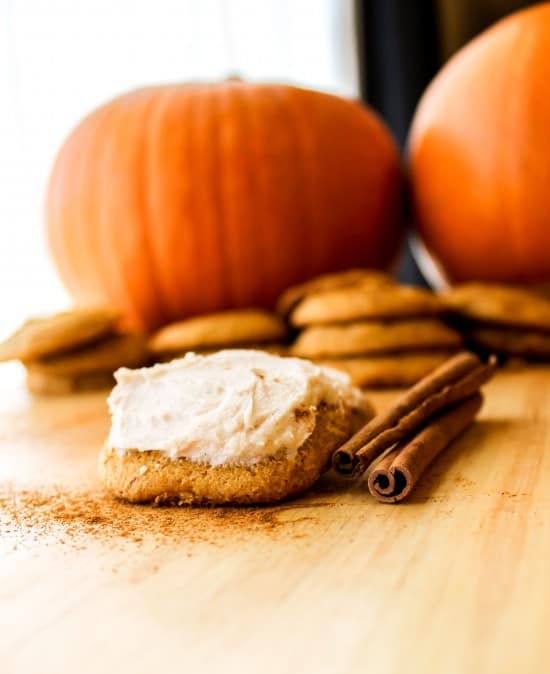 You know, back in the early days of my marriage, I played a lot of Rock Band. And when I say a lot, I mean A LOT! My husband and I would go over to our friends' house practically every night and have a three hour jam session. We all had our assigned instruments – I was on the drums, Ben on the bass, Seth, the electric guitar, and Em, vocal chops. The Original Rock Band! Yeah, we were gonna go big time. And then…..well, one kid came along, then another, and then before we knew it, four kids running rampant at all hours of the day between the two families. Now we have to simply settle for pushing our crazy dreams on our children so they can carry on the rock n' roll legacy.
What does Rock Band have to do with these Pumpkin Cookies? Well, when you are playing Rock Band three hours straight, night after night after night, you gotta have a treat break once in a while. There were a lot of pumpkin cookies and a lot of snickerdoodles consumed between the four of us.
These particular pumpkin cookies are my absolute fav because they are quick to make, but also kind of amazing! I have eaten a lot of different pumpkin cookies over the years, and all pumpkin cookies are not created equal. These ones, fresh out of the oven, with a hearty helping of this cinnamon cream cheese frosting…YUM. When done right, they have such a moist delicate crumb, but are not undercooked and gooey. It's pure pumpkin bliss.
Tips for making Delicate Pumpkin Cookies
1)      Make 'em  and eat 'em fresh – you know how with some cookies it's best to let the dough sit in the fridge for 30 min, or even overnight? NOT SO WITH THIS DOUGH. The longer it sits, the tougher it gets. (What's up with me and the rhyming? I swear it was all by accident!) If you really can't eat a whole batch by yourself, make sure you have friends close by to help, or spread some pumpkin love to a neighbor.
2)      Find your precise cook time! I wish that I could tell you the exact time to cook and it would just work for everyone. But with different ovens and different altitudes, it's going to vary a little. You really want to hit this on the dot though. Too short, and you will still have a little pumpkin goo in the middle. Too long and they will be a little dry and may start getting tough on the bottom. You do not want browned edges on these at all. You just want them to be set and bounce back slightly when touched. And remove them immediately from the baking sheet when you take them out of the oven or they will continue to cook on there – not good in this case. You are aiming for the perfect moist crumb.
3)      Smaller is better – I find it so much easier to get the cook time perfect on these if I keep them on the small side and then try to keep the cook time at the low end. It just helps them cook more evenly so that the centers are done in perfect correlation with the edges.
If you want to mix these cookies up, throw a handful of chocolate chips or pecan pieces in the batter and serve without the frosting. But, I'll admit, although I'm a chocolate freak, I actually prefer these pumpkin cookies sin chocolate because the frosting just does it for me!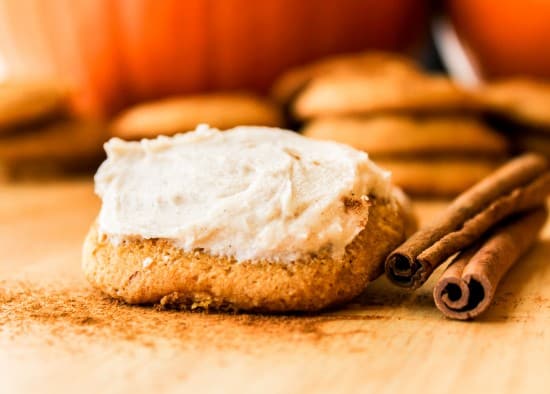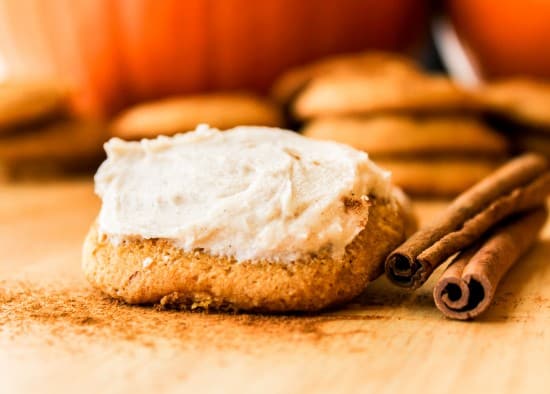 print
Did you make this recipe?
Leave a review »
Delicate Pumpkin Cookies w/ Cinnamon Cream Cheese Frosting from Food Apparel
Makes about 3 1/2 dozen
adjust servings
Ingredients
For the Cookies
1/2

cup (1 cube) unsalted butter, softened

1

cup white sugar

1/2

cup brown sugar, packed

2 1/2

cups unbleached all-purpose flour

1

teaspoon baking powder

1

teaspoon baking soda

3/4

teaspoon salt

1

teaspoon ground cinnamon

1/4

teaspoon ground cloves

A pinch of fresh ground nutmeg

1

egg

1/2

teaspoon vanilla extract

1

cup pumpkin puree
For the Frosting
1/2

cup (1 cube) unsalted butter, softened

1/2

cup (8 ounce package) cream cheese, softened

1 1/2

- 2 cups powdered sugar

1

teaspoon vanilla extract

1/2

- 1 teaspoon cinnamon, or more to taste
Instructions
For the Cookies: Preheat oven to 350. Spray a baking sheet with non-stick cooking spray.
In a medium bowl, whisk together flour, baking powder, baking soda, salt, and spices. Set aside.
In a large mixing bowl, cream together the butter with the sugars until light and fluffy.
Beat in egg, then vanilla, then pumpkin. (Mixture will appear separated, but that is normal.)
Add dry ingredients to wet ingredients and stir until just incorporated.
Drop by tablespoons onto baking sheets and bake for 12-14 minutes or until cookies are set and bounce back slightly when touched (do not over bake).
Remove immediately to a wire rack to cool.
For the Frosting: In a mixing bowl, combine the butter and cream cheese and whip on medium speed until combined and fluffy, about 2 minutes.
Let stand for about 10 minutes.
Whip again to make frosting light and airy, about another 2-3 minutes.
Add powdered sugar, a little at a time to avoid a mess, and whip until combined.
Add vanilla and cinnamon and mix until incorporated.
by The Food Charlatan

If you make this recipe,
share it on Instagram
 using the hashtag
#TheFoodCharlatan
so I can see it!
It's me Karen. Thanks so much for sharing with us Christina! Here's a sneak peek at some of the awesomeness that's going on over at Food Apparel:
Stracciatella Cream Cheese Pumpkin Roll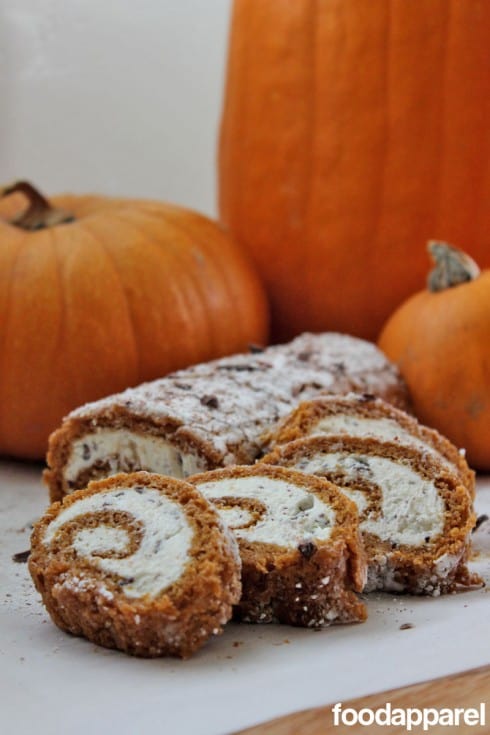 We are a participant in the Amazon Services LLC Associates Program, an affiliate advertising program designed to provide a means for us to earn fees by linking to Amazon.com and affiliated sites.