Ooooh boy. This stuff might not look like much, but let me tell you. These lentils are awesome. Awesome. I just can't get enough of it. This dish seems too simple to be impressive, but it is packed with flavor.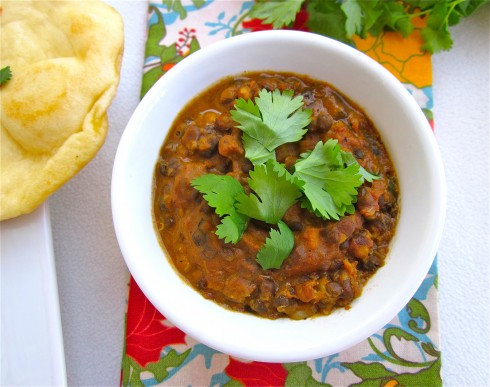 I'm starting to love vegetarian dishes more and more. I've come a long way. One time back in Indiana when I was working full time, some friends called me up to see if I could babysit their son while they went to a last minute work event. So I went straight to their house without stopping at home for dinner. They showed me all the leftovers in their fridge and said I could help myself to whatever I wanted. I had my eye on the Indian dish they pointed out.
So when they left, I heated up what looked to me like Chicken Tikka Masala: chunks of meat in an orange colored sauce on top of rice. Probably one of my favorite foods ever. I took a bite and it was delicious, perfectly spiced. I took another bite, this time with chicken, and spit it right back out. That must have been a really fatty piece of chicken, I thought. I tried another bite. Same thing…that's when I realized that I was eating tofu.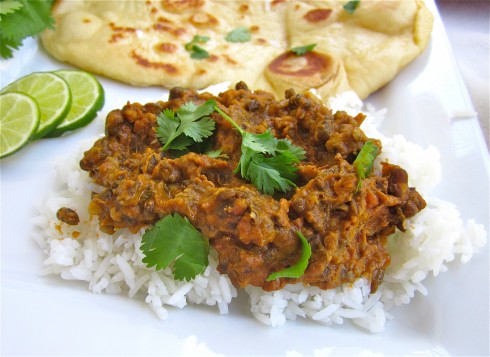 This recipe calls for some rare ingredients (like Kasoori Methi/dried fenugreek leaves), which really add to the flavor and make this dish taste like it came from your favorite Indian restaurant. You can find the rare ingredients at an Indian grocery store. I also found Kasoori Methi and Whole Urad Dal (black lentils) pretty cheap on Amazon.
If you don't have the spices listed here, I recommend finding a grocery store that sells spices in bulk. I hate buying a tiny $5 bottle of turmeric (or whatever) when all I need is 1/4 teaspoon. But if you are buying in bulk, you can take only what you need and pay pennies for it. I bought the coriander for this recipe for 7 cents I believe.
P.S. Turns out Charlotte makes an adorable baby model. Check it out! (Scroll to the end of the first post.) Designed by Clairice.
Dal Makhani (Indian Buttery Lentils)

Source: slightly adapted from Can't Live Without
Makes 3-4 servings
3/4 cup Whole Urad Dal (Black gram–found in Indian grocery stores) soaked over night
1 teaspoon salt
1/4 cup canned red kidney beans, drained and rinsed
4 tablespoons butter, divided
1 tablespoon oil
1/2 teaspoon cumin powder
1 tablespoon ginger paste*
1 tablespoon garlic paste*
1/4 teaspoon turmeric powder
4 tablespoons tomato paste
1/2 teaspoon salt, or to taste
1/2 teaspoon chili powder
1/4 teaspoon coriander powder
1 teaspoon Kasoori Methi (a spice found in Indian grocery stores)
1 teaspoon garam masala
1/4 cup cream or half & half
fresh cilantro, for garnish (optional)
Place the pre-soaked lentils in a large pot. Add water until the water level is about 1 or 2 inches above the lentils. Add one teaspoon of salt. Bring the lentils to a boil, then reduce to a simmer and cook for about 45 minutes, stirring occasionally. (The water will turn a Wicked-Witch-of-the-West-green, but don't worry it's normal.) You will know they are done when they are tender enough to be mashed easily between your fingers when pressed. Save 2 cups of this water and drain the rest.
Place the kidney beans in a blender or small food processor. Add a tablespoon or two of cooked lentils. Add 2-3 tablespoons water and puree thoroughly, adding water as necessary. Set aside. (This addition makes the Dal Makhani more creamy.)
In a wide pan on medium low, add 1 tablespoon of butter and 1 tablespoon of oil. Once hot, add cumin. Then add ginger paste, garlic paste, and turmeric, and saute for 1 minute.
Add the tomato paste, salt, and chilli powder and cook on low for 5-8 minutes, until cooked thoroughly. Add coriander powder and cook for another minute.
Add the remaining butter. When melted, add 1 cup of the reserved water from cooking the lentils and cook for 3 minutes. Now add the cooked lentils and kidney bean puree. Add the Kasoori Methi and Garam Masala powder.
Cook on low for 20-30 minutes, stirring occasionally. (You can add more cooking water if it gets too thick.) Add cream and turn the heat off. Serve hot, with naans or cooked basmati or jasmine rice. Garnish with cilantro.
*I bought ginger-garlic paste and used 2 tablespoons. If you can't find this, of course fresh garlic and ginger would work great!