It's Friday!! Hurray! Oh wait…I'm a stay at home mom.
Okay, so that lack of enthusiasm for the weekend is not how I usually feel, but it definitely is this time around. Member last week how I was bragging about not getting sick even though everyone around me was? Yeah. I think you all called that one.
The worst part is not the incessant coughing or the 19 boxes of kleenexes we've gone through, but the fact that Eric has decided this week that he is in love with West Wing. Seriously? Could there be a more boring TV show? And Downton Abbey just came out. It's like insult to injury.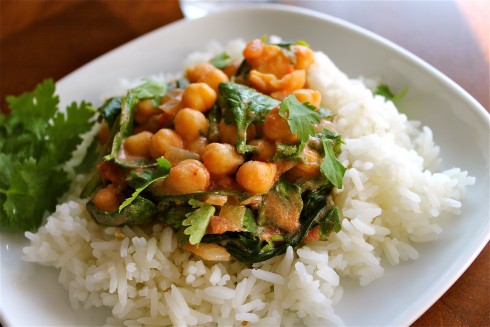 You can't argue with this chickpea curry. It's super easy and quick, not to mention cheap and a good way to get in some leafy greens. A great meatless meal for a busy weeknight. Or a Friday afternoon after not having cooked for the entire week. (I know you won't judge me when I tell you I had Cheetos and a peanut butter and jelly sandwich for dinner last night. Rations were low on the cold front.)
Chickpea Curry with Jasmine Rice

Source: slightly adapted from Cooking Light
1 1/2 cups uncooked jasmine rice
2 1/4 cups water
1 1/2 teaspoons salt
1 teaspoon minced garlic
1 tablespoon canola oil
1 large onion, diced
1 1/2 teaspoons garam masala
2 (15-ounce) cans chickpeas, rinsed and drained
1 (15-ounce) can unsalted crushed tomatoes (I couldn't find this, I used a can of petite diced tomatoes)
1 (6-ounce) package fresh baby spinach
1/2 cup plain 2% Greek yogurt
1/2 teaspoon salt
1/4 cup chopped fresh cilantro
In a small saucepan, combine rice, water, salt, and garlic. Cover and turn the heat to high. Once it starts to boil, turn heat to low and set a timer for about 12 minutes. Do not stir. When the timer goes off, turn off the heat but do not remove the pan. Set the timer for another 5 minutes. Fluff with a fork.
Heat a large saucepan over medium-high heat. Add oil to pan; swirl to coat. Add onion; sauté 5 minutes or until tender, stirring frequently. Stir in garam masala; cook 30 seconds, stirring constantly. Add chickpeas, tomatoes, and spinach; cook 2 minutes or until spinach wilts, stirring occasionally. Remove from heat; stir in yogurt and salt. Sprinkle with cilantro. Serve over rice.