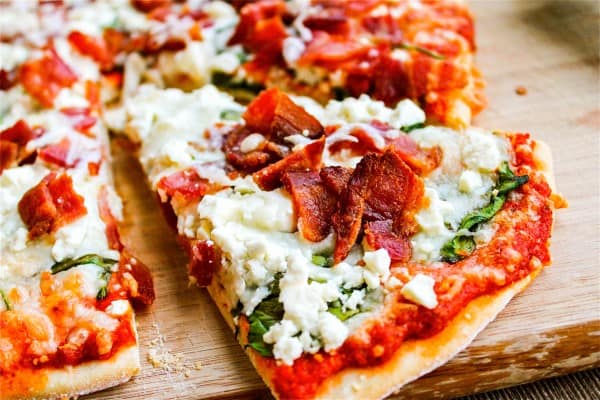 I feel like I've dodged the bullet one too many times lately. There were 23 people living in the same house over Christmas so of course there was a virus or two making the rounds. I didn't catch it. Then earlier this week Charlotte had a fever and chills for 2 days straight. But I'm doing great, not even a sniffle. It makes me nervous. Like all this good fortune is going to backfire on me somehow.
It's the same way I feel about this baby boy we are having in 12 weeks. (12 weeks people. How did this happen??) I feel like I kind of dodged the bullet with Charlotte, so with my second kid life is going to show me what it's really like to be a mom. (Charlotte is so easy it's almost scary. She slept through the night at 4 months, still does. She is extremely obedient. She's not loud or obnoxious. She is generally a good eater. She plays nice with other kids. Plus she is adorable.) What am I in for this time around? A colicky baby who screams for 3 months straight? A raging toddler who tears my house apart and runs away constantly? I can feel the karma coming.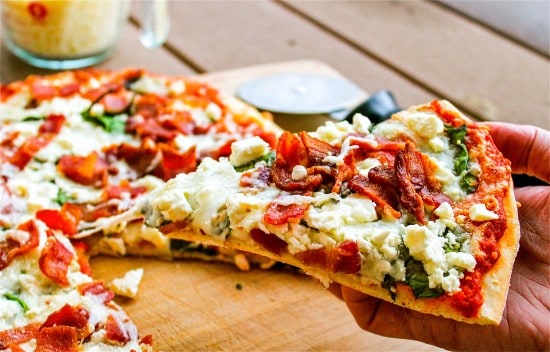 I love this pizza for so many reasons. First of all, it does not skimp on the bacon: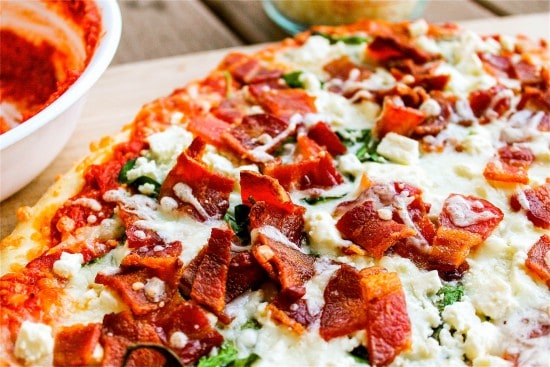 12 slices for one large pizza. That's what I'm talking about. Second, feta, hello? Anything with feta is automatically amazing. And can we talk about the sun-dried tomato sauce? It adds depth without being too weird. Love it.
And of course the spinach. We can call this the "green smoothie" of pizzas, because you absolutely cannot taste the spinach, but you feel so healthy when you are grabbing it by the handful and mounding it on your dough. (That's why I'm posting this bacon-covered pizza in January. Because it's so healthy.) Enjoy!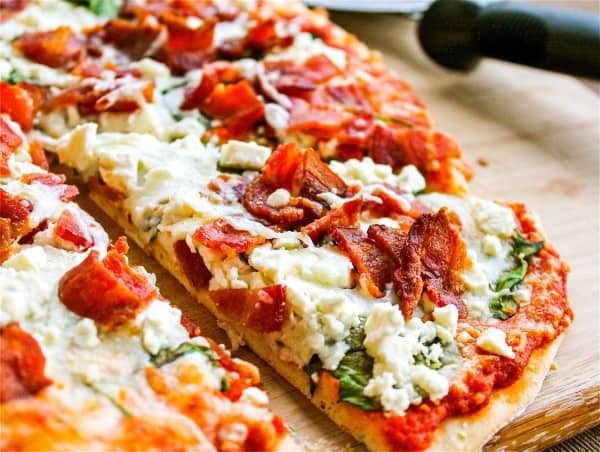 Spinach, Bacon, & Feta Pizza with Sun-Dried Tomato Sauce
Source: Perry's Plate
1 lb fresh pizza dough, or enough to make a large pizza*
12 slices of bacon, cooked, drained, and crumbled or chopped
1/3 cup sun-dried tomato pesto (recipe below)
1/3 cup pizza sauce
2 or 3 handfuls of fresh baby spinach (don't worry it cooks down a lot)
2 cups of shredded mozzarella cheese (about 8 oz)
2/3 cup feta cheese
Preheat oven to 450 degrees F.
Spread pizza dough out into a rimmed cookie sheet (or round pizza pan, stone, peel or whatever you usually use). Combine pesto and pizza sauce in a small bowl. Spread over stretched pizza dough. Top with fresh spinach, then mozzarella.
Bake for about 10-12 minutes or until the crust is firmed up, but not yet golden brown. Remove pizza from oven and top with crumbled bacon and feta cheese. Return pizza to the oven and bake for another 5-8 minutes or so until crust is golden brown underneath and the cheese is bubbly and browning.
Remove and serve. Makes 1 large pizza.
*I used this pizza dough recipe, which makes 2 small pizzas.
Sun-Dried Tomato Pesto: (very slightly adapted from Perry's Plate)
1 8.5 ounce jar oil-packed sun-dried tomatoes
1 cup shredded fresh Parmesan or Romano cheese
1/3 cup pine nuts
Drain the sun-dried tomatoes in a colander with a bowl underneath to preserve the oil.
Spread the pine nuts on a baking sheet and bake at 350˚ for about 3 minutes. Stir, then continue baking/stirring in 1 or 2 minute intervals until they are slightly toasted and becoming golden. You could also do this in a pan on the stove top over medium heat.
Combine tomatoes, cheese, and pine nuts in a food processor and pulse until thoroughly combined. Drizzle with some of the remaining oil from the tomatoes and pulse again. Add as much as you need to make it smooth–I probably added 1 or 2 tablespoons.
Makes about 2 1/2 cups of pesto. You won't need all of this for the pizza; I combined my leftovers with more pizza sauce and stuck it in the freezer for the next time we make pizza. Yum!