A simple ricotta pizza for lazy summer nights! It is mostly cheese and blackberries, which is a fabulous combo. Add some basil on top to make things a little more sophisticated, and you are on your way to an easy dinner the whole family will love!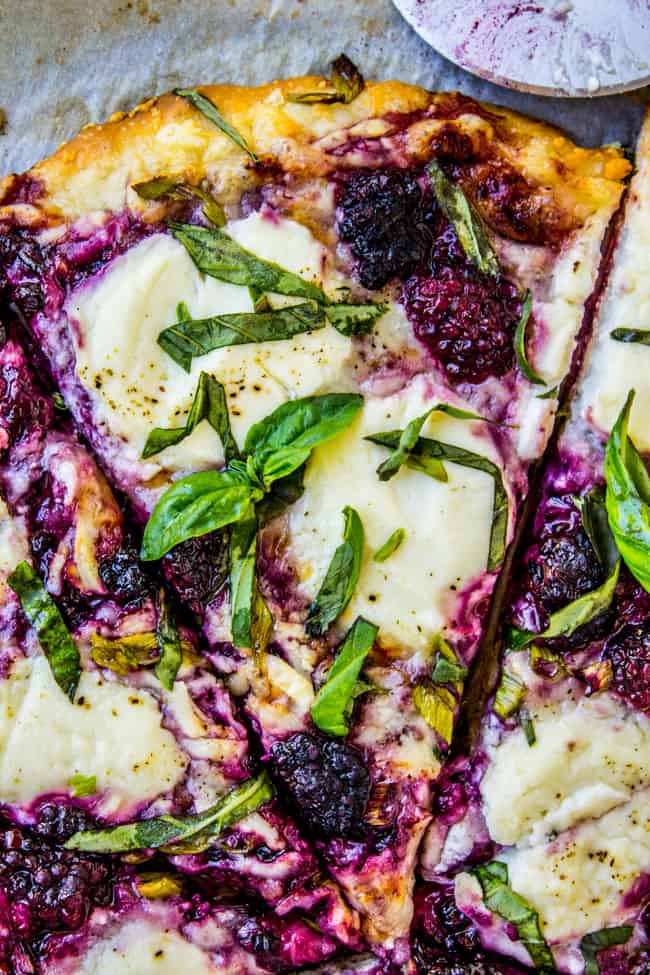 Originally published July 7, 2015
Last week I was swimming at the lake with my sister's family. Her 5-year-old daughter comes up to me, looks at my bare legs, and says, "Aunt Karen, I can see your sunscreen."
No, honey, no. Some of us are just REALLY WHITE.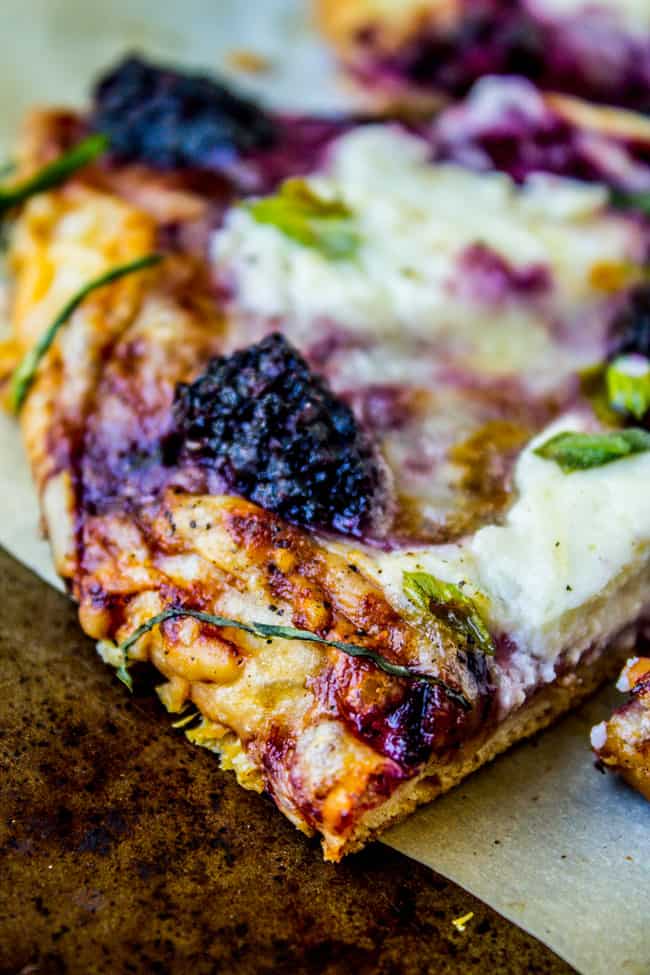 Her dad is half Mexican, and she is the lightest of the 4 kids, so her family is always telling her she's white. But a light-skinned quarter-Mexican little girl who plays in the sun all day is still a heck of a lot darker than a lily-white European mutt like myself. I'll have to work harder to rub that sunscreen in all the way. Maybe I will rub the Scandinavian right out of me.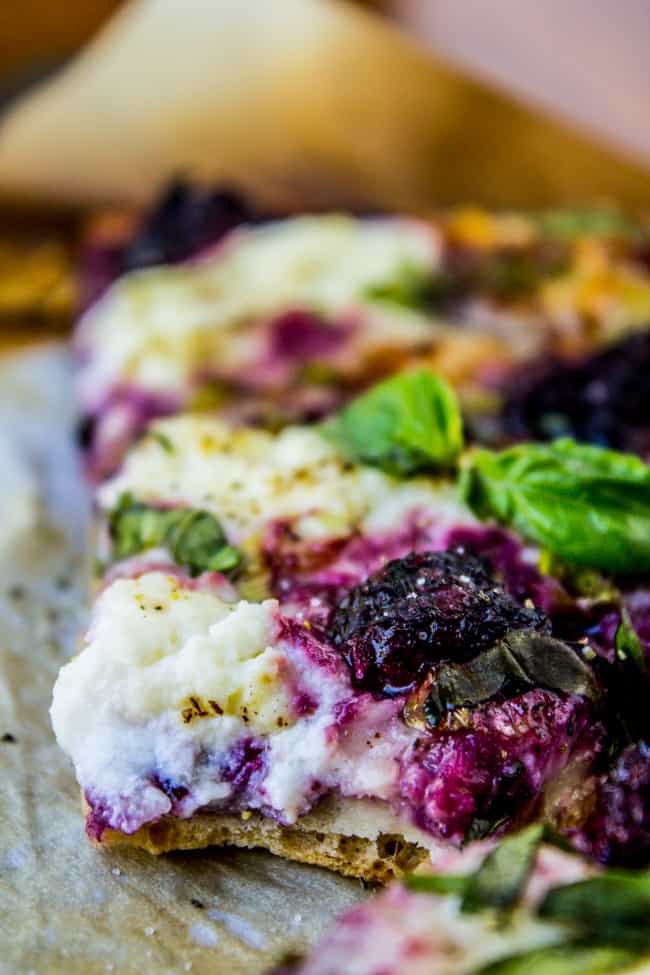 Thanks to everyone who entered my Hidden Valley giveaway last week! It was so fun hearing from all of you. One of the winners chosen sent me her address, and she is from my little hometown! How crazy is that?? Small world right?
How to make blackberry ricotta pizza
My best friend Sarah visited me from Texas a few weeks ago. She has been sending me recipe ideas from Pinterest for the last few months so that we could cook amazing things together, and one of them was for this Blackberry, Basil, and Ricotta Pizza from The Stay at Home Chef's lovely blog. I have to admit that I was dubious at first, but when you have gallons of blackberries to use up after spending hours picking them, and you've already made 4 pies and Blackberry Balsamic Glazed Chicken, you make blackberry pizza.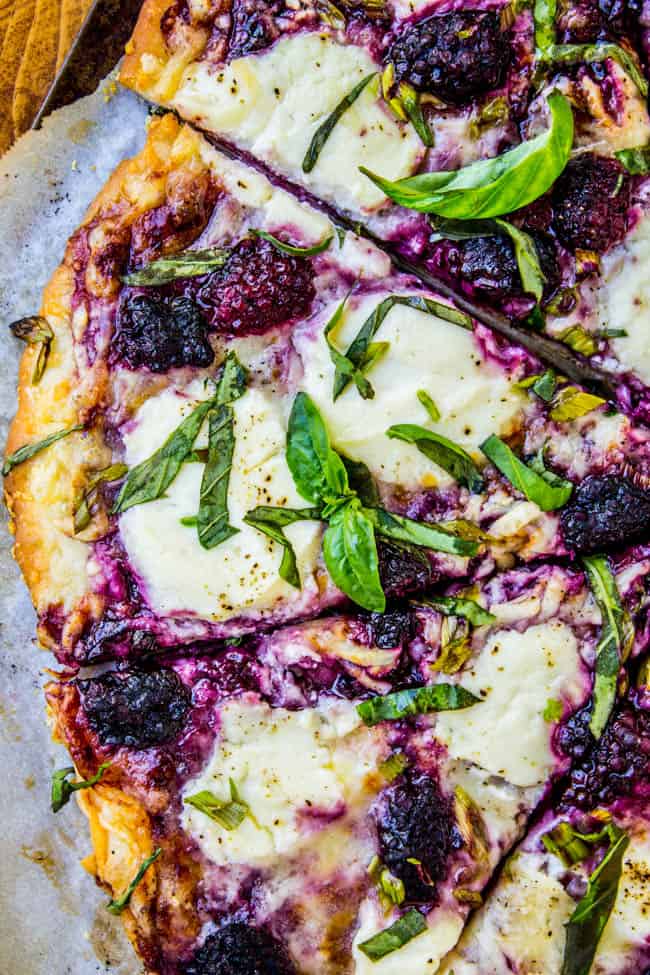 We tried to make our own ricotta but the charlatan in me got distracted and I forgot to stir the giant pot of whole milk at just the time it needed to be stirred, and instead of beautiful ricotta we ended up with a gallon of curdled milk. Oooops. Eric saved the day with some ricotta picked up on the way home from work.
We all loved this pizza.  The first time we made it we decided it needed copious amounts of salt and pepper to make it more savory, and the next time I made it I took it a step further and added some green onions. I thought it added just the right touch. Don't skip the basil!!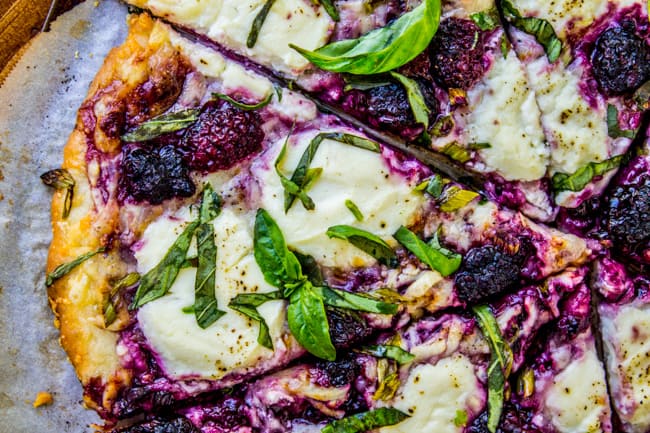 I used my go-to pizza dough for this recipe, which is right out of the Better Homes and Gardens cookbook. You can find details on how to make it on my Cherry Tomato and Goat Cheese Pizza that I posted back in 2011, about a month after I started my blog. The first paragraph is all about how I suck at making up my own recipes. It's kind of funny to look back on 4 years later!

Blackberry Ricotta Pizza with Basil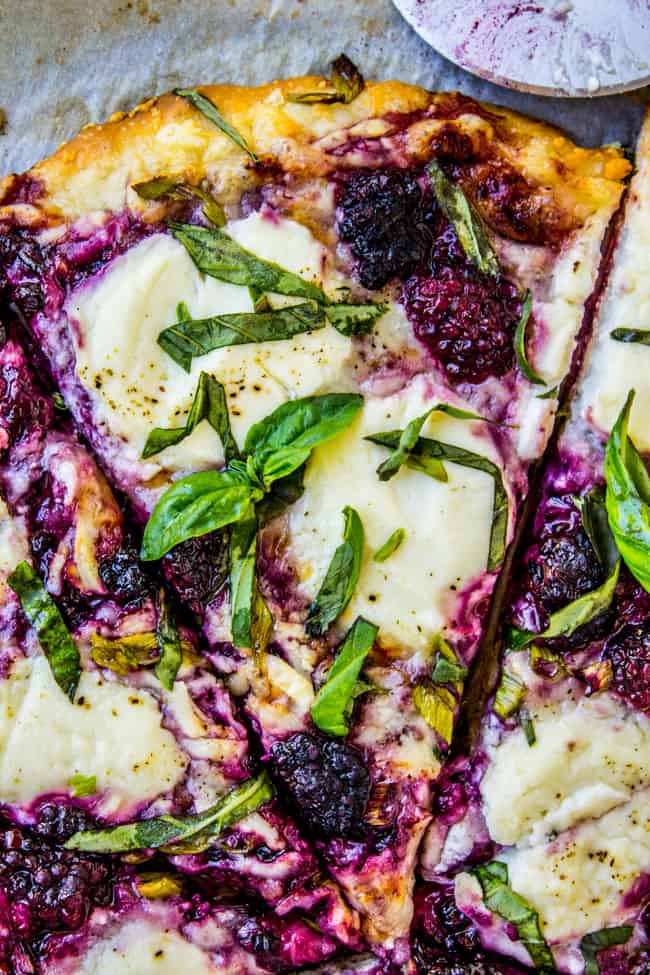 A simple ricotta pizza for lazy summer nights! It is mostly cheese and blackberries, which is a fabulous combo. Add some basil on top to make things a little more sophisticated, and you are on your way to an easy dinner the whole family will love!
Ingredients
one pizza dough recipe,

to make one 12-inch pizza*

1

tablespoon

olive oil

1/2

cup

blackberries

,

fresh, smashed

1

cup

Parmesan

,

shredded

1

cup

swiss cheese

,

or mozzarella, shredded

3/4

cup

ricotta

1/2

cup

blackberries

,

whole

1/4

cup

green onions

,

chopped

1/2

teaspoon

salt

,

more to taste

pepper

,

ground, to taste - I like lots

2-3

tablespoons

basil

,

fresh, chopped
Instructions
Preheat your oven to 450 degrees F. Put your pizza stone in the oven if you have one.

Roll out your pizza dough on a floured sheet of parchment paper to about 12 inches. (If you don't have a pizza stone, you should probably transfer the dough to a baking sheet now.)

Drizzle 1 tablespoon of olive oil over the top of the dough and use your fingers or a pastry brush to coat well, especially the edges.

Use a fork to mash a half cup of blackberries in a bowl. It doesn't have to be perfect. Use the fork or a slotted spoon to ladle the pulp onto the pizza. Spread it around like you would pizza sauce. (You don't need the remaining juice, but don't throw it out. Drink that sweet nectar if you know what's good for you.)

Top the smashed berries with 1 cup Parmesan and 1 cup swiss or mozzarella, making sure to get the crust.

Use a spoon to dollop the ricotta over the pizza. It doesn't have to be perfect.

Top with whole fresh blackberries and chopped green onions.

Sprinkle with salt, and add pepper to taste.

When the oven is hot, transfer the pizza to the oven. I transfer it using a a flat baking sheet, still on the parchment paper.

Bake for about 8-10 minutes, or until the top has started to brown. You can broil it for a minute if you want it crispier on top.

Remove from the oven and immediately sprinkle some chopped basil on top. Slice and enjoy!
Notes
This recipe is really easy to double to make 2 pizzas, and then it would come closer to feeding a family of 4, if you include some sides.
Source: barely adapted from The Stay at Home Chef
Nutrition
Serving:
1
slice
|
Calories:
659
kcal
|
Carbohydrates:
15
g
|
Protein:
44
g
|
Fat:
47
g
|
Saturated Fat:
26
g
|
Polyunsaturated Fat:
2
g
|
Monounsaturated Fat:
16
g
|
Cholesterol:
131
mg
|
Sodium:
1566
mg
|
Potassium:
342
mg
|
Fiber:
4
g
|
Sugar:
5
g
|
Vitamin A:
1633
IU
|
Vitamin C:
18
mg
|
Calcium:
1244
mg
|
Iron:
2
mg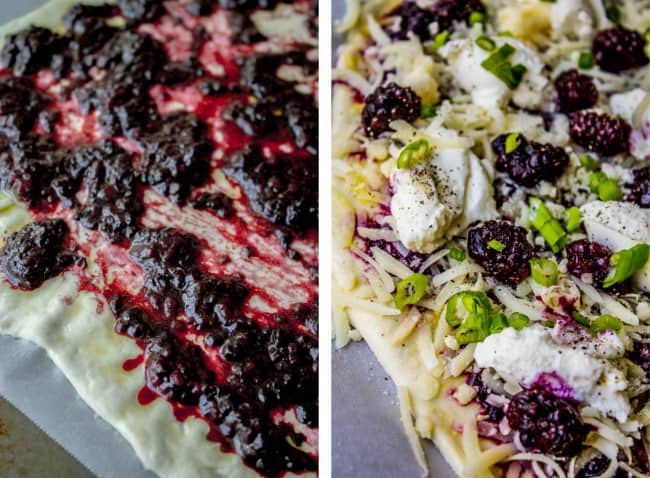 You might also like: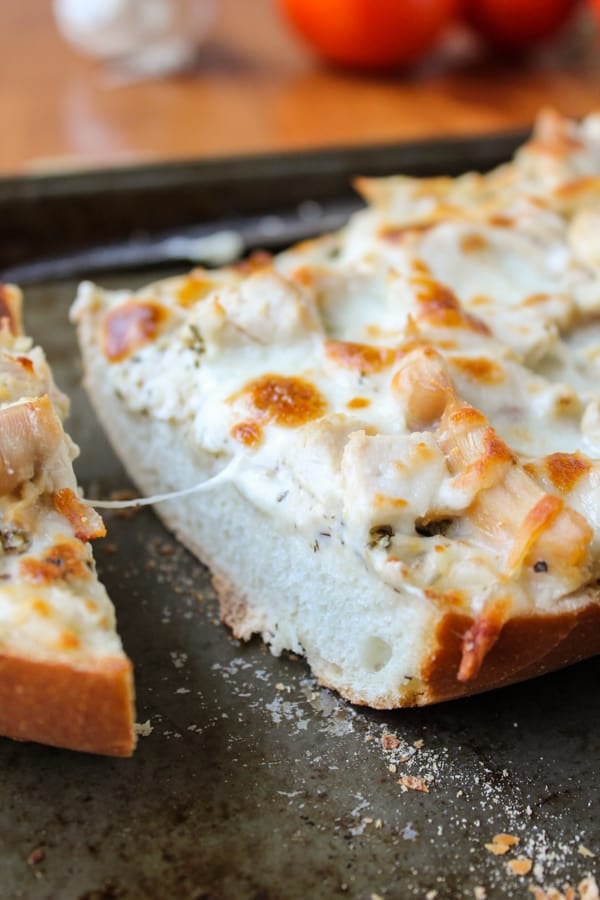 Spinach, Bacon, and Feta Pizza: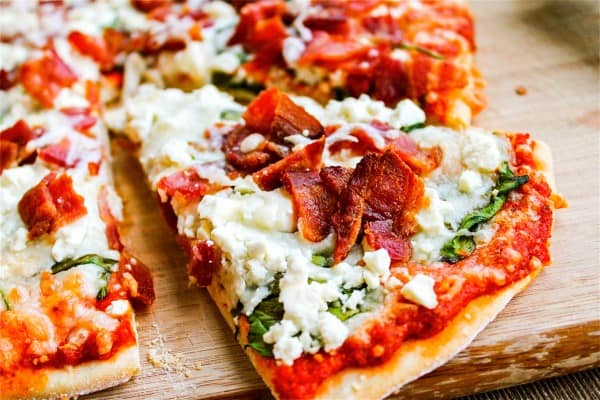 Blackberry Balsamic Glazed Chicken: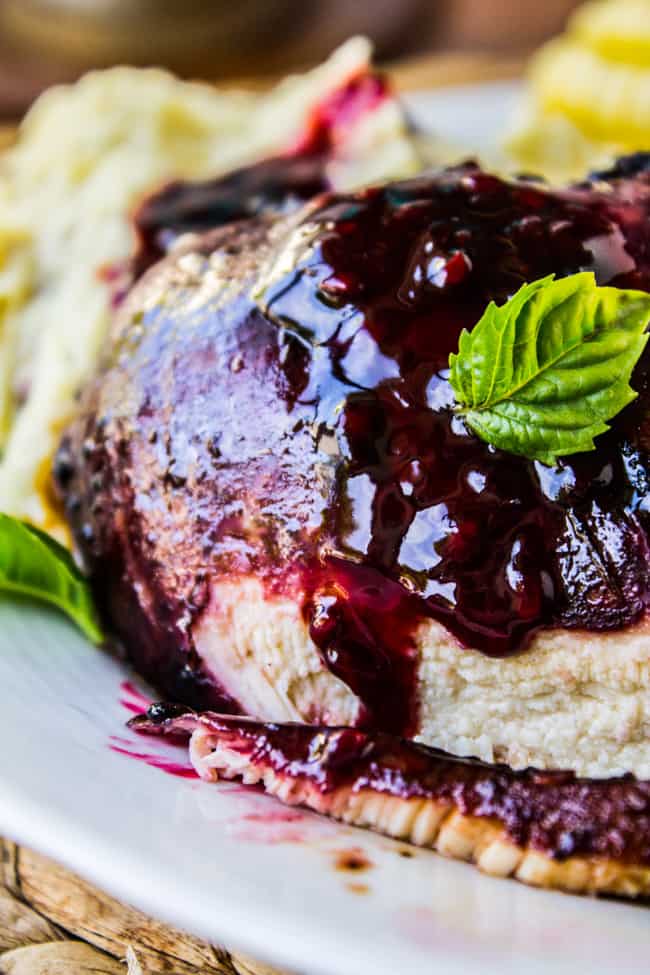 Check out these recipes from friends! 
Blackberry, Bacon and Blue Cheese Salad from Lemon Tree Dwelling
Berry with Arugula and Prosciutto Pizza from Foodiecrush
3 Cheese Peach and Prosciutto with Basil from Cooking Classy
If you are looking for a Gluten Free Pizza Crust, check out this one from Snixy Kitchen, it's legit!