Almond-Crusted Chicken with Homemade Pesto Pasta
This is a healthy dinner the whole family will love! Tender and juicy almond-crusted chicken, paired with homemade basil pesto pasta. Then sprinkle with cheese and broil! My kids asked for this as leftovers the next day but it was already gone.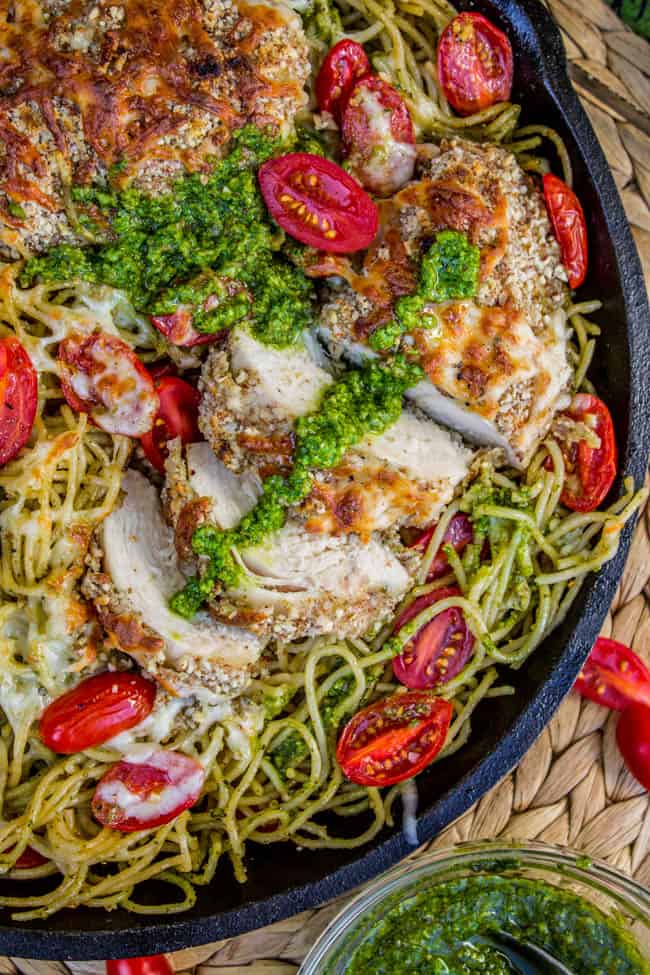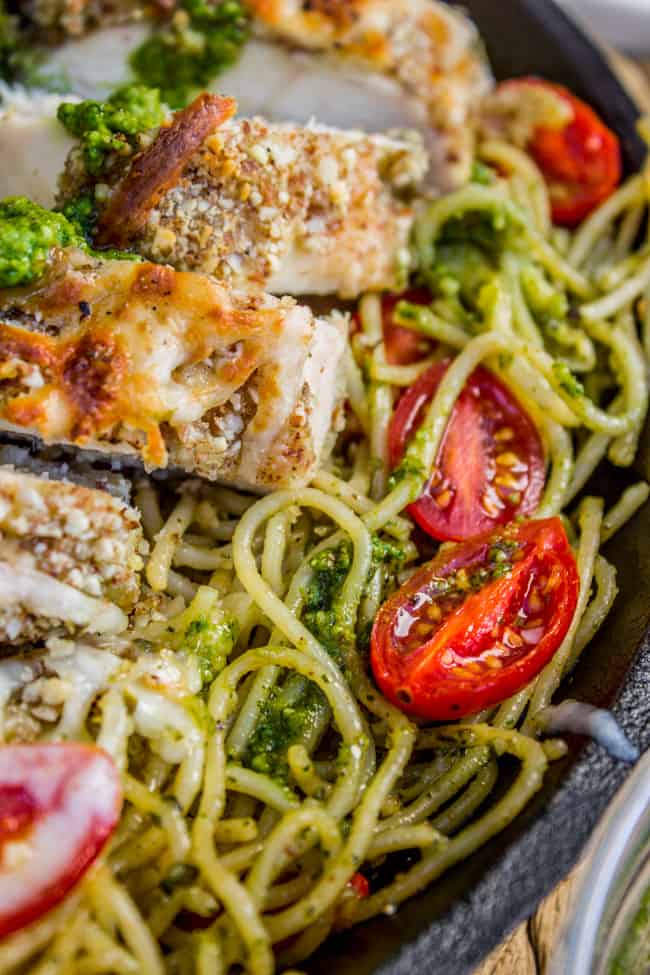 Yesterday I woke up, put my feet on the floor, and noticed a brown spot on my toe that's never been there before. It looked like a mole had developed overnight and I started freaking out. "Oh my gosh it's cancer and I'm going to diiiiie!" While Eric helped me examine it (I'm pregnant and examining my toes is no small feat), I told him that a mole that developed so rapidly was surely going to kill me.
Then he rubbed it. And it came off. Because it was dirt.
I swear I'm not a hypochondriac. I had melanoma successfully removed a few years ago so it actually is something I need to look out for. But note to self: moles do NOT grow overnight. Also, another note to self: CLEAN YOUR FEET KAREN, YOU'RE AN ANIMAL.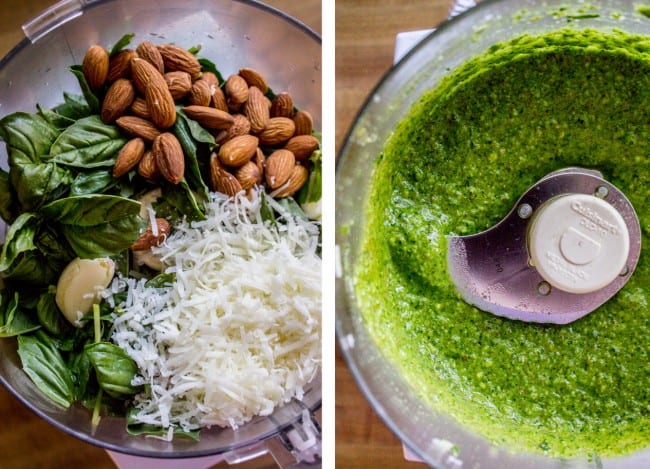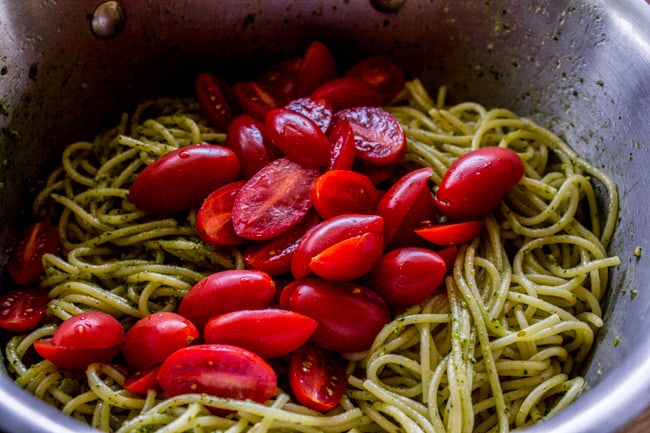 This week my best friend Sarah's family came and stayed with us while they waited for their stuff to arrive from Texas. (They are moving to the Bay Area.) Between my 2 kids, their 4, and my average-sized table, dinner became basically a two-shift event every night. When there are 6 children ages 6 and under eating at the same time, my advice is to not take your eyes off them. Either that or leave the room entirely so that you have no idea how much salad dressing is being flung on your walls.
But there weren't too many issues the night we fed them this almond-crusted chicken. I had to leave dinner early for a church meeting, but Sarah told me later that "they vacuumed it up." The next day the kids wanted it again, but by then it was gone. That is what I call success.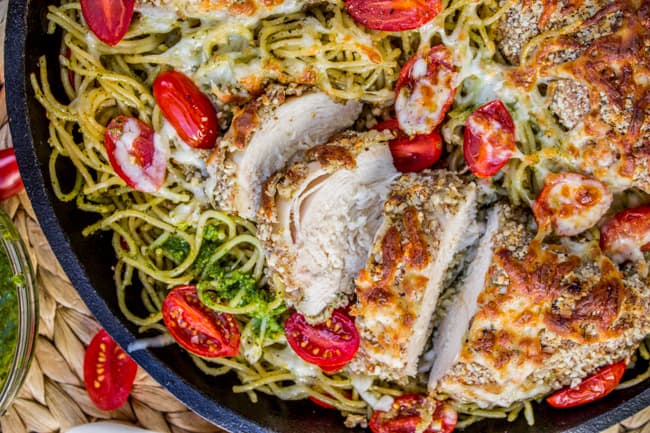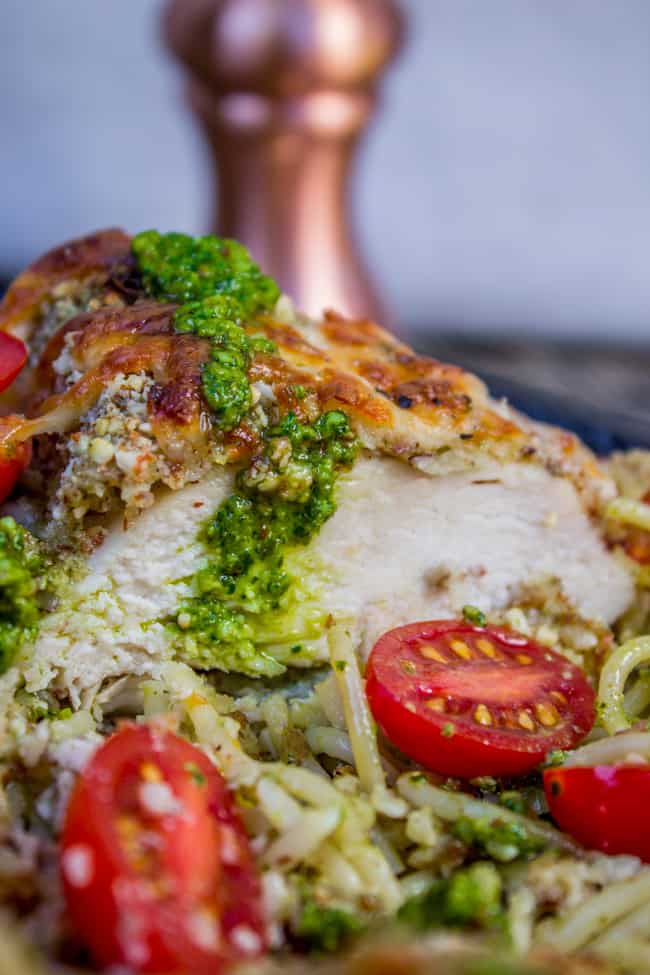 I mean what's not to love? The chicken is juicy and tender (make sure you use a meat thermomter! 160 is fine, 165 will overcook it.) and it has the perfect crispy-crunchy-yet-healthy almond crust. Pair it with some cheesy pesto pasta (with just a little bit of a kick) and you have an entire family of happy campers.
I love using almonds in place of stuff. There are so many options. I use almond milk instead of cow milk all the time these days. And for this recipe, replacing breadcrumbs with almonds for the crust of the chicken makes it way healthier, AND gives it another flavor element that I love. The possibilities are endless!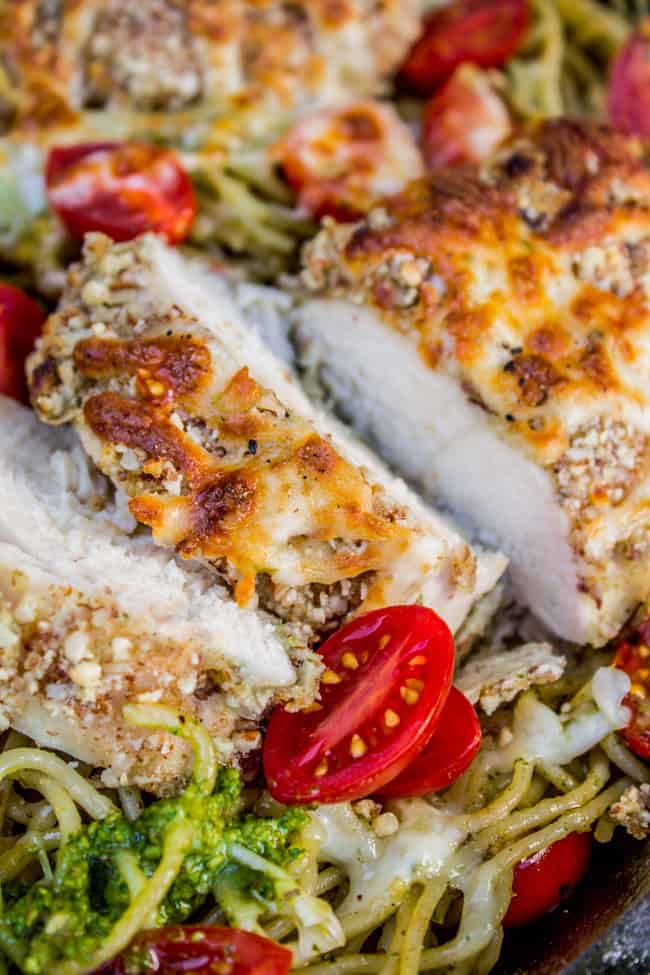 This year Blue Diamond (The Food Charlatan's favorite sponsor :) is partnering up with the USA Swim Team. They are the official snack nut for the team, which is awesome, but I love to take those snack-able nuts and turn them into dinner. Dinners like this almond-crusted chicken. It's super good you guys! Check out the details below the recipe to see how you can get a chance to win $5000. Almonds PLUS five grand? Sign me up dude.
**Will you do me a huge favor? Take this super short 13-question survey, (Survey closed!) leave a comment on this post, and you will be automatically entered into a drawing for a $50 Visa card! How sweet is that? The survey will be open for 2 weeks. (US residents only, open until July 30)** UPDATE: Survey closed! Thanks to those who entered!
Facebook | Pinterest | Instagram | Twitter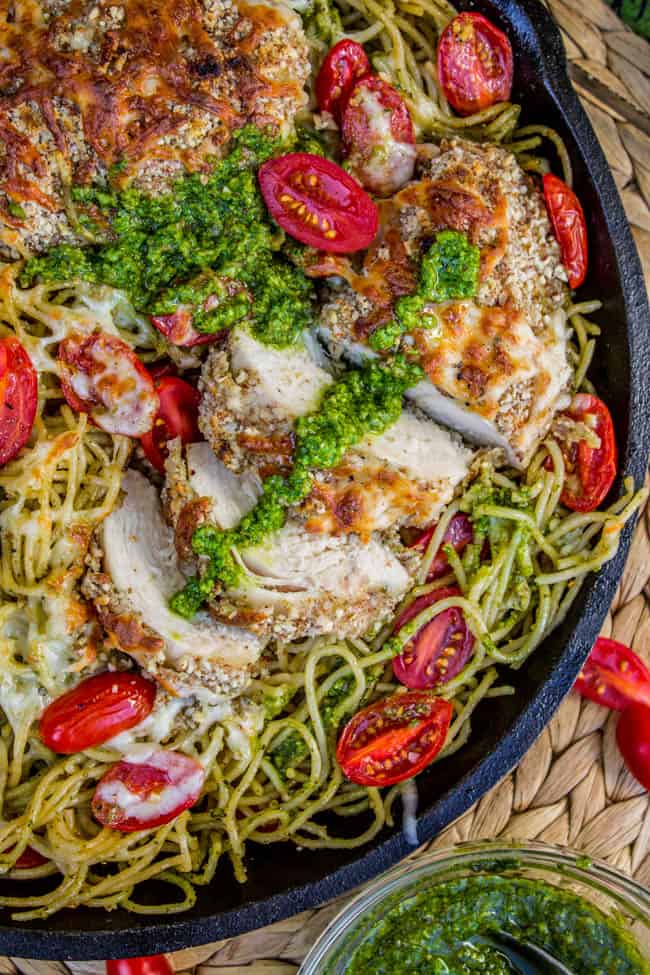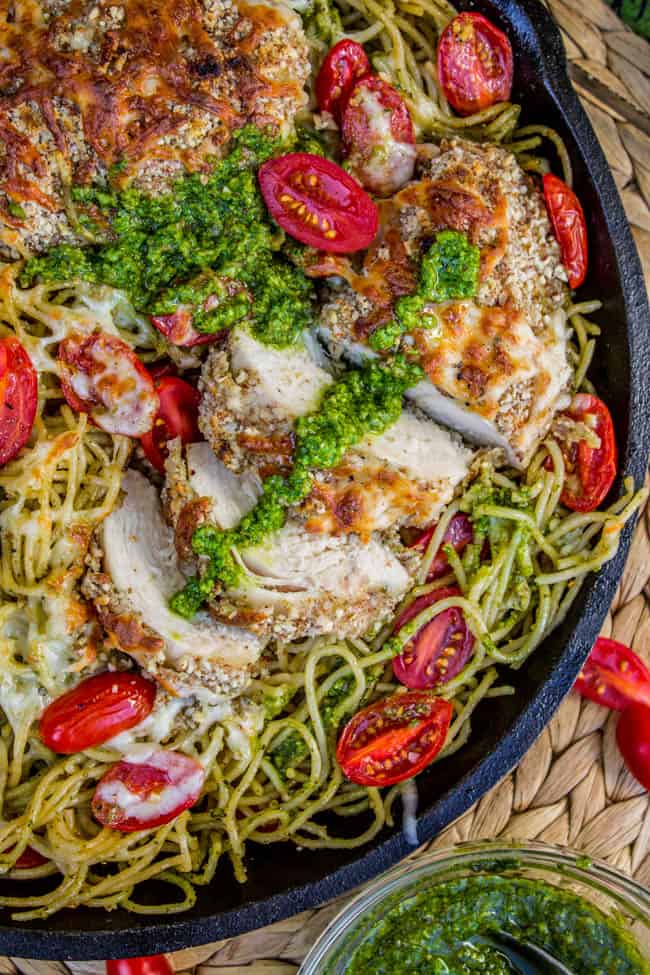 print
Did you make this recipe?
Leave a review »
Almond-Crusted Chicken with Homemade Pesto Pasta
Serves 4-6
adjust servings
Ingredients
For the almond crust
1

cup Whole Natural Blue Diamond Almonds

1/2

teaspoon salt

1/2

teaspoon garlic powder

pepper to taste
For the almond pesto
2

cups fresh basil

2

cloves garlic

1/4

cup Whole Natural Blue Diamond Almonds

1/2

cup Parmesan, shredded

1/2

cup olive oil

salt to taste (remember how salty parmesan is; taste first)
For egg wash
1

egg

1

tablespoon of the pesto you just made
For the chicken
4

chicken breasts

salt and pepper

1

tablespoon flour
For the pasta
1

pound spaghetti

1/2

cup of the pesto you just made

1/4

cup (half stick) butter

1

teaspoon salt

pepper to taste

1/2

or 1 cup Pepper Jack cheese, shredded

1

and 1/2 cups cherry tomatoes

1/2

cup Pepper Jack cheese, shredded (to top)
Instructions
Line a baking sheet with aluminum foil and spray with nonstick spray. Set aside. Preheat oven to 375 degrees F.
Start by making the almond crust for the chicken. In a food processor, combine 1 cup almonds, 1/2 teaspoon salt, garlic powder, and pepper to taste. Pulse until the almonds are ground fine (see photo). Remove the nut mixture to a plate and set aside.
Make the pesto: In the same food processor (don't bother washing), combine basil, garlic, almonds, and parmesan. Pulse until it makes a paste, then slowly add the oil in WHILE the food processor is running, so that the oil emulsifies. Salt to taste.
Add 1 tablespoon of the pesto to a shallow bowl or plate. Add an egg and beat together with a fork.
Prep the chicken: Pat chicken dry with paper towels and lay them out on a plate or work surface. Sprinkle both sides with salt and pepper. Sprinkle both sides with 1 tablespoon flour.
Add 1 chicken breast to the egg-pesto mixture and turn to coat. Lift it out, letting the excess egg drip off, then roll the chicken in the nut mixture. Place the chicken on the baking sheet.
Repeat with the remaining chicken.
Bake the chicken in the oven at 375 for about 25-30 minutes, or until a thermometer reads 160 degrees F. (The nut crust will not change color much, fyi.)
Meanwhile, make the pasta. Cook spaghetti according to package directions. Drain well and return to pot.
While the pasta is still hot, add 1/2 pesto, butter, 1 teaspoon salt, pepper, and Pepper Jack cheese. Add cherry tomatoes and stir.
Transfer the pasta to a casserole dish. Top with cooked chicken. Sprinkle with 1/2 cup Pepper Jack.
Broil on the top rack for 2-4 minutes. Do NOT walk away! How sad would it be to burn your dinner after all that. Watch it! Don't leave! Set a timer! Take it out when the cheese is brown and bubbly.
Serve with leftover pesto.
by The Food Charlatan

If you make this recipe,
share it on Instagram
 using the hashtag
#TheFoodCharlatan
so I can see it!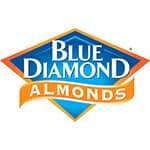 This post is sponsored by Blue Diamond Almonds. Blue Diamond Almonds understand what it takes to be the best. That's why we're proud to be an official sponsor of USA Swimming. Visit www.LaneToGreatness.com for a chance to win $5,000 to fuel your dreams of greatness (whatever they may be), get Blue Diamond Almonds coupons and recipes, and more!
You will love these recipes too!
Almond-Crusted Honey Dijon Tilapia (with Creamy Polenta) << this is definitely the way to eat tilapia.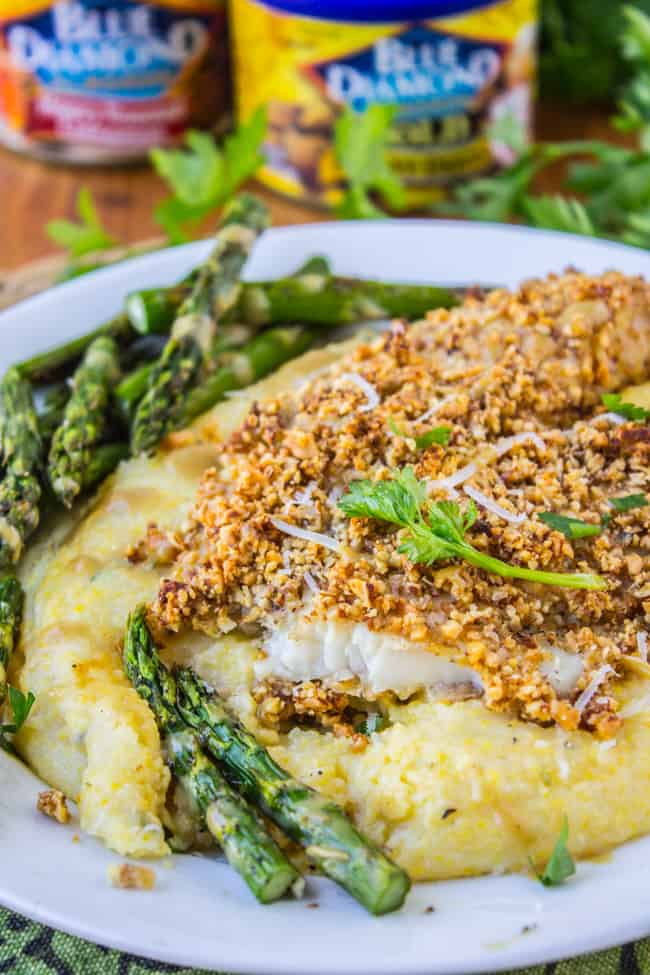 Slow Cooker Basil Chicken in Coconut Curry Sauce << this is rapidly becoming one of the most visited recipes on my blog.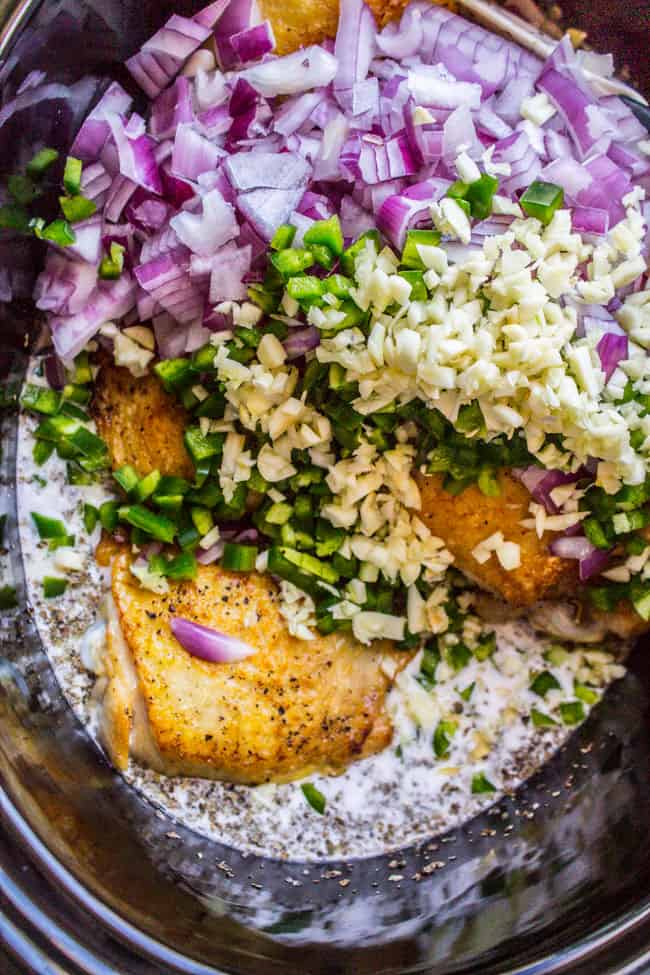 Easy Baked Pesto Chicken << this one is SO easy and super flavorful!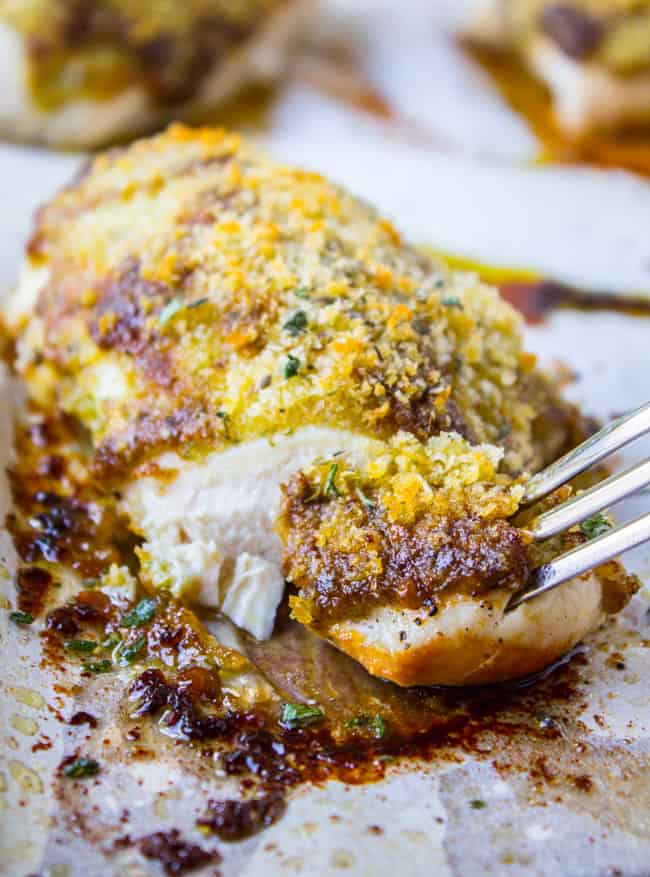 More almond-crusted goodness from other amazing food bloggers:
Sriracha Almond Crusted Pork Chops from Recipe Runner
Rosemary Almond Crusted Chicken from Tastes Lovely
Almond Crusted Chicken with Strawberry Balsamic Sauce from Cooking Classy

We are a participant in the Amazon Services LLC Associates Program, an affiliate advertising program designed to provide a means for us to earn fees by linking to Amazon.com and affiliated sites.