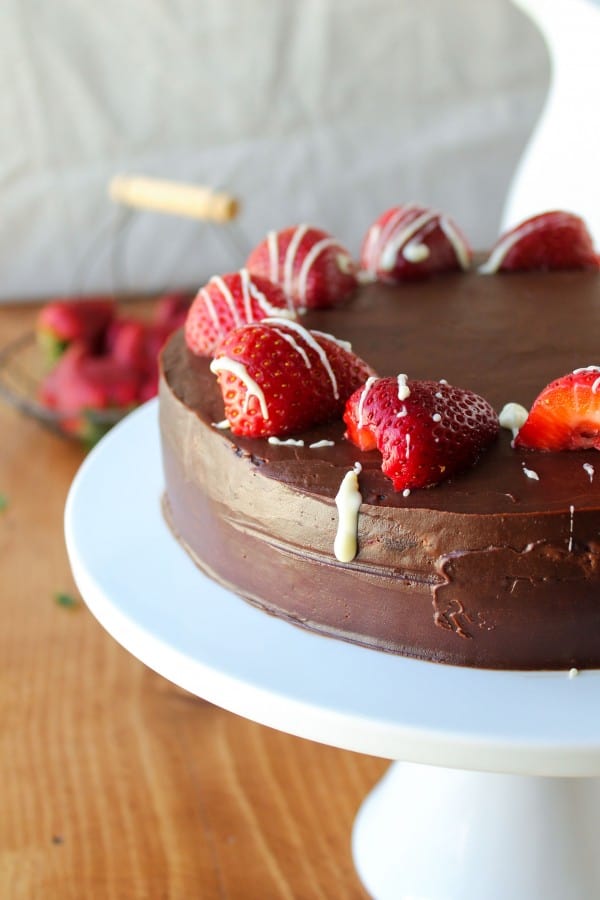 Today I opened the cabinet where the Nutella is stashed, grabbed a too-big spoonful, shoved it in my mouth, then accidentally smacked my forehead into the corner of the still-open cabinet door. HARD.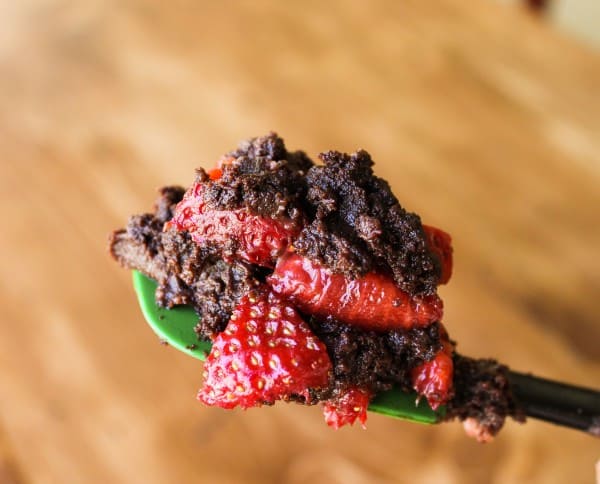 I think the welt that I have in the middle of my head is my comeuppance for being a stellar mom today. And by stellar I mean, "Get your own freaking lunch, you're 3 years old for heaven's sake, it's time you started taking some responsiBILity around here." And then I go back to my book and pretend the world doesn't exist. (Except
Instagram
. Instagram happens even in dream-land.)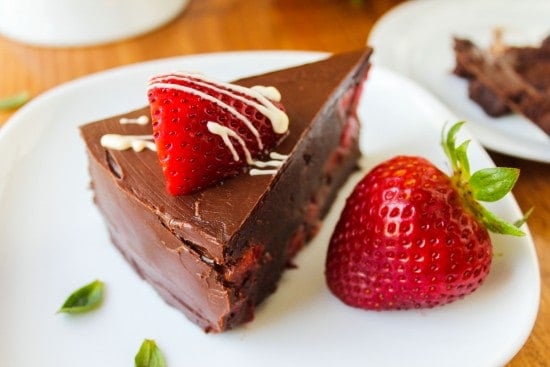 Have you guys read
The Giver
? If you skipped that one in 7th grade, you should give it a second chance. You can read it in a day if you are willing to forego all of your life duties. Not that I would know.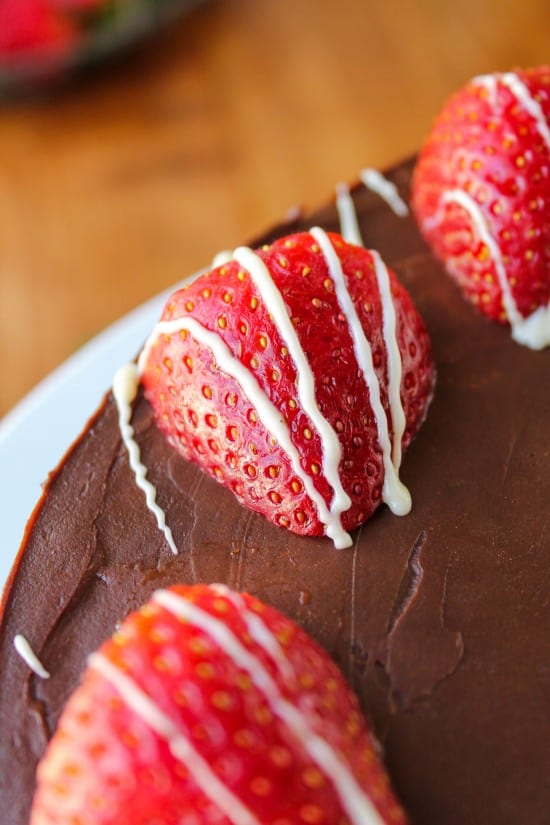 The
movie
is coming out in August. It's one of those ones that I'm apprehensive about because the book is so dear to me that I don't want my perfect imagery tainted. You know? I'm actually pretty good at blocking out lame book-renditions though. It's like Daniel Radcliffe 
never even happened
.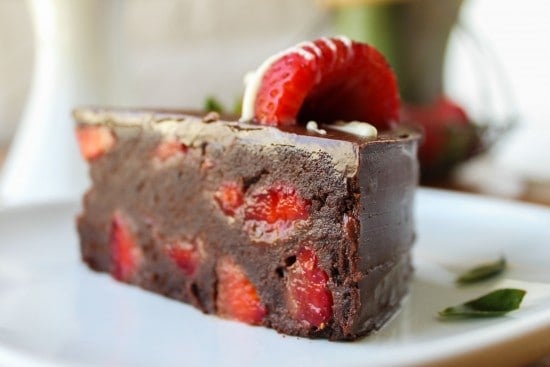 In other news,
Truman's birthday
was this weekend and my parents got him this talking light up snail toy. He loves it. The only drawback is that it's one of those super freaky toys that randomly talks when no one is playing with it. It just looked up at me from the floor 5 seconds ago and said WEEEEEEEEEEE!!!!!!! I swear it made eye contact. This is straight up Sid-from-Toy-Story-creepy.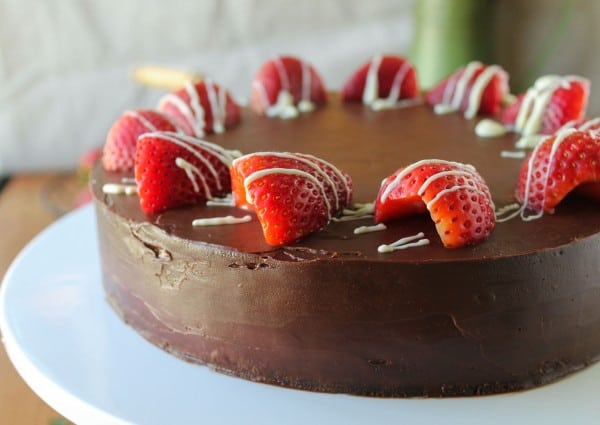 Easter is coming up, so I thought I would make you a super light dessert. Just kidding. This cake is about as rich as they come, but I still think it would be a good way to wrap up Easter dinner with your peeps. (Get it?? peeps? ho boy Karen)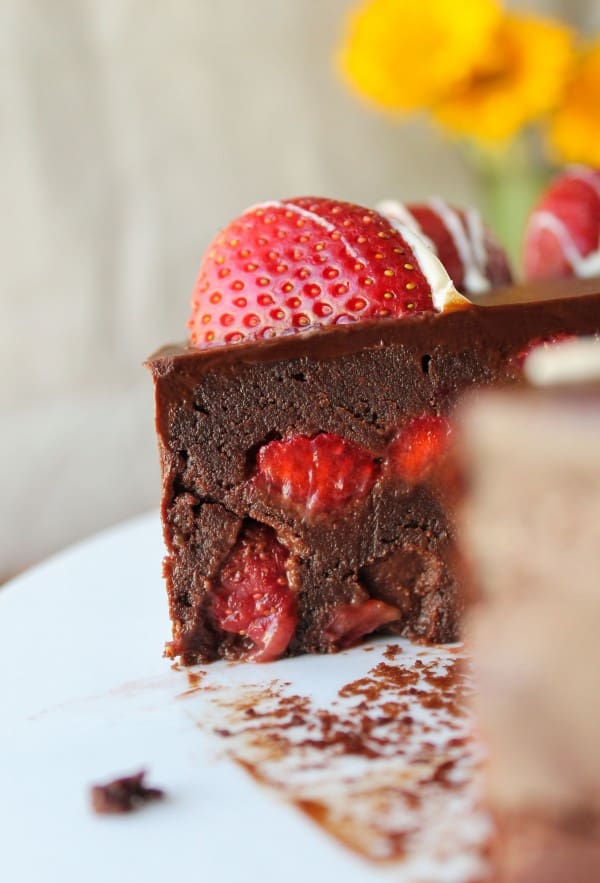 So this Strawberry Truffle Cake. It's heavenly, guys. Here's what you do: bake a chocolate cake. Smash it up with some ganache. Fold in strawberries. Cover with more ganache. It's as simple as that. It's a multi-step cake, for sure, but definitely very easy. It's great for holidays too because it can be made a few hours ahead of serving time and refrigerated.

Strawberry Truffle Cake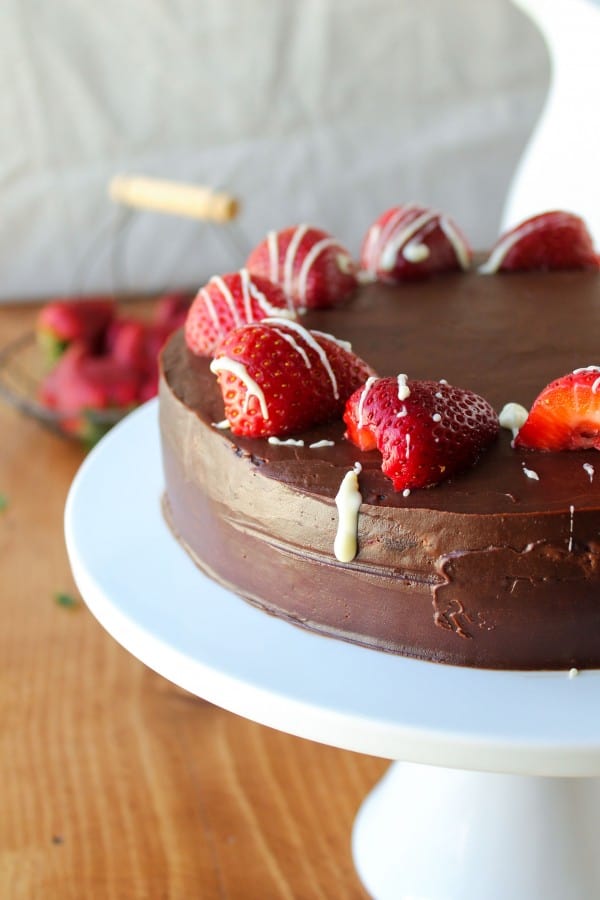 This easy but decadent Strawberry Truffle Cake is sure to impress!
Ingredients
1

box

dark chocolate cake mix

,

plus ingredients called for on the box

1/4

cup

salted butter

1 & 1/3

cups

whipping cream

1

10-oz package

bittersweet chocolate morsels

8

ounces

semi-sweet chocolate chips

3-4

cups

strawberries

,

fresh, chopped

6

strawberries

,

fresh, cut in half lengthwise

1/4

cup

white chocolate

1/2

teaspoon

vegetable oil
Instructions
Mix and bake the cake according to package directions. Bake it in a 9x13 inch pan. Let the cake cool for one hour.

Meanwhile, add the butter and cream to a small saucepan and set over medium heat. When the mixture comes to a boil, add the bittersweet and semi-sweet chocolate and turn off the heat. Let it sit for a minute or two, then stir until smooth.

Use a knife to cut the cake into 1-inch cubes, and add half the cubes to a mixing bowl. Beat on low until cake is completely crumbly.

Add 1 and 3/4 cup of the ganache to the mixing bowl. Add the remaining cake cubes, and beat until thoroughly combined.

Use a wooden spoon to fold in the chopped strawberries. Try not to eat all of it at this point.

Grab a 9-inch springform pan and line the bottom with a circle of wax paper. Pour or spoon the cake into the pan and smooth the top until it is flat.

Cover with plastic wrap and freeze for 45 minutes. Set a timer. You don't want to actually freeze it, just firm it up. If you can't frost it until later, transfer it to the fridge.

Run a plastic knife around the edge of the pan and gently release the edges of the pan. Invert the cake onto a plate or cake stand and gently remove the wax paper from the now-top.

Carefully frost the top and sides of the cake with the reserved ganache. Yes, the ganache is very thin. It helps if the cake is still very very cold, so you might want to stick it back in the freezer for a few minutes if it's been a while.

Arrange the 6 sliced strawberries on top of the cake.

In a small bowl, combine the white chocolate and oil. Microwave it until the chocolate starts to melt, the stir until smooth. Drizzle the white chocolate over the cake. I added mine to a little plastic bag and snipped a corner.
Notes
You can use any combination of semi- to bittersweet chocolate for the ganache.
You can add as many chopped strawberries as you want, too. If 4 cups looks like too much, add less.
This cake is best eaten the day its made.
Source: lightly adapted from Betty Crocker
Nutrition
Serving:
1
slice
|
Calories:
628
kcal
|
Carbohydrates:
63
g
|
Protein:
6
g
|
Fat:
42
g
|
Saturated Fat:
22
g
|
Polyunsaturated Fat:
4
g
|
Monounsaturated Fat:
13
g
|
Trans Fat:
1
g
|
Cholesterol:
72
mg
|
Sodium:
518
mg
|
Potassium:
479
mg
|
Fiber:
5
g
|
Sugar:
37
g
|
Vitamin A:
785
IU
|
Vitamin C:
37
mg
|
Calcium:
144
mg
|
Iron:
5
mg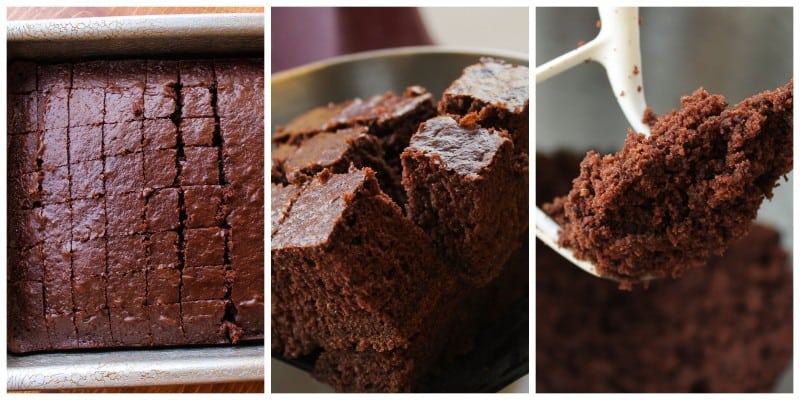 First bake your cake. Then smash it up.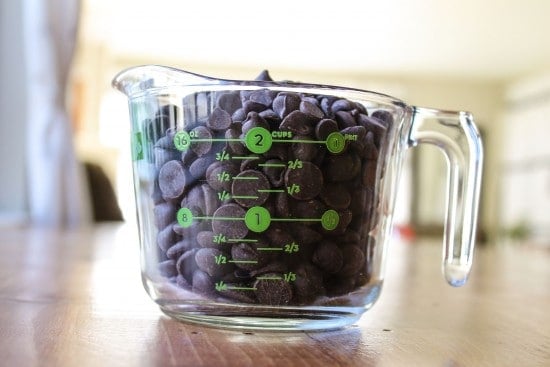 Heat up the cream and butter and pour the chocolate over when it's hot.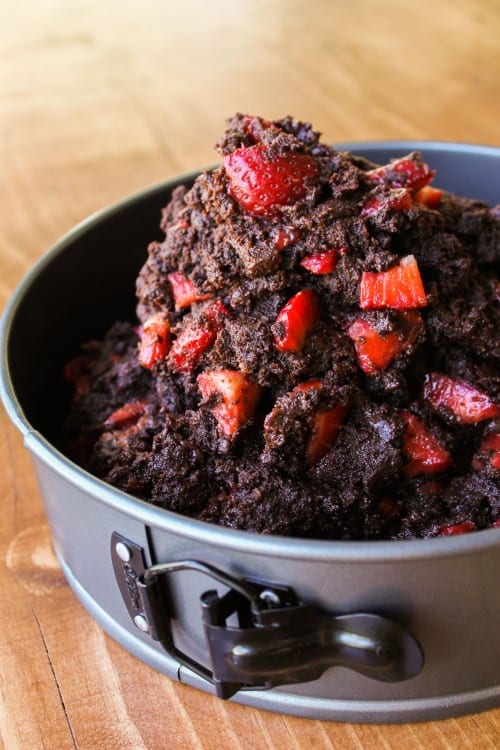 Smoosh it all into a springform pan,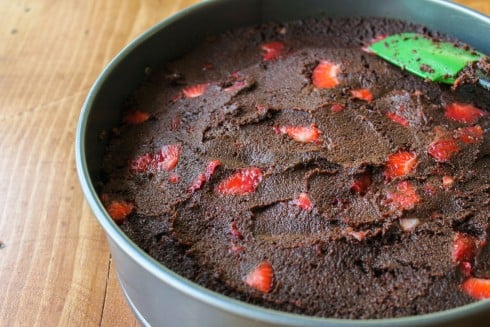 like so.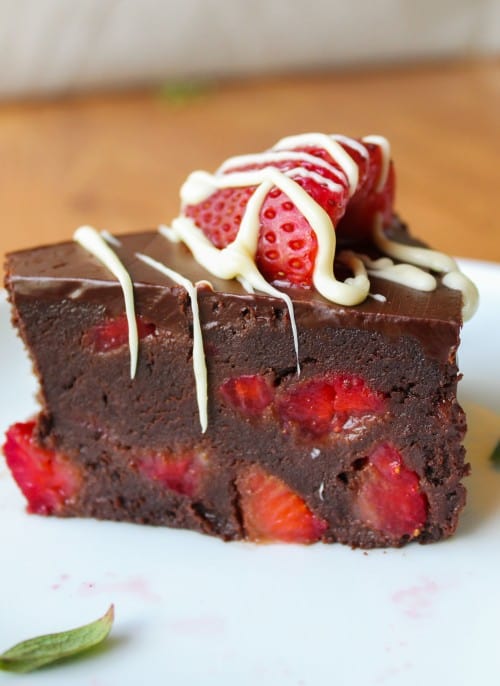 Firm it up in the freezer and there you go!