I am going all out for Halloween this year, guys. And by that I mean that I slapped some masking tape and paper plates on my front door today.
It looks better than it sounds. (Hopefully.) It's supposed to be like a monster face. The paper plates (with black circles on them) are eyes, the masking tape is a silly mouth and angry eyebrows. Get it???
Okay, so maybe I need to start shelling out some dough on post-Halloween sales this year so that it doesn't look like a homeless person decorated my house. Or a hopeless DIYer, which is what I am.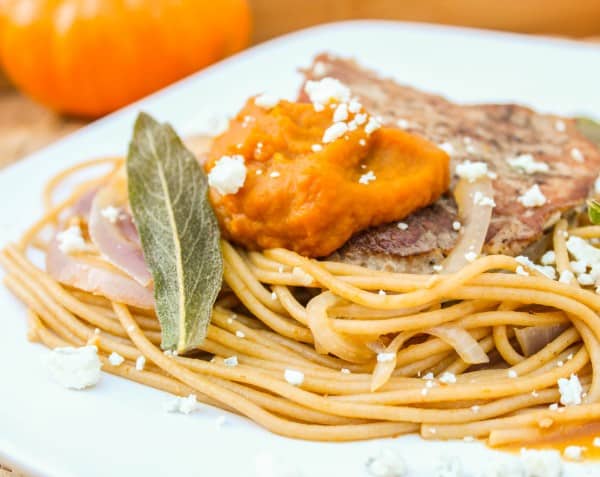 Speaking of Halloween, I just roped my husband Eric into creating me a Halloween playlist. I told him yesterday (after turning on some Christmas music…stop throwing up) that I would love Halloween just as much as Christmas if there were any decent Halloween music. I mean really, why aren't people writing songs for such an iconic holiday?? Was Michael Jackson the only celebrity with any brains?
First on our list is this song by Sufjan Stevens though. It's awesome. Also, zombies. Doesn't get any more Halloweeny than that. (The title of the song is "They Are Night Zombies!! They Are Neighbors!! They Have Come Back from the Dead!! Ahhhh!" Oh, Sufjan. How I love you.)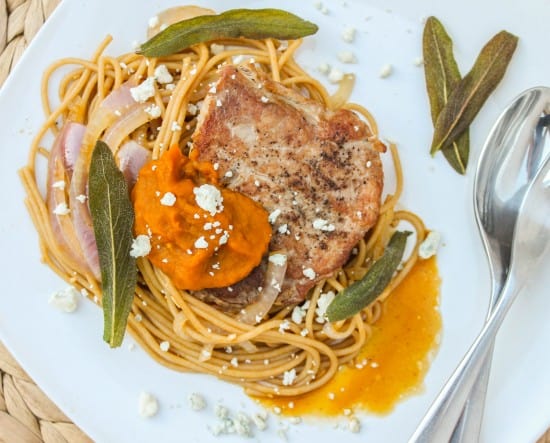 I feel like I have to make up for the lack of Halloween music in the kitchen. So here we go with the pumpkin recipes!
This pork and pumpkin dinner is really awesome. I was immediately intrigued by the flavors when I saw the ingredients, and it did not disappoint. A very different way to enjoy pork. Or pumpkin, actually. The blue cheese totally makes it, so don't skip it. Also, this took me about 45 minutes to make, including pauses to move our step-ladder approximately 17 times so Charlotte could "help me cook." So all in all, not too time-consuming.
Wait! I forgot to talk about the fried sage!!! Has anyone ever done this before? Just fry fresh sage in a tablespoon of oil until they are crispy. It was so good. I need to find other recipes to enhance with this. I'm thinking something with goat cheese…any ideas?

Sage-Fried Pork and Pumpkin Noodle Bowls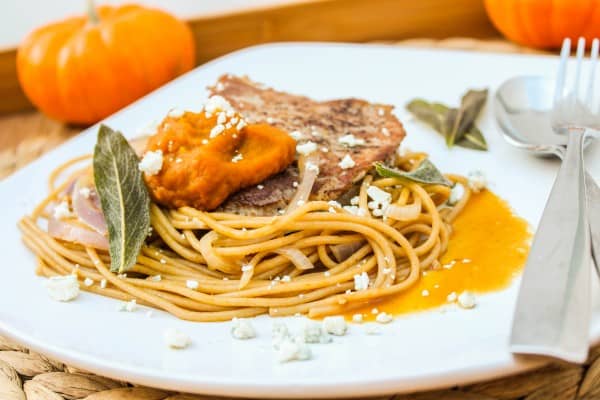 This pork and pumpkin dinner is really awesome. A very different way to enjoy pork. Or pumpkin, actually. The blue cheese totally makes i, so don't skip it.
Ingredients
1

pound

pork loin

,

cut into 1/2-inch-thick slices (I used boneless chops)

3

tablespoons

reduced-sodium soy sauce

,

divided

freshly ground black pepper

8

ounces

dried whole wheat linguine

1

small

red onion

,

cut into thin wedges

1

tablespoon

olive oil

12

fresh sage leaves

1

cup

water

1

cup

canned pumpkin

2

cloves

garlic

,

minced, or 1/2 teaspoon garlic powder

crumbled blue cheese

,

to taste
Instructions
Add 1 1/2 tablespoons of the soy sauce to a small dish. Brush pork with the soy sauce, then sprinkle generously with pepper; set aside.

Cook linguine according to package directions (should be about 9-11 minutes). While that is cooking, slice the red onion into wedges. Add the onion for the last 5 minutes of cooking. Drain and set aside. (Add a bit of oil if your other stuff isn't ready to go yet.)

Meanwhile, in an extra-large skillet heat 1 tablespoon oil over medium-high heat. When the oil shimmers, add sage leaves; cook about 1 minute or until crisp, flipping if necessary. Using a slotted spoon, remove sage leaves from skillet; drain on paper towels.

Leave the burner at medium high heat and add pork slices to the skillet. Cook about 2-3 minutes (depends a lot on the thickness of your pork) or until golden on the outside. Flip and repeat. The pork should be slightly pink inside, and juices should run clear (160 degrees F). Remove from skillet; cover and keep warm.

Add the water to the same skillet, along with 1/4 cup of the pumpkin, the remaining 1 1/2 tablespoon of soy sauce, and the garlic. Bring to boiling. Cook, uncovered, for 1 to 2 minutes or until slightly reduced. Add pasta mixture to skillet; heat through.

Divide pasta mixture among four bowls (Or return it to the pot that you cooked the pasta in, if you are serving family-style.)

Return skillet to heat; add the remaining 3/4 cup pumpkin. Heat through, then spoon over pasta. Garnish with fried sage leaves.Top pasta with pork and LOTS and LOTS of blue cheese.
Nutrition
Serving:
1
bowl
|
Calories:
432
kcal
|
Carbohydrates:
51
g
|
Protein:
34
g
|
Fat:
9
g
|
Saturated Fat:
2
g
|
Polyunsaturated Fat:
1
g
|
Monounsaturated Fat:
4
g
|
Cholesterol:
71
mg
|
Sodium:
466
mg
|
Potassium:
745
mg
|
Fiber:
4
g
|
Sugar:
5
g
|
Vitamin A:
9533
IU
|
Vitamin C:
5
mg
|
Calcium:
47
mg
|
Iron:
3
mg