Bacon Wrapped Potatoes
Tiny potatoes, wrapped in bacon, dipped in lemon aioli. Makes for the perfect game-day or holiday appetizer, or even an easy and crowd-pleasing side dish for Easter!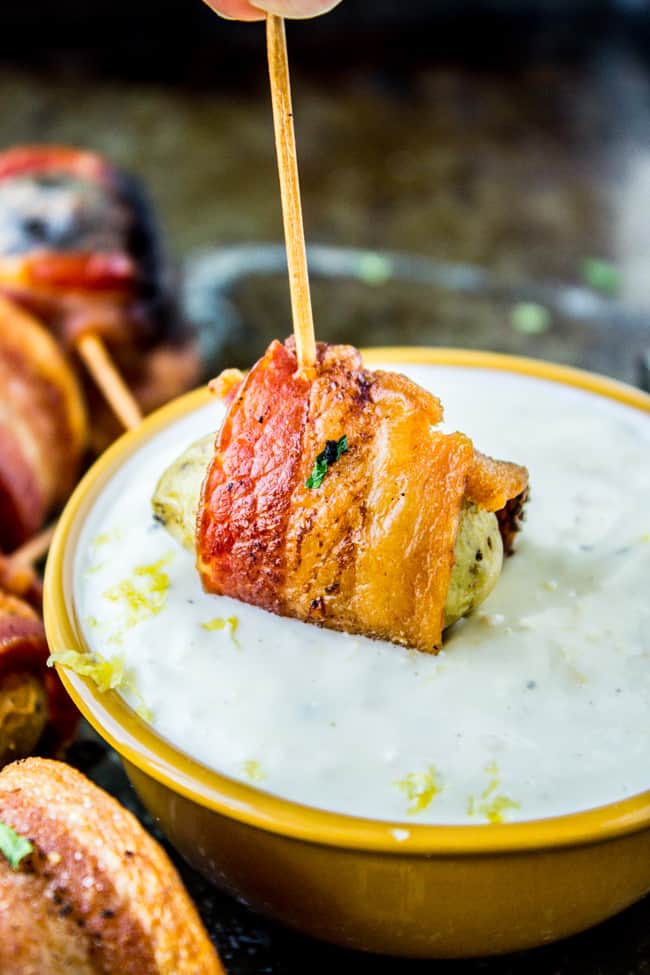 Eric just turned on a movie. Before I could even ask what he was watching, he's like, "Don't judge me." And then I hear Pee wee Herman.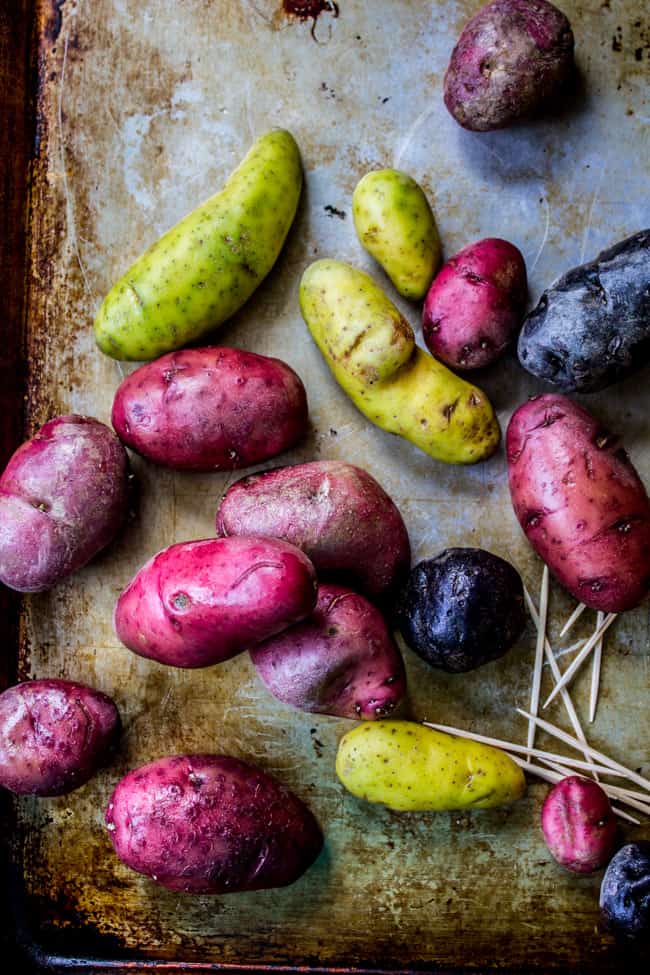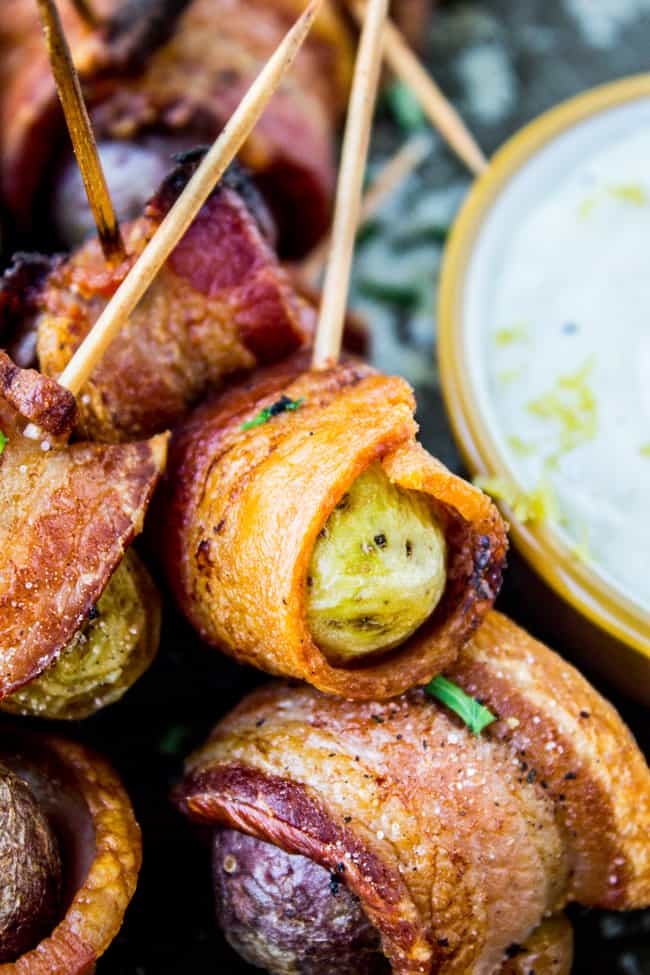 Oh I'm JUDGING, Eric. There are guilty pleasures, and then there are guilty pleasures. I once went through a phase where I watched Revenge in the middle of the night while up nursing babies, loooong after they were done eating. My sister-in-law went a year faithfully reading celebrity updates on PopSugar. A friend of mine told me that there have been low points in her life when all she needed was a can of sweetened condensed milk and a spoon. I mean, I get it. But Pee wee Herman?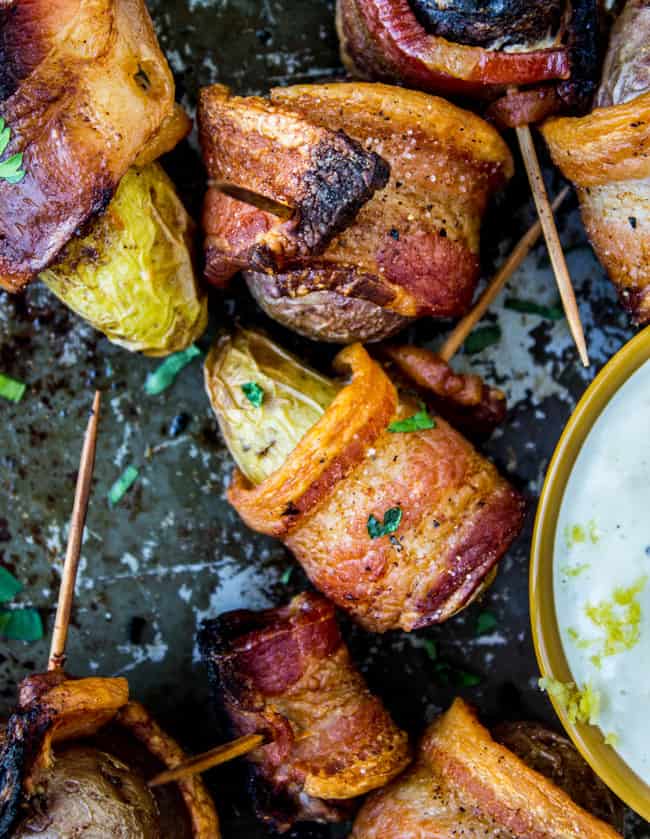 What about you? Got any guilty pleasures? Another of mine is reading YA books but ONLY for the romance. I mean we are talking Percy Jackson, Harry Potter kind of romance, tame to a T. I love romance, but only when it's fun and innocent and not just sex sex sex. But still, it's kind of embarrassing how much I know about Percy and Annabeth, two 16 year old demigods. And I will skim all seven HP books to read all the conversations between Harry and Ginny. Yeeeeah.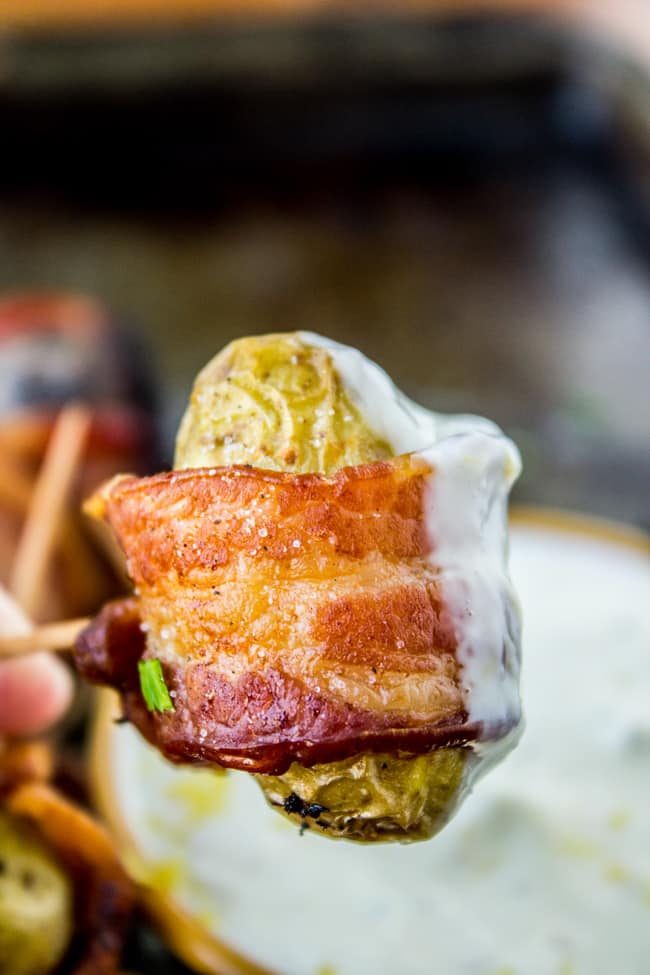 BACON however, is not a guilty pleasure. There is just no guilt going on over here. I particularly love when things are wrapped in bacon. It's just so comforting, makes me wish I had my own bacon blankie. Okay that's weird. ANYWAY, these Bacon-Wrapped Potatoes basically taste like bacon-smothered french fries, except there is no frying involved, or even potato chopping. Just wrap, skewer with a toothpick, and bake. Then dunk it in some easy and bright lemon aioli that you literally whipped up in 5 minutes, and your life just got a thousand bacon points better.
Do you guys give up? Or are you thirsty for more?
Facebook | Pinterest | Instagram | Twitter
Bacon Wrapped Potatoes
Tiny potatoes, wrapped in bacon, dipped in lemon aioli. Makes for the perfect game-day or holiday appetizer, or even an easy and crowd-pleasing side dish for Easter!
Ingredients
1 & 1/2

pounds

potatoes

,

I used fingerling

1

pound

bacon

toothpicks

salt and pepper

chopped parsley

,

optional
For the lemon aioli:
1/2

cup

mayonnaise

1

teaspoon

lemon zest

,

or more!

1

tablespoon

fresh lemon juice

1

teaspoon

Dijon mustard

1

clove

garlic

,

minced

salt and pepper

,

to taste
Instructions
Preheat your oven to 400 degrees F.

Wrap each strip of bacon around a clean potato. Trim any overlap. (Or don't, and have extra bacon-y potatoes). Secure with a toothpick. Keep going, using about a half strip of bacon per potato.

Place the wrapped potatoes on a rimmed baking sheet (no need to grease the pan.)

Bake in the preheated oven for about 30 minutes, or up to 45, depending on the size of your potatoes. Keep an eye on it. You want the potatoes to be tender (check with a fork) and the bacon to be crisp.

For the lemon aioli, in a small bowl whisk together mayonnaise, lemon zest, lemon juice, Dijon, garlic, then add salt and pepper to taste.

Salt and pepper the potatoes immediately after taking them out of the oven. Sprinkle with parsley if you want. Serve the potatoes hot with the lemon aioli.

If you are serving these as appetizers, leave the toothpicks in so that guests can pick them up. Remove the toothpicks if you're serving these as a side dish.
Nutrition
Serving:
1
potatoes
,
Calories:
246
kcal
,
Carbohydrates:
9
g
,
Protein:
12
g
,
Fat:
17
g
,
Saturated Fat:
5
g
,
Polyunsaturated Fat:
6
g
,
Monounsaturated Fat:
6
g
,
Trans Fat:
1
g
,
Cholesterol:
35
mg
,
Sodium:
617
mg
,
Potassium:
371
mg
,
Fiber:
1
g
,
Sugar:
1
g
,
Vitamin A:
18
IU
,
Vitamin C:
10
mg
,
Calcium:
11
mg
,
Iron:
1
mg
More bacon!!
Bacon Ricotta Crostini: << I'm obsessed with these, guys.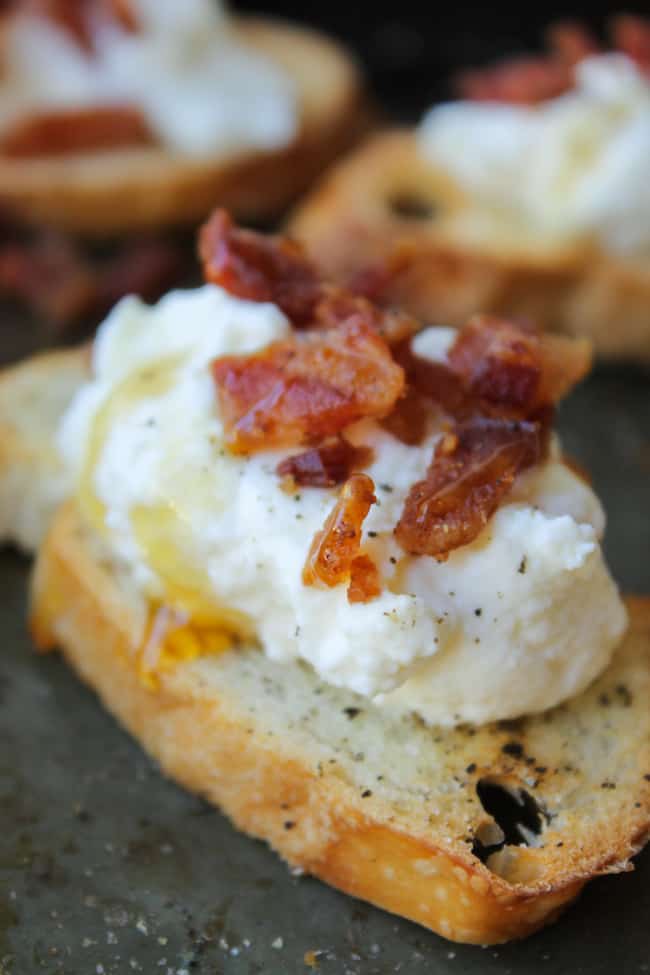 Bacon and Pepper-Jack Stuffed Crescent Rolls: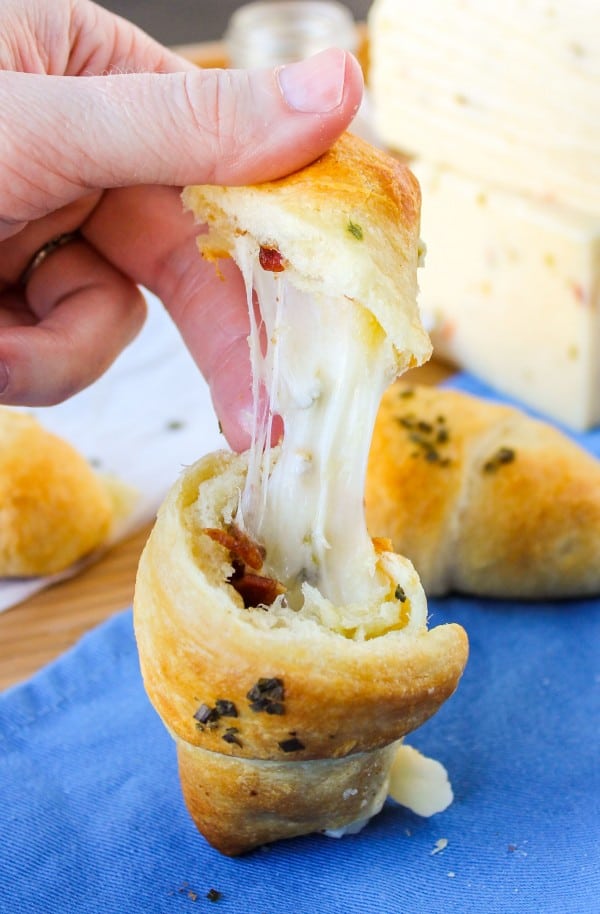 Oven-Roasted Potatoes with Bacon and Parmesan: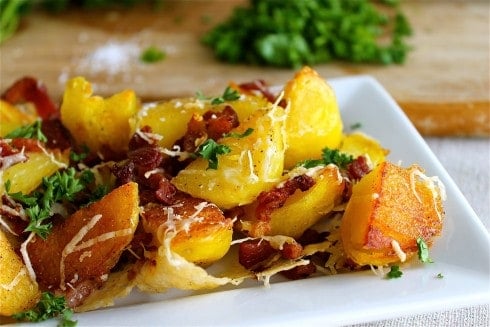 Bacon-wrapped anything, right? Here's more:
Bacon-Wrapped Avocado Fries from Kirbie's Cravings
Bacon-Wrapped Tater Tot Bombs from Damn Delicious
Bacon-Wrapped Cheesy Stuffed Jalapenos from Sally's Baking Addiction
We are a participant in the Amazon Services LLC Associates Program, an affiliate advertising program designed to provide a means for us to earn fees by linking to Amazon.com and affiliated sites.