Slow Cooker Refried Beans
These slow cooker refried beans are the easiest part of an authentic Mexican meal, with a jalapeño kick. Just toss everything in a crock pot, then strain and blend and voila! Magically delicious refried beans.
How to make slow cooker refried beans
Eric's birthday was this weekend. I decided to make him some Mexican food, because you can never go wrong with those same 10 ingredients that all Mexican food is made from. (Tortillas, meat, beans, cheese, etc.) I really don't blame them for not expanding their repertoire. Why mess with perfection? (They really missed the boat on desserts though.)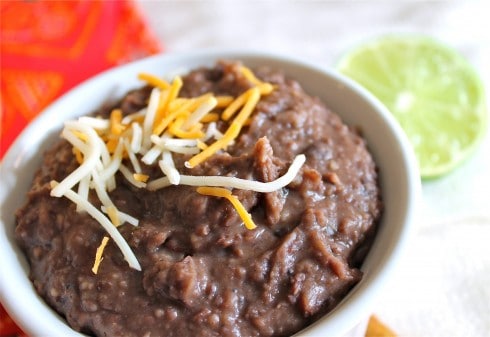 I made chicken flautas with pico de gallo and avocado cream sauce, horchata, and these beautiful refried beans.
It was heavenly. It was a bit labor intensive, but it was worth it. Everything becomes a little more complicated when you are cooking an elaborate meal but still have to nurse your baby every few hours. I learned that making horchata while nursing an infant results in a lot of rice on the floor.
These refried beans were the easiest part of the meal. You just toss everything in a crock pot, then strain and blend and voila! Magically delicious refried beans. I love that they have a bit of a kick to them from the jalapeno. Happy birthday Eric!
Originally published April 29, 2013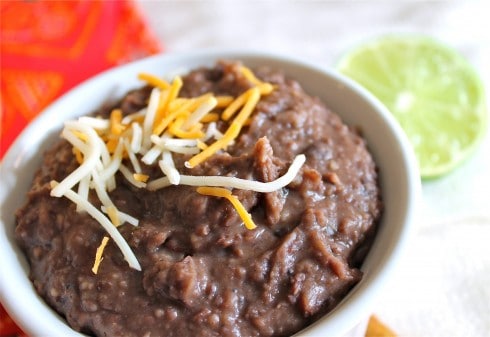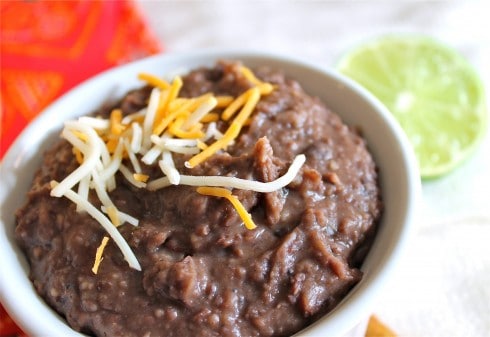 print
Did you make this recipe?
Leave a review »
Slow Cooker Refried Beans
Makes 15 servings
adjust servings
Ingredients
1

onion, peeled and quartered

3

cups dry pinto beans, rinsed (or a mix of pinto and black)

1/2

fresh jalapeno pepper, seeded and chopped

2

tablespoons minced garlic

3

teaspoons salt

1 3/4

teaspoons fresh ground black pepper

1/8

teaspoon ground cumin

9

cups water
Instructions
Place the onion, rinsed beans, jalapeno, garlic, salt, pepper, and cumin into a slow cooker. Pour in the water and stir to combine. Cook on high for 8 hours, adding more water as needed. If more than 1 cup of water has evaporated during cooking, then the temperature is too high.
Once the beans have cooked, strain them, reserving the liquid. Mash the beans with a potato masher, adding the reserved water as needed to attain desired consistency. I used an immersion blender for this step. If you don't have one, use a regular blender. Put them all in if you want it really smooth, or put a portion of the beans into the blender, then mash with the remaining whole beans. Season with additional salt to taste.
by The Food Charlatan

If you make this recipe,
share it on Instagram
 using the hashtag
#TheFoodCharlatan
so I can see it!
Source:
Allrecipes.com
We are a participant in the Amazon Services LLC Associates Program, an affiliate advertising program designed to provide a means for us to earn fees by linking to Amazon.com and affiliated sites.