Ravioli with Cherry Tomatoes and Basil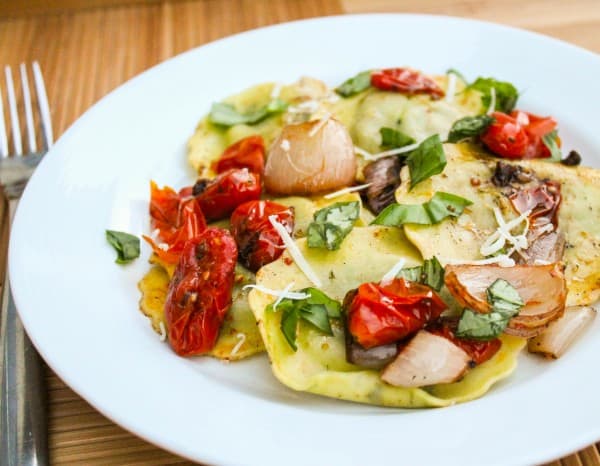 "You have a very large vocabulary, Charlotte."
(Offended) "No, YOU have a large calibary!"
DANG! Where did she get all this sass? It certainly isn't from me.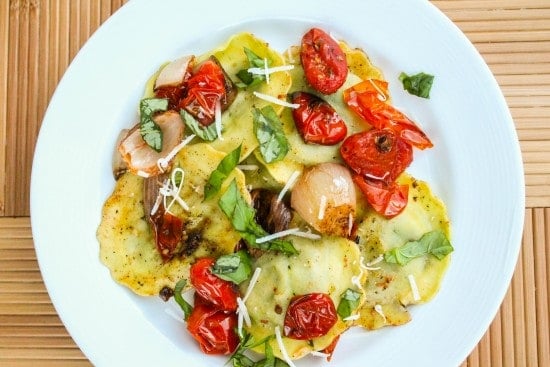 It's cold season around here. Both Eric and I have been sniffling all day. (Although Eric's stems from chronic allergies.) We've been sitting here across the room from each other, sniffing and tossing the box of tissues back and forth. After simultaneously blowing our noses, he looked over at me and said "Karen, we were made for each other." So romantic.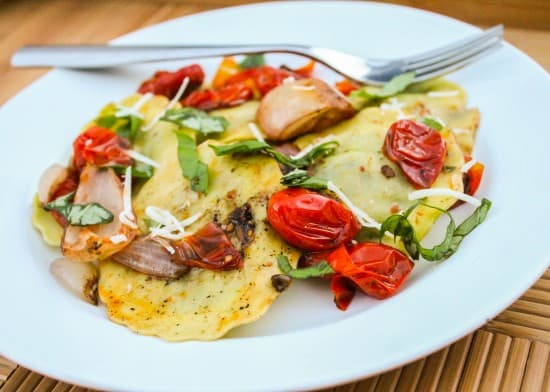 I had an old Spanish professor in college who told us that when she was learning Spanish, she took a trip to Ecuador. She got a cold and needed to buy some Kleenex at the store. They looked but couldn't find any, so they were trying to communicate with the shop owner. My professor didn't know the word for tissue; she tried paper, cloth…nothing doing. Finally she pantomimed blowing her nose, and the little Ecuadorian lady said, "Ah! Kleenex!" Of course.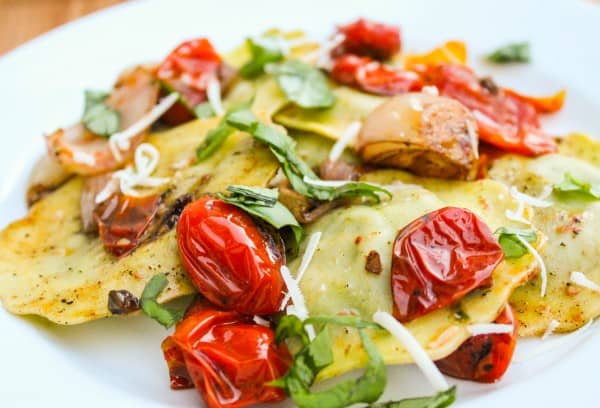 Roasted! Cherry! Tomatoes!! Life doesn't get better than that, really. This was ridiculously easy to make. It's really simple yet flavorful. It's a Cooking Light recipe. They are all about cutting calories, and they try not to sacrifice flavor, but sometimes you can't have everything. The original recipe said to cook the ravioli "omitting salt and fat." When I took a bite, I thought to myself "this needs salt and oil." Haha. True American right here. If you are healthier than me, go ahead and omit that salt and fat…otherwise follow my recipe below. It's so good!
Ravioli with Cherry Tomatoes and Basil
Roasted! Cherry! Tomatoes!! Life doesn't get better than that, really. This ravioli dish was ridiculously easy to make. It's really simple yet flavorful.
Ingredients
3

tablespoons

extra-virgin olive oil

2

tablespoons

balsamic vinegar

1/4

teaspoon

kosher salt

1/4

teaspoon

black pepper

1

pound

cherry tomatoes

2

shallots

,

cut into wedges

16

ounces

ravioli

,

I used cheese and spinach

2

tablespoons

chopped fresh basil

,

or more to taste

salt and pepper to taste

olive oil to taste

Parmesan cheese

,

to garnish, optional
Instructions
Preheat oven to 425°.

In a large bowl, combine the 3 tablespoons of olive oil with the balsamic vinegar, salt, and pepper.

Halve half of the cherry tomatoes. Add the whole and halved tomatoes to the bowl, along with the wedged shallots. Toss to coat.

Line a large jelly-roll pan with tin-foil. Arrange the cut tomatoes, whole tomatoes, and shallots on top. Drizzle with any remaining oil/vinegar. Bake at 425° for 30-35 minutes, or until tomatoes are wrinkly and soft.

Cook ravioli according to package directions. Add plenty of salt to the water, even if it doesn't call for it. You want the salt to taste like the ocean. Drain ravioli, reserving 1/4 cup cooking liquid. Add ravioli to tomatoes; toss. Add cooking liquid, if needed. Garnish with chopped basil. Add salt, pepper, and olive oil to taste.
Nutrition
Serving:
1
cup
,
Calories:
507
kcal
,
Carbohydrates:
55
g
,
Protein:
18
g
,
Fat:
24
g
,
Saturated Fat:
6
g
,
Polyunsaturated Fat:
1
g
,
Monounsaturated Fat:
8
g
,
Cholesterol:
61
mg
,
Sodium:
861
mg
,
Potassium:
303
mg
,
Fiber:
4
g
,
Sugar:
7
g
,
Vitamin A:
608
IU
,
Vitamin C:
27
mg
,
Calcium:
44
mg
,
Iron:
13
mg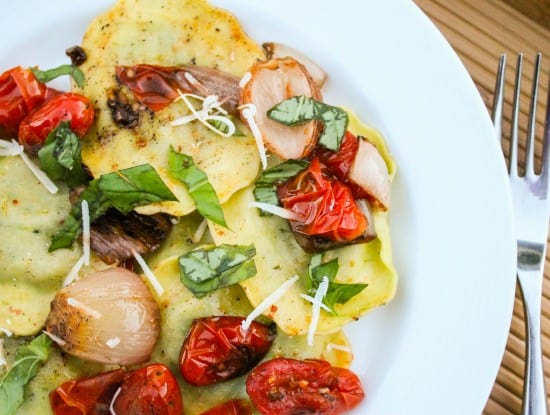 We are a participant in the Amazon Services LLC Associates Program, an affiliate advertising program designed to provide a means for us to earn fees by linking to Amazon.com and affiliated sites.