This delicious cranberry cheesecake recipe has a graham cracker crust with a delightful cranberry swirl. It's tart and sweet and just what you need for a little treat!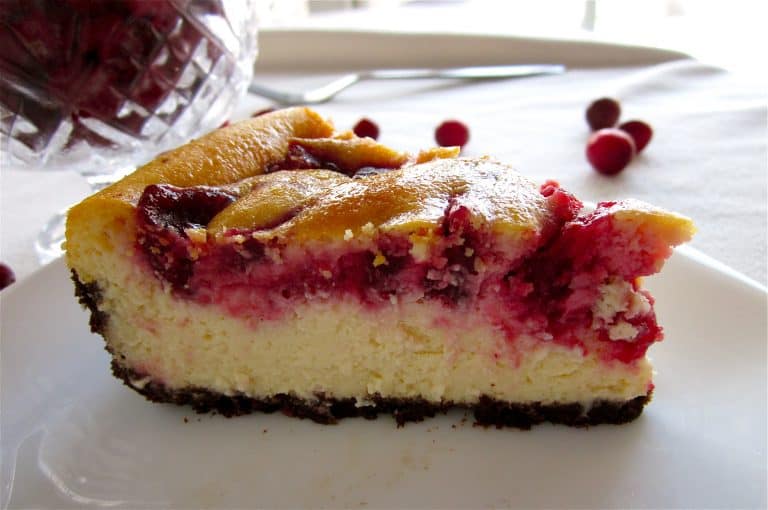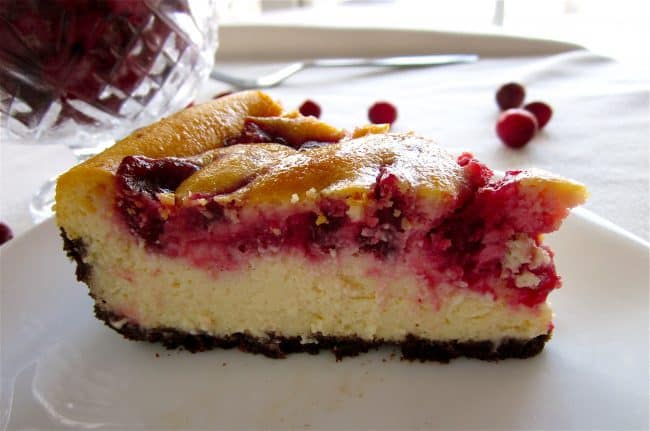 Eric and I spent the holidays with his family this year. This means 3 things. Games. Games. And more games.
Seriously. I have never met a family who plays games like Eric's family. It is intense. (My family doesn't really do games. We are usually too busy talking.) So when I went to visit Eric's family for the first time, I was kind of intimidated.
This was before Eric and I were engaged, and we were seriously thinking about getting married. Staying with someones family for a weekend is one thing, but staying with them for a weekend knowing that one day soon you might be sealed to them for eternity is another thing.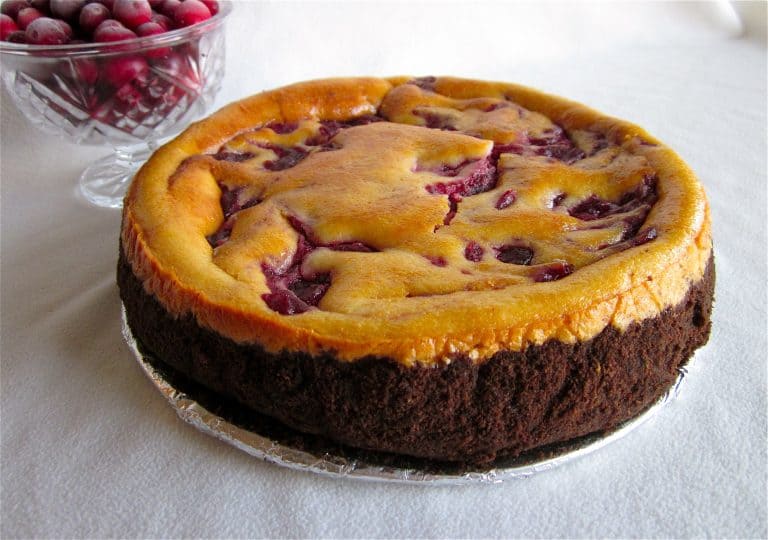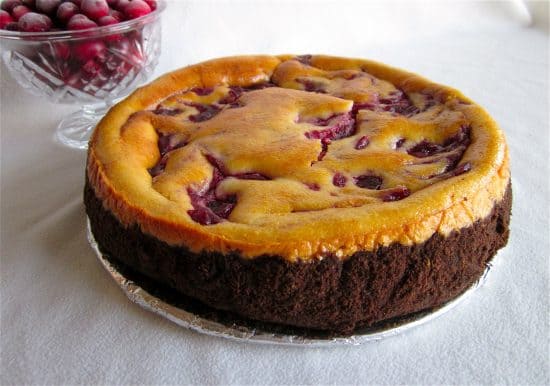 Charades. Mario Cart. Bowling. Every board game known to man. And nertz.
Never heard of nertz? Neither had I. Imagine a giant table covered with thousands of cards. Your goal is to get rid of all your cards by placing them on matching suits. This may sound simple to the uninitiated, but that is only because you don't know yet that some of them are on fire. And some of the cards disappear when you get too close. And someone is hammering you repeatedly in the brain.
This is what playing nertz feels like to me. I am horrible at it. I have been playing it long enough that I have fun with it now, but I am still usually in the negatives while everyone else has like over 200 points. I decided to remedy this situation over the summer when we last visited.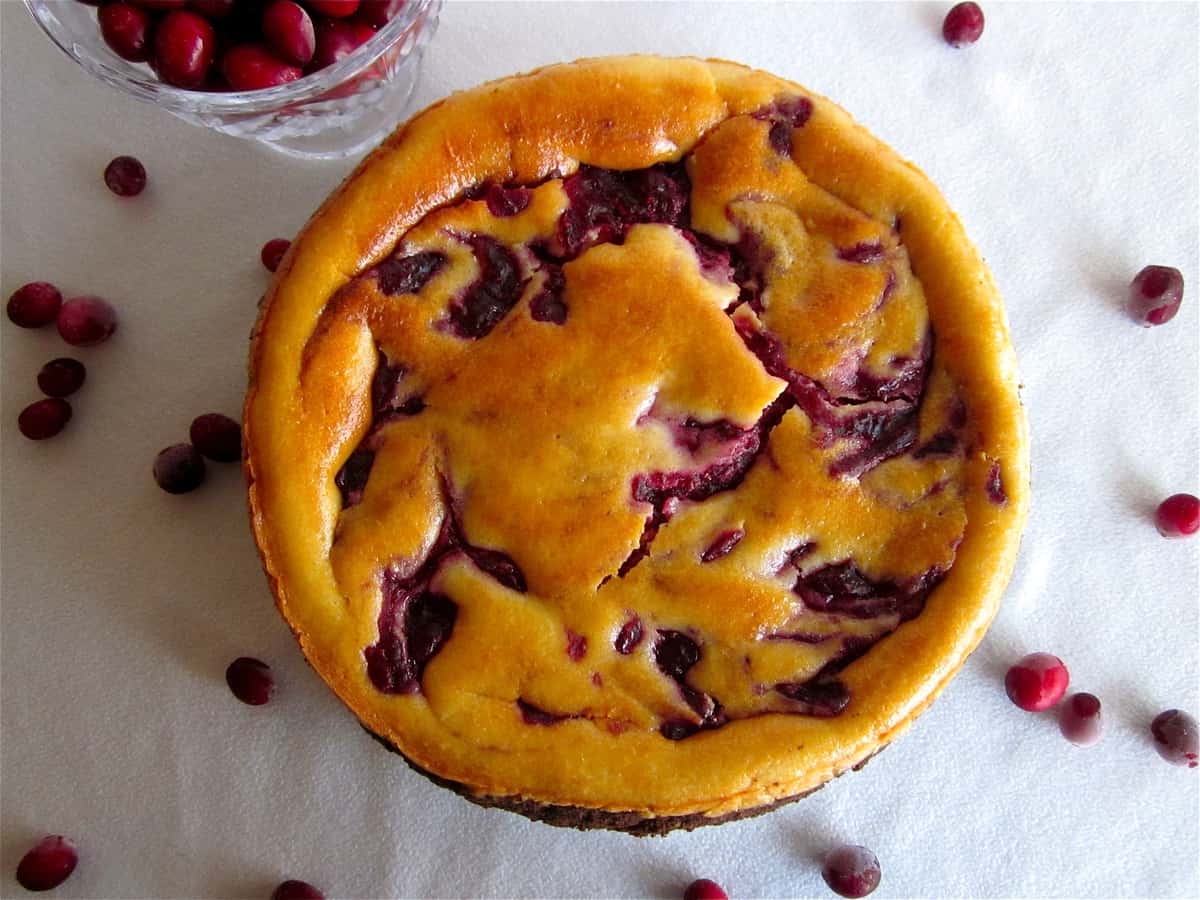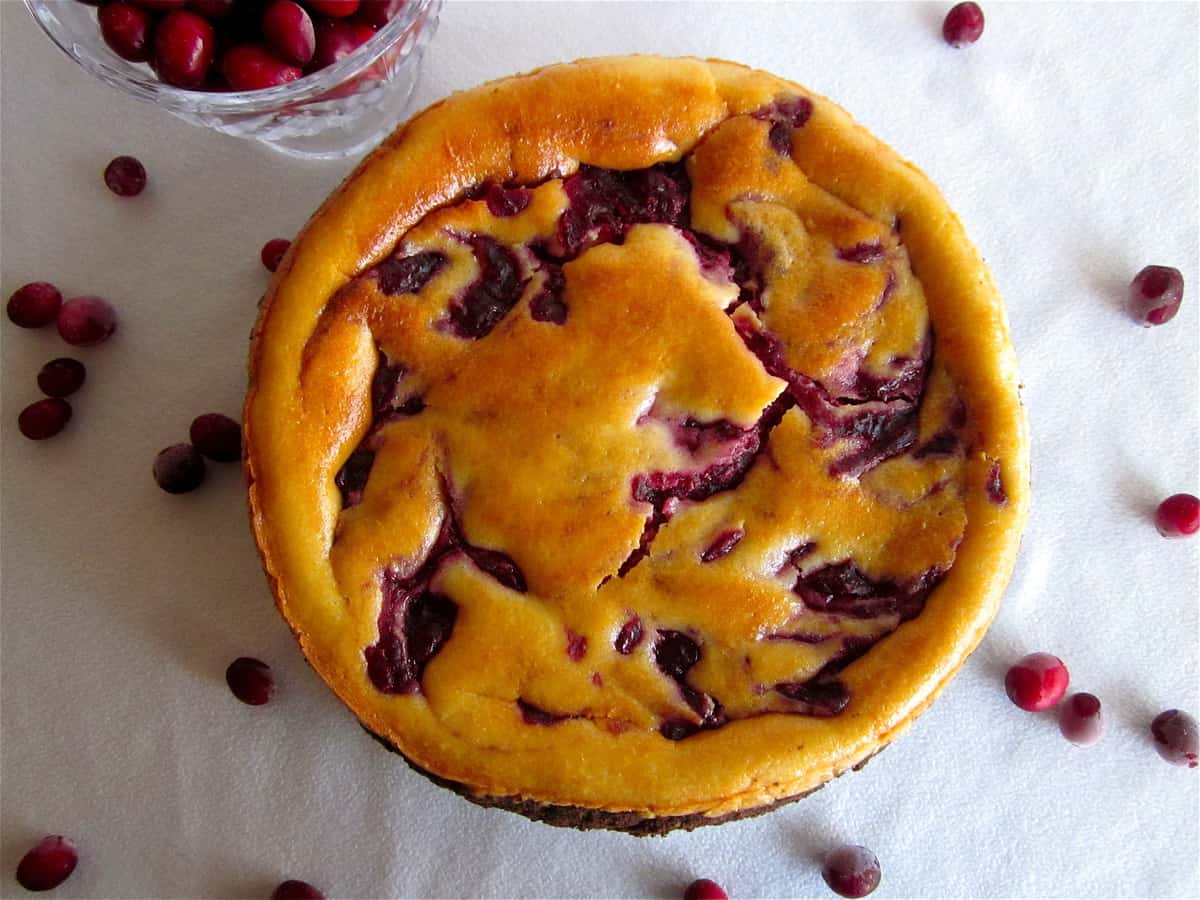 That's right people. I cheated. I cheated mercilessly. I was not even close to reporting my points accurately. It. Was. Awesome.
I know what you are doing. You are silently crossing me off your list of potential people to ever play games with. (Everyone has a list like this right?) I know you won't believe me when I say that I don't cheat at any game except nertz. That's okay. Maybe we should have a baking party instead. Then we can just eat cheesecake and forgo the hammer in the brain.

How to make Cranberry Cheesecake
Don't you just want to eat this right now? At Eric's work party they used cranberries as part of the centerpieces, and were going to throw them all away at the end of the night. I just couldn't let those cranberries meet such a dismal end. Even though Eric's coworkers probably think I am part vulture now.
This cheesecake is from Cooking Light, so it's not super heavy. Next time I make this I will probably use a regular graham cracker crust, although I do think the chocolate one looks pretty.

Cranberry Cheesecake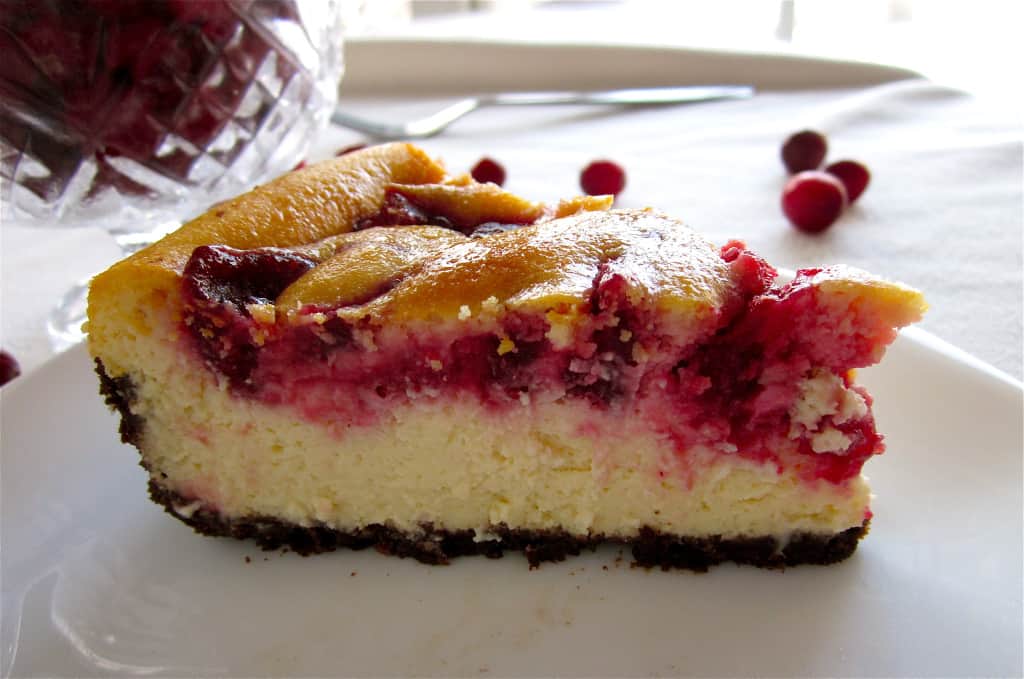 This delicious cranberry cheesecake recipe has a graham cracker crust with a delightful cranberry swirl. It's tart and sweet and just what you need for a little treat!
Ingredients
6

oz

chocolate graham crackers

4 and 1/2

tablespoons

butter

,

melted

1 and 1/2

cups

fresh cranberries

1/2

cups

sugar

1/4 cup and 3

tablespoons

cranberry raspberry juice

1

cup

sugar

20

ounces

low fat cream cheese

1

cup

plain Greek yogurt

2

teaspons

vanilla extract

1/8

teaspoon

salt

3

large eggs

2

egg whites
Instructions
Make Graham Cracker Crust
Preheat oven to 375°. Wrap outside and bottom of a 9-inch springform pan tightly with a double layer of heavy-duty foil.

Place crackers in a food processor; process until finely ground. Combine with butter. Press mixture into bottom and 1/2 inch up sides of prepared pan coated with cooking spray. Bake at 375° for 8 minutes; cool on a rack.
Make Cheesecake
Reduce oven temperature to 325°.

Place cranberries, sugar, and juice in a saucepan; boil. Cook 8 minutes or until cranberries pop and mixture is syrupy. Cool 20 minutes. Place mixture in a food processor; process 1 minute or until smooth. Add a couple tablespoons of water if the mixture seems too thick for swirling on top of the cheesecake.

Combine 1 cup sugar and cheeses in a large bowl; beat with a mixer at medium speed until smooth. Beat in yogurt, vanilla, and salt. Add whole eggs, 1 at a time, beating well after each addition.

Place 2 egg whites in a medium bowl; beat with a mixer at high speed until soft peaks form. Fold beaten egg whites into cream cheese mixture. Pour filling over crust. Spoon cranberry mixture over filling; swirl together using the tip of a knife. Place springform pan in a baking pan with a couple inches of hot water in it. (If you don't have a big enough pan you can put a pan of water on a different tray in the oven, and place the cheesecake directly on another oven tray.) Bake at 325° for 50 minutes or until center of cheesecake barely moves when pan is touched. (I had to leave mine a little longer than this so keep an eye on it.)

Turn oven off. Cool cheesecake in closed oven 30 minutes. Remove cheesecake from oven. Run a knife around outside edge. Cool on a wire rack. Cover and chill 8 hours.
Nutrition
Calories:
498
kcal
|
Carbohydrates:
65
g
|
Protein:
13
g
|
Fat:
22
g
|
Saturated Fat:
12
g
|
Polyunsaturated Fat:
1
g
|
Monounsaturated Fat:
6
g
|
Trans Fat:
1
g
|
Cholesterol:
118
mg
|
Sodium:
530
mg
|
Potassium:
276
mg
|
Fiber:
1
g
|
Sugar:
50
g
|
Vitamin A:
711
IU
|
Vitamin C:
4
mg
|
Calcium:
169
mg
|
Iron:
1
mg