These are not your average Macadamia Nut Cookies! A simple shortbread dough rolled in chopped macadamia nuts, then baked and dolloped with the best cream cheese frosting. Sprinkle some cardamom on top and these are the perfect Christmas cookies! A unique and delicious cookie for you to add to your list this year!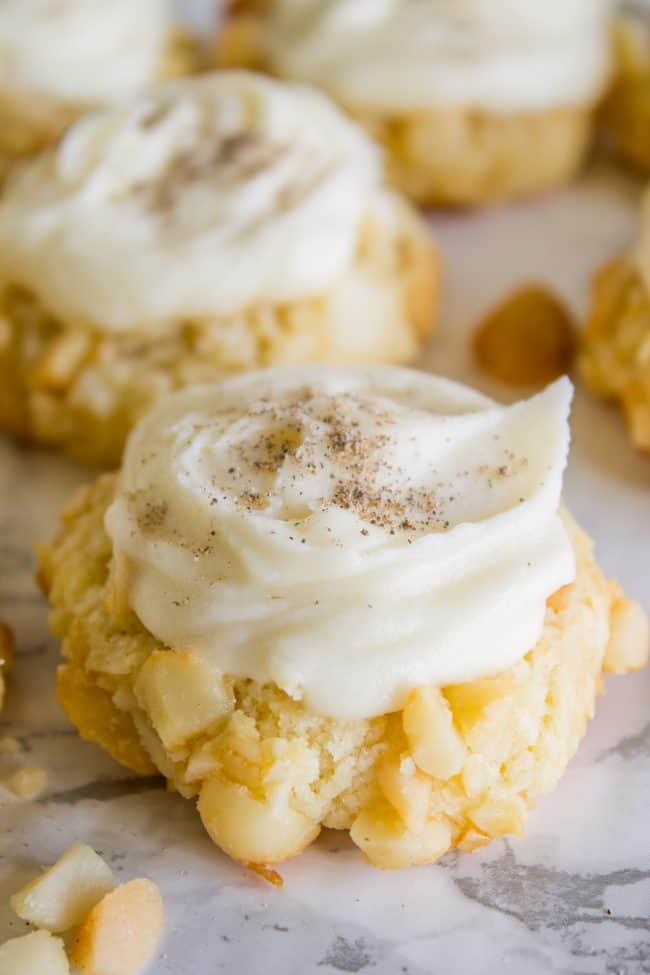 My dad and my brother have birthdays a week apart in December, so the other night we all got together for presents and cake. (This Cranberry Cake with Warm Vanilla Butter Sauce, in case you were wondering. It's one of my favorite cakes for the holiday season!)
My kids were being adorable as usual, especially 2-year-old Valentine, who steals everyone's heart within 1 second of meeting her. My brother Nathan was trying to convince me that my kids are ACTUALLY cuter than other people's kids, and he can totally be objective about it. I said no way, you are an adoring uncle, you are totally biased. (But I'll take it anyway. What parent doesn't believe their kids are cuter than all the rest?)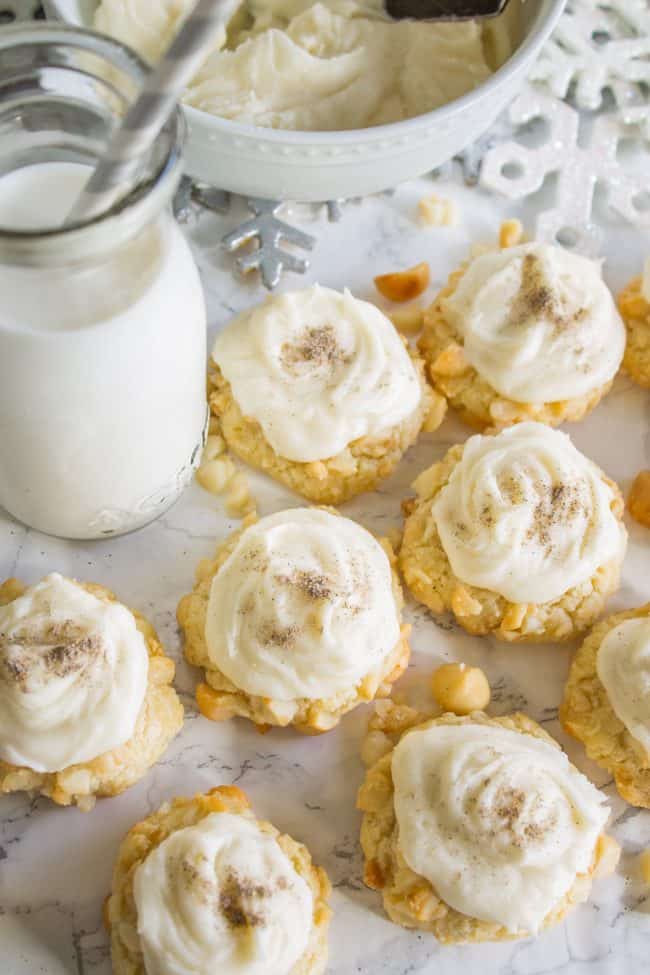 Then my dad, father of 5 children, chimed in,  "Yeah, I thought all our kids were pretty cute when they were little." Then he paused and with hesitation said, "Well, except when Karen was about 11 or 12. It was pretty bad."
THANKS A LOT, DAD. We'll see if I ever make YOU a birthday cake again!!!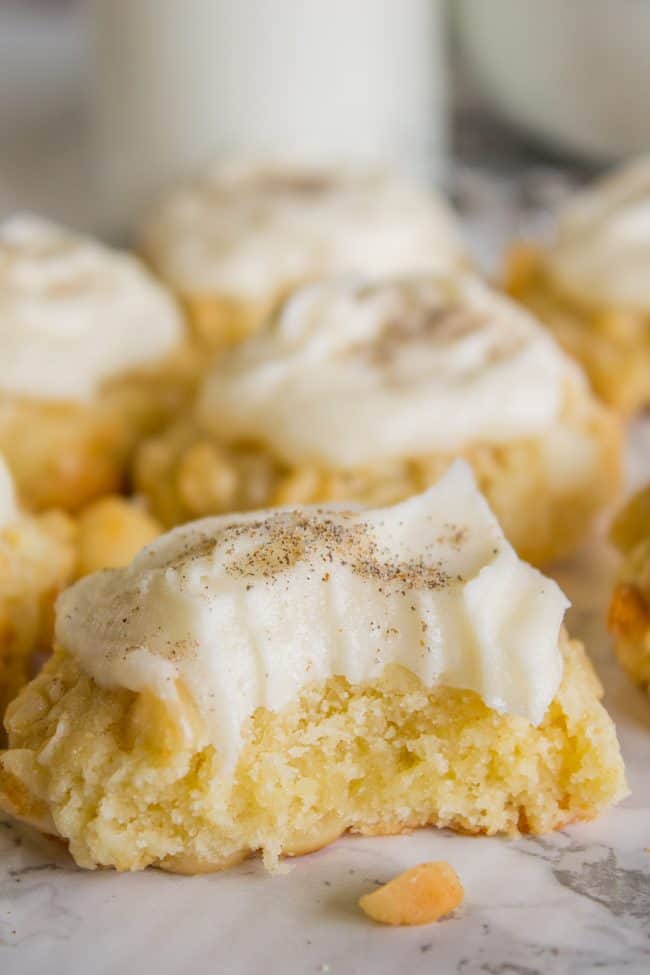 He's totally justified though, and we were laughing about it. Puberty hit me with a ton of bricks, and my mom did NOT help matters by allowing me to get a bad perm and dye my hair orange (it was supposed to be red, like Anne of Green Gables…) Braces, baby fat, oh my.
Also, my very first memories consist of adults telling me how cute I was (and also, "stop whining Karen"). So if Valentine is extra adorable now, she might have another thing coming in 8 or 9 years or so. Poor kid. I'll at least save her from the perm.
Macadamia Nut Cookies
I got a email from an old friend of mine a few weeks ago (hi Christina!!) She sent me the recipe for her favorite Christmas cookie that she makes every year, these Macadamia Cookies.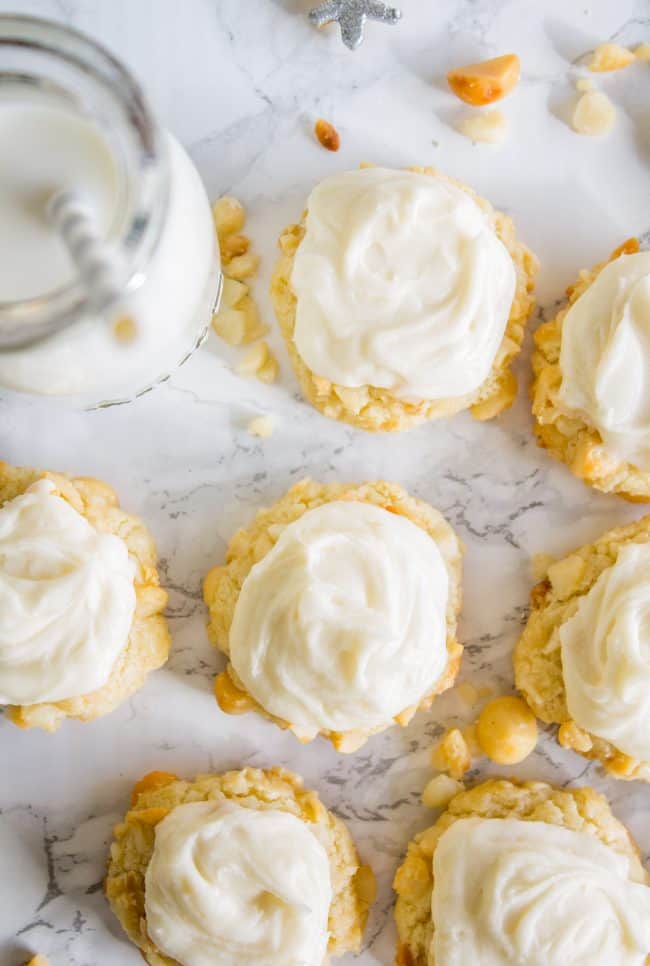 It's an old forgotten Better Homes and Gardens recipe. At least it seems forgotten, because I'd never heard of it! And Christina, who clipped the recipe from a magazine over 20 years ago, said that she lost it for a while (she lost her whole recipe binder! Tragic! I'm so glad my binder is my blog, so that it's impossible to lose. Actually sometimes I have nightmares about waking up to my blog being poof-gone and it's a terrible thought. Hopefully this internet thing isn't just a fad.)
Anyway, while she was missing her recipe binder, she said she missed this recipe the most, because it's her favorite Christmas cookie and she made them every year. She tried to recreate the recipe but couldn't get it right, and couldn't find the recipe anywhere online. She finally found the recipe binder (hurray!) and the with exact title and ingredients was able to nail down the recipe on the BHG website.
How to make macadamia nut cookies
I've made a few minor adjustments to the recipe, but nothing major. It's a really basic shortbread dough that you roll in chopped macadamia nuts, then bake. After they've cooled you spread the top with vanilla cream cheese frosting, and then, here's the kicker: you sprinkle the top of each frosted cookie with cardamom.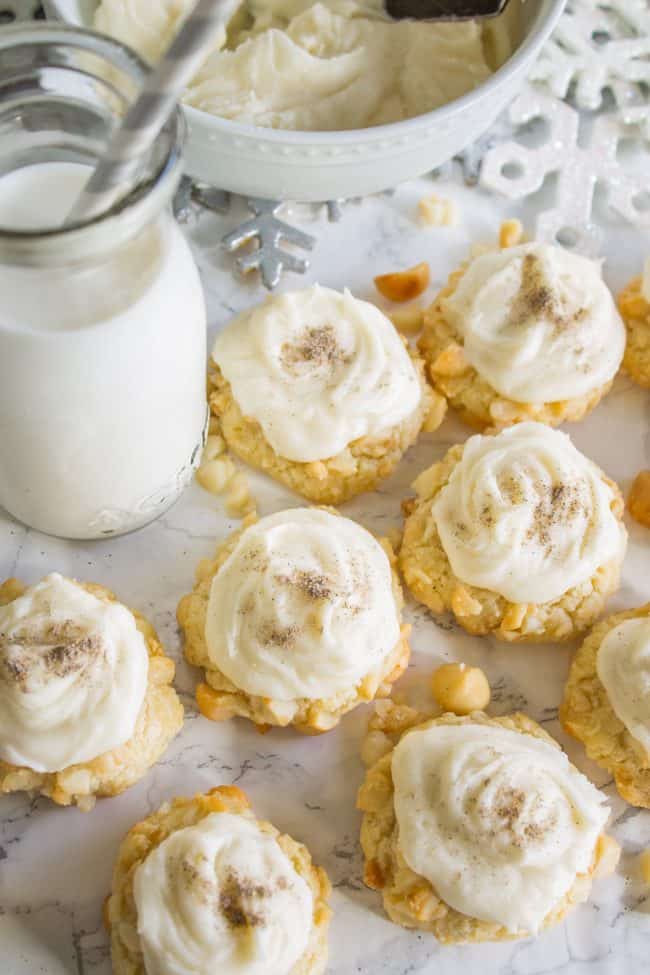 Cardamom is one of the most underrated spices in America, I swear. I'm a little obsessed with it! (One of my top 10 favorite Christmas cookies are these Crispy Swedish Cardamom Cookies. They are amazing.) The cardamom sprinkled on top of the frosting on this recipe really changes the direction of these cookies and makes them a little more exotic and festive for the holidays. If you prefer, you can mix a bit of cardamom right into the frosting while you're beating it. I think it looks kind of cool sprinkled on top though.
You can use any kind of nut that you like for this recipe. Pecans would be delicious, or walnuts. I do love macadamia nuts, but they are so pricey sometimes!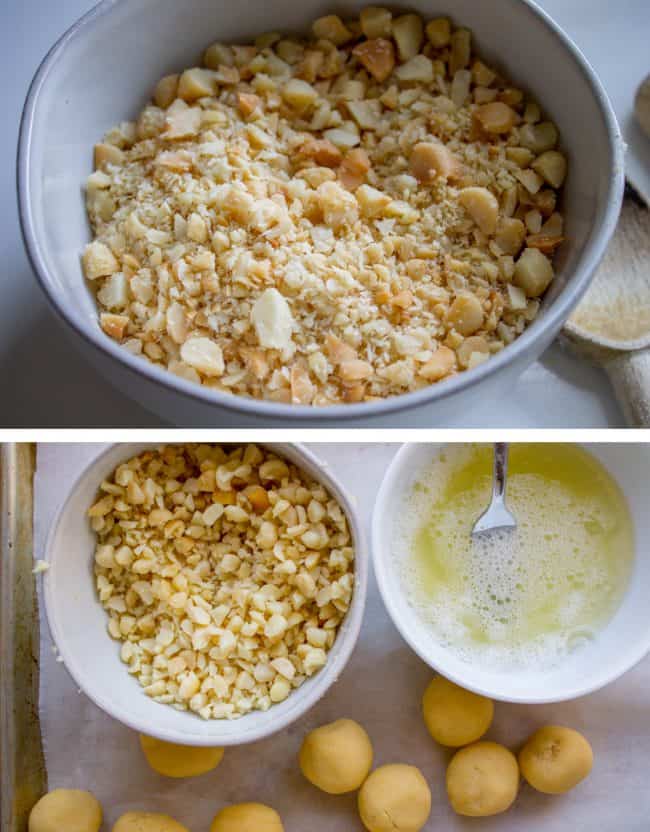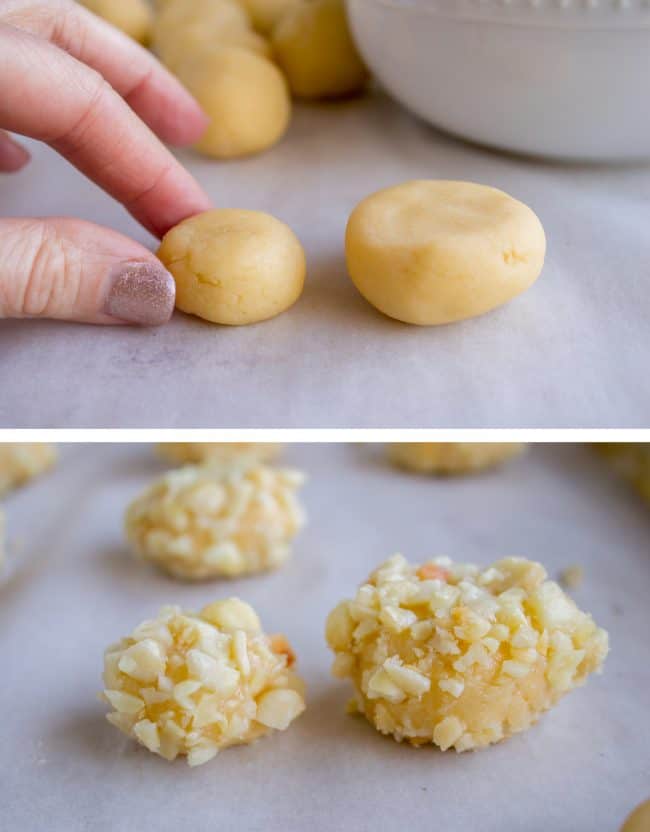 I love the way these cookies look when you roll the outside of each cookie in chopped nuts, but if you are feeling lazy, you can add the chopped nuts to the dough. Either way will work! I tested it both ways. If you mix in the nuts, there's no need to roll the dough in the egg whites.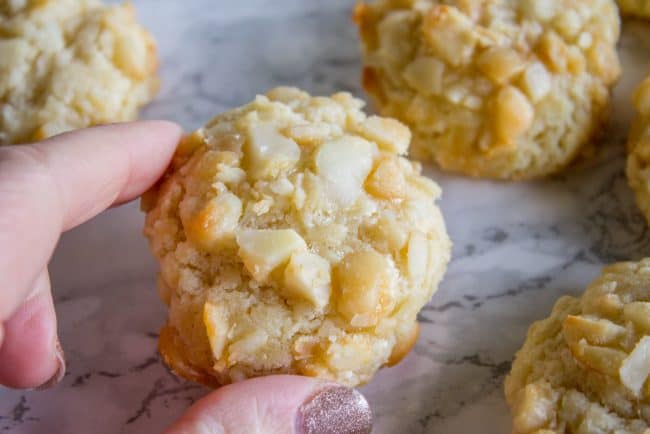 I've shown what size to make these cookies if you want little mini ones and if you want larger ones. Think of the mini ones like 2-bite-cookies, whereas the bigger ones are more of an indulgence, like eating a big ol frosted sugar cookie. Either way, I always eat way too many!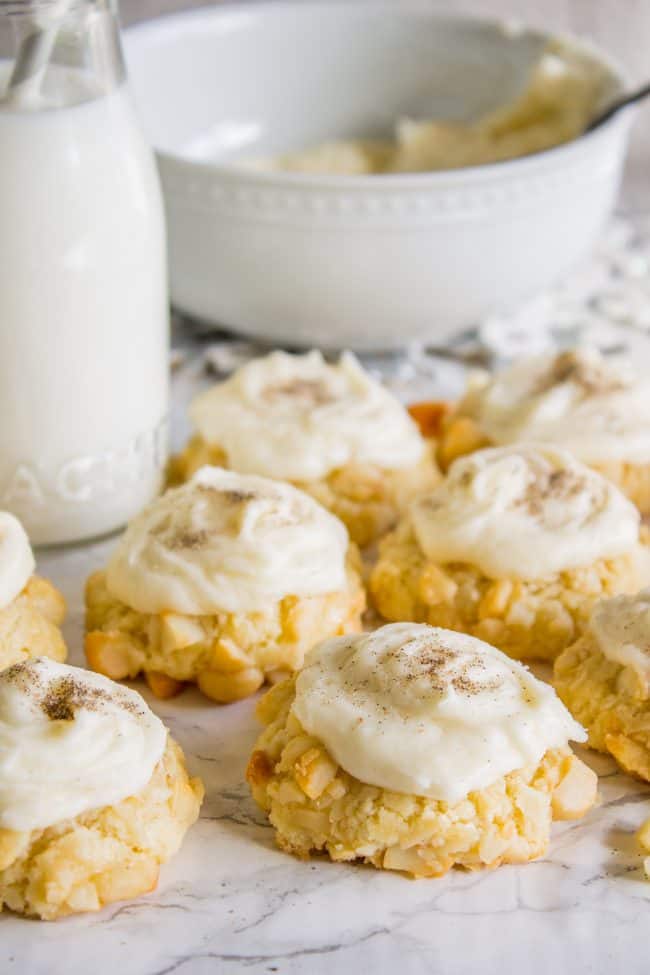 Butter Pecan Cookies << these are one of my FAVORITE Christmas cookies!
Caramel Pecan Thumbprint Cookies << these are similar to today's recipe because they are rolled in nuts. It's so good!
Nutella Stuffed Gingerbread Cookies << guys. These are so good.
Ginger Molasses Cookies << Ginger Christmas Cookies are awesome
My Mom's Fudge << Is this technically a cookies?? No. But maybe kinda it is.
The Softest Sugar Cookies of Your Life << Sugar Cookies are definitely Christmas with the right cookie cutters!
Whipped Shortbread Cookies from Greedy Eats
White Chocolate Candy Cane Cookies from Just So Tasty
Oreo Peppermint Crunch Cookies from Inside BruCrew Life
Facebook | Pinterest | Instagram

Macadamia Nut Cookies with Cream Cheese Frosting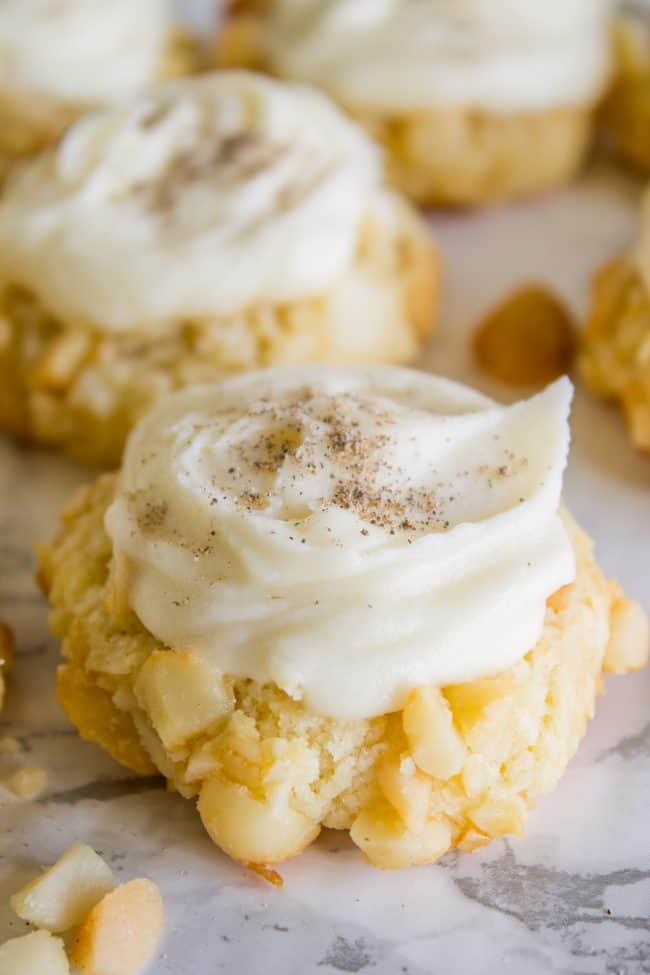 These are not your average Macadamia Nut Cookies! A simple shortbread dough rolled in chopped macadamia nuts, then baked and dolloped with the best cream cheese frosting. Sprinkle some cardamom on top and these are the perfect Christmas cookies! A unique and delicious cookie for you to add to your list this year!

Ingredients
For the dough
1

cup

butter

,

(2 sticks) softened

3/4

cup

granulated sugar

3

egg yolks

,

save the whites!

2

teaspoons

vanilla

2 & 1/4

cups

all-purpose flour

,

spooned and leveled

1/2

teaspoon

kosher salt
For rolling
3

egg whites

,

beaten with a fork til bubbly

2

cups

macadamia nuts

,

finely chopped
For the frosting
1/2

cup

1 stick butter, softened

6

ounces

cream cheese

,

softened

4

cups

powdered sugar

2

teaspoons

vanilla

1/4

teaspoon

teaspoon kosher salt

,

to taste

cardamom

,

to sprinkle on top
Instructions
In a large bowl or stand mixer, beat 1 cup of softened butter until smooth and creamy.

Add 3/4 cup sugar and beat together for 1 minute, until light and fluffy.

Divide 3 eggs. Add the 3 egg whites to a small bowl and set aside. Add the egg yolks to the butter mixture and beat well, scraping the sides and bottom of the bowl.

Add 2 teaspoons vanilla and beat.

Add 2 and 1/4 cups flour and 1/2 teaspoon kosher salt. Beat until all the white streaks of flour are gone, scraping the sides and bottom well. If you are using a hand held mixer, you might need to use a wooden spoon to get it to come together. Don't over mix the dough.

(At this point, if you would like to mix in the chopped macadamia nuts instead of rolling, add 1 and 1/2 to 2 cups of chopped nuts to the dough and mix in before chilling. When you roll the dough into balls, there is no need to use the egg whites. Just roll, flatten, and put them on the baking sheet.)

Cover the dough and refrigerate until chilled, about 1-2 hours.

When you are ready to bake, preheat the oven to 350 degrees F. Prepare several baking sheets with parchment paper or silicone baking mats. (Or you can spray the pans lightly with nonstick spray.)

Shape the chilled dough. You can either do tiny 1 inch cookies, or about double that amount (1 and 1/2 to 2 inch balls of dough) for larger cookies.*

Whichever size you make them, use your fingers to flatten each ball of cookie dough a bit. See photos. The cookies do not have any baking soda or powder in them, so they are not going to rise or spread much at all in the oven.

Use a fork to beat the 3 eggs whites that you set aside earlier. Make it nice and frothy.

Have your macadamia nuts well chopped and ready to go in a small bowl. You can use a food processor if you like them very finely chopped. I just used a sharp knife.

Dip each cookie in the egg whites and coat completely, then roll in the chopped nuts. Use your fingers to press the nuts into the dough a bit if they are not sticking well.

Place the cookies on the prepared baking sheets with at least one inch in between cookies (they don't rise or spread much).

Bake at 350 for 10 minutes if you have made 1-inch cookies, and about 13-14 minutes if you have made them larger. The edges of the cookie (and the macadamia nuts) should be light brown. They should also be brown on the bottom.

Let cool on the pan for 5 minutes, then transfer to a cooling rack and cool completely.
For the frosting
Meanwhile, make the frosting. Beat softened 1/2 cup butter and softened 6 ounces of cream cheese in a large bowl until creamy, scraping the sides.

Add 2 cups of powdered sugar, 2 teaspoons vanilla, and 1/4 or 1/2 teaspoon kosher salt. Beat well. Add the remaining 2 cups of powdered sugar and beat. If the frosting is too thick for your liking, you can thin it with milk, add 1-2 teaspoons at a time.

When the cookies are completely cool, frost the top of each cookie generously with the cream cheese frosting.

When all the cookies are frosted, sprinkle with cardamom. I just pinched my finger into the jar.

These are best served on the first day. If you are waiting a day to serve them, I would frost and sprinkle just before serving.

You can freeze the dough! I have some in my freezer right now: shaped, dipped in egg, and rolled in nuts. I put them in a ziplock in the freezer and plan to bake them later this month. Add 2-4 minutes to the bake time. I would bake them within 3-4 weeks if you freeze.
Notes
*If you make 1 inch balls of dough, you will get about 60 cookies. If you make 1 and 1/2 to 2 inch balls of dough, you will get about 30 cookies.
This recipe is from
Better Homes and Gardens
! I made a few minor adjustments (added salt, more frosting!) but it's pretty true to the original.
Nutrition
Calories:
289
kcal
|
Carbohydrates:
30
g
|
Protein:
3
g
|
Fat:
18
g
|
Saturated Fat:
8
g
|
Polyunsaturated Fat:
1
g
|
Monounsaturated Fat:
8
g
|
Trans Fat:
1
g
|
Cholesterol:
49
mg
|
Sodium:
145
mg
|
Potassium:
61
mg
|
Fiber:
1
g
|
Sugar:
21
g
|
Vitamin A:
384
IU
|
Vitamin C:
1
mg
|
Calcium:
20
mg
|
Iron:
1
mg