How to Grill Leeks and Why You Should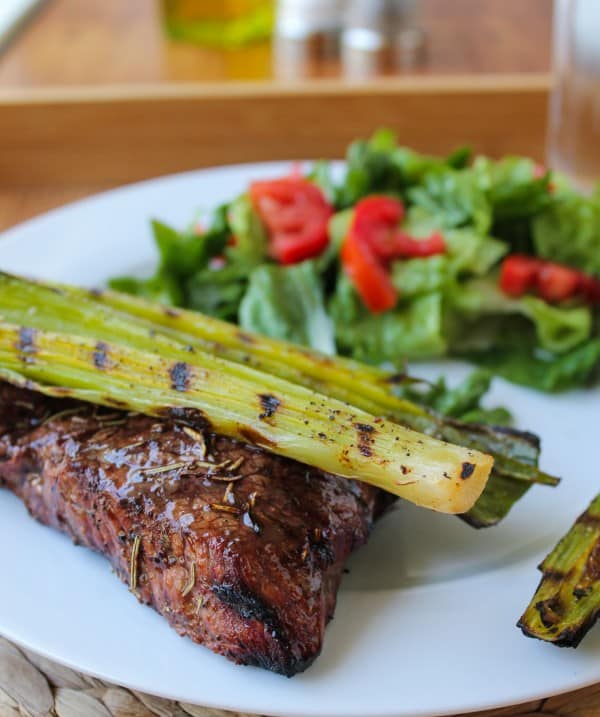 As I type this, Eric is watching a very gothic, silent, black-and-white film version of Snow White, set in Spain. The dwarves are all bull-fighters, and they train Snow White to be a full-fledged matador.
I have to say that it is way more hardcore than the sighing-damsel Disney version. Still pretty creepy though I'm not gonna lie. It's a good thing Eric and I agree on the chocolate peanut butter milkshakes we've been addicted to lately. Because I don't think he's going to be converted to rom-coms anytime soon. Only artsy foreign films will do. Gosh I'm so boringly mainstream.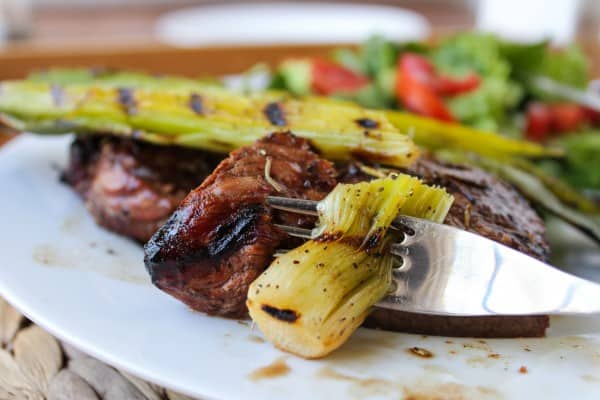 Well I know what you're thinking. It's about time the Food Charlatan put up a Leek-Grilling tutorial! I've been waiting.
Okaaay so maybe not.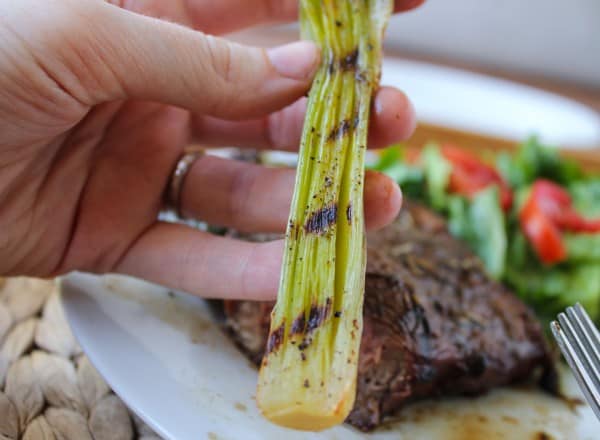 Have you ever even had a leek? Allow me to convert you to leek-loving ways. Leeks are cheap. I bought 4 at the farmers market for $2.50. Leeks are healthy. I mean just look at all that green fibrous-ness. Vegan, paleo, low-fat…the works. Leeks are easy to grill or pan-fry. I'll show you! And last but not least, leeks are freakishly delicious. They are related to the onion and have a similar sweet taste. We all know how delicious grilled onions are, so don't be shy now.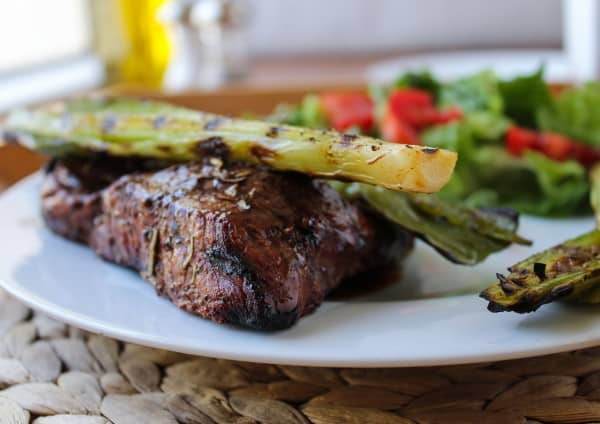 I particularly like grilled leeks paired with a nice steak, as pictured here. I didn't include the recipe for the steak but you can find it here. I can't put up a recipe for steak until I can actually cook one without burning it to a crisp or singeing my eyebrows. (We just got a grill for the first time ever, can you tell??)
The tutorial is below. Please tell me if you make this! I want to have leek-bonding conversations with you! If you already love leeks, tell me how you use them!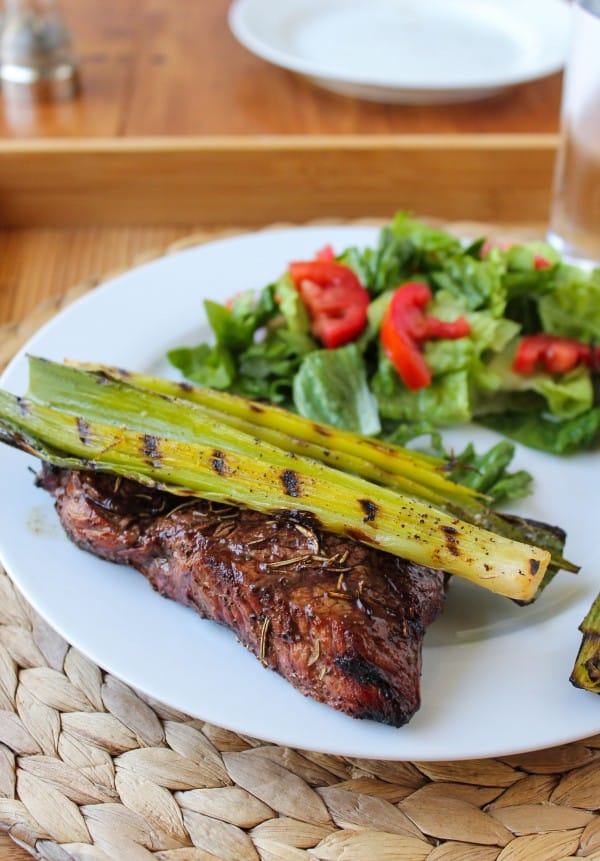 P.S. For those wondering, Eric and I have decided to spend the 4th of July in San Francisco to celebrate our anniversary. Thanks for all the heads-ups about Yosemite being crowded! If you've been to SF and loved something in particular, let me know! I'm pretty familiar with the city having grown up  nearby, but I certainly haven't tried everything.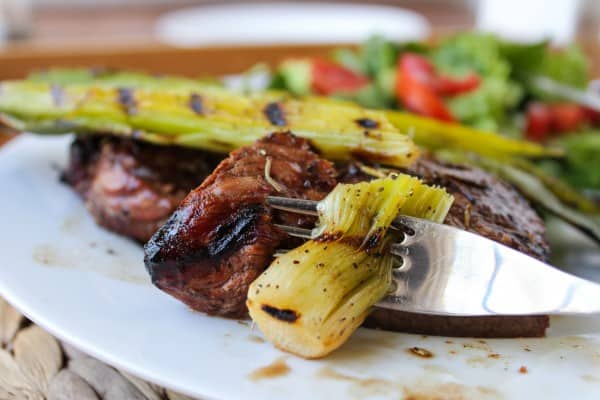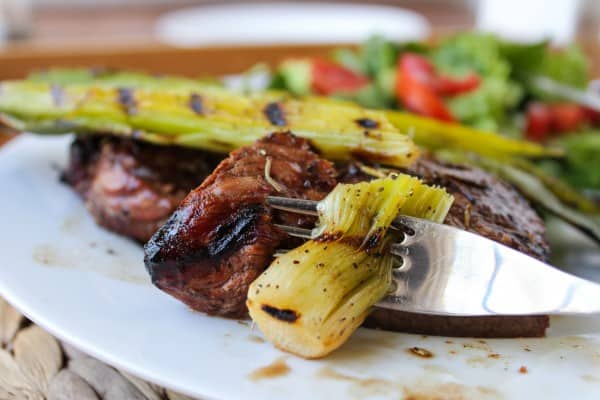 print
Did you make this recipe?
Leave a review »
How to Grill Leeks
Ingredients
fresh leeks

olive oil

salt and pepper
Instructions
Bring a large pot of water to a boil. (about 3-4 inches of water)
Begin by chopping off the upper portion of the leek. Keep the white and pale green portion at the bottom. If in doubt, chop high. You can always peel or cut off tough layers later on.
Next chop off the roots. Get as close to them as you can.
Peel off the tough outer layers.
Chop the leek down the center, but leave the root end intact (see photos).
Wash the leek thoroughly, carefully peeling back the layers to clean the inside.
Boil the leek in the pot for 4 minutes. Remove to a towel and let cool. When cool enough to handle, finish cutting them in half. (Chop the root end that you kept intact earlier)
Preheat your grill to medium-high heat.
Transfer the leeks to a plate or platter and drizzle with olive oil. Sprinkle with salt and freshly cracked pepper.
When your grill is hot, add the halved leeks. If you didn't use much olive oil on the leeks, be sure to brush the grill with oil.
Grill over medium-high heat for 2 minutes, then flip and grill for another 2 minutes.
Serve with steak, chicken, fish, or pretty much anything that can be grilled.
by The Food Charlatan

If you make this recipe,
share it on Instagram
 using the hashtag
#TheFoodCharlatan
so I can see it!
Source: Rachael Ray. I also found this brief leek video helpful. The steak I made is on that same Rachael Ray page.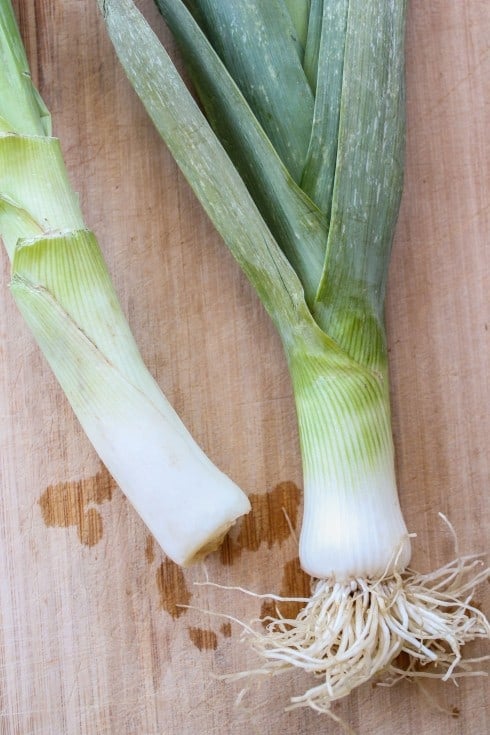 Choose leeks that have their roots intact, if possible. This will keep them fresher much longer. The one pictured on the left had had it's roots chopped off, and the leaves were noticeably limper.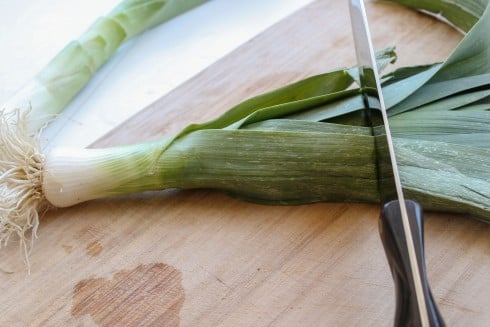 Chop off the top portion of the leeks. The inside layers should stop looking tender at some point–chop there.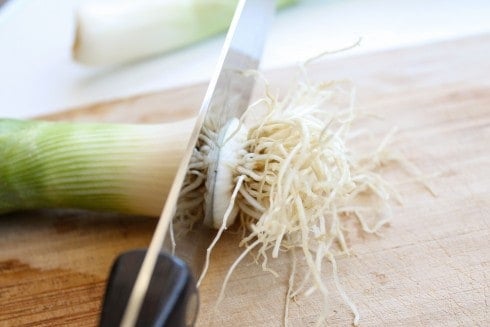 Chop off the roots, as close to the root as you can.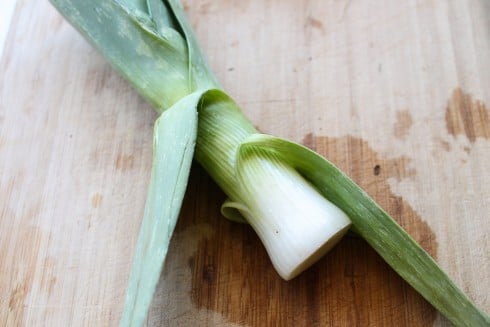 Peel off the tough outer layers, as many as you need to so that all you have left are tender leaves.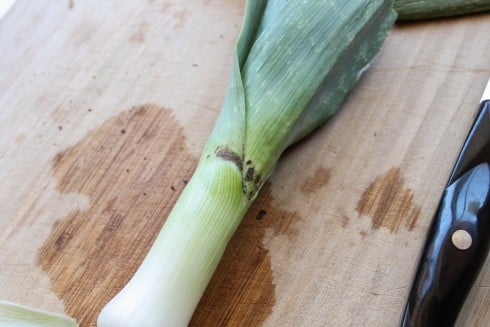 This is just after I peeled off the outer layers. Look how dirty it is!   Ewww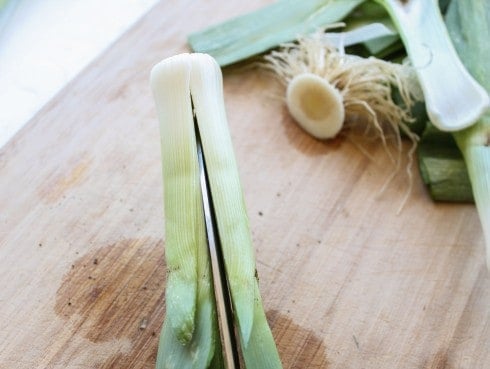 Chop the leek almost in half, keep the root intact.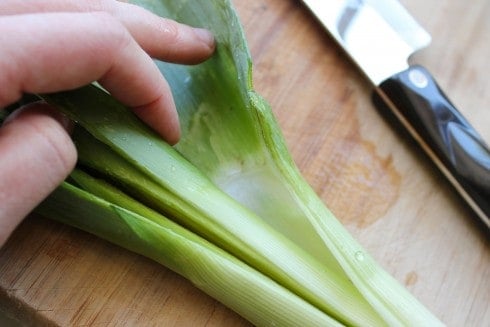 Peel back the layers like this and wash them under running water.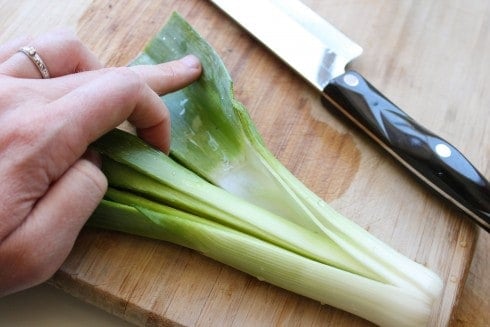 This picture is completely unnecessary. I kinda just wanted to flip you off. KIDDING!! Wash all those layers now!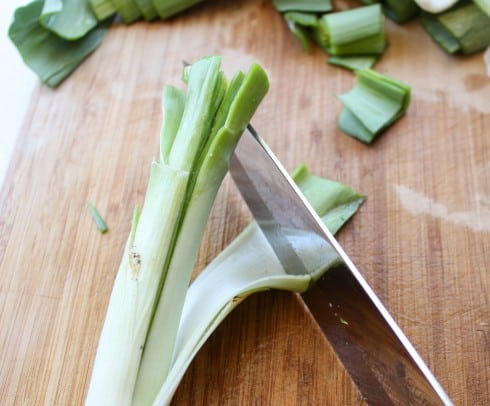 If there are any outer layers where the bottom looks good but the top looks tough, cut them off like this.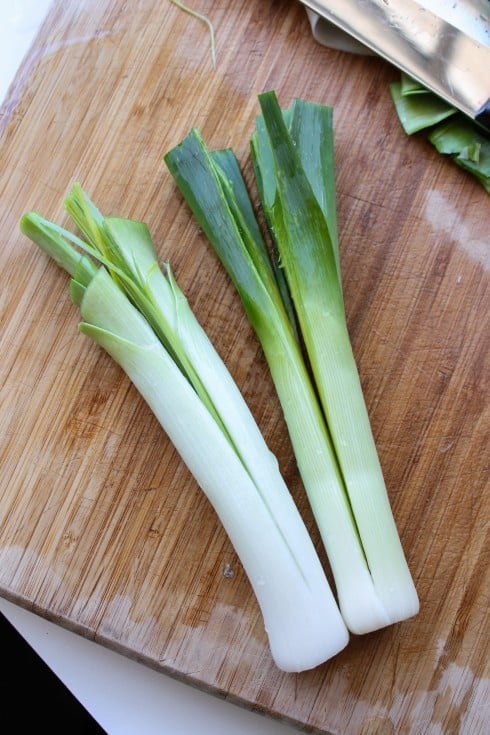 Now they are ready to be boiled. Boil for 3-4 minutes. If you don't boil them they will burn  on the grill before they get tender.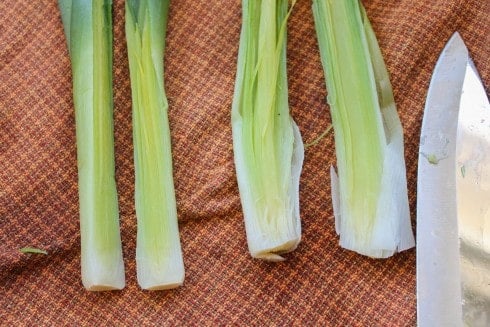 Lay out on a towel, let cool, and finish cutting them in half.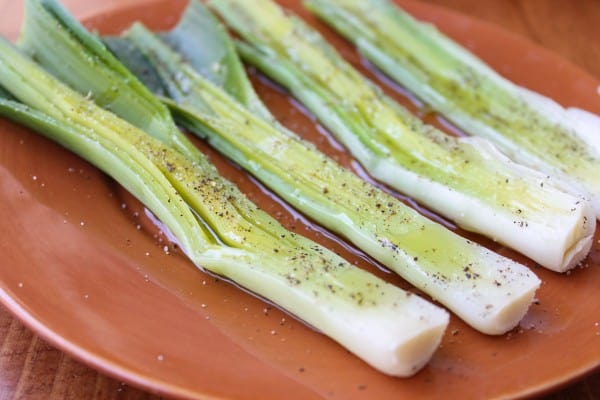 Transfer them to a plate and drizzle with olive oil and salt and pepper, or any seasonings you want.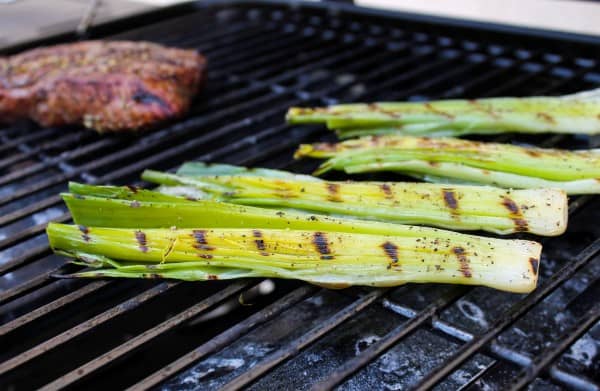 Grill for about 2 minutes on each side, or until they are marked like this.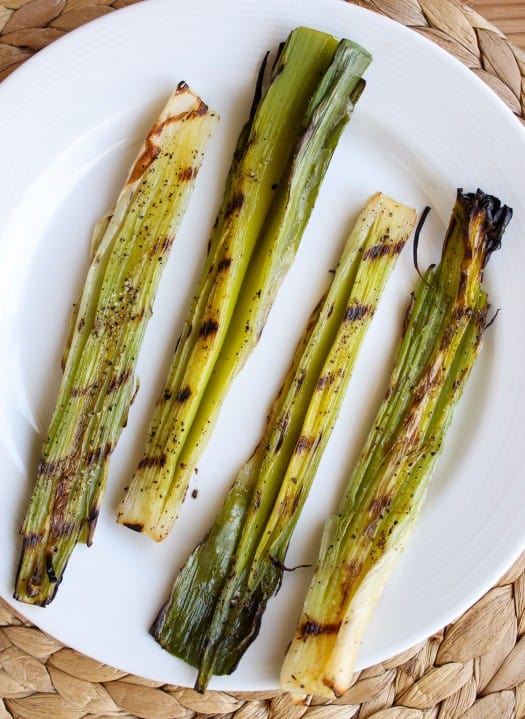 Enjoy! Grilled leeks are tasty with grilled steak, chicken, or fish.
More leek recipes:
Leek Tomato and Mushroom Quiche from Pip and Ebby
Cream of Potato and Leek Soup from Life as a Strawberry
Potato, Leek and Bacon Pizza from Bev Cooks << I sooo want to try this.
Carrot "Rice" Leek Risotto with Bacon from Skinnytaste
Greek Macaroni & Cheese with Roast Garlic and Caramelized Leeks from Adventures in Cooking
We are a participant in the Amazon Services LLC Associates Program, an affiliate advertising program designed to provide a means for us to earn fees by linking to Amazon.com and affiliated sites.