Coffeecake Muffins
I finally bought my domain name! I now officially own thefoodcharlatan.com. I'm so excited! I feel like Pinocchio when he finally turns into a real boy. Thanks to my brother Nathan who actually paid for it as a birthday present…you are great, bro.
I told my mom about how Nathan was gifting me my blog's domain name. She pretended to understand the whole conversation and then cheerfully admitted that she had no idea what I was talking about, but that she was very happy for me. And I thought I was computer-challenged.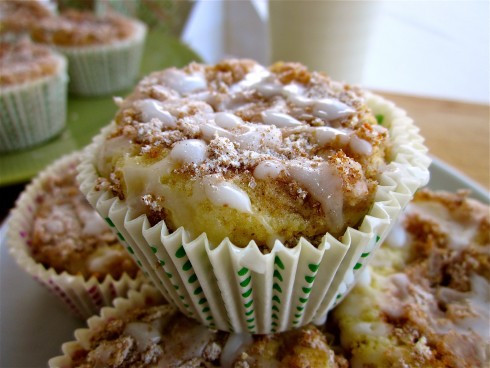 So I'm living in a house with 22 other people in it, 12 of whom are under the age of 9. It's kind of like the beginning scenes of general mayhem on Home Alone; milk's being spilled everywhere, the decibel level is out of control due to screaming/laughter, and meanwhile the toddler's are covering themselves in war paint and sacrificing stuffed animals around the Christmas tree. I love it. My brother Eric described to us the horrified looks on his coworker's faces when he told them that he was going to be staying in a house for 2 weeks with over 20 relatives, until he explained, "No, you don't understand, we actually really like each other."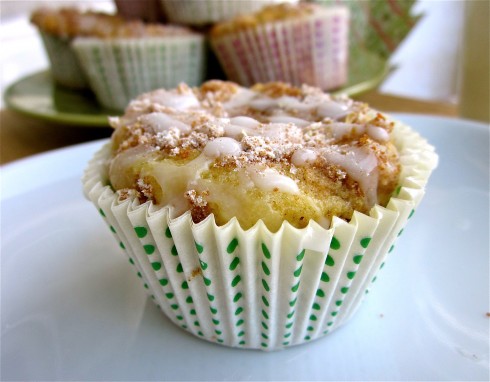 Here's another awesome Christmas breakfast option: Coffeecake muffins. They are so dang good. They should probably just be called Coffeecake Cupcakes, that's how sweet and delicious they are. They even have frosting. Yeah dude. These babies are best served warm, so if you want them for breakfast you can whip up the batter the night before and bake them in the morning. This recipe only makes a dozen, so if you are going to be feeding masses of insatiable relatives, you might want to double it.
Coffeecake Muffins

Source: Smells Like Home
Makes 12 muffins
For the muffins:
3/4 cup sour cream (light is fine)
1 large egg
1 teaspoon vanilla extract
1/4 cup oats, old fashioned or quick
1/4 cup (1 3/4 oz) packed dark brown sugar
1 teaspoon ground cinnamon
2 cups (10 oz) all-purpose flour
1 cup (7 oz) granulated sugar
1 teaspoon salt
8 tbsp (1 stick) cold butter, cut into 1/2-inch pieces
1-1/2 teaspoons baking powder
1/2 teaspoons baking soda
For the icing:
1 cup powdered sugar, sifted
2 tablespoons water
To make the muffins: Adjust an oven rack to the middle position. Preheat the oven to 350 degrees F. Line a 12 cup muffin pan with paper muffin liners.
In a 1 cup liquid measuring cup, measure the sour cream then whisk in the egg and vanilla; set aside.
In the bowl of a food processor fitted with the steel blade, add the oats, brown sugar, and cinnamon. Process in quick pulses (about 10-12) until the oats have broken up some; transfer the mixture to a bowl.
Return the bowl and blade to the processor and combine the flour, granulated sugar, salt in the bowl with quick pulses. Add the butter over the flour mixture and pulse until the butter is oat-sized, about five 1-second pulses. Carefully remove 1 cup of this mixture from the bowl (try not to remove the bowl from the processor) and stir it into the oat mixture until a lumpy streusel forms.
Add the baking powder and baking soda to the food processor bowl and pulse them into the flour mixture. Add the sour cream mixture to the bowl and process until the flour is just moistened. Add in 3/4 cup of the streusel and pulse until it is distributed throughout the batter with five 1-second pulses.
Divide the batter evenly between the muffin cups, then sprinkle the remaining streusel evenly over the batter, lightly pressing it down into the batter to ensure it will stick while baking. Bake for 18-20 minutes, rotating the pan halfway through the time – just a few crumbs should stick to a toothpick when tested in the center of a muffin. Let the pan cool on a wire rack for 5 minutes then transfer the muffins to the rack. Set a piece of parchment or wax paper under the rack so you don't get icing all over your counter.
To make the icing: In a small bowl, whisk the confectioners' sugar and water together until the sugar is smooth. Drizzle 2 teaspoons of the icing over each of the muffins. Serve warm or at room temperature.
We are a participant in the Amazon Services LLC Associates Program, an affiliate advertising program designed to provide a means for us to earn fees by linking to Amazon.com and affiliated sites.