These sweet cardamom rolls are a perfect breakfast or afternoon snack! They are sweetened yeast rolls with nuggets of pearl sugar mixed throughout and sprinkled on top. If you are looking for cardamom recipes, start with this one! It really shines in these rolls without being overwhelming. The pearl sugar adds the perfect crunch!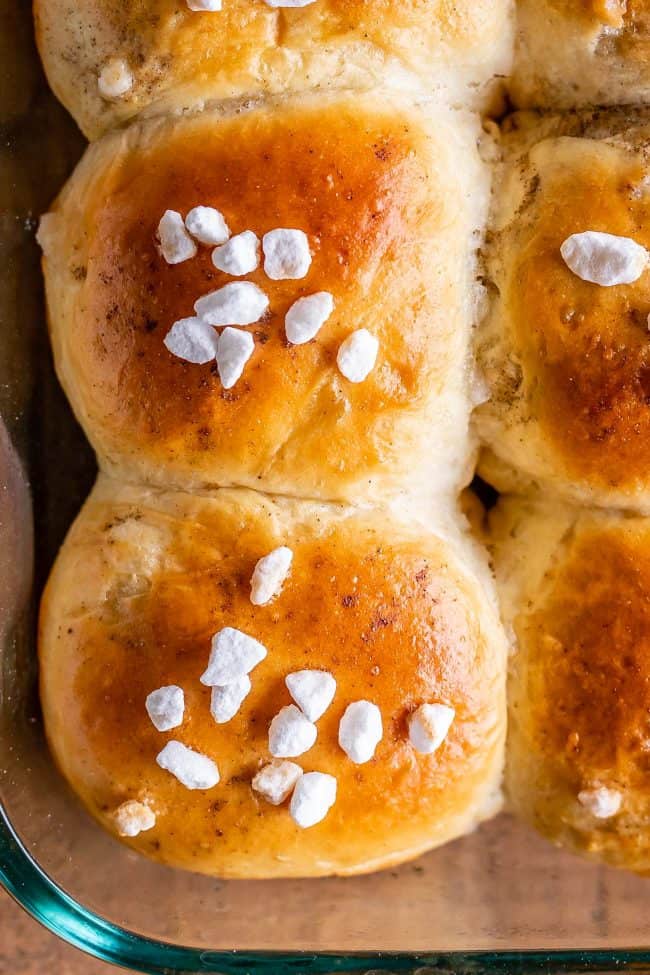 Well I definitely just threw away something in my freezer that had a "best by" date of August. August 2015, that is. Gah!! How did I let this happen! When we bought our first house a few years ago, it was because our rental was going on the market, and we knew that the buyer was going to flip it. (It was by far the trashiest house in an otherwise really nice neighborhood. Remember the carpet in my kitchen??)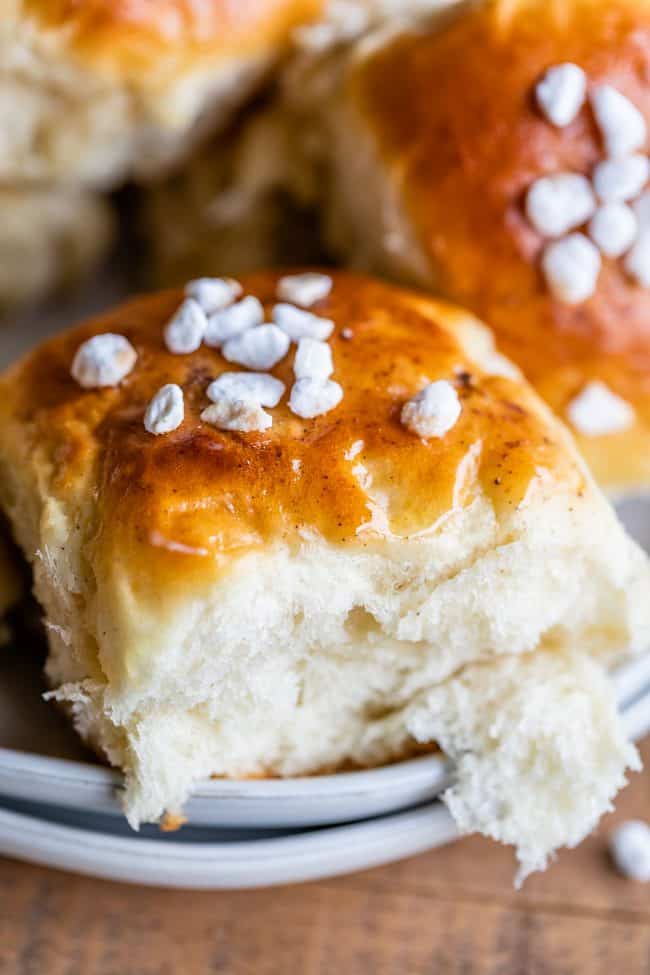 Anyway, we knew they would be getting rid of all the appliances in the flip, so we bought the fridge and washer and dryer from the buyer for a whopping $150, which is pretty amazing if you ask me because they all still work, even though they are all pre-1990 I bet. Never mind the fact that these days we have to put our clothes through 2 dry cycles every time or they will still be damp. (3 cycles for towels.) It's a grandpa dryer, have some respect okay?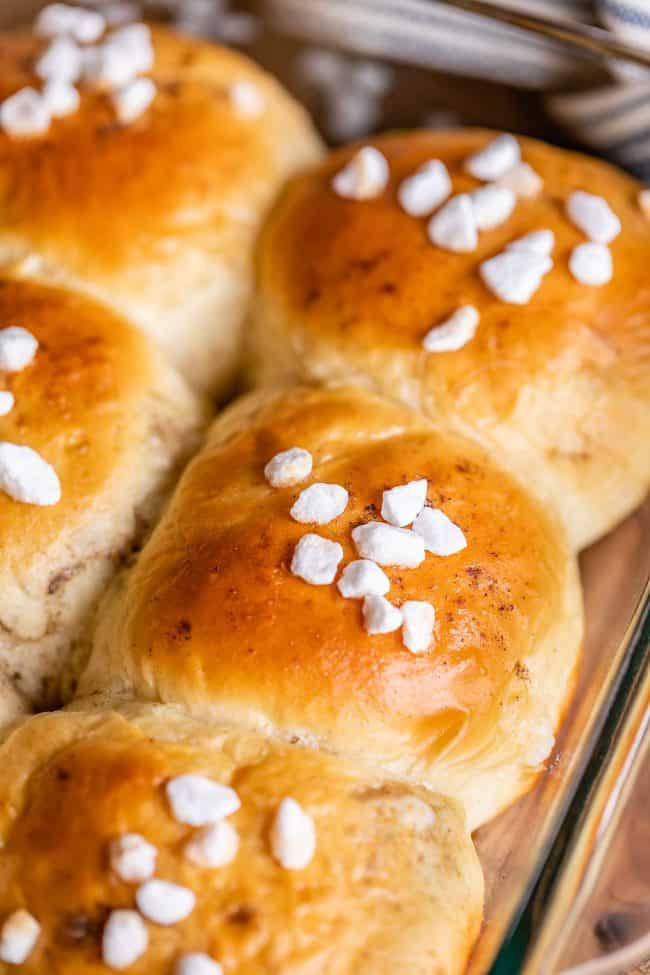 Anyway, the fridge we bought from our old house was tiny and we bought a new one eventually. Eric wanted to throw out the old fridge, and I wanted to keep it. Because obviously I need to keep all my expired food from 2015 in it. Where else am I going to store it?? Sheesh.
I'm not crazy, I really do use our extra fridge all the time, Eric can you just pretend you didn't read this?
Cardamom recipes you should make: Sweet cardamom rolls!
Are you into cardamom?? It's one of those spices that I didn't discover until I was an adult, and now every time I taste it I feel the injustice of that fact. (Although to be honest, I might not have appreciated it back then.) My kids loved these cardamom rolls though.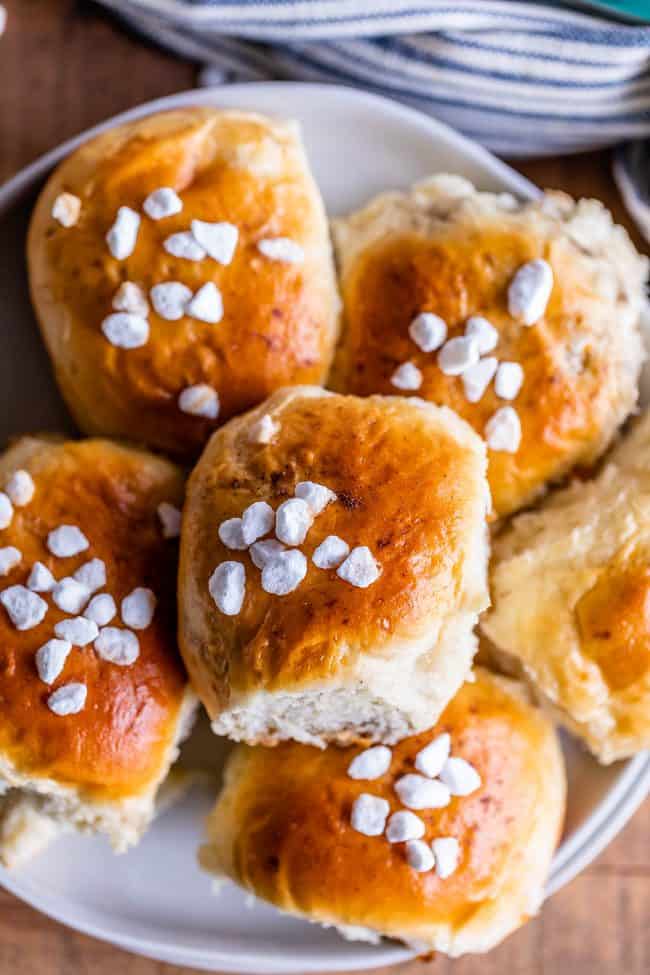 Maybe it's their Swedish blood coming through. Eric's side of the family is Swedish, and cardamom is totally a thing in Sweden. See these Swedish Cinnamon Buns with Cardamom for reference.) I actually found the idea for this recipe in a Swedish cookbook that Eric's mom has.
These cardamom rolls are a yeasty bread dough turned sweet by adding a little extra sugar. I actually started with Aunt Shirley's Famous Buttery Dinner Rolls, which is my favorite dinner roll recipe of all time. Add a little extra sugar, a dash of cardamom, and you have an amazing treat with a little exotic twist.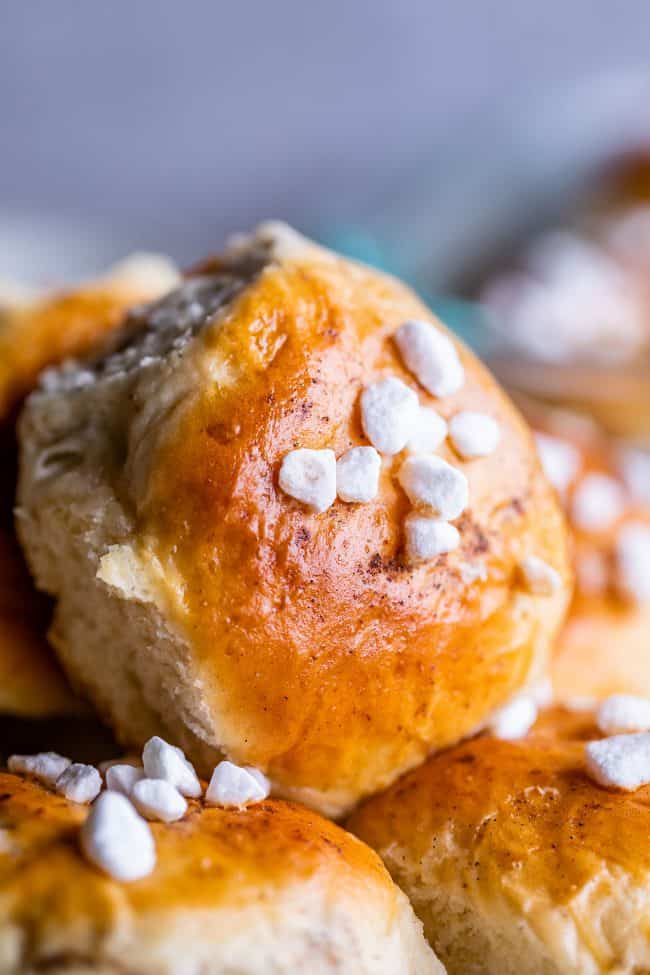 Pearl Sugar FTW!
But the real fun happens when you add the pearl sugar on top. Have you ever tried pearl sugar?? It's a required ingredient for Liege Waffles with Pearl Sugar, which are the most amazing yeast waffles you will ever have in your life. (see, yeast and pearl sugar go together like two peas in a pod :) Pearl sugar is basically just little chunks of sugar. Think of them like tiny pearl-sized sugar cubes. (I buy it on Amazon. Buy some, make these rolls, and then next weekend make Liege Waffles. Heaven!)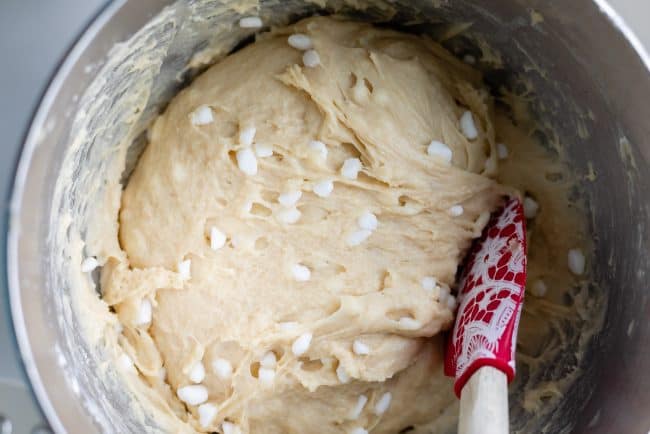 I folded some into the dough and sprinkled some on top. Some of them melt into the dough entirely, but some of them will turn into these delightful little nuggets of crunchy sparkly goodness. Then we sprinkle more on top for double crunch. The pearl sugar coming through the pillowy centers of these cardamom rolls is just unspeakably delicious. (these pictures show that I folded them in before the first rise, but the instructions say to do it after the first rise. That's the way that I will do it next time to give the sugar less time to dissolve.)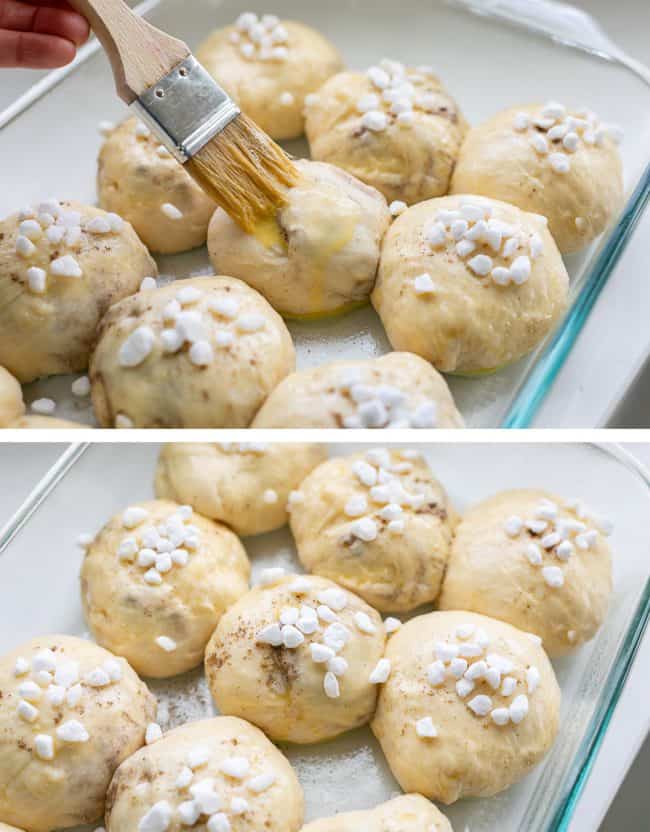 Cardamom rolls all day erryday
You can eat them just as is, or you can open it up and spread the center with butter. I like these rolls simple and plain, and don't feel like they need a glaze (I find that it competes with the pearl sugar). But if you want, you could stir together a little milk and powdered sugar and drizzle it over the top. It would be delicious!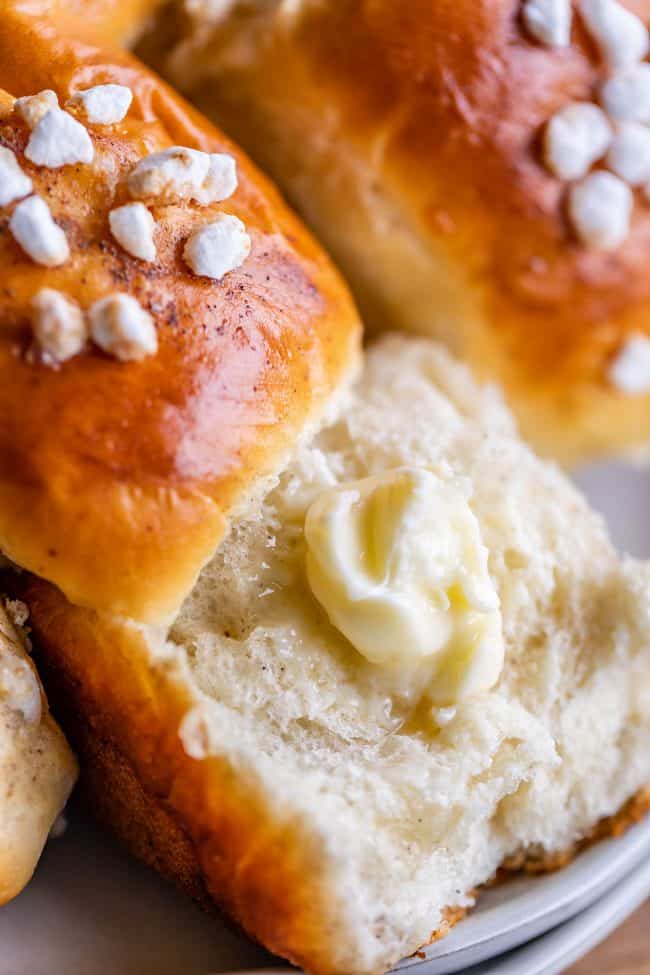 I feel like these rolls would be the perfect weekend brunch-ish, when everyone is waking up at different times. They are the perfect grab and go breakfast, or a nice little afternoon snack. They would even be a nice way to wake up on Easter morning!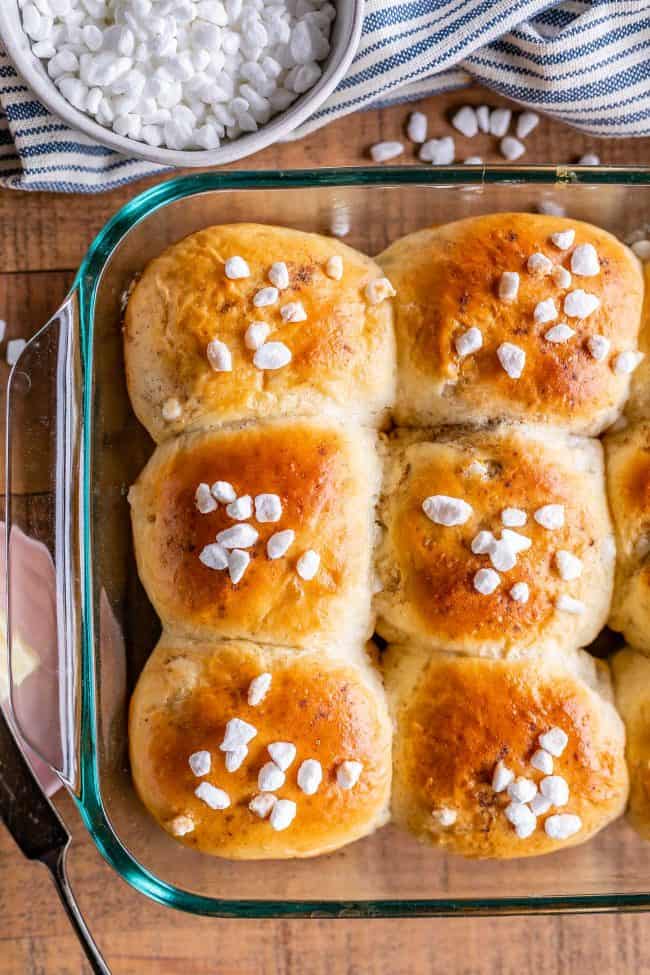 P.S. Valentine just came over and saw me editing these photos. She said, rolls, mommy! Rolls with marshmallows!! I want one! haha, not quite.
Facebook | Pinterest | Instagram
3 years ago: Mac and Cheese with Caramelized Onions and Broccoli
4 years ago: Easy Strawberries and Cream Appetizer
6 years ago: Creamy Lemon Pasta with Bacon and Peas

Sweet Cardamom Rolls with Pearl Sugar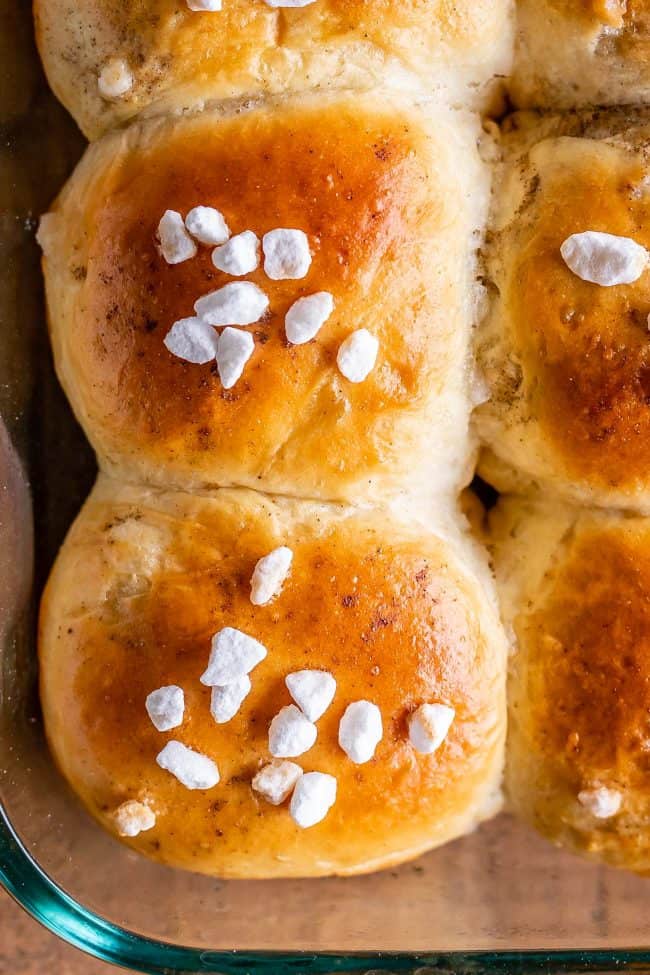 These sweet cardamom rolls are a perfect breakfast or afternoon snack! They are sweetened yeast rolls with nuggets of pearl sugar mixed throughout and sprinkled on top. If you are looking for cardamom recipes, start with this one! It really shines in these rolls without being overwhelming. The pearl sugar adds the perfect crunch! 
Ingredients
For the rolls
1/4

cup

warm water

1

cup

warm milk

3

tablespoons

butter

1

tablespoon

active dry yeast

1

teaspoon

granulated sugar

1/2

cup

granulated sugar

1

teaspoon

cardamom

1

teaspoon

kosher salt

1

large

egg yolk

3 & 1/4

cups

all purpose flour

,

spooned and leveled**

1/2

cup

pearl sugar

,

optional (to fold in dough)
For the egg wash
1

egg

,

beaten

2

teaspoons

water
For the top
cardamom

,

to sprinkle on top of each roll

pearl sugar

,

to sprinkle on top
Instructions
In a small bowl or

a glass measuring cup

, add the 1/4 cup water, 1 cup milk, and 3 tablespoons of butter. Microwave for about 30-60 seconds, checking to stir at least once, until it is lukewarm but not hot. You want the mixture to be about 105 degrees F. It's okay if the butter has not melted. If the mixture becomes too hot to comfortably stick your finger in it, put it in the fridge for a few minutes.

Add 1 tablespoon yeast and 1 teaspoon sugar and stir. Let this mixture sit for 5 minutes. It should be nice and foamy.*

Add 1/2 cup granulated sugar, 1 teaspoon cardamom, 1 teaspoon kosher salt, and 1 large egg yolk. Beat well.

Add half of the flour. If you are using a stand mixer, switch to the dough hook if you're not already using it. Add the remaining flour and mix (or stir by hand) until the mixture has formed a soft dough. You can add a bit more flour if you think the dough is too sticky. Add the least amount of flour that you can to get a workable dough.

Knead the dough with the dough hook or by hand for 5 minutes.

Spray a large clean bowl with oil, or rub with a little butter. Shape the dough into a ball and place in the greased bowl. Turn it over so the top is oiled. Cover the bowl with plastic wrap and set in a warm place** to rise for 1 hour, or until doubled in size.

Punch down the dough. Use your hands to fold in

1/2 cup pearl sugar

. This step is optional. Most of the sugar will dissolve, but some of them will leave you with little nuggets of crunch through your rolls. It's delightful!

Divide the dough into 12 equal pieces. Shape each piece into a ball (pinch one end with your fingers).

Place the rolls into the well-greased 9x13 inch pan.

Use a fork to beat 1 egg in a small bowl. Add 2 teaspoons water.

Brush the top of each roll generously with the egg wash.

Sprinkle each roll with a little cardamom.

Top each roll with a little pile of pearl sugar, however much you can fit on!

Cover the pan with a tea towel and let the rolls rise in a warm spot for another 30-45 minutes, until doubled in size. When they are almost done rising, preheat your oven to 375 degrees F. Make sure to remove the rolls from the oven if they are rising in there!

Bake at 375 for 14-18 minutes or until golden brown all across the top. Let cool for 5-10 minutes before digging in.

Eat hot! These are really good with a glass of milk, or a mug of hot cocoa or coffee. (At least I assume it would be! I don't drink coffee.)
Notes
*If your yeast mixture is NOT getting foamy, then abandon ship! You killed your yeast with too hot liquid probably. Better to start over now than wind up with sad flat rolls in 2 hours.
** My favorite warm place is in the oven. Turn your oven on to the keep warm setting (170 degrees F) for about 30-60 seconds, then turn it off. This will make the oven nice and warm but not hot. If it's too hot to touch the inside of the oven, then leave the door open and let it cool down before putting your bowl in.
I buy my pearl sugar on Amazon, click here. I've actually never seen it in a store, maybe you could find it in a specialty store? Not sure. It's cheap online and comes right to my door, so I've never bothered checking around.
Nutrition
Serving:
1
roll
|
Calories:
226
kcal
|
Carbohydrates:
41
g
|
Protein:
5
g
|
Fat:
5
g
|
Saturated Fat:
2
g
|
Polyunsaturated Fat:
1
g
|
Monounsaturated Fat:
1
g
|
Trans Fat:
1
g
|
Cholesterol:
39
mg
|
Sodium:
235
mg
|
Potassium:
76
mg
|
Fiber:
1
g
|
Sugar:
15
g
|
Vitamin A:
161
IU
|
Vitamin C:
1
mg
|
Calcium:
34
mg
|
Iron:
2
mg
If you are looking for cardamom recipes, you have come to the right place!
Seriously, cardamom is the best hidden-gem spice out there.
Swedish Cinnamon Buns with Cardamom << I loooove these. It's like grown up cinnamon rolls. You don't miss the frosting (the pearl sugar makes up for it.)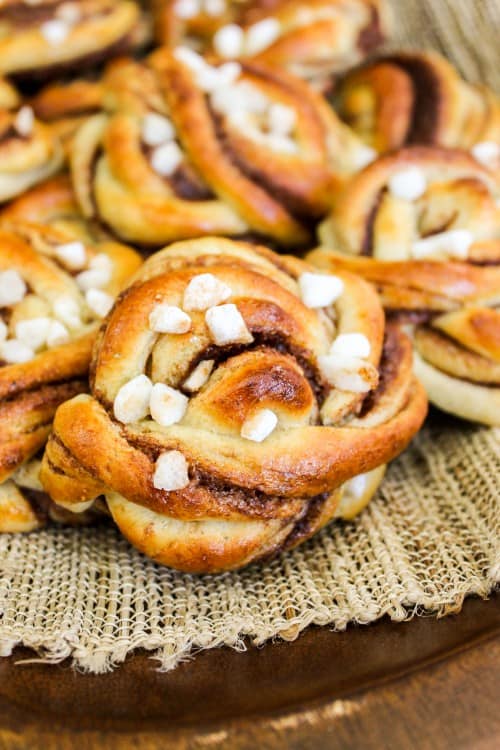 Crispy Swedish Cardamom Cookies << these are a staple around the holidays!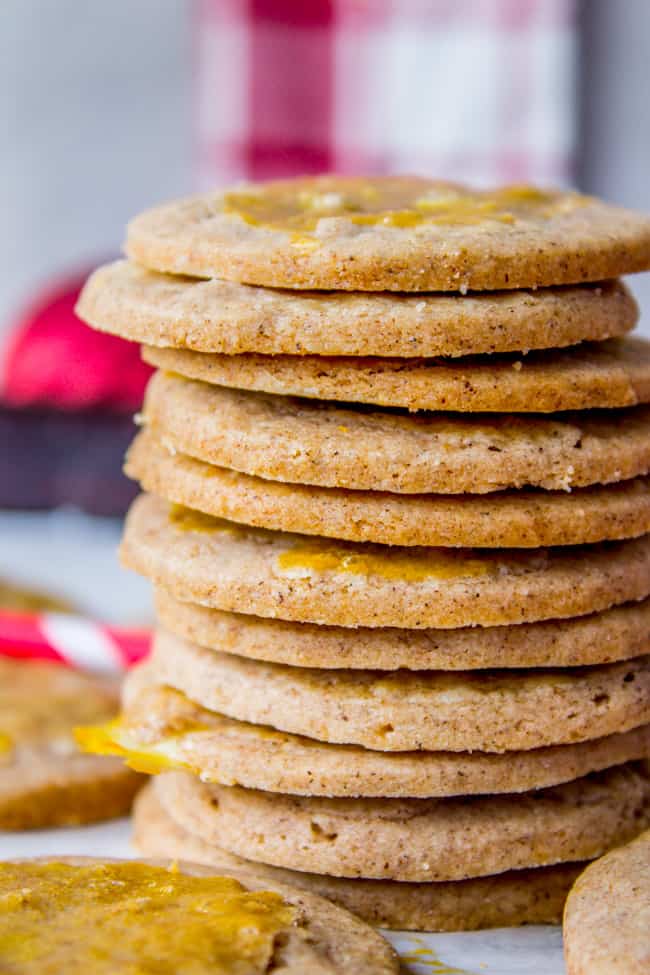 Cinnamon-Cardamom Cake with Maple Pecan Frosting << this frosting guys. KILLER.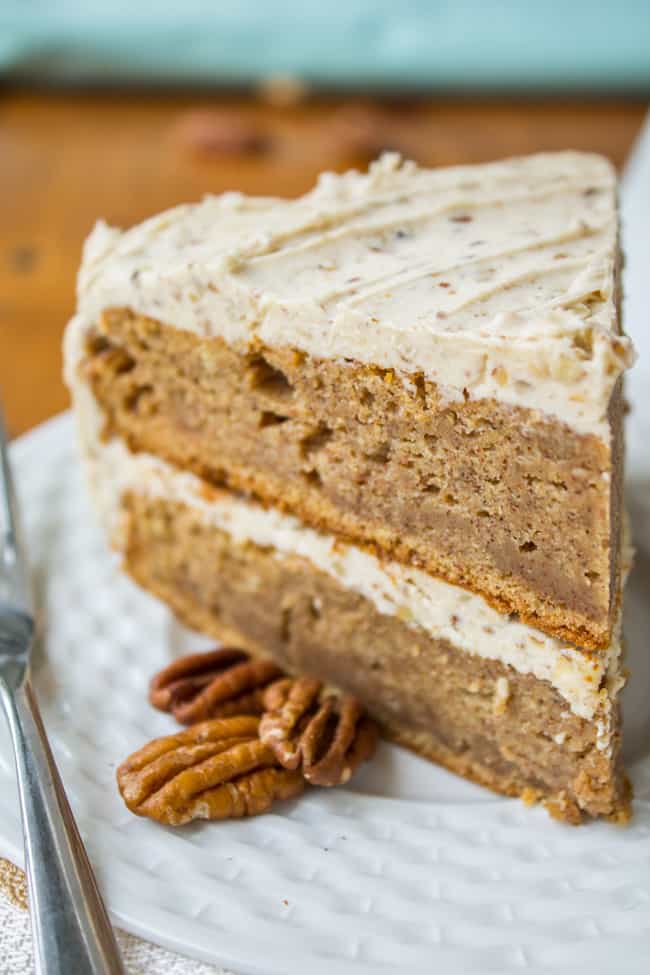 You might also enjoy these Hot Cross Buns! These are perfect for Easter.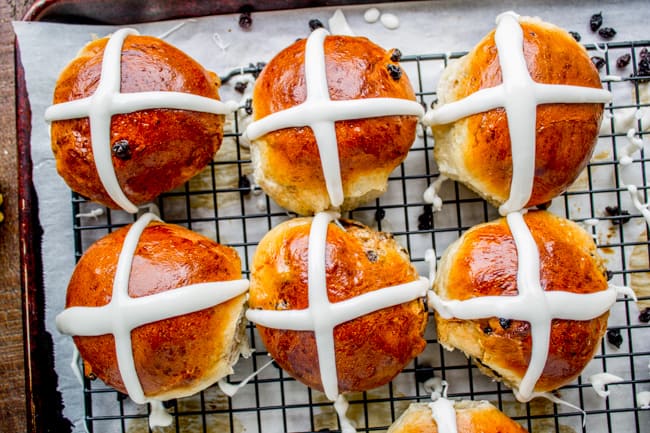 More cardamom recipes from friends!
Nutty Cardamom Bundt Cake with Bourbon Glaze from Spicy Perspective
Cardamom Vanilla Plum Crisp from Nutmeg Nanny << ummm YES
Honey Cardamom Poached Pears from Foodie with Family