These creamy bacon-stuffed mushrooms are drizzled with a spicy blue cheese sauce before being baked. Perfect as a football appetizer or easy dinner!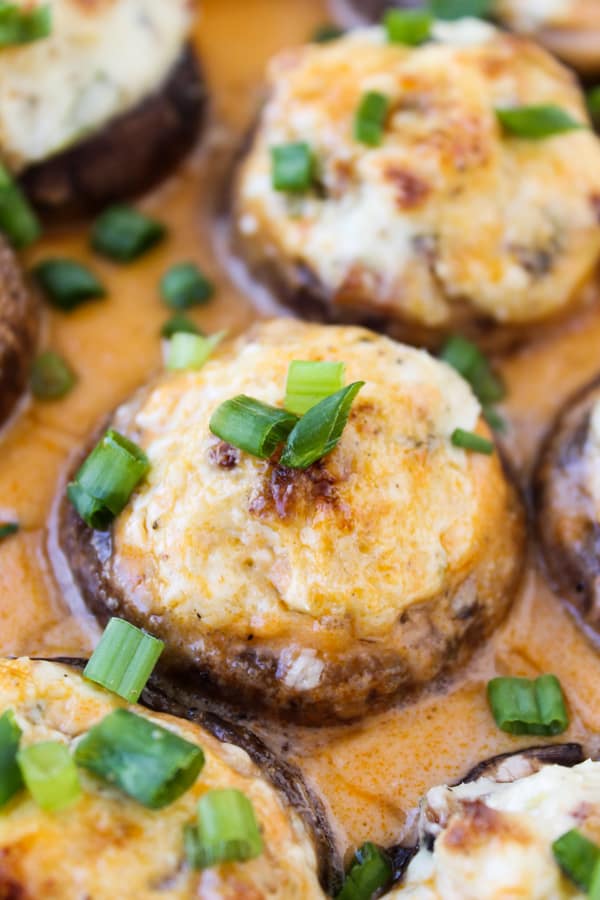 Eric just tried to explain to me, for the 7,000 time, the difference between affect and effect. He just doesn't understand that it's an Unlearnable for me. You know. Just one of those things you're never going to learn.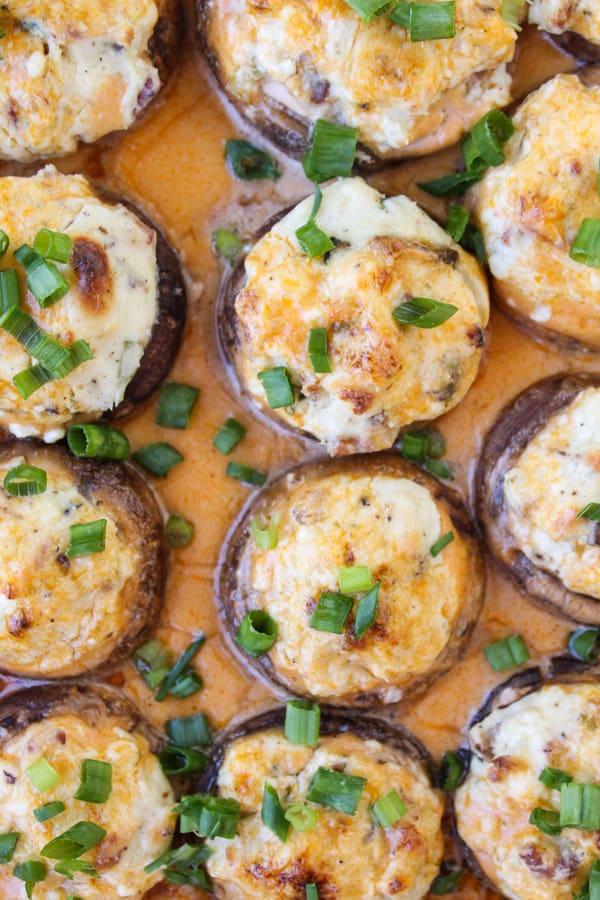 Just like I'll never understand what a 1st down is, because every time someone tries to tell me, my eyes glaze over after the first sentence, and I end up being distracted by the appetizers. Or how I'll never understand the difference between black mascara and brownish-black mascara. They look EXACTLY THE SAME.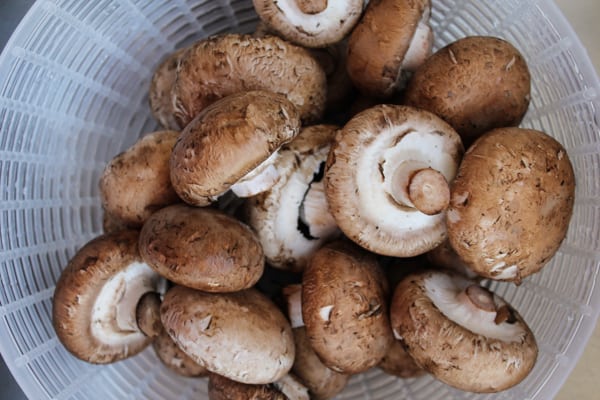 One time when I was a teenager this huge black lady stopped me in the drugstore. I was getting an ice cream cone and she leans in and conspiratorially tells me how beautiful my eyelashes are, so long, but that I should DEFINITELY use Brownish-Black mascara, because Very Black washes me out. I still remember this woman with much fondness and think of her every time I reach for my Brownish-Black mascara at Target. Because even if I can't tell the difference between affect and effect, somebody out there can, and I don't want to be caught using the wrong one.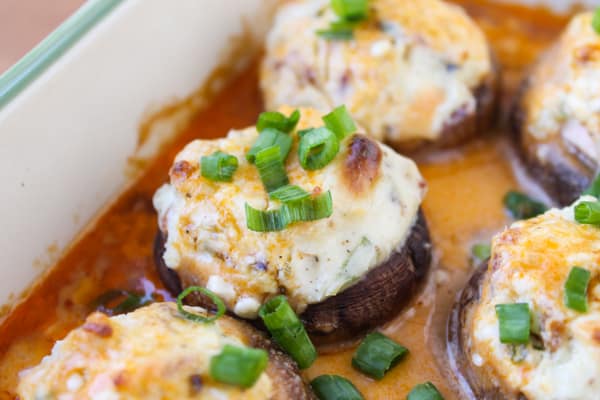 GUESS WHAT GUYS!! My new blog design is going live this week! I've had my current design since March 2012. My awesome sister-in-law Reesy made it for me, and I love it, but it's time for a little change. She designed the new one as well. I'm super excited to let you guys see it! One of the best parts is that my Recipe Index will finally be more than a giant list of links. It will show you pretty thumbnails and be categorized. So fun! You guys will love it. YOU BETTER LOVE IT.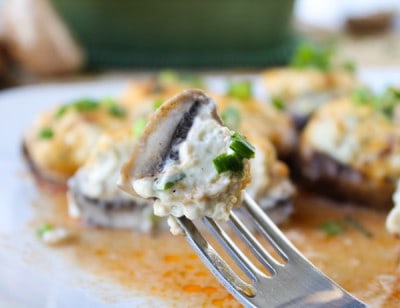 Heads up that my site will be down for a bit while we get the new design up and running. If you are planning on using any of my recipes Thursday or Friday, print now. Keep up with me on Facebook to hear more detailed updates on times.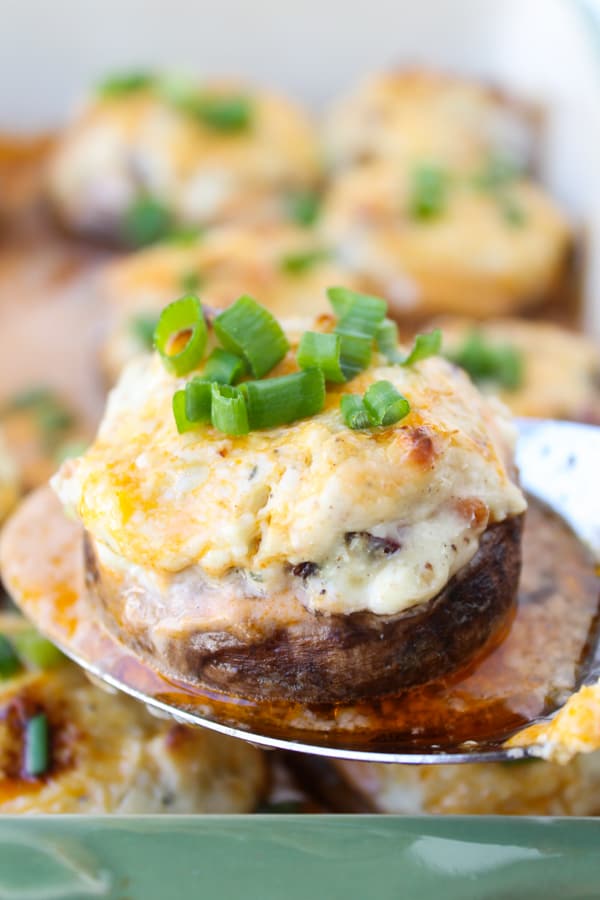 You should definitely print out this recipe, if nothing else. It's a keeper my friends. These beautiful bellas are stuffed full of creamy blue-cheesy bacon, then drizzled with a spicy 2-ingredient sauce. Spoiler alert: it's just blue cheese dressing and Frank's Red Hot sauce. But it's sooooo good you guys! I'm telling you. I'm already dreaming about what else I can put this sauce on.
You could serve this as a meal with a great big salad or as an appetizer for watching football. Either way you will need plates. Sauce is boss.
Do you guys give up? Or are you thirsty for more?
Facebook | Pinterest | Instagram | Twitter

Bacon Blue Cheese Stuffed Mushrooms with Creamy Hot Sauce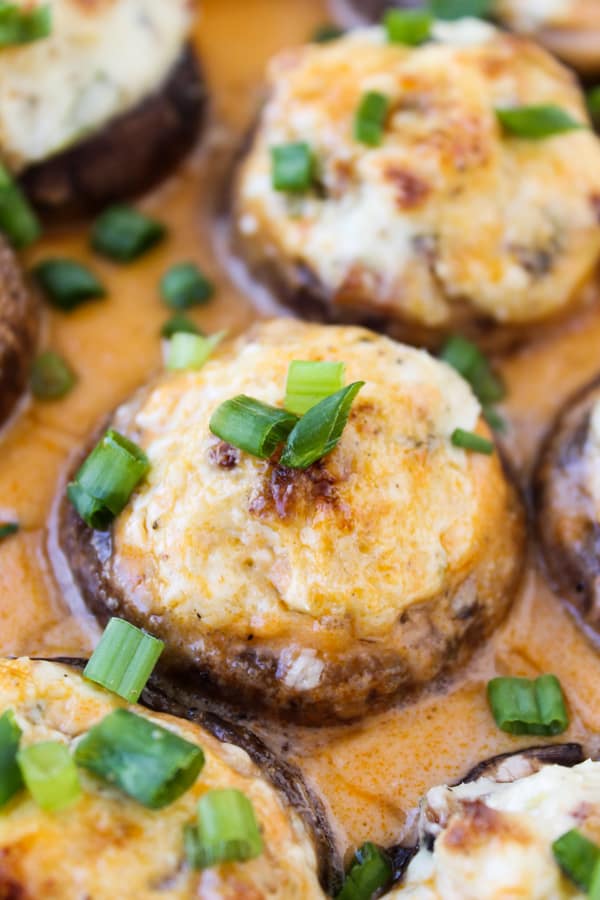 These creamy stuffed mushrooms are drizzled with a spicy blue cheese sauce before being baked. Perfect as a football appetizer or easy dinner!
Ingredients
20

baby bella mushrooms

1

8-oz package

cream cheese

,

softened

1

egg yolk

5

ounces

blue cheese

1

green onion

4

strips bacon

,

cooked and crumbled

1

clove

garlic

,

minced

1/4

teaspoon

salt

dash pepper

2/3

cup

chunky blue cheese salad dressing

1/3

cup

Frank's Red Hot sauce*

chopped green onion

,

to garnish
Instructions
Preheat your oven to 375 degrees F.

Set out your cream cheese to soften while you prep the mushrooms.

Remove the stems from all the mushrooms. I do this by getting my thumb way down in there and twisting. Discard the stems.

Wash your mushrooms. Brush them clean if you like to waste time and/or eat dirt. I mean it's not going to kill you. But washing them is a lot faster and won't affect your mushrooms at all.

Lay the mushroom caps top-down in a 9x13 inch casserole dish.

In a medium bowl, beat or stir the cream cheese and egg yolk until it is smooth.

Add the blue cheese, green onion, crumbled bacon, garlic, salt, and pepper. Stir to combine.

Spoon the mixture into each mushroom cap and distribute evenly.

In a glass measuring cup, stir together about 2/3 cup blue cheese dressing with 1/3 cup hot sauce (or whatever ratio tastes good to you).

Drizzle the sauce over the mushrooms.

Bake at 375 for about 20 minutes, or until the tops start to brown. Eat with a fork!
Notes
*For the sauce, you can use whatever ratio of dressing to hot sauce you want. If you like it really spicy, add more. If you like it more mild, add less.
Source: The Food Charlatan
Nutrition
Serving:
1
mushroom
|
Calories:
59
kcal
|
Carbohydrates:
1
g
|
Protein:
3
g
|
Fat:
5
g
|
Saturated Fat:
2
g
|
Polyunsaturated Fat:
1
g
|
Monounsaturated Fat:
2
g
|
Trans Fat:
1
g
|
Cholesterol:
18
mg
|
Sodium:
358
mg
|
Potassium:
120
mg
|
Fiber:
1
g
|
Sugar:
1
g
|
Vitamin A:
75
IU
|
Vitamin C:
1
mg
|
Calcium:
50
mg
|
Iron:
1
mg

Make sure you get all that stem outta there. Gotta make room for bacon. Priorities people.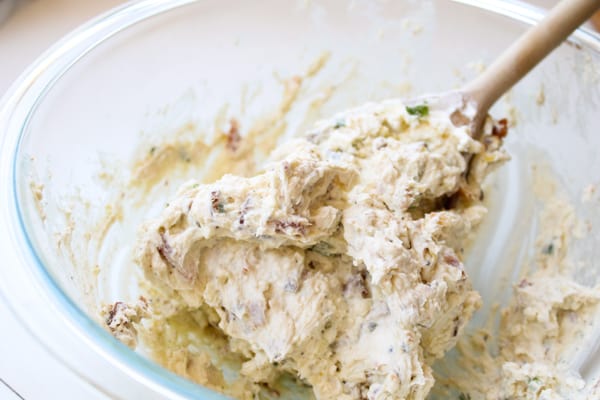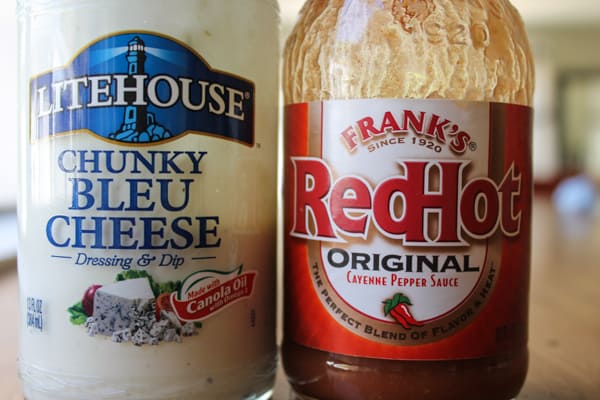 The not-so-secret sauce.

Drizzzzzzzle.
Some other appetizers you might like: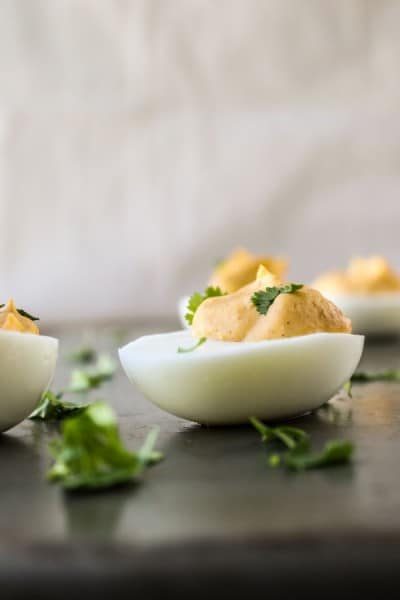 Pimiento Cheese, Tomato, and Biscuit Sandwiches: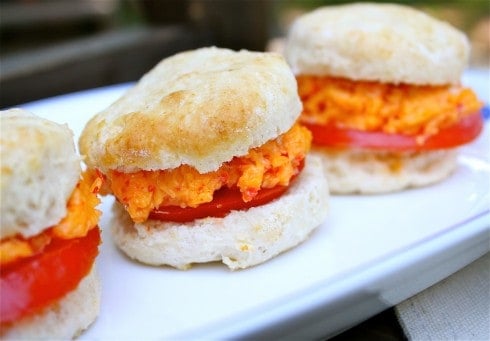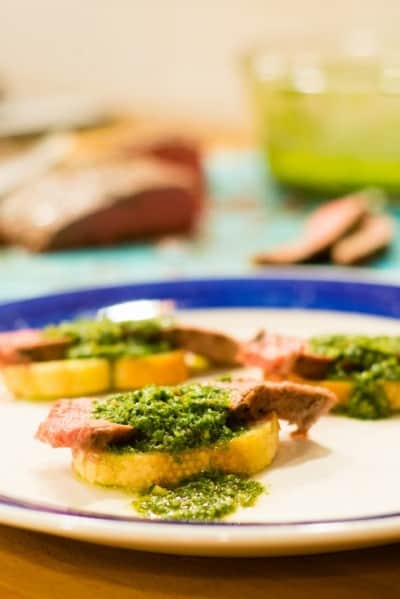 More mushrooms from friends:
Bacon Parmesan Stuffed Mushrooms from CenterCut Cook
Enchilada Stuffed Mushrooms from Lauren's Latest
Cheesy Stuffed Mushroom Dip from Wonky Wonderful