I probably should have titled this post "How To Destroy a Poinsettia in 30 Minutes or Less." Or maybe just "How To Burn Down Your House." Eric came home with a beautiful poinsettia the other day. He knows I love flowers and plants. I especially love them when they are not on fire.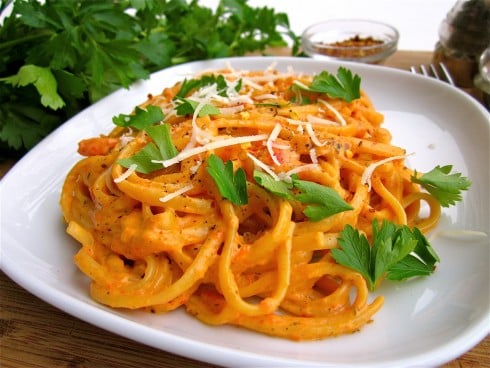 It's not a complicated story. I lit a candle on the kitchen counter. A while later Charlotte was getting a little too friendly with the poinsettia on the table (she likes to pet flowers, sometimes quite vigorously. I tried to get her to smell them without touching, but she's obviously figured out that poinsettias have absolutely no scent. Clever girl.) So anyway, to save my poinsettia from death by toddler, I moved it to the counter, where it instead met its demise by fire and brimstone.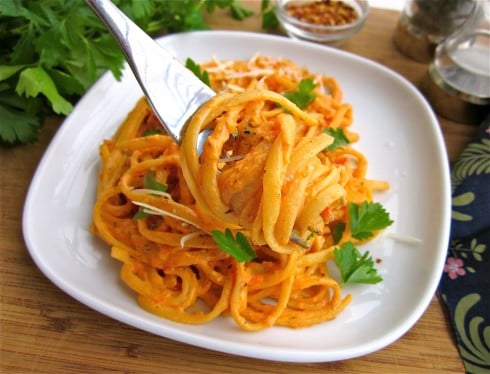 Oh well. You live and you learn right? I'm just glad I didn't need to learn so much that the fire department had to come.
This alfredo is pretty freaking awesome. I've never roasted my own red peppers before; it was easy, absolutely delicious and made the house smell amazing. Plus goat cheese, hello?? This recipe went down pretty quick, too. Next time if I am in a real hurry I might try using jarred roasted red peppers. Serve this up with a big green salad. Yum-o!
Roasted Red Pepper & Goat Cheese Alfredo

Source: Lauren's Latest
Serves 3-4
2 whole red bell peppers
2 tablespoons olive oil
1 small onion, diced
2 cloves garlic, minced
1 cup half & half (regular or fat free)
4 ounces garlic & herb goat cheese
2/3 cup grated fresh parmesan
1/2 pound linguine, cooked to al dente
salt & pepper, to taste
crushed red pepper flakes to taste, optional
parsley to garnish, optional
Preheat oven to 500 degrees. Place red peppers on baking sheet and bake 20-30 minutes until peppers are charred. Remove from oven and cover with foil 10 minutes.
In the mean time, saute onions in olive oil 7 minutes or until tender. Add the garlic for the last minute–make sure it is nice and fragrant. Pour in half & half, goat cheese, salt & pepper. Stir to melt goat cheese into sauce and keep warm over low heat.
Uncover peppers, peel off skin and remove stem and seeds. Chop into large pieces and place into sauce along with parmesan cheese. Stir to melt cheese and remove from heat. Pour sauce into food processor and puree, or use an immersion blender. Place back into hot pan and toss with cooked pasta. Taste and adjust seasonings. Top with more parmesan cheese, pepper, salt and parsley, if desired.