Pesto Chicken with Italian Cream Sauce over Parmesan Couscous
This morning I was reading Life of Pi by Yann Martel. I've read it before and love every bit of it. I came across a passage that I didn't remember, and I liked it so much that I read it 3 or 4 times and marked the page so that I can bring it up at my book club when we discuss this book. My brother Nathan often puts philosophical quotes on his Gmail chat status, and I thought to myself, I bet Nathan would love this. This sounds like something he would put on his status.
Then this afternoon I saw that Nathan was online. I hovered over his name. This was his new chat status:
Doubt is useful for a while. We must all pass through the Garden of Gethsemane. If Christ played with doubt, so must we. If Christ spent an anguished night in prayer, if He burst out from the cross, "My God, my God, why have you forsaken me?" then surely we are also permitted doubt. But we must move on. To choose doubt as a philosophy of life is akin to choosing immobility as a means of transportation.
Same exact quote. Could we get any more awesome? I doubt it.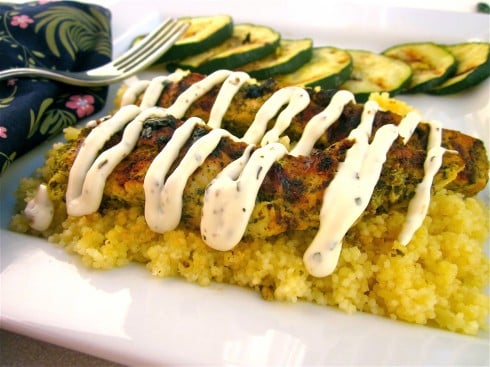 This meal wins for quickness. If you grill the chicken like I did, you can have dinner on the table in 20 minutes. The original recipe calls for that new cooking creme stuff they are trying to market. I've never even tried it, but I looked up how to make my own and this is what I came up with. It's pretty dang good, and that's even using light sour cream and neufchatel cheese. I already had (and quite often have) all of these ingredients on hand, so no need to run to the store when you need a last minute dinner idea. Try it with grilled zucchini. Yum. Gotta love summer.
Pesto Chicken with Italian Cream Sauce
over Parmesan Couscous

Source: adapted from Picky Palate
1 pound boneless chicken thighs or breasts, fat removed (about 2 breasts)
1/2 cup prepared pesto sauce
2 cups cooked couscous
4 tablespoons extra virgin olive oil (or less to taste)
1/2 cup freshly shredded Parmesan cheese
Italian Cream Sauce*:
1/2 cup cream cheese or neufchatel cheese
1/2 cup light sour cream
1 teaspoon Italian seasoning
1/3 cup grated Parmesan
*Or heat 1 cup Philadelphia Italian Cheese and Herb Cooking Creme on the stove. I didn't have any, so I made my own.
Place chicken and pesto into a large ziplock bag, seal and refrigerate for at least 1 hour. It will cook faster if you cut it into strips.
Preheat oven to 350 degrees F. Place chicken onto a large baking sheet that has been sprayed with non-stick cooking spray. Bake for 25 to 35 minutes, until chicken is cooked through. (I grilled the chicken. It took 3-5 minutes on my George Foreman.)
Place cooked couscous, olive oil and parmesan cheese into a medium saucepan over medium-low heat, stirring to combine. Cook until heated through, about 5 minutes. Reduce to heat to low.
In a small saucepan over medium-low heat, combine cream cheese, sour cream, Italian seasoning, and Parmesan until warmed. Reduce heat to low.
To serve, place couscous onto a serving plate and top with chicken. Drizzle with warm cooking cream.
Makes 4 servings.
We are a participant in the Amazon Services LLC Associates Program, an affiliate advertising program designed to provide a means for us to earn fees by linking to Amazon.com and affiliated sites.