I've always wanted to have a secret language with somebody but have never been cool enough. My brother came to me one time in junior high asking me if I spoke Bubbledeblook, and if so could I translate something for him. "Bubblede-what?" The girls that he had a group-crush on spoke a secret language they had made up so that they could pass coded notes to each other (which were no doubt about him). I could barely remember the lyrics to Miss Mary Mack, so no way was I cool enough to get into any secret language clubs. Maybe part of the problem was that I was still trying to get people to play clapping games with me in junior high.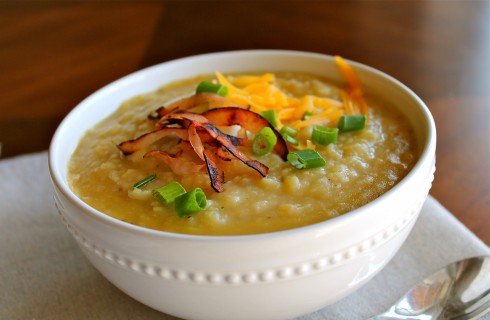 That's why I love being a mom. I get to have a secret language with my 2 year old that only she and I know. Eric is fairly proficient at speaking Charlotte-ese, but I'm the only one who is truly fluent. It's awesome.
The other day Charlotte was waking up from her nap and I was stalling to get her, as usual. (I know I'm not the only one who does this, come on people fess up). Suddenly her happy post-nap-play-sounds turned into wails of "Stuck. Stuuuuuuuck." I hurried in to find her like this: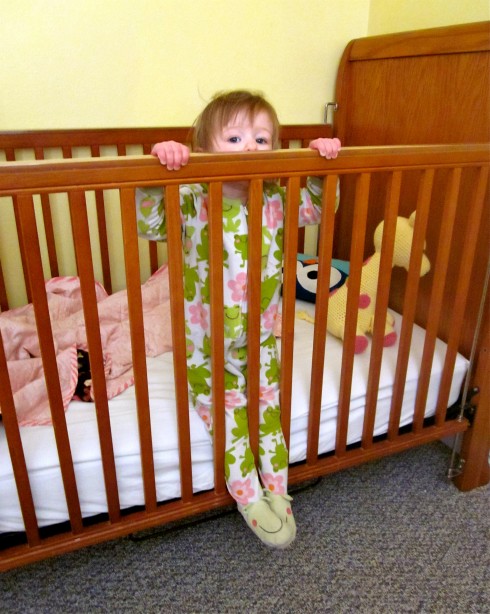 And yes, Eric and I have reached the point of parenthood where we make Charlotte hang out like this so that we can snap a picture.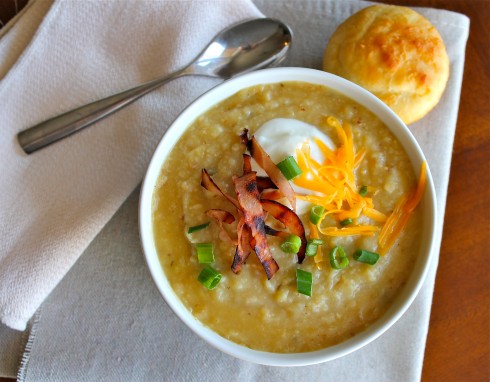 There are a million potato soup recipes out there, but this is the first I've seen with cauliflower in it. I really like the flavor it adds. And no, I'm not making any claims about not being able to taste the cauliflower. Of course you can taste it. Why would that be a problem? It's delicious. It's like that recipe for Cauliflower Mashed Potatoes going around everywhere on Pinterest that claims to taste better than mashed potatoes. FALSE. I think this is what God was talking about when he mentioned ravening wolves in sheep's clothing.
But, cauliflower does have its place in the world. Roasted is always a good thing, for any vegetable, and cauliflower is no different. Then blend it up, throw it in your soup–what's not to like? Especially when you add bacon and cheese. Even Cooking Light knows not to mess with the bacon part of potato soup.*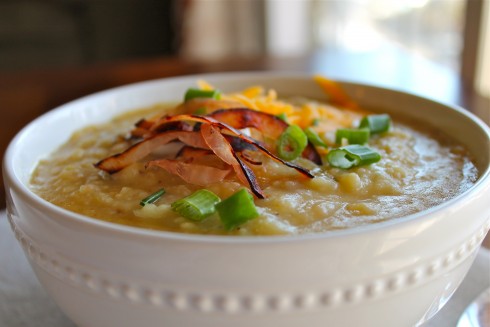 *Yes, I know these photos show ham and not bacon. We ate it all, okay? Can you blame us?
Creamy Light Potato Soup with Cauliflower

Source: Cooking Light
Makes 8 1-1/4 cup servings.
1 1/2 tablespoons extra-virgin olive oil, divided
1 cup chopped onion
1 teaspoon chopped fresh thyme
5 garlic cloves, chopped
1 pound cubed peeled baking potato (about 2)
1 pound cubed Yukon gold potato (about 4)
5 cups unsalted chicken stock
1 teaspoon kosher salt, divided
1 bay leaf
1 pound cauliflower, cut into florets (about 1/2 head)
3/4 teaspoon freshly ground black pepper, divided
Cooking spray
1 1/2 cups 1% or 2% milk
3/4 cup chopped green onions, divided
1/2 cup fat-free fromage blanc or sour cream (or Greek yogurt)
2 ounces grated sharp cheddar cheese (about 1/2 cup)
4 slices center-cut bacon, cooked and crumbled
Preheat oven to 450°.
Heat a large Dutch oven over medium-high heat. Add 1 1/2 teaspoons oil to pan; swirl to coat. Add onion, thyme, and garlic; sauté 5 minutes or until tender, stirring occasionally. Add potatoes, stock, 1/2 teaspoon salt, and bay leaf; bring to a boil. Cover, reduce heat, and simmer 35 minutes or until potatoes are very tender, stirring occasionally. Remove from heat; discard bay leaf.
While potatoes simmer, combine remaining 1 tablespoon oil, cauliflower, 1/4 teaspoon salt, and 1/4 teaspoon pepper on a jelly-roll pan coated with cooking spray; toss to coat (I put aluminum foil down first to make life easier). Roast at 450° for 30 minutes or until browned, turning once halfway through.
Place cauliflower and milk in a blender. Remove center piece of blender lid (to allow steam to escape); secure blender lid on blender. Place a clean towel over opening (to avoid splatters). Blend until smooth. Pour cauliflower mixture into a large bowl.
Add half of potato mixture to blender; pulse 5 to 6 times or until coarsely chopped. Pour into bowl with cauliflower mixture. Repeat with remaining potato mixture.* (I used an immersion blender. That way I didn't have to put hot soup in my blender. Then just add the cauliflower (I used a regular blender for that part) to the pot.)
Place cauliflower-potato mixture in Dutch oven over medium heat. Stir in remaining 1/4 teaspoon salt, remaining 1/2 teaspoon pepper, 1/2 cup green onions, and fromage blanc/sour cream/yogurt; stir until it melts. Ladle soup into 8 bowls. Top evenly with remaining green onions, cheese, and bacon.
*Next time I make this I will only blend half. I like it a little chunkier. Whatever floats your boat.