Asparagus and Poached Eggs over Pasta
Yesterday I walked out of the bathroom to find 14-month-old Charlotte sitting on the floor, quietly playing with our largest butcher knife.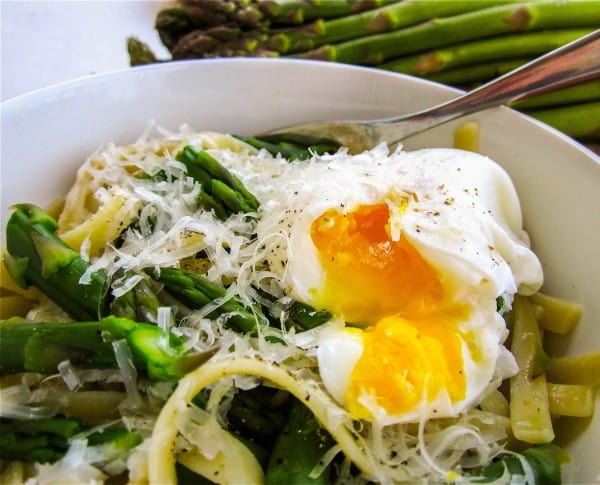 You can go ahead and turn in my Mom of the Year nominations now. At least we can rest assured that Char is getting nice and tall. (Tall enough to reach the knife drawer, anyway.)
I suppose it's time for us to rearrange our knife-storage anyway. Currently (well, before yesterday) our razor-sharp-knives were scattered haphazardly in our oversized-silverware drawer, which also holds pens, pencils, a checkbook, tape, scissors, a notebook, rubber bands, and whatever else I can manage to stuff in there when guests are coming over and I need to clear the counter. I knew this junk/knife drawer combo was going to backfire on me someday.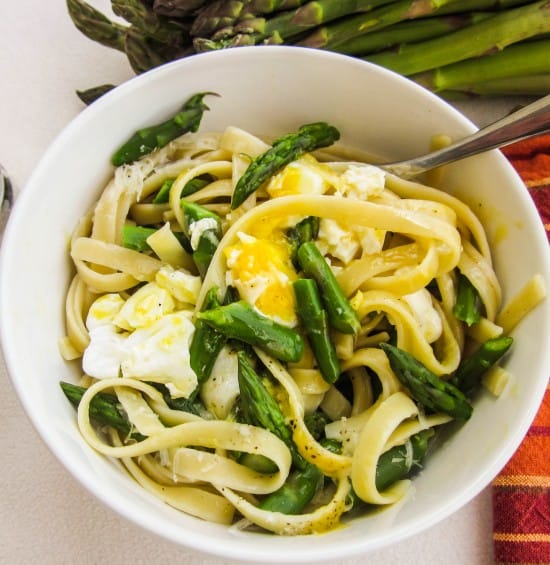 This recipe has spring written all over it. It is vegetarian, has bright green asparagus, and is done in 20 minutes flat so that you can get back to being outside. Can't really ask for more than that.
Oh, unless you're asking for a super easy way to poach eggs. You can definitely ask for that.
I hate poaching eggs normally. I usually end up with a nice yolk surrounded by thousands of wispy egg-white feathers. Sick.
Eric sent me this video he found a while back. It tells you how to "Sous Vide" an egg. (Sous Vide is a way to cook food by vacuum-wrapping it and then immersing it in hot water.) All you do is put plastic wrap in a bowl, spray it with oil, add some spices, crack an egg in the bowl, and then tie the plastic off with string or a rubber band to make a little pouch. Boil 3-4 minutes and voila, perfectly poached! It is so easy and there is no mess. I highly recommend it. (The only drawback is that the resultant egg is not exactly pretty—but unless you're going to take pictures of it like me, who the heck cares?) Enjoy your perfectly poached eggs!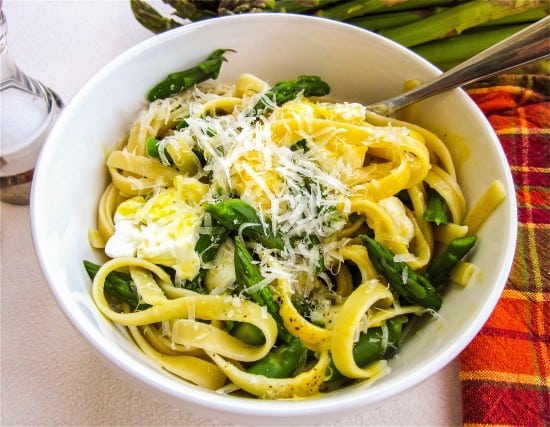 Today I'm listening to I Don't Know What To Do by Pete Yorn and Scarlett Johannson.
Asparagus and Poached Eggs over Pasta
This asparagus poached egg pasta recipe has spring written all over it. It is vegetarian, has bright green asparagus, and is done in 20 minutes flat.
Ingredients
8

ounces

pasta

,

uncooked

2

bunches

asparagus

,

medium, tough ends snapped off (about 4 cups)

4

large

eggs

kosher salt and fresh pepper

2

tablespoons

parmesan

,

freshly shaved or grated, or to taste
Instructions
Cut asparagus into one-inch pieces, angled.

Bring a large pot of salted water to a boil. Cook pasta according to instructions for al dente. Two minutes before pasta is done, add asparagus. (You can cook the asparagus any way you like, really. Roast it. Saute it. Whatevs.) Reserve 1 cup pasta water before draining pasta and asparagus in colander.

While pasta water is boiling, poach eggs in an egg poacher if you have one, or use the

Sous Vide

method, or follow

these tips

to do it the traditional way. (If you want to be pretty and poached).

Remove eggs with a slotted spoon and cover to keep warm. Or leave them in the plastic.

Drain pasta then add back to pot along with some of the reserved pasta water, however much looks good to you. Divide pasta among four bowls, top with poached egg, shaved/grated cheese, fresh cracked pepper and salt.

To eat, break the yolk and mix well with pasta, and top with additional cheese if you want. (You want, you want!!)
Nutrition
Serving:
1
cup
,
Calories:
140
kcal
,
Carbohydrates:
12
g
,
Protein:
13
g
,
Fat:
6
g
,
Saturated Fat:
2
g
,
Polyunsaturated Fat:
1
g
,
Monounsaturated Fat:
2
g
,
Trans Fat:
1
g
,
Cholesterol:
188
mg
,
Sodium:
413
mg
,
Potassium:
713
mg
,
Fiber:
6
g
,
Sugar:
7
g
,
Vitamin A:
2236
IU
,
Vitamin C:
17
mg
,
Calcium:
119
mg
,
Iron:
6
mg
We are a participant in the Amazon Services LLC Associates Program, an affiliate advertising program designed to provide a means for us to earn fees by linking to Amazon.com and affiliated sites.