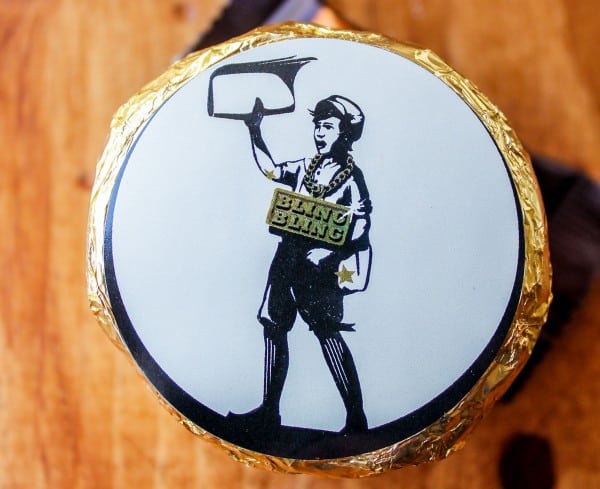 So probably my favorite place to go is the dentist. And by "favorite" I mean "I would rather chew rocks."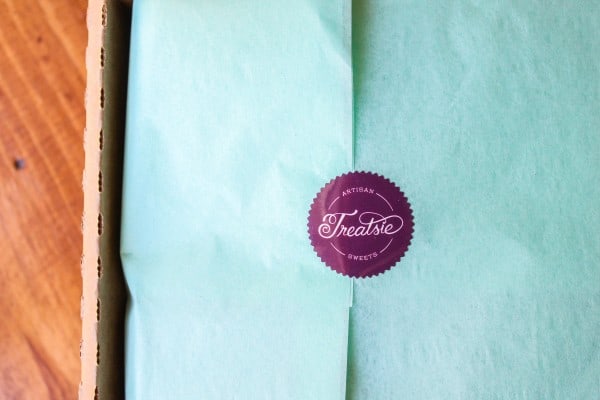 It's like one giant guilt-trip. The well-intentioned (and usually snappy-pony-tail-sporting) hygienist flashes her blindingly white smile as she tells me that the bacteria in my mouth multiply every 20 minutes, so if I brush before breakfast just think of all the bacteria poop in my mouth by the end of the day. Lovely.
A couple months ago I noticed a tiny brown spot on my front tooth. I mean, we're talking tiny. You would never notice it unless your face was close enough that you could smell my breath, which CLEARLY you would never want to do because it would smell like bacteria poop.
So I asked them about the little spot. The hygienist and dentist both hover over me, examining it while I stare up at the lights.
"So you don't drink coffee?" Nope. "Tea?" Nope. "Soda?" Not regularly. "Hmm…" The dentist squints at my teeth. "Do you eat a lot of dark chocolate?"
Are. you. kidding. me.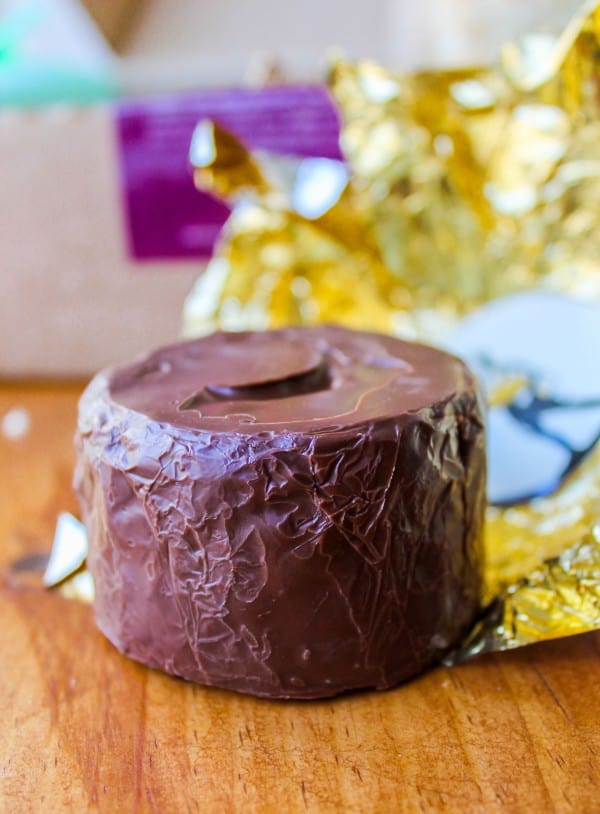 Guys. I brush my teeth. I SWEAR. And if my teeth just have an affinity for holding onto dark chocolate then SO BE IT. I'm not giving it up anytime soon. Just look at this: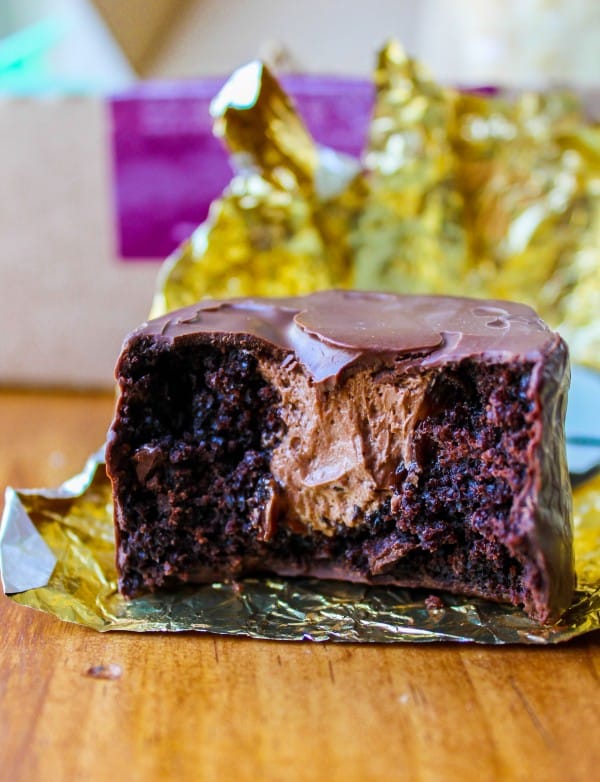 I mean, would you?
Today we're doing something a little different here on the bloggy-blog. I don't have a recipe for you, but I do want to tell you about this awesome company called Treatsie. Basically, you pay a flat subscription fee and they send you new and different chocolate in the mail every month.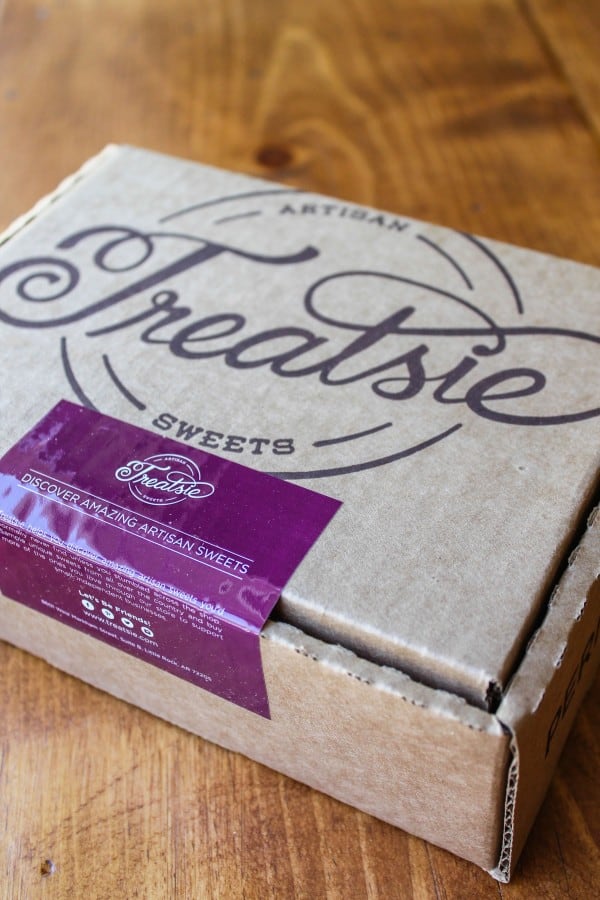 But not just any chocolate, my friends. Local artisan chocolate (and other treats) from all over the country. So you get to try a huge variety that you would never have known about. It's like going on vacation and trying all the local food…except without the vacation part. (Treatsie, let us know when the vacations are going to be included.)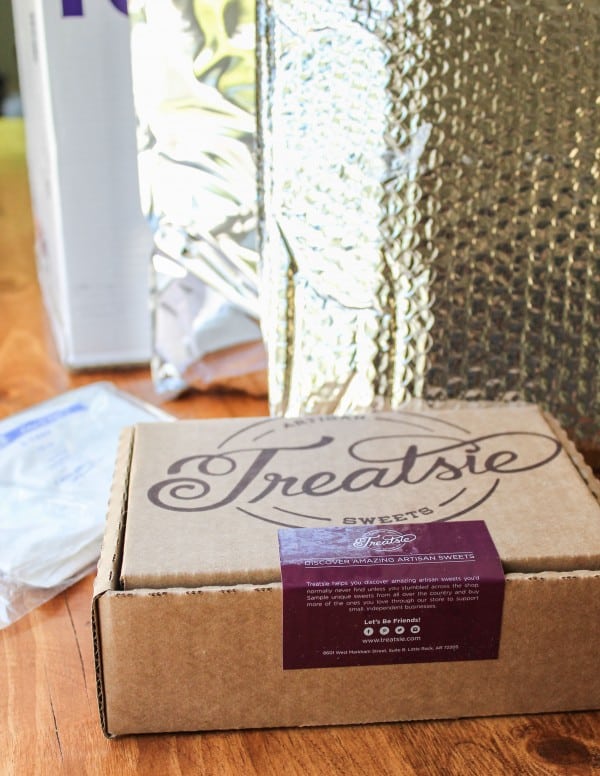 I received my box on a hot afternoon and was a little concerned about how the chocolate had survived the heat. But I opened it up to find my Treatsie box enclosed in not one, but 2 NASA-esque foil envelopes, plus a freezer pack. This chocolate is ready to head out to space. I asked Bekah, my Treatsie pal, if all the packages come like that and she said it depends on what's in the box that month, but they do have a melt-free guarantee. Now that, my friends, is customer service.
Every box that you order on the subscription plan is different, but I want to show you the contents of the box I received so you can get an idea of what kind of stuff you get. If you follow the links, you can order the exact same product on the Treatsie website. Each box comes with items from 3-4 small independent vendors, and the focus is on quality rather than quantity. Here is my box: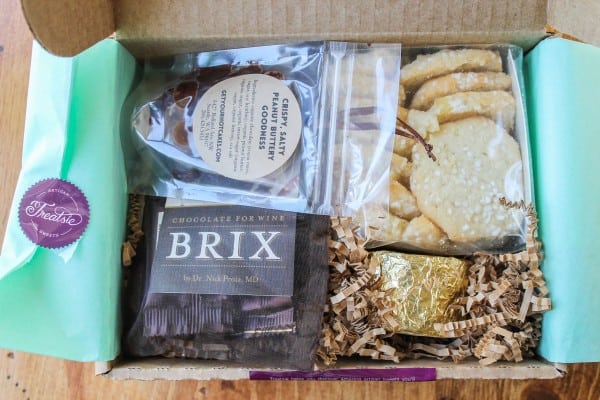 I love the attention to detail on the packaging. I felt like I was opening a birthday present.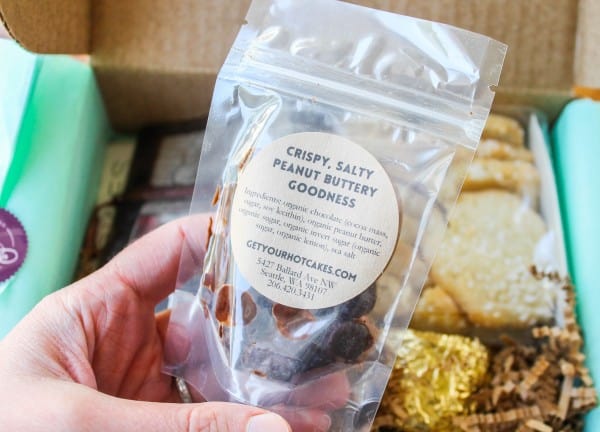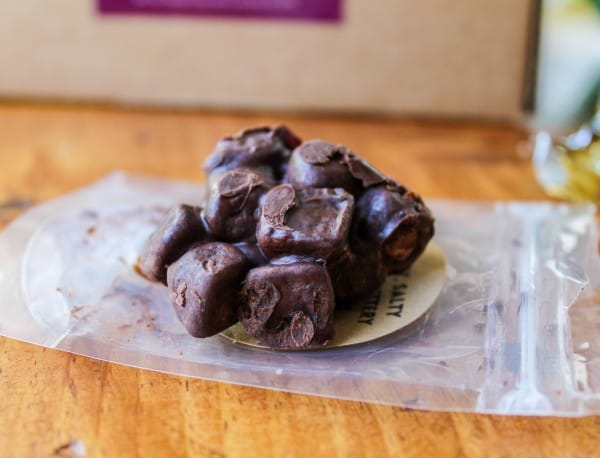 These
Hot Cakes Peanut Butter Bites
look unassuming, but they were bomb. (wait, bomb still means awesome right? You're not going to call airport security on me?) Somehow they magicked peanut butter into this crispy crunchy goodness, then dipped it in chocolate. It was soooooo good. My favorite one.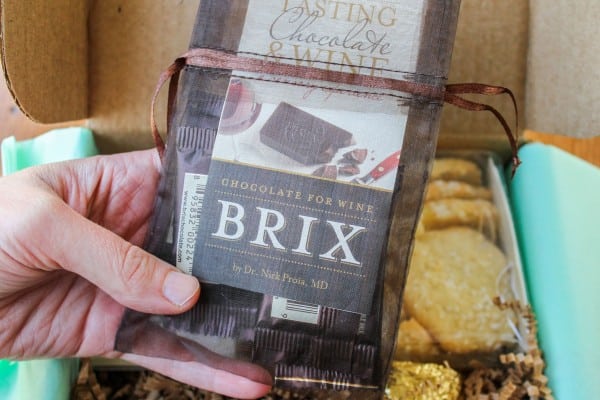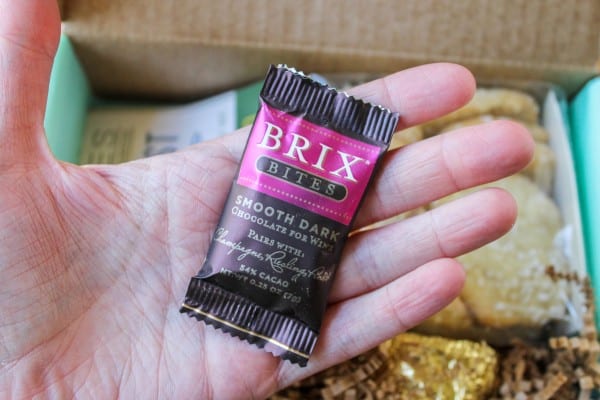 Next up is
Brix Chocolate for Wine
. I love this idea: the chocolate is made to be paired with particular types of wines. They even include a packet on how to host a chocolate and wine tasting party. Wouldn't that be so fun? I mean, if you drank wine of course. (Which I don't, so I will be attending my own party: the Chocolate and Chocolate Party. Pretty stoked.) The Brix chocolate was incredible even without the wine.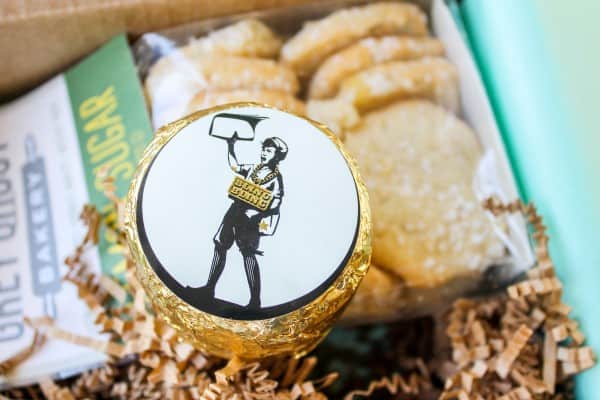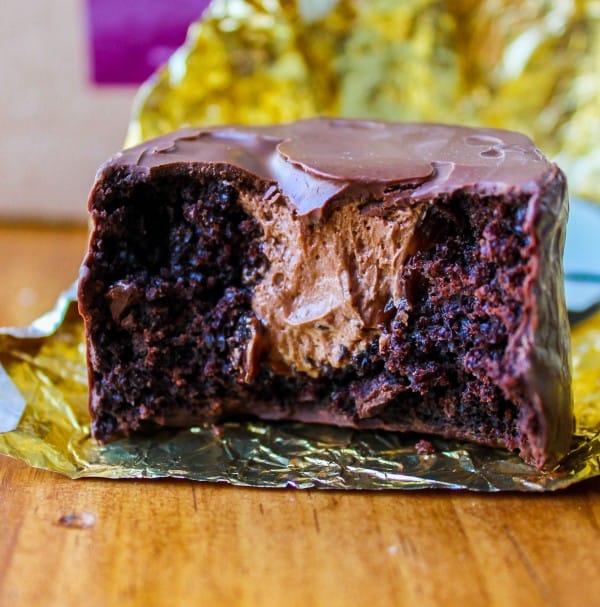 I loved the packaging on this
Hot Cakes Bling Bling
. I just what to pinch that little Bling boy on the cheek and buy his newspaper (
Newsies
freak over here). And then, of course, there's the actual chocolate. I mean, just look at it. It was like a Ding Dong on steroids.
Then there were these Lemon Sugar Cookies. Oh my. I ate almost all of them. They certainly didn't last the day. Perfectly bright lemon flavor, plus a little crunch from the mini pearled sugar. De-lish. I love the slogan on this one: "Goodest Quality, Bestest Taste." Ha! They're speaking my language.
I think a subscription to Treatsie is a really unique gift idea. Especially for your Mother-in-law-Who-Has-Everything or your I-Hate-All-Products-Uncle. I mean, everyone loves treats.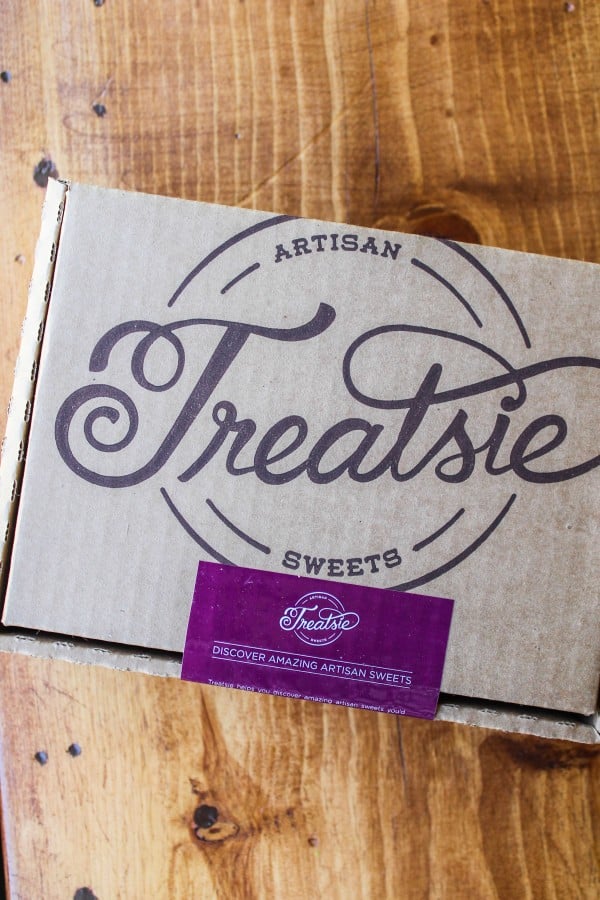 Disclosure: Treatsie sent me a box to review, but all opinions are my own, of course! They also compensated me for the post and are sponsoring the giveaway. Sponsored posts like this allow me the time and funds to put up more recipes for you guys, so thanks Treatsie!